When Rolando Pacheco heard his name announced last week during the $2,500 Grooms' Class at the 2022 Winter Equestrian Festival, he immediately kissed his horse, Forever Dance, in appreciation and walked forward to join the other top five hunter grooms. It was Pacheco's first time competing in the class at WEF in Wellington, Florida, and he was excited.
"I've done two other grooms' classes—one in Arizona like 15 years ago and another one in Virginia many years ago, when I was working for the Schaefers, and Sam was still riding ponies. But at that time, I wasn't ready to win those classes—I didn't have enough experience," he said.
As the announcer continued, reading the ribbon winners in reverse order, Pacheco stood quietly with his horse. When he heard his name announced as the winner, he planted another kiss on Forever Dance's nose and broke into a wide smile. Before walking to the winner's circle to claim his ribbon, Pacheco first gave the horse a big pat on the neck.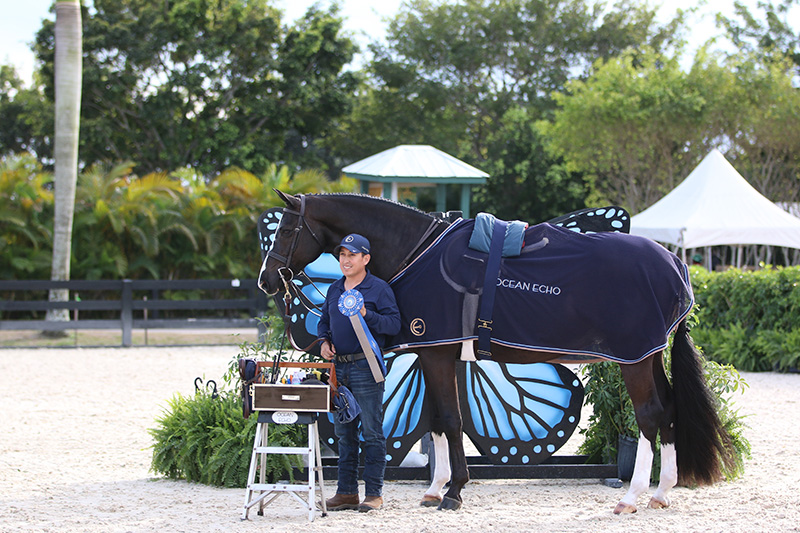 "We have the whole thing on video; it was the sweetest thing I've ever seen," said Ocean Echo's barn manager and Pacheco's co-worker, Kim Davidson. "He has so much appreciation for the horses, and they love him."
Although Pacheco, 39, has only been working for professional hunter rider and trainer Jennifer Hannan for five weeks at her Ocean Echo Farm (Wellington and Wakefield, Rhode Island), she said he fits right into her program.
"We absolutely love him," Hannan said. "We feed the horses an organic, all-natural diet—we make it ourselves. It can be a little tedious, but he was so interested in learning all about it. I also don't like to bathe the horses daily, and I really emphasize that to my guys. Rolando didn't bat an eye; he was like, 'No problem, I'll groom more.'"
Pacheco has been grooming professionally for 23 years.
"My two older brothers worked for [top hunter trainer] Peter Pletcher in Texas for a while, and I was so interested in what they were doing," Pacheco said. "We had horses and cows at our family farm in Guanajuato, Mexico, but this was different. I came to the United States when I was 16 and worked for a barn in Houston for a bit and then moved East."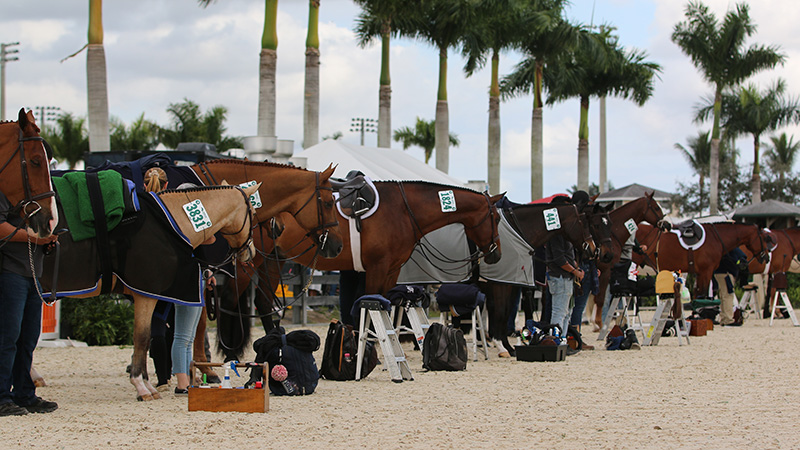 Forever Dance, a 10-year-old Hanoverian gelding (Furst Nymphenburg—Atlantis) owned by Seahorse Show Stable, is one of Pacheco's favorite horses to care for at Ocean Echo. He normally competes with Hannan in the 3'3" green hunter division.
"He's a beautiful horse, and he likes me," Pacheco said. "When [Hannan] gave him to me to care for, I was so excited. It's a pleasure to have him on my care list."
Hannan gives a lot of credit to the horse show for running the Grooms' Class.
"It's so nice that they do this for the grooms," she said. "They work incredibly hard, harder than anyone realizes. Even for this particular class, most of them spent time getting their horses ready and then did all of their normal work on top of that. They deserve to be recognized for their hard work."
The Grooms' Class, the first of several planned for this WEF season, had 42 entries across separate hunter and jumper divisions. For the class, grooms are asked to bring a 'show-ring ready,' fully tacked and booted horse to the ring. Grooms and their horses are judged on overall cleanliness, appropriate use and fit of tack, tack cleanliness, application of boots/wraps, neatness of clipping, braiding job, overall presentation and their grooming box.
The jumper judges were Nina Leonoff, who is a long-time groom for Meredith and Ludger Beerbaum, and Denise Moriarty, who grooms for Kent Farrington at many top FEI international competitions, including the Tokyo Olympic Games. The hunter judges were Eugenio Garza Perez, who is a top FEI show jumper for the Mexican team, and Lillie Keenan, who was a decorated junior rider and is now a successful FEI show jumper.
"I think this is the hardest class to judge at the horse show," Keenan said. "Every groom here works so hard. The people who groom, they take such pride in their work, and they give it their all every day."
To place the grooms and pick a winner, Keenan said she prioritized the little details.
"There were so many beautiful horses in this class, but I'm looking for the small details, like the quality of their skin, their tack, if they're prepared for what division they would show in," she said. "I have judged this class before, and some people try too hard to impress us; they bring more than what they actually would need for the ring. Our winner was prepared for the weather, his horse was well-cared for and comfortable being handled. That particular horse looked like he was ready to walk in and win the model class."
On the jumper side, Mario Galven won the blue ribbon. Galven tacked up Cruisilier for the class, a 8-year-old Irish Sport Horse stallion (Cruising—Crosskeys Cavalier) owned by Heathman Farm, LLC. Cruisilier competes in the 1.35-meter jumper division with rider Chris Stinnett.
"I was honored to be able to stand out there with all of the top grooms at this show," Galven said. "Winning was an added bonus!"
"I always make sure my ring backpack is fully stocked with anything we could need at the ring," he said. "There are a lot of variables that can come into play when you're at the ring; you never know if a piece of equipment may malfunction or if your rider wants to change something. I like to be prepared for anything."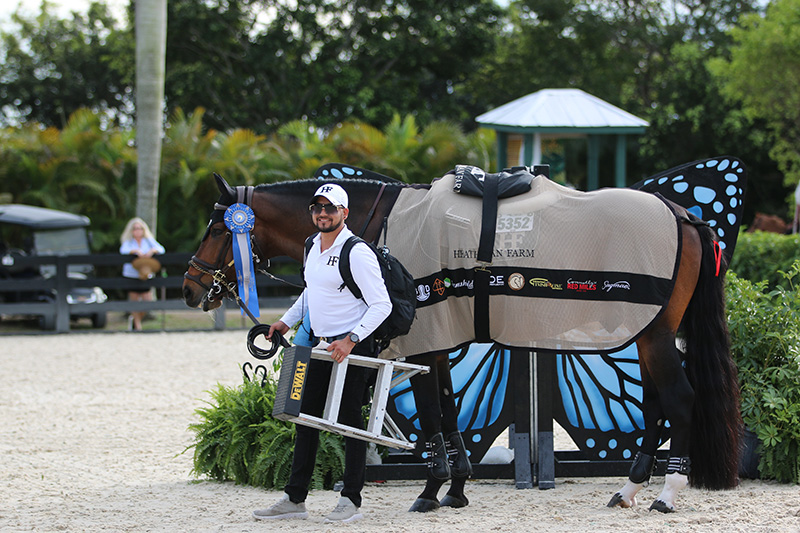 Like Pacheco, Galven grew up in Guanajuato, Mexico. Eleven years ago, he came to the United States to work and learn from his uncle, who is also a professional groom. For the past eight months, Galven has worked for Heathman Farm in Wellington.
Galven's favorite part of his job is the time he gets to spend with his horses.
"I take pride in knowing every detail about the horses in my care: their attitudes, their likes and dislikes," he said. "I always strive to make sure my horses feel 100% so that when they step into the ring, they are ready to perform at their best."
Daniel Cyphert, the head rider at Heathman Farm, complimented Galven's attention to details.
"Mario has a work ethic and pride in his horses that is unrivaled, and we are so grateful to him," Cyphert said. "Since he's worked for us, I've not only noticed his perfectionist mentality toward his job but also his phenomenal horsemanship skills. I was always taught that for a horse to be truly great, it must be cared for like it is great. That process is never lost with Mario."