Zane Josta, Lauren Hough's head groom, has been a critical member of the team since 2013, and she travels with Hough and her string to competitions around the world.
But Josta was on the verge of quitting grooming entirely when she first connected with Hough. She was feeling a little burnt out and didn't have her next job lined up. However, after meeting Hough at a horse show in London, Josta became intrigued by the opportunity to learn about the American style of show jumping and life in the United States, so she decided to stick with it.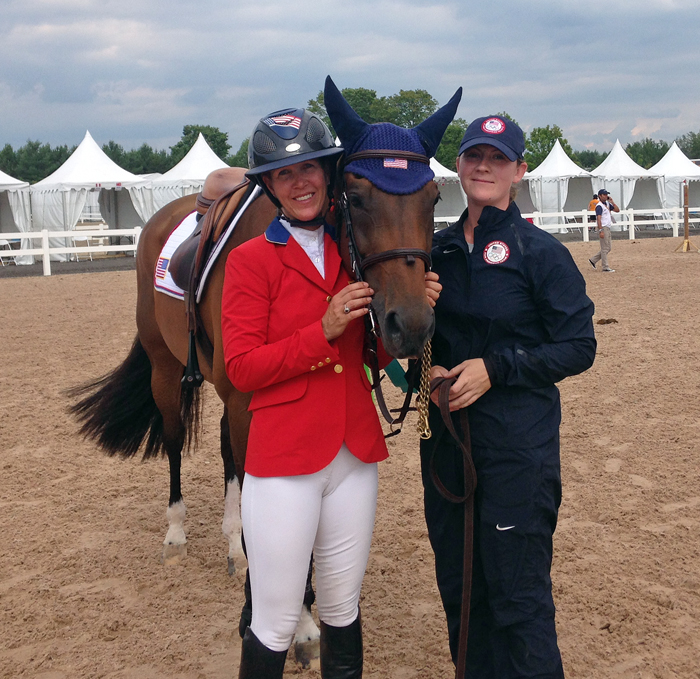 "It took a little bit of time to get used to a different system, especially when I got to Wellington, [Florida]," she said. "But it was a good thing!"
Originally from Riga, Latvia's capital, Josta got hooked on horses at age 11, and she immersed herself in riding, grooming and stable work. Her parents weren't horse people, but they helped Josta find a barn near her grandparents' house where she could ride throughout the summer and over the weekends.
"I was always helping out at the barn to get to ride for free," Josta said. Eventually her family bought her a horse of her own, and she began riding year round, all the while continuing to help her trainer care for the rest of the horses in the stable so she could afford lessons.
"That was when I heard that grooming [was] actually a paid job in other countries," she joked.
However, before she began her grooming career, Josta gave civil engineering a shot. But shortly after commencing her studies she realized her heart was with the horses. In 2009, she opted to pursue a professional career in horse sport. "[After quitting school], I decided to move to Germany," she said. "It is one of the biggest horse countries in the world, and I thought there would be a lot to learn."
Josta jumped head first into professional grooming, finding a starter job off the internet. "I was quite shocked when I got to this farm," she recalled. "Everything was so clean and tidy and organized compared to where I was coming from. It was such a different world out there. I wasn't even sure I knew how to brush a horse!"
Josta then went to work for German rider Sebastian Otten, where she groomed, rode and took lorries full of young horses to national shows. During the two years she spent with Otten, Josta learned a lot about bringing up young horses. "It took a lot of attention and patience to deal with them," she said.
Following that job, she advanced to show grooming at a higher level under the employment of Irish rider Denis Lynch. "I had only been to a few FEI shows in the past, and in my first week there I went to [an FEI] show with his client on my own," she recalled.
In one year with Lynch, Josta estimated she went to 30 competitions. "It was amazing to actually be at the shows I used to watch on TV and see all the top riders and grooms and people behind the scenes, to see how they work, and how it all comes together," she said.
Since beginning with Hough, Josta's career has flourished, and her work in the stable has also developed a new significance for her. In her former jobs, Josta felt like she was grooming "to help the riders get things done faster," whereas with Hough, she's realized "that taking your time with each horse gives you the possibility to know them better and be prepared for different situations."
She takes pleasure in connecting with her charges and forming a bond with them. "It makes me happy to see that the horses I take care of trust me and know me as much as I know them," she said.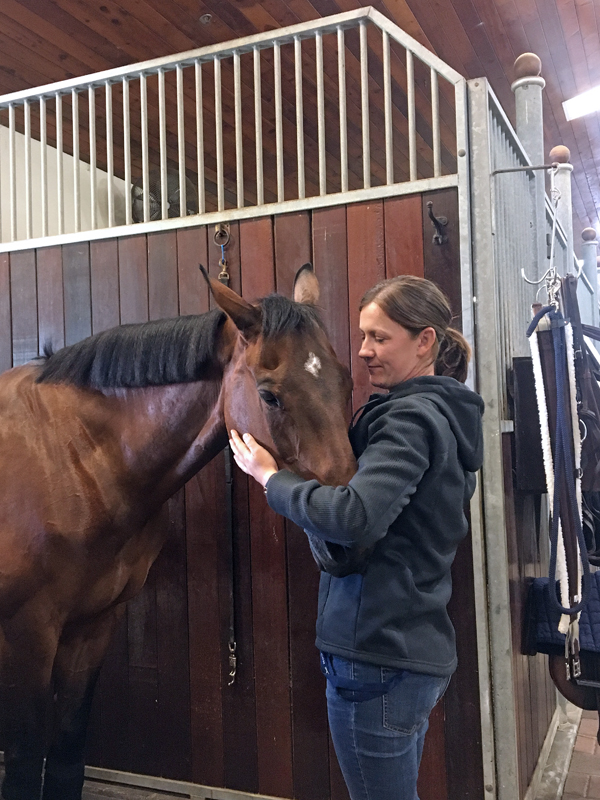 Josta spends a lot of time on the road alone, but she doesn't mind. "I can do my routine and don't have to check in with anyone," she said. "Our home grooms know that if I stay home for too long I will start picking on little things and be very annoying!"
But her independence comes from her expertise with the horses and trusting relationship with Hough, whom Josta said was very easy to work for. After five years together, Josta joked, "People wonder if we ever talk because we understand each other [so well]."
Hough's superstar mare Ohlala has a special significance for Josta, as the pair have been together since the mare began stepping up into the grand prix ranks. "From spring 2014 to today I have been to every show she has gone to," Josta said. "I know her inside out, yet she still manages to bite me just to prove me wrong!"
Under Josta's care, Ohlala has logged many impressive results, including winning the $130,000 Longines FEI World Cup qualifier at the Washington International (District of Columbia) in 2016 and the Great American $1 Million Dollar Grand Prix in Ocala, Florida, last winter. But her performance in the 2014 Rolex Grand Prix of Aachen (Germany) has a special place in Josta's heart. "She jumped two clear rounds and had two fences down in the jump-off [to finish fifth]," she said. "It was the biggest class she had ever done, and she went around the course like she had done [it] dozens of times."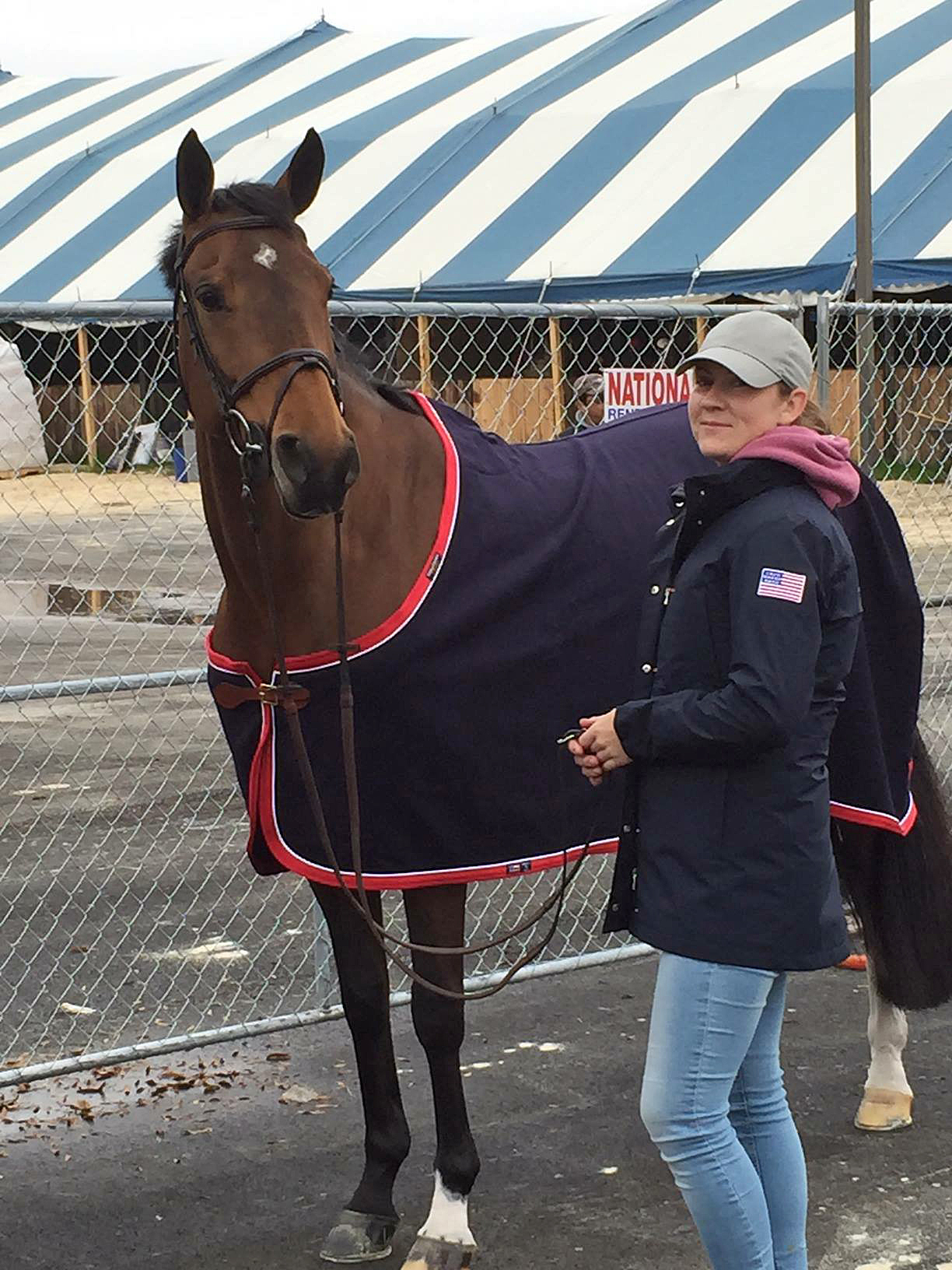 Josta plans the travel and shipping schedules in Europe, and she drives the horses herself, so she and Hough make a detailed plan together before each competition. "I appreciate that she trusts me and knows that I will take the best care of her horses," said Josta.
In addition, the two work well together because they have the same goal: to win and be consistently successful. "Especially at the world class sport, it's always rewarding to see your horse win," Josta said.
When queried about her long term career plans, Josta demurs. "I don't really make long term plans; I'm happy if I know what country I will be in next week!" she joked.
She admits she'd love to experience the World Equestrian Games or the Olympics, as her biggest championship to date has been the Pan American Games in Toronto. Hough is aiming Ohlala for selection for this year's WEG, so that goal is in sight.
Josta is dedicated to Hough and her horses, and she is constantly striving to improve herself. "You have to look for ways to make yourself better," she said, "watching other riders and grooms work, asking questions and finding answers, learning from your own mistakes or someone else's. There is always something more to learn."