Introducing Nicole Mandracchia, the Chronicle's newest blogger. She's a groom and aspiring young professional in the hunter/jumper industry and she'll share her advice and experiences. You can read more about Nicole in "Nicole Mandracchia Proves The Harder You Work The Luckier You Get."
Over the years, I've met and worked with a lot of different people in the equine industry. They come from all walks of life: professionals' kids, working students, professionals, amateurs, juniors, grooms, show managers, jump crew, people who think they can groom, people who think they can ride, farriers, vets, dentists, horse owners, tack vendors, the list goes on and on.
Some love horses, some only like them because horses make them money, some are good at selling them, and some don't have any other option in life because horses are all they know.
I guess you could say I'm a rare gem because I legitimately can't imagine my life without horses. I would be a miserable person. And, anyone who knows me will tell you I am one of the happiest people they've ever met. That's how I got the nickname "Smiley" in college.
I'm always getting asked to help find people jobs or to fill various job positions. Throughout the past three months, different professionals have had several discussions with me about the lack of work ethic apparent in many potential employees today. I wholeheartedly agree.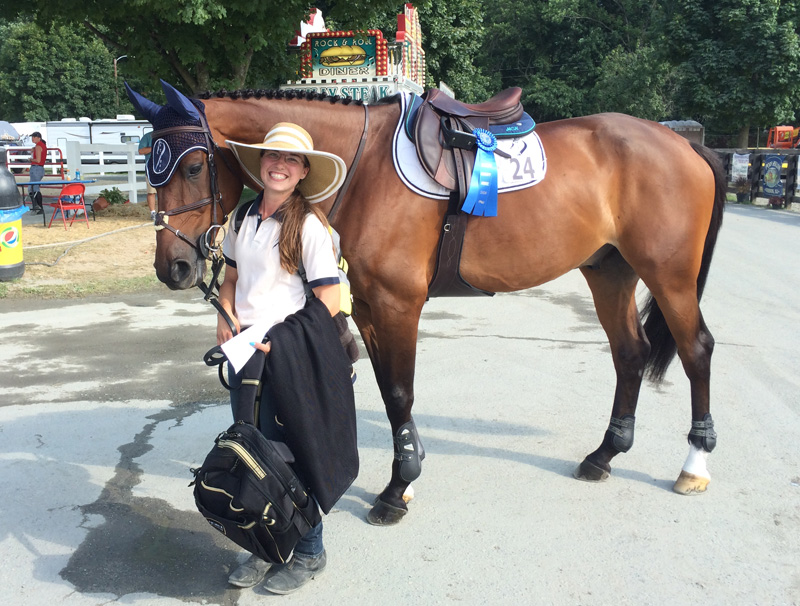 Everyone comes fresh onto the A-circuit expecting a riding job with no dirty work. But the key piece they're missing is the fact that you have to earn your spot in this industry. And that, as I have found, comes from years of putting your time in.
Take me, for example. Neither of my parents are involved in this industry, and I did not grow up with horses at all. I come from the good ol' Dirty Jerzey, the northwest part to be exact.
It's horse country out here, and there's nothing prettier: acres and acres of rolling green fields filled with horses, hay, barns, and trails. When I was 11, I decided I wanted to ride horses more than anything. So for my 12th birthday my grandma offered to pay for a couple riding lessons, and she and my mom figured that would "get the riding bug out of my system."
Haha, that was a funny joke. Who were they kidding? Fifteen years later, it's still with me, stronger than ever.
After I had been riding for two months, the barn owner asked me if I wanted to work for him for the summer. Of course I agreed, not completely understanding what I was signing up for (which, now that I look back on it, was free labor for him). Work with horses every day and get free lessons out of it? Sure! You didn't have to ask me twice.
Well, I learned pretty quickly what working with horses entailed: a lot of hard, physical work. I started from the bottom; actually rock bottom if you would like me to be so specific.
New Jersey is very well known for its rock breeding (did you know that they just appear out of nowhere?!) and the rock herds that develop in all the horses' paddocks, no matter how many times a week you pick them up.
That summer, I mucked more stalls than I could count, learned how to turn horses in and out, bathed many mud-covered ponies, and even learned what to do when a horse severs his jugular vein. That is why barbed wire should NEVER be allowed in a paddock. Just in case you were wondering, the horse survived. My clothing did not; that was the day I learned that wearing a white t-shirt to the barn was never a good idea.
That summer, I was always tired and dirty. I went through two pairs of paddock boots and thought my mom, who is a teacher, was going to have a heart attack after she learned how expensive real ones were. I got bitten by flies, electrocuted by the electric fence countless times (you think I would have learned), tacked up and untacked my trainer's horses, and even groomed at one of the local one-day shows near us, my very first horse show experience. It didn't matter that I had to lug two five-gallon water buckets across the huge trailer parking lot to water the one horse we had brought that day. I was instantly hooked on the show world.
My goal after that was to own a horse to show. Again, my parents and I were ignorant to the situation: we had no idea how much money it costs to maintain a horse every month. But my mom told me if I learned how to take care of it myself and could ride it without her help, she would get me one.
So that became my goal and I worked my butt off for it, absorbing every piece of knowledge I could from anyone who was willing to teach me. The two Centenary University girls who worked at the barn taught me a lot about horse care and riding that summer. And they never minded answering my 500 questions!
August 28, 2003 was the day that Gizmo officially became mine. He was a liver chestnut mutt, looking more Quarter Horse-y than he did draft. I used to make my mom drive me to the barn just to give him kisses and treats. I loved that horse more than anything and always tried to give him the best care.
After that winter, I moved Gizmo to a show barn, where he eventually became a lesson horse once my riding ability had outgrown him. I continued to work the weekends at the barn, learning how to make grain and rotate the turnout of all the show horses there. I groomed for my trainer, worked the horse shows we attended, taught the little kids, rode extra horses, rode the clients' horses when they couldn't make it, worked the summer camp, and still inevitably mucked stalls when our one guy had a day off.
When I was 16, my grandma bought me another horse, one that I would win with at the local level. I won five or six three-foot medals in a row. After another barn move and another purchased medal horse, I finished out my junior years riding in the big eq and qualifying for two of the finals.
I attended Centenary University for four years and rode on the 80-member IHSA team, serving as captain for two of those years. Every student worked every home show, and my friends and I would start our show days at 3:00am, lungeing and prepping horses and organizing things so the day would run smoothly. We always went to Nationals and we would bring 10-15 horses with us every time.
At the beginning of college, I sold my medal horse and, in my sophomore year of college, bought a young, green, stubborn homebred mare named Victoria's Angel. Yes, her mother was named Victoria's Secret. If you want to laugh further, her full brother is named after Hugh Hefner.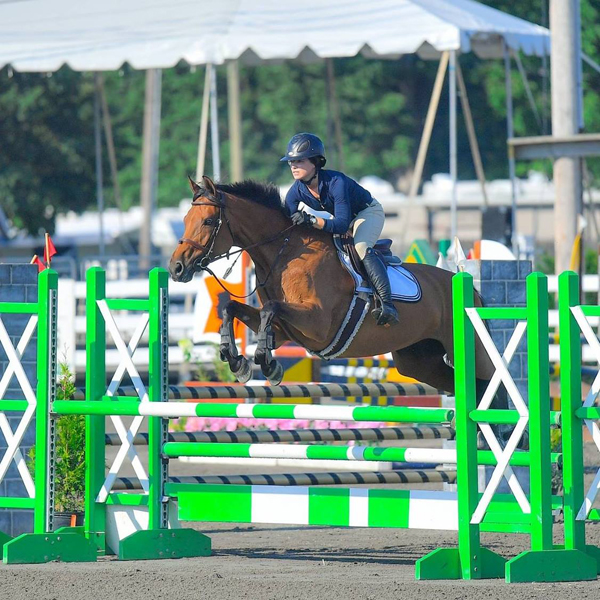 Nicole Mandracchia showing her jumper, Victoria's Angel. Photo courtesy of Nicole Mandracchia
She was a difficult ride, not something that everyone liked at all. She's hot and when she shuts down, that's the end. She didn't know how to use her hind end at all when I started with her; she would just canter around on a 14-foot stride. But she has unbelievable scope and is braver than anything I've ever sat on.
She taught me patience because you couldn't lose your temper with her. My goal was to sell her, but who in their right mind wants a horse like her? She's fun for me, but she's not everyone's ride. I decided I was stuck with her and gave up trying to sell her. I still compete her from time to time in 1.0-meter jumpers.
I worked, rode, and managed for Robin and James Fairclough throughout college and after. I learned a lot of horsemanship skills from Robin, who is one of the best in the business. I learned the value of hard work from Jim, who always has a project going.
I could do a bit of everything that was needed and groomed on the road for all of our clients from grand prix level to lead-line. I packed the trailers, prepped the horses, showed my horse, showed sales horses, fed the horses, mucked all the stalls, everything.
In fact, 2015 was the first year I ever had a guy and a girl help me do stalls at the shows. I've been on the road all over the northeast, done the Ocala circuit countless times, been to indoors numerous times, and have seen my fair share of farm work (try 250 acres worth). Both Robin and Jim provided me with so many experiences that helped shape my career, and I don't think I can ever repay them for the things they've taught me.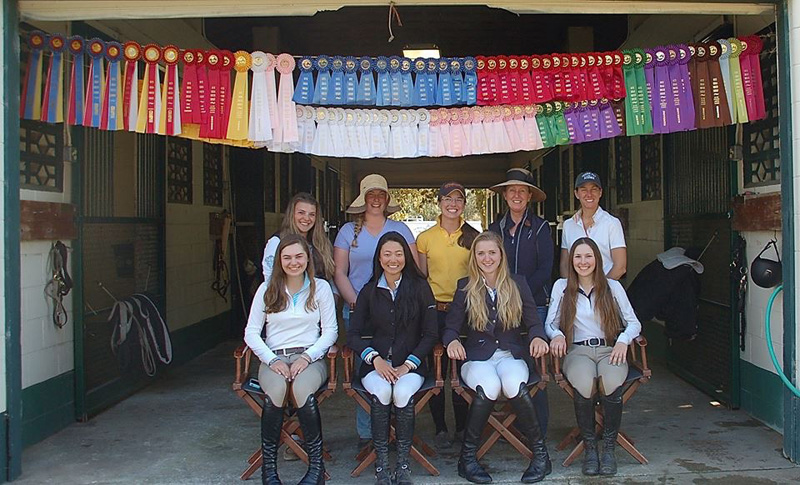 I spent a winter grooming for Missy Clark and John Brennan's North Run in Wellington, deciding that I needed to see how things were done at the top of the sport. I did whatever they wanted and always with a smile on my face. I learned the ins and outs of the show world and even got to manage a barn for one of their biggest clients. That opportunity was amazing.
Last November, I started managing for Val Renihan at her Findlay's Ridge in North Salem, N.Y., and Wellington, Fla. She has the most amazing gift: the ability to teach.
She is so good at what she does and I hope one day I can be half as good and knowledgeable as her. Val has some of the best show horses in the country and trains some of the top junior riders on the East Coast. She works with some of the best professionals in the industry, and they too learned to answer my 500 questions (and, they never minded doing so)!
When I returned home from Wellington in April, my dad's health took a turn for the worse, and I was forced to make a difficult personal life choice. Val's is far from my parents' house and not easy to commute back and forth to. I came home to New Jersey and have started working for Amanda Steege out of her Ashmeadow Farm in Califon, N.J.
She has a great program and a bunch of young hunters and amazing derby horses. I'm really enjoying it so far! I also take care of and ride horses at Lindsey Phoebus Vozza's farm in Lafayette, N.J. She has a young 7-year-old hunter  that I've been working with since he was 3and now that she has two young kids, they want to start riding.
I'm hoping to start my own teaching and training business up in Sussex County soon, and I'll be freelancing for a bit. I'm also a member of the Sussex County Horse Show Committee, and we run several C-rated horse shows throughout the year and then the main iconic Sussex County Farm and Horse Show in August.
Keep in mind that all of this has happened to me over the course of 15 years. None of this came easily, and none of it came quickly. I've had my share of heartaches, struggles, and moments where I wanted to give up and go do something else. I've been exhausted, worked for weeks straight without a day off (one time I worked three months straight because we were so busy) and still mucked stalls.
I've made mistakes, learned from them, and moved on. I've fallen off, gotten up, and climbed right back on. It's my desire to be a great horsewoman that drives me to be better every single day.
I know a lot of professionals who are like me. They work from 6 a.m. to 7 or 8 p.m., every day, riding, teaching, showing, mucking, shoeing, medicating, vetting, cleaning, grooming, driving, working. They want this too; horses are their livelihood.
I've seen a lot, and I know I have way more to learn. But I'm hoping that through this blog, I can offer advice to those who are looking to work in the equine industry. And the biggest thing I stress is that you have to be willing to WORK.
A lot of people give up nowadays before even getting their feet wet. They want instant gratification, instant success. If you want this bad enough, there's always a way. Remember: There is nothing easy about horses. But, there is also nothing more rewarding than horses.
---
Nicole Mandracchia grew up riding in New Jersey and was a working student while in school. She graduated from Centenary University (N.J.) and has groomed and barn managed for top show barns Top Brass Farm (N.J.), North Run (Vt.), Findlay's Ridge (N.Y.) and Ashmeadow (N.J.). After more than a decade working back in the barn, she eventually hopes to establish herself as a trainer.