Wayne Robertson is a staple at the in-gate of any hunter ring. At 53 years old, Robertson has been working in the horse industry for more than 30 years. He's worked with show hunters, foxhunters, race horses and Thoroughbred sales yearlings. In the '90s, he took care of the most famous show hunter of the era, Rox Dene.
Now, Robertson works for his longtime friend, trainer Havens Schatt, who owns and operates Milestone Farm, LLC, in Georgetown, Ky.
Starting his days at 7 a.m., Robertson feeds and turns out the horses, then begins the hectic process of tacking and untacking horses before and after their rides. With each animal, Robertson gives the same care and attention as the one before, taking time to give the horse some special attention with treats. He grooms them so they shine as if they were heading onto an Olympic stage even if they're just hacking around the farm.
"I take a lot of pride in the horses I care for," Robertson said. "I have my own little pet name for each of them. I love what I do. I have taken care of a lot of good horses in my career; it was a pleasure to take care of each and every one of them."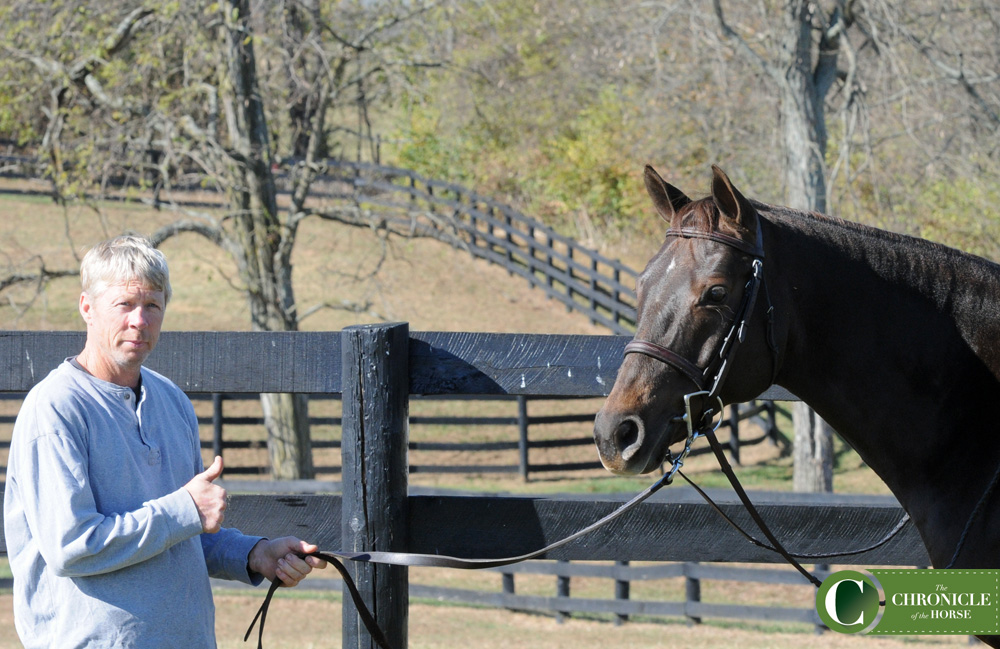 Wayne Robertson and one of his favorite charges, Custom Made. Photo by Ann Glavan
Robertson and Schatt met years ago when Schatt was competing as a junior. The pair then came together at All Seasons Farm in Cincinnati, Ohio. Now, Robertson is a key member of Schatt's team. When Schatt gave Robertson the opportunity to work with Custom Made, or "Red" as they call him, he patiently helped turn the former three-day eventer into a hunter.
"The more and more Red went around the more he came into himself," Robertson said. "I could tell he liked me, and I liked him. I just saw that he had talent; he's not the fanciest horse in the world but he is a good horse. Red knows when he goes to the ring that it's time to do his job. I go with the flow and do my job the best I can. I am not perfect by any means, but I try. I love Red to death."
"Wayne believed in Red from the very beginning. He is a very important part of our team," Schatt said.
Last fall Custom Made and his owner Shaw Johnson-Price made a sweep of the prestigious indoor shows, picking up amateur-owner, 36 and over, and grand amateur-owner championship titles from the Washington International Horse Show (D.C.), the Pennsylvania National Horse Show and the CP National Horse Show (Ky.).
"I held it all together until we got to the National Horse Show," Robertson said. "We won by half a point. I tried to hold it together, but I dropped a few tears. It was a proud moment not only for me and Havens, but also for Shaw. Shaw is the one who did the job and got the championship ribbon; I was very proud of her. It was very special for everyone."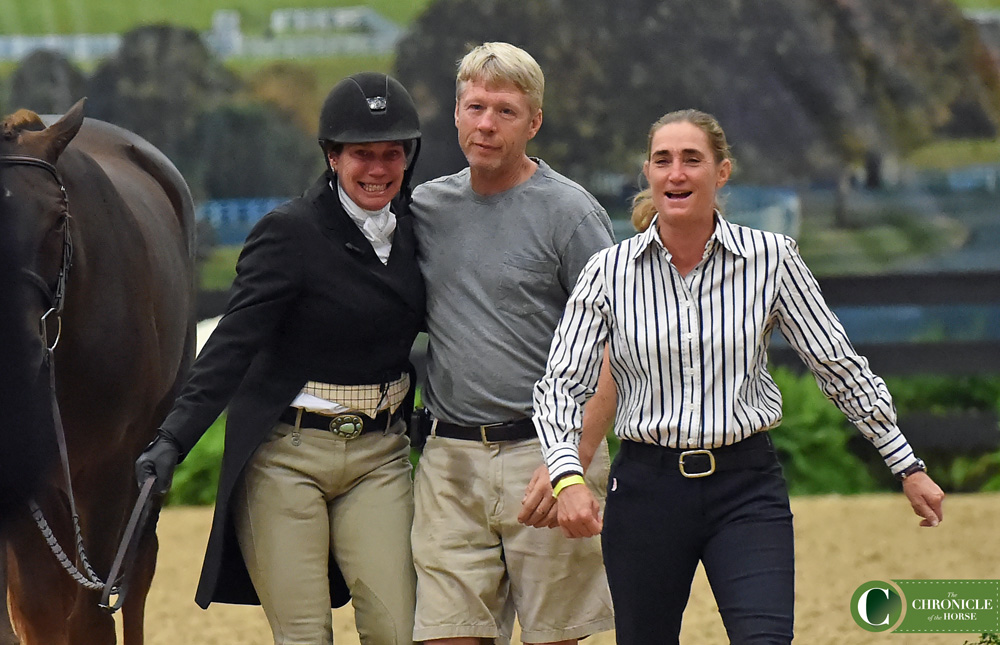 Wayne Robertson (center) with Shaw Johnson-Price (left) and Havens Schatt at the 2016 CP National Horse Show. Photo by Ann Glavan
Robertson will do whatever it takes to keep his horses in the best form.
"Wayne likes it his way," Schatt said. "If he has to show up to the horse show at 2 a.m. to do what he thinks he needs to do to be ready to show, he is going to do it. He goes above and beyond when the call is there."
Robertson is humble about his charges' successes, but he is as superstitious as they come. "I have a backpack that is nasty and dirty. I always try to take the same towel and use the same pad," he said. "I like using all the same stuff and not changing anything."
Robertson, who grew up in Kentucky, applies everything he's learned in caring for horses in a variety of disciplines to making the show horses in his care look and perform their best.
"Hunters are a lot of work," Robertson said. "If you have a horse that has potential, it is nice to go in and kick a little butt, but if they don't win I am not terribly upset. I am the kind of person that if my friends win I congratulate them.
"We take care of these horses like kids," he continued. "We get to know them inside and out. I like to be friends with them and spend time with them. A lot of people who take care of horses only want to do their job, put the horse in the stall and leave them alone. I am not like that. I just love what I do."
This is an article in Groom Spotlight, a new series of groom profiles. Make sure to follow www.coth.com and like the Chronicle's Facebook page to see them posted. If you know a fantastic groom you'd like to see appear in this series, email msorge@coth.com.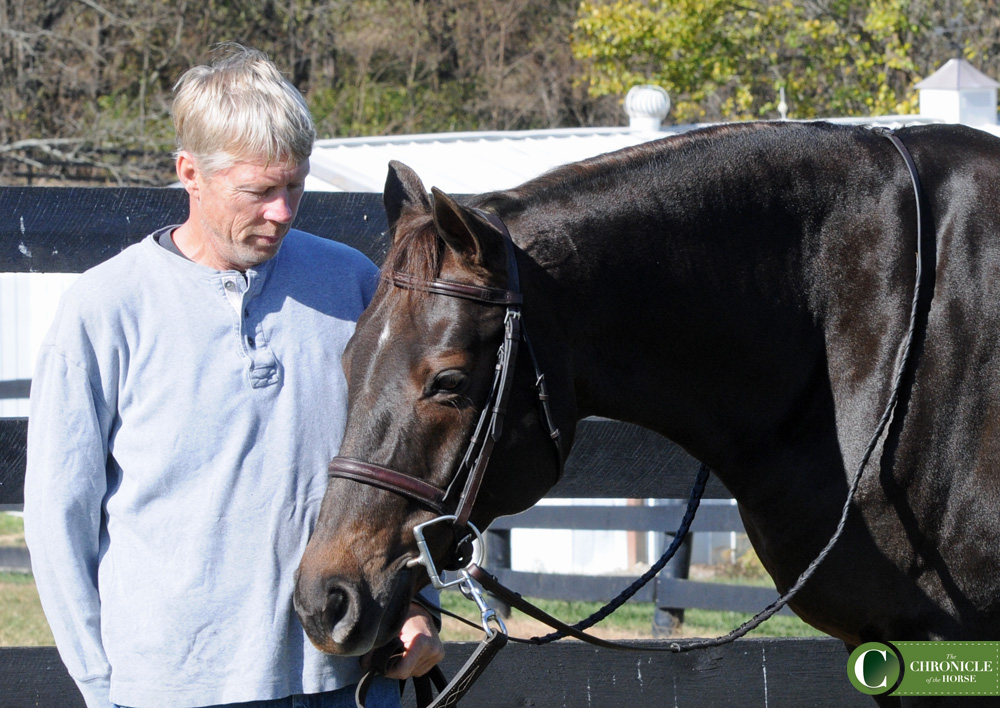 Wayne Robertson and Custom Made. Photo by Ann Glavan