Find yourself at any major American horse show or equitation final, and chances are you'll also find Rene Tovar, caring for some of the best presented equitation horses on the showgrounds.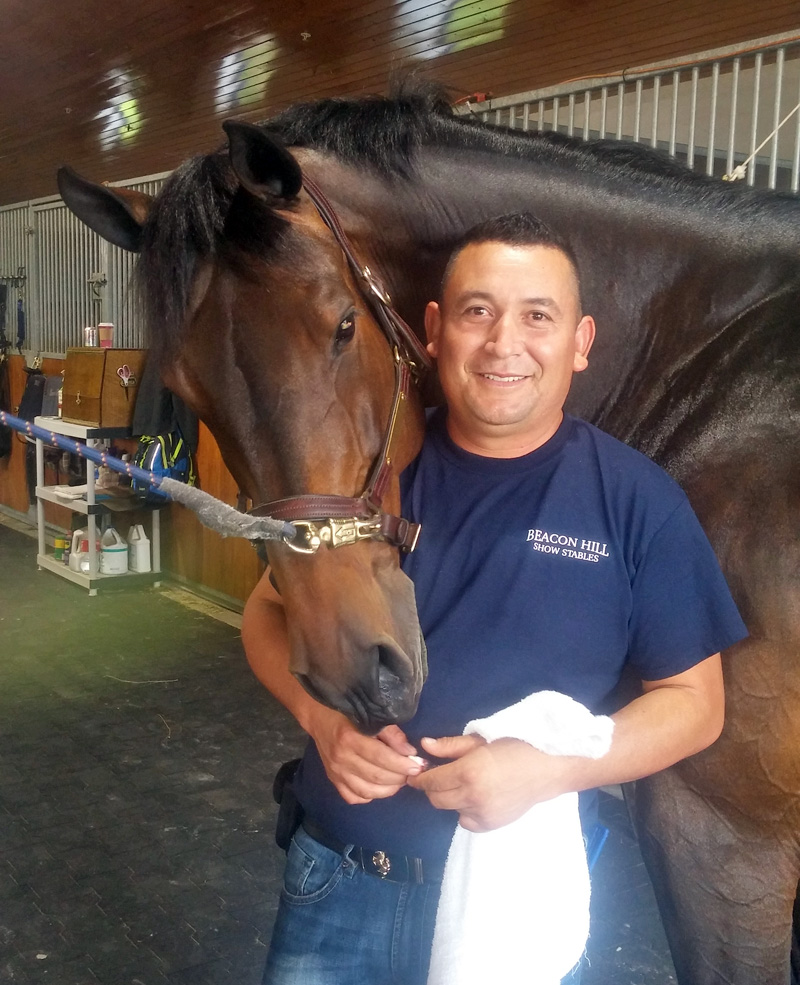 A professional groom since 1998, Tovar has spent the last six years contributing to the successful team at Stacia Madden's Beacon Hill Show Stables. At Beacon Hill, Tovar has cared for several top horses and traveled the American horse show circuit. "I like this stable and this farm because it is really competitive," he explains, while the extensive travel the job requires suits his taste, as he enjoys the opportunity to "see all the different traditions around this country."
Long before his grooming career started, Tovar was no stranger to working around horses. Growing up in a farming community of about 10,000 people near Jalisco, Mexico, his love for animals began at an early age as he and his brothers became familiar with cows and horses while helping their father on their small family farm. Though he works with show horses now versus his family's working horses, Tovar still feels a strong tie between animals and his family: "I like [the horses] because this is my support for my family," he notes, adding that you not only "have to love what you do," you also must care for "what it supports."
Though horses have undoubtedly been central to Tovar's livelihood since a young age, that is certainly not the only reason he loves them: "The horses can be your friends, you can treat them well and they will be nice to you."
With a shrug he adds, "I just like them. You start liking them."
Not only does Tovar believe people begin liking horses as they spend time with them, he attests that the horses likewise "know what you feel, what you like." The affectionate intuition the horses exhibit for the humans they are most familiar with is another aspect of his work Tovar loves. "They can feel you, if you are sad. They make your day as soon as you pet them. They give you a really nice feeling—they know how to make you feel better."
When pressed about a favorite, Tovar is demure. "I have so many favorites," he insists, "if I have to say, it's the three I take care of [at any given time]." However, he eventually admits a few have stood out along the way, particularly the equitation horse Vocas and the hunter Good Humor.
Vocas and Tovar started at Beacon Hill at the same time, when Lilly Ulrich had the ride on the chestnut gelding, who sports a unique white marking in his tail. "He is so beautiful… and she was riding him really well," Tovar remembers. "Whenever I was walking with him, all the people were watching him." As for Good Humor, the two shared a memorable week at the Washington International Horse Show (D.C.) a few years ago. "He was amazing," Tovar explains, "the whole week he was awesome. I knew he was feeling so good and he won almost everything."
Yet despite these special memories, Tovar remains adamant that all horses deserve an equal level of care and respect, and his work is characterized by the firm belief that all horses, no matter their age, type, skill level, or competitive record, are worthy of high quality care.
"To me they have the same value," he explains. "No matter how expensive they are, if you give them good care, they really care for you. They have to be treated the same," he emphasizes, "and well." Clearly, Tovar's love for the horse transcends showing, winning, and traveling, and his dedication to every animal's well being is undoubtedly a trademark of his quality work as a groom.
This is an article in Groom Spotlight, a series of groom profiles. Make sure to follow www.coth.com and like the Chronicle's Facebook page to see them posted. If you know a fantastic groom you'd like to see appear in this series, email msorge@coth.com.