David "Seymour" Clark didn't question show manager Oliver Kennedy's request for help in center ring during the 2011 Capital Challenge Horse Show (Maryland). As far as Clark knew, he was in Maryland for a vacation with longtime boss Phoebe Sheets to see old friends and hang out; but if the show manager needed help, by God, Clark would be the man to do it.
"Seymour [was] honored," recalled Cheryl Rubenstein, a longtime client of Sheets. "Can't wait to help to do that; happy to help—if you know Seymour at all, he's happy to help anybody any time. He will give you the shirt off his back."
But Kennedy had a ulterior motive for keeping Clark close to the ring: Thanks to Clark's then 40 years in the industry—most spent with Sheets—and his Mr. Congeniality reputation, he was to receive the David Peterson Perpetual Trophy, which honors "a person who exemplifies dedication and commitment to the care and well-being of horses." While Sheets, Rubenstein and clients Mindy Wurzburg and Cathy Sanders knew the honor was coming, Clark didn't.
"We told everybody that was running [the awards], just keep him busy because if you don't, he's going to be talking to the blacksmith or someplace in another part of the horse show when y'all are doing this, because he has no idea," Sheets said. "So, they had him helping with setting up and everything."
Donning a Capital Challenge jacket and standing by the awards table, Clark waited for the evening ceremonies to commence. But then photos of him appeared on the Jumbotron.
"Seymour all of a sudden realizes, 'Wait a minute, this is about me,' " Rubenstein said. "Watching him well up, watching him feel that swell of pride, and watching him just continually want to hug us—'I can't believe this. I can't believe this is happening. This is me.' I'm trying to come up with words now and getting sentimental about it again. It was so wonderful to watch him feel that sense of acknowledgement and realize that this was a nomination; this was him being recognized."
"A big honor like that, that's something special," Clark remembered. "It touched me deeply. You know it's funny, even on the airplane I was crying. When I got home, I just couldn't believe it. I remember getting that award and going to my room, and I was just bopping my head against the wall because I just knew I was in a [dream], and it just hadn't come to reality. … It just touched me so much that that many people voted for me to get this award.
"I'll tell you, I'm just glad I got some friends and not that many enemies," the 66-year-old added. "It's been lovely. I'll tell you what this sport has been to me: I love it, and I'm going to love it until I die."
Horses didn't start as a great love for Clark, but one that took some developing. As one of 11 kids in his family in Germantown, Tennessee, Clark made his way to the barn aisles because he wanted to be with his older brothers.
"Well, everybody in [Germantown], that was a small town, they were doing polo ponies," he said. "So, I kind of just followed them. My older brothers didn't want me following them to the barn where the polo horses were kept, so they would throw rocks at me and chase me. And when they run out of distance, they'd stop. [Then] I'd stop. Well, if they turn around and go back towards the barn, I'd follow them. And it goes on and on until they left me alone."
Around the time he turned 10, he started getting paid to hot walk the polo ponies for about $3-$5 a day. And while he wanted to follow his brothers, he didn't want the ponies to follow him.
"I would go around the field so fast because I was scared of them," Clark recalled. "But I was going to make that $5 they gave."
Horses grew less frightening the more he worked with them. At age 16, he transitioned into the hunter/jumper sector with the Creighton family's Stonebridge Farm. That's where he first met Sheets, who rode for the Creightons while Clark groomed. Quickly, the opposite personalities became friends.
"I've always been so tunnel vision, watching the horses and everything like that," Sheets said. "He knew his job. Seymour's always been great. He likes to talk and eat a lot, and he knows everybody."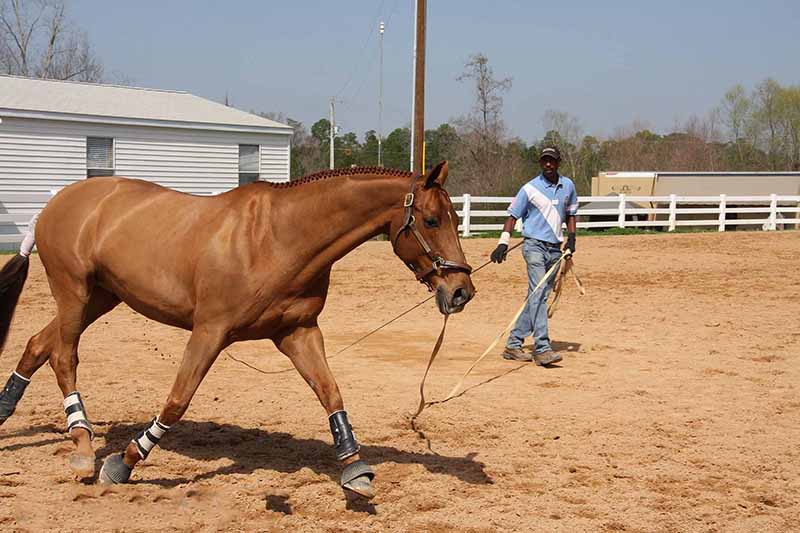 Though Clark would go on to freelance groom for numerous trainers, he and Sheets always found a way to come back and work together. He guessed they've worked a total of 40 years together, but the actual figure may be closer to 50.
"We'd have breaks, and he'd go do something, and I'd go do something," Sheets said. "But I don't know, somehow or another, we're always back working together again for all these years."
Over that time, they formed a familial bond.
"There was nothing in the world that Seymour wouldn't do for Phoebe and vice versa," Rubenstein said.
"They're very different people, but they have a ton of respect for each other," she added. "And moments when Phoebe was riding, if she fell off or got hurt for any reason, the first person in the ring—and actually for any of us—was Seymour. You'd never seen him run so fast when one of us would get hurt, particularly Phoebe—lightning."
But Clark doesn't reserve his kindness just for Sheets or her clients. In the "Seymour Dictionary," the word "stranger" doesn't appear.
"If you want to send me a mile, you better start me two hours early because I talk a lot," Clark joked. "I'm just overly friendly. People know that—I'll talk to anybody."
"It's kind of like if you don't know Seymour on the showgrounds that we go to, you're the odd man out," added Rubenstein. "He knows everybody by face; he may not know everybody's name, but there's nobody that he considers a stranger."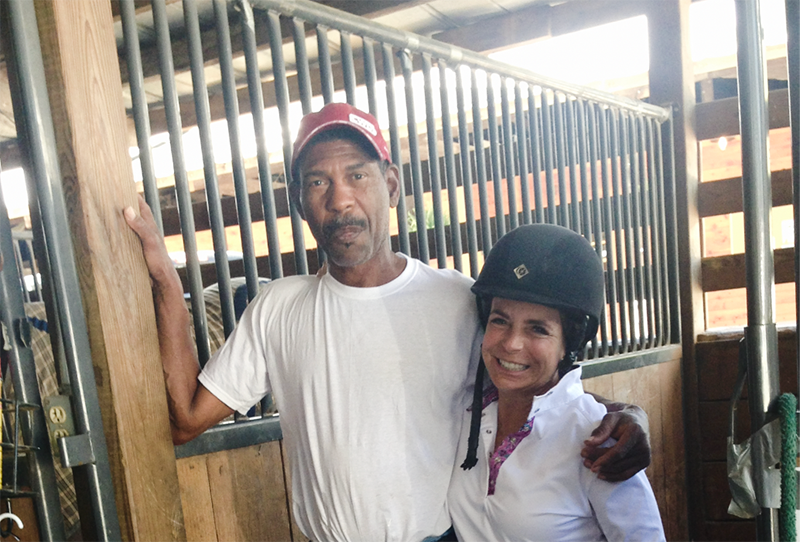 Clark truly sees people, she said, and if there's a way he can be of help, he'll offer it unprompted.
"If he sees you and you're having trouble, say longeing your horse, or you're walking it, and it's walking all over you, he's going to stop and help you with it," said Rubenstein. " 'What barn are you going to, hon? Let me help you get there.' 'Let me fix that chain.' 'You know your saddle's coming off.' 'Here let me run that stirrup up.' 'You can't carry all that yourself. Where are you going?' 'You want a ride in the golf cart?' He's not the one that's going to race by in the golf cart if you're carrying a saddle. He's going to stop, and he's going to ask you where you're going, and he's going to drive you to wherever you're going. That's who Seymour is."
That genuine character garnered him respect throughout the industry and earned him the David Peterson Perpetual Trophy. And when friend Andrew Ellis posted a photo of him on social media—something Clark doesn't participate in—over a hundred people jumped to their keyboards to type out their adoration for the Tennessean.
"It's so unusual for someone to be doing what he's done for so long and to be so loved by so many people," Wurzburg said. "Thousands of people know Seymour; they're happy to see him; they love him. The longevity of it is just not as common in the younger kids. It's sort of a rare thing, especially for someone to be with the same group of people—people come and go but the same dedication and longevity that he's had is just pretty remarkable."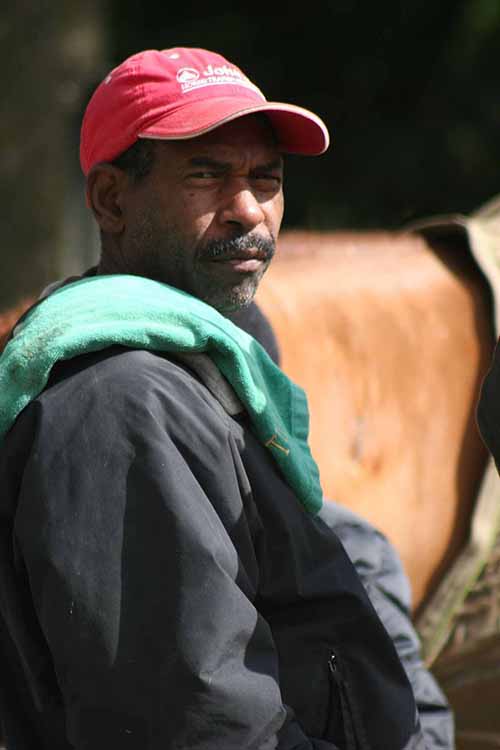 Sheets retired from Crosswinds Stables (Tennessee) on Dec. 1 to focus on judging. And Clark likewise said he was retiring too, though his "attempt" hasn't succeeded yet. This winter circuit, Clark traveled down to the World Equestrian Center-Ocala (Florida) to work for Hunters Court Stable (Tennessee) and already has plans to go South again for the Gulf Coast Winter Classics (Mississippi).
"That's one of the most beautiful things in the world: going to a job that you love, and you love doing it," said Clark.
"You got to love it to be in it this long," he added. "If not, don't do it; find something else. It's never been about the money or anything. I just enjoy the traveling and meeting people—I mean just everywhere I go, just having a good time."
That triad of horses, travel and meeting people has kept Clark fulfilled all these years and excited for more.
"If I had to do it over, I'd go right back and do it again."
---
Do you know an exceptional groom who deserves to be showcased in our Groom Spotlight section? If so, email kloushin@coth.com to tell us all about that person.