Boyd Martin stood at the top of the winner's podium at the $75,000 Asheville Regional Airport Wellington Eventing Showcase (Fla.) and pointed to the man standing next to him.
Sergio Reyes, the groom of Martin's winning mount Blackfoot Mystery, who jumped faultless show jumping and cross-country rounds to claim the top prize, finishing on a penalty score of 30.60, received a $2,500 check as part of a $10,000 Groom's Award that was distributed among all of the grooms at the event, which took place Feb. 5-6 at the Palm Beach International Equestrian Center's Stadium. Caroline Moran of Goshen Hill sponsored the award, which gave Reyes 25 percent of the purse.
"This means a lot to me," Reyes said, still grasping tightly to his check and a celebratory bottle of champagne as he made his way through the crowd to return to his horses back in the barns. "I'm so happy. This is a great way of recognizing all the hard work we do for the horses. It's the payoff for us and a little extra."
Reyes has worked for Martin at his Windurra farm in Unionville (Pa.) for two years and has the honor and responsibility of caring for all his top mounts. He groomed both Blackfoot Mystery and Martin's second mount Welcome Shadow, who finished 13th (41.10), in Wellington.
"We spend a lot of time together, and he's a very, very nice horse," Reyes said of Blackfoot Mystery, a 12-year-old Thoroughbred gelding. "I'm happy to have him and to groom him. It's a pleasure, and I'm so blessed."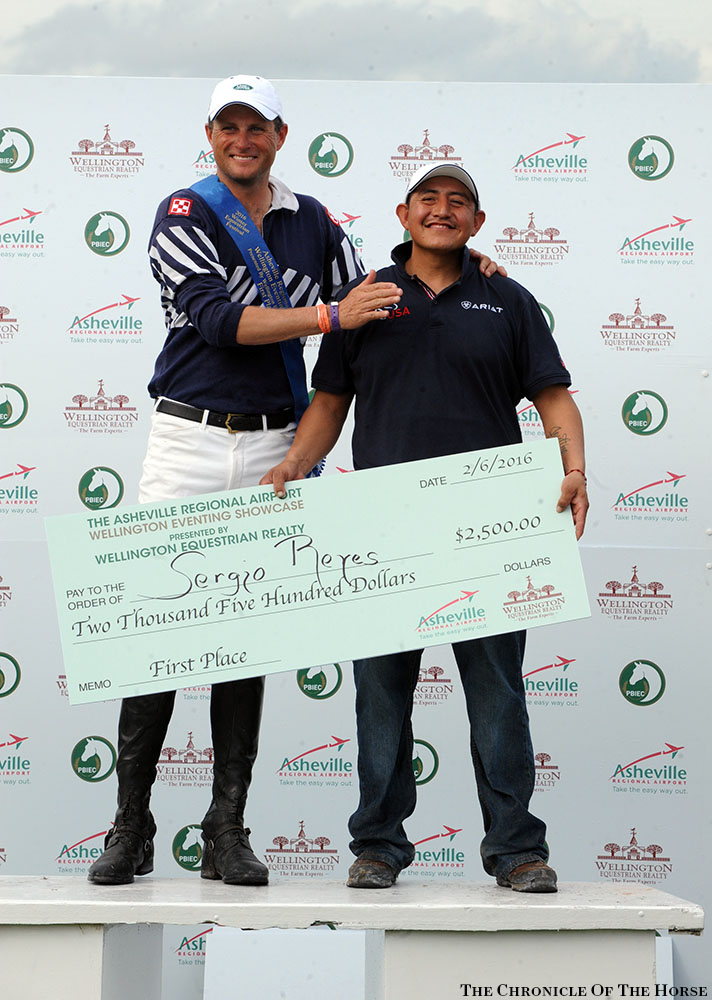 Martin and Reyes celebrate their winnings in Wellington.
The awards ceremony was temporarily put on hold as the group waited for Reyes, who was the last of the top three grooms to arrive for their photographs—a clear illustration of his dedication to his job and his horses.
"This is a totally different experience, a totally different world from where we come from," he said. "But I'm so happy to be here."
Reyes said having his horses excel in competition is his favorite part of his job, but he also gets enjoyment out of his day-to-day preparation at home. He starts a typical morning at 7 a.m., grooming and tacking horses for Martin to ride and school.
"I spend a lot of time with the horses, but I also spend a lot of time with Boyd," Reyes said. "I have a great relationship with him. I'm very happy working for him."
"Sergio is a wonderful asset to my team," Martin said. "He's very, very hard-working and absolutely loves the horses. It's hard to get him out of the barn some nights just because he really spends a lot of time taking care of my main group of horses.
"I'm very thankful for the event to applaud some of the people like [him]," he added. "Often, the rider gets the thanks, but it's really a big team around them that actually gets the horses to come up with results and performances like we saw with Blackfoot Mystery this past weekend."
Martin is a proven winner, but Reyes is also used to working for an outfit that expects to win. In the late 1990s and early 2000s, he groomed at the racetrack for Thoroughbred trainer Todd Pletcher, who in 2015 led the nation in earnings—his horses won more than $26 million and captured 269 races. In 2001, he traveled with Pletcher to the Kentucky Derby when the trainer sent Balto Star and Invisible Ink, who would finish second to the winning Monarchos, to the post.
"It was a long time ago," Reyes said. "I have a 9-year-old daughter now, so it was time to stop moving around. But it was fun."
He now remains committed to Martin, who is currently ranked No. 10 in the world according to FEI rankings. Reyes has such faith in his connections that he brings a high level of confidence with him every time his horses come to a competition.
"Yeah, I thought he was going to win," he said. "I come with that mentality every time. I always come thinking that we're going to do really well, and we always do. I have a good job."
How could one possibly top a trip to the Kentucky Derby? The Rio Olympic Games, perhaps? After Blackfoot Mystery's win in Wellington, he and Martin stand as strong candidates to make the team for the United States.
"That's a good question," Reyes said. "We'll see!"