Aaron Vale rarely has time to celebrate winning grand prix classes—of which he's done quite a bit this summer. He's usually rushing to another ring to ride in a hunter derby round or a smaller jumper class.
For example, after taking the 10-year-old Holsteiner Carlo for a victory lap following his win in the $50,000 Great Lakes Grand Prix in Traverse City (Mich.) on July 24, Vale rode the bay gelding straight out of the grand prix arena and to the main hunter ring, where he was on deck to jump the handy round of the USHJA National Hunter Derby.
After piloting five horses around the grand prix, returning for the jump-off with three and riding the derby's classic round, it was Vale's 10th ride of the day, but he wasn't even remotely frazzled. His mount, the 8-year-old Dutch Warmblood Madewell, was ready and waiting for him to get a leg up.
Vale hadn't needed to radio back to the barn or make a phone call. He knew his head groom Oscar Lugo would be one step ahead of him.
"When you've got five horses in a class of 25, and it's a rush to get them to the ring, and if you make the jump-off, and you have horses coming back and going again, Oscar keeps all of that straight," said Vale, who bases his Thinkslikeahorse operation in Williston, Fla. "He just knows how to do it."
Lugo has been a part of Vale's staff for more than 12 years. The soft spoken 33-year-old prefers to stay behind the scenes, rarely even making it to the arena, but he is the one who makes sure every horse in Vale's large stable is pristinely groomed, correctly tacked and brought to the ring on time for its place in the order. In a typical day, he does it all, from feeding the horses in the morning to helping clients pick out tack.
When you have as many horses as Vale—he stabled 20 horses in Traverse City alone this summer, and he has up to 60 horses in his care during the winter season—that's a task much easier said than done.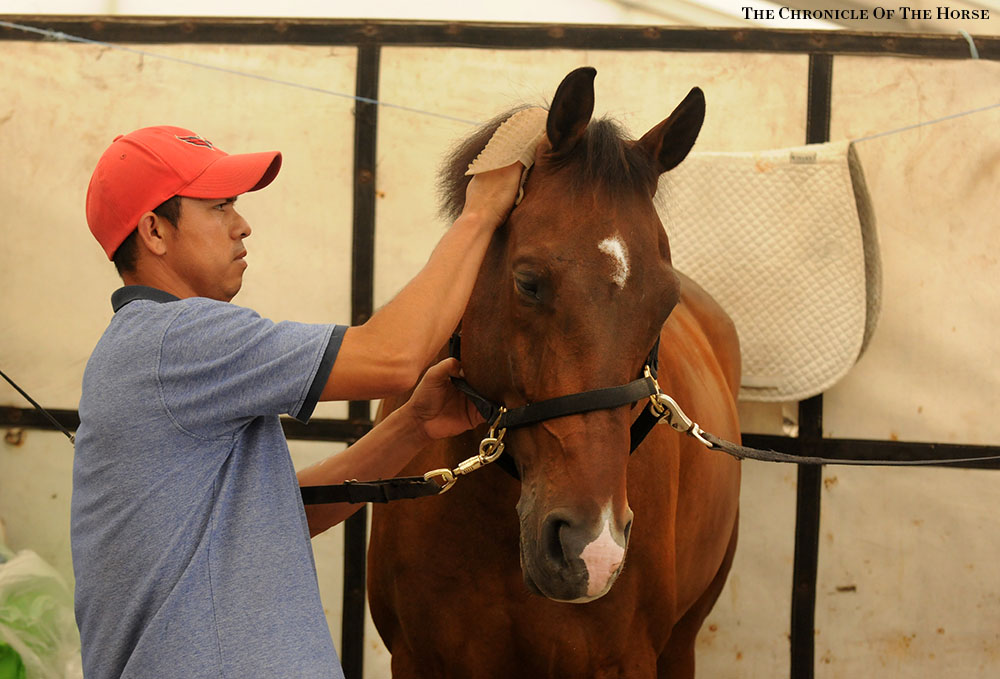 In between making sure every horse has the right equipment and care, Oscar Lugo spends the time to give his horses—like the grand prix star Carlo—individual care. Photo by Catie Staszak
"In the beginning, it probably seemed like a lot, because there are so many horses going at the same time, but over time, it just became a normal day," Lugo said. "After this many years of working with Aaron, it's just one more day."
"If I want to change a bridle on a particular horse, I tell him, because I know it's going to get done," Vale said. "I've got 14 saddles, so if I tell him I don't like a certain saddle on a certain horse, I tell him, and he'll make sure to get a different saddle on the horse—he takes care of little details like that."
Lugo has been around horses since his childhood. He grew up in Mexico, where his parents worked with horses trained for western disciplines. When he moved to the United States, he got a grooming job at a farm in Iowa for Andrea King. He spent two years there before, after a brief return home to Mexico, he went to visit a friend in South Carolina who worked for Vale at his former base in Camden.
"They had many horses at the time, so I started to do some work," Lugo recalled. "They told me they liked how I worked and asked if I wanted to stay. I made a phone call to my former boss, and she said it was fine with her, because [she was going to] sell the farm."
Lugo hasn't left since. He moved with Vale to Williston, and he now runs all that goes on behind the scenes for Thinkslikeahorse, traveling with Vale to every horse show he attends. This summer alone, he's been to Upperville (Va.), Atlanta (Ga.), and Traverse City, with more stops planned in Lexington (Ky.) and Saugerties (N.Y.) in the fall. He says he never stays at the farm for more than three weeks at a time.
"Everywhere, every single time, everywhere he goes, I'm there, too," Lugo said. "Every horse show is special, because I've met so many friends at every place we go to. You get excited about every place you go to, because you know you're going to see some of your old friends."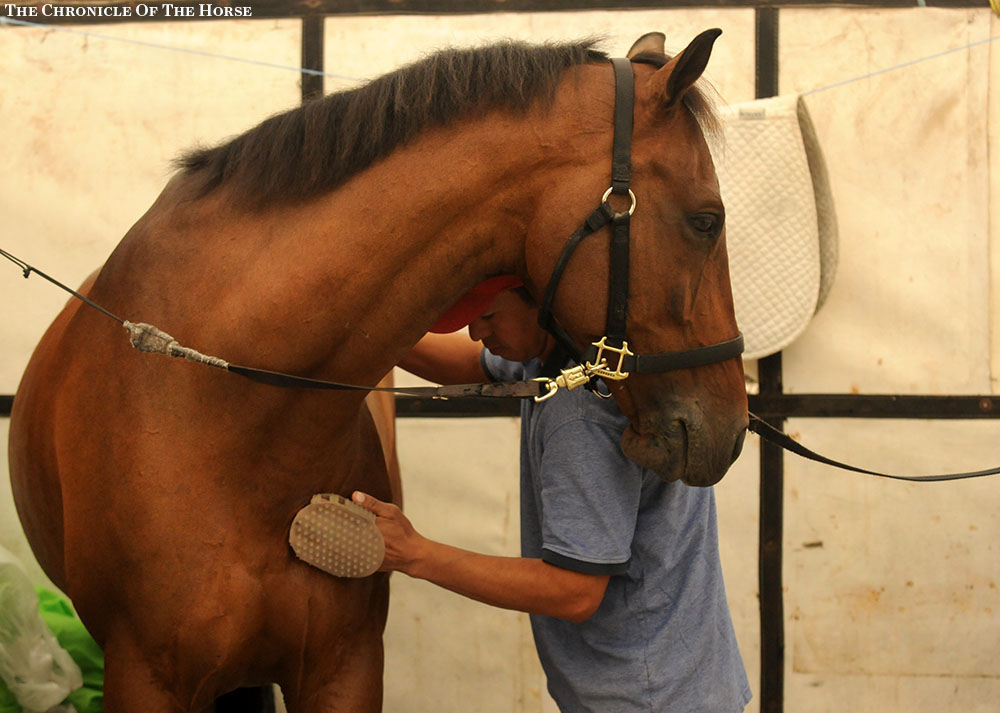 Oscar Lugo has built his life around taking care of top level horses at Aaron Vale's farm and on the road. Photo by Catie Staszak
Over the years, Lugo learned that the key to success at Vale's is organization and planning, especially on the day the grand prix is scheduled. When the show schedule comes out, the grand prix is the first class he plans for.
"At the beginning of the week, we know when the grand prix is going to be, so we're ready," Lugo said. "That day, especially, we try to finish our other work early so that when the grand prix starts, we have almost everything and everyone ready for it, and we can give all our time to the grand prix horses. Many times, there are also other classes going on at the same time, so we have to be ready for those, too."
That frequently involves getting to know new horses in a short amount of time. Vale specializes in sales and doesn't always keep his grand prix mounts for long—when introducing a horse, Lugo often begins his description with, "We just got this one…"
But one horse—Spirit, Vale's 11-year-old German Sport Horse stallion Spirit of Alena (Paladijn—Alena, Admiral)—has become a mainstay in Vale's string, and since arriving in the barn in 2012, the chestnut has become Lugo's favorite. Spirit memorably provided Vale with victories in the $75,000 Grand Prix of Indianapolis (Ind.), the Grand Prix of Roanoke (Va.), the $25,000 SmartPak Grand Prix at the Ocala Winter Festival (Fla.) and the $50,000 HITS Grand Prix at the Ocala Winter Classic (Fla.) in 2014. He also shows with Vale's wife Mallory in the amateur-owner jumper divisions.
"I like him, because I think he's a lot like me," Lugo said. "He's always ready to go!"
Thinkslikeahorse is often in a state of organized chaos, but Lugo doesn't mind the fast-paced atmosphere. He says working for Vale is a highly motivating endeavor.
"I love to work for Aaron, because he works even harder than I do," he said. "He'll have five horses in the grand prix, and he's just working as hard as he can."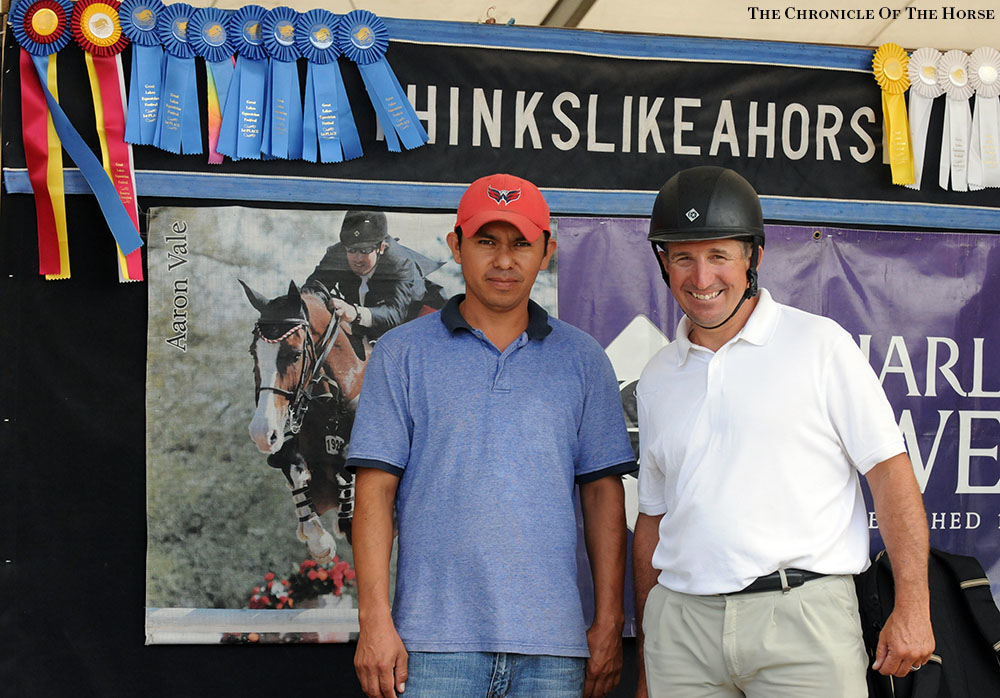 Oscar Lugo (left) has worked for Aaron Vale for more than 10 years. Photo by Catie Staszak
"We're family at this point," Vale said. "He's a great groom and caretaker for the horses. He pays attention to detail. It's really a matter of keeping him happy, because he always keeps the horses right for me. At this point, for me, I feel like I work for him!"
This is an article in Groom Spotlight, a new series of groom profiles to be featured on www.coth.com. Make sure to follow www.coth.com and like the Chronicle's Facebook page to see them posted. If you know a fantastic groom you'd like to see appear in this series, email molly@coth.com.