Life on the road may not be ideal for some, but groom Nicole "Nikki" Arnold lives for it.
"I do really well in fast-paced environments," she said. "Having to be on it at all time is a challenge, but in those moments all of your work shines through. It's a great feeling to watch your horse walk into the show ring and compete, and then you can say, 'I did that; I was a part of that.' "
Arnold works for trainers Missy Clark and John Brennan at North Run, a hunter/jumper/equitation barn based in Warren, Vermont, and Wellington, Florida. The program is one of the biggest in the business, known for producing riders who have won numerous equitation finals, national championships and gone on to international grand prix success. Doing so involves lots of horses and lots of travel—on average, North Run will travel with up to 50 horses at once, and each groom usually cares for four horses each.
"I love being a part of this team," Arnold said. "We win a lot, and we have great horses. The kids ride really well, and that really helps. Everyone works so hard here, including the working students."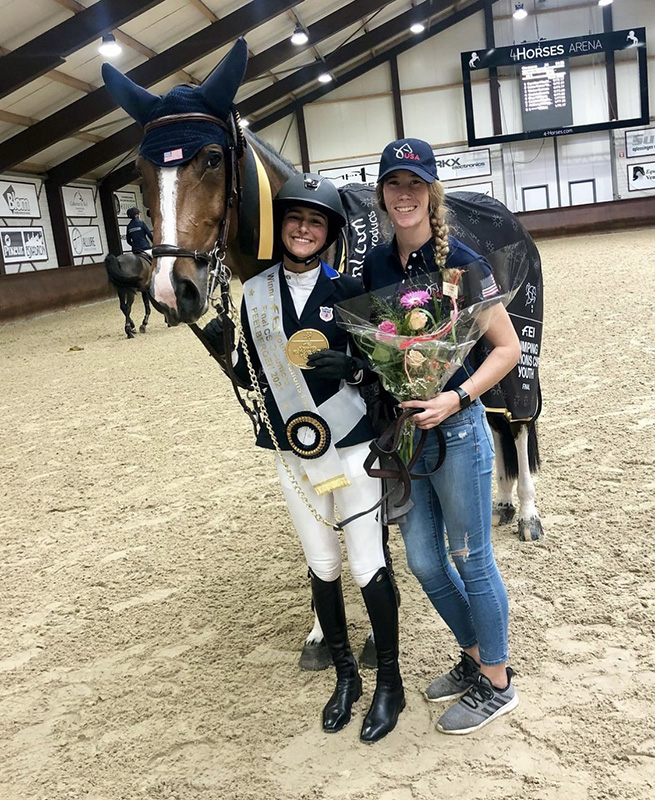 Arnold, 24, grew up in San Diego, and when she was 5, she took an interest in the horses at her grandparents' cattle farm in Iowa. They sent Arnold's sister, Danielle, one of the horses as a pet, and both girls' horse obsession took off from there. They started out riding on the county-level show circuit.
"At one point, we owned seven horses," Nikki said. "We boarded at a smaller barn and did all of the work ourselves, riding both English and western."
Until Nikki left for college, trainer Virginia Mulvaney taught her everything she knew about caring for horses.
"She really took me under her wing," Nikki said. "She taught me how to clip, pull a mane, walk a course, longe, drive a truck and trailer, etc. She made me the horsewoman I am today."
When it was time to decide on a college, Virginia Intermont College in Bristol, Virginia, piqued Nikki's interest first.
"Virginia graduated from VI, so that's one of the reasons I really wanted to go there," Nikki said. But the school closed its doors the year she began applying for college, so she instead set her eyes on Centenary University in Hackettstown, New Jersey.
"As all the equine students do, I started from the bottom up in the Centenary equine program," she said. "Although I knew a lot of the beginner concepts, it proved to me that Virginia had given me a solid foundation. As I progressed through the classes, I added a lot more tools to my toolbox."
While at Centenary, Nikki worked in the barn when she wasn't attending classes, helping to care for the program's 110 horses, which prepared her to work in a big operation like North Run.
"It gave me a lot of exposure," she said. "I was able to see how to handle certain situations that I may not have experienced at a smaller barn."
For her sophomore and junior years, Arnold assisted with rehab riding and worked very closely with the on-staff equine veterinarian, Dr. Jesslyn Bryk-Lucy, DVM. In addition to waitressing and bartending at a local restaurant, Nikki was a member of the Centenary Intercollegiate Horse Shows Association team and the Centenary hunter/jumper team, which competes at horse shows in Zone 2. She was also student government vice president.
Nikki graduated in May 2019 with a major in equine studies and a concentration in equine business management and social media marketing.
"I thought that having a business degree would help me in the future if I ever needed a back-up plan," she said.
A week later, Nikki packed up her things and drove straight to Vermont to start her job with North Run.
"I was about to take another job in New Jersey, but it just didn't feel right to me," she said. "So I declined it and started looking again. I came across a post in one of the Centenary Facebook groups about North Run, and I messaged them, interviewed and got the job. I always thought that having a grooming job would help you in every aspect."
Nikki credits North Run with putting a lot of experience under her belt.
"For me, grooming with an A-circuit barn is a great way to do all the things that I never got to do as a kid," she said. "It exposes you to a taste of the real industry, and it's taken me to places I've only dreamed of. I've learned so many things—I cannot even put them into words—about horse care, therapies, working with the best professionals in the industry, all of it."
Brian Robinson, Clark's long-time Vermont barn manager, has provided Nikki with a lot of guidance.
"Whenever I have a question, I can call him, and he always answers," she said. "Any kind of trick—he knows everything. He's played a huge role in teaching and guiding me."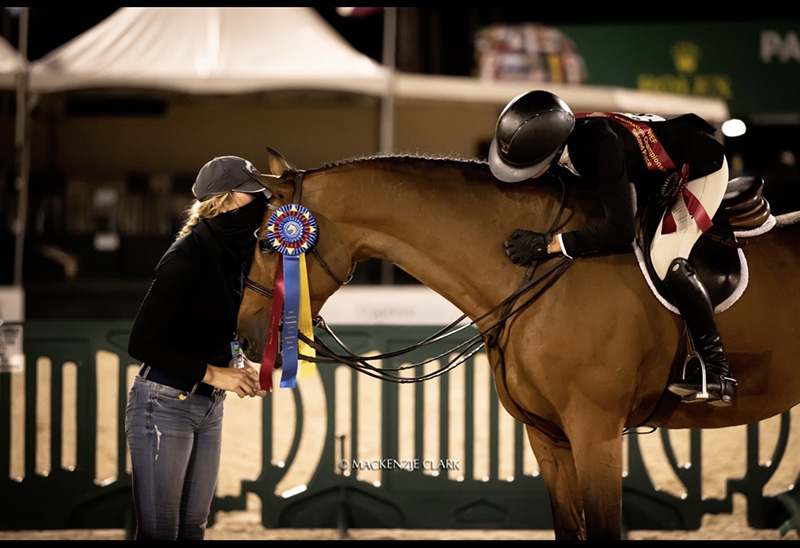 One of Nikki's favorite horses to care for is Jordyn Rose Freedman's Finnick, a 16-year-old Westphalian gelding (Cayetano L—Landliebe), who won the 2021 ASPCA Maclay Finals with rider Zayna Rizvi at the National Horse Show (Kentucky).
"That was an empowering moment for me," Nikki said. "Everything came full-circle. I started from the bottom in California, and now my horse had won Maclay Finals with Zayna. We were all so proud. We had five kids in the top 12—it's an amazing feeling, it's indescribable."
In addition to Finnick, she also cares for two of Rizvi's grand prix horses: Windsor Show Stables' Nektarina B ("Angie"), a 17-year old Holsteiner mare, and Peacock Ridge LLC's Excellent ("Hef"), a 13 -year old Dutch Warmblood gelding.
Caring for Angie at the U25 level was Nikki's introduction to the bigger classes. Nikki groomed Hef when he and Rizvi won the individual gold medal in the juniors at the 2021 Gotham North/FEI North American Youth Jumping Championships at the Great Lakes Equestrian Festival (Michigan) and in the Netherlands, when he and Rizvi helped the U.S. team take gold in the 2021 FEI Youth Nations Cup Final.
"To be a part of that winning moment was amazing," Nikki said. "We were holding our breath until the last rider. I definitely want to be a part of something like that again."
She believes that working at North Run has helped make her a better horsewoman.
"I've grown to be more independent, and I'm able to trust myself more," she said. "I've also learned when and how problems or unexpected happenings need to be addressed."
For those who are considering a professional career in the equine industry, Nikki recommends learning how to properly groom horses first. She believes that it greatly improves one's horsemanship skills, which sets the foundation for success in the future.
"Do it and try it—you learn so many more things and new ways of doing things," she said. "You learn each horse's personality and the ins and outs of them. You know what they like and how to make them happy, which is very important for all aspects of their life."