He's got a paying gig as an FEI groom, a side job doing equine laser therapy and an entrepreneurial streak that won't stop. No matter the path, Michael DeLuna knows the road to his big dreams involves horses.
DeLuna grew up around horses through his mom, Michele DeLuna, who competes as an adult amateur in California, and her decades-long friendship with 2006 FEI World Equestrian Games (Germany) team bronze medalist Leslie Morse. Due to their friendship, Michael scored unprecedented access to high-performance dressage at an early age. For his 10th birthday, for example, he got a backstage pass to watch Team USA compete in Aachen, Germany.
"When [Morse] was doing all her big stuff and traveling the world, my mom and I went everywhere around the world with her," Michael said. "I was part of Leslie's team. So I've basically been able to be at every major championship in the world except the Olympics. I watched Anky [van Grunsven] win Aachen before winning gold in Athens [during the 2004 Olympics]. I watched Debbie [McDonald] bring down the house in Vegas with Brentina at the [2005 FEI World Cup Final]. I've seen Isabell [Werth] fight tooth and nail on her way to becoming the most decorated dressage rider of all time."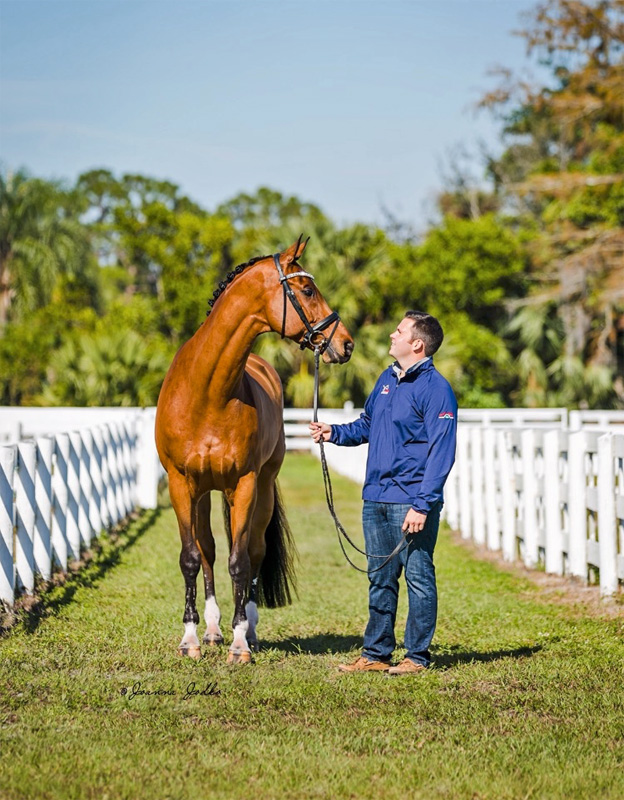 After high school, Michael wanted to experience campus life at a football powerhouse school. He picked the University of Alabama and graduated with a degree in advertising in 2015. He quickly found a "traditional" job but soon learned his heart was with the horses. Within a week, he was off to Düsseldorf, Germany, to groom for Jennifer Hoffmann.
After almost two years, he returned to the States. He moved to Wellington, Florida, and worked a variety of jobs for Lauren Asher, his girlfriend Noel Williams and her parents George and Roberta Williams, and Vinceremos Therapeutic Riding Center. He got out of horses for a while and landed an office job in Palm Beach, Florida. (Keen to buy a house, he knew he needed something that looked a bit more impressive on paper to score a mortgage.) Then COVID-19 hit, and he was furloughed within six months of taking the new job.
He placed an ad on Facebook, and his longtime friends, top Canadian dressage riders Evi and Tanya Strasser, called to say they knew of a great job for him working for another Canadian high-performance dressage rider, Denielle Gallagher. He took the job two days after he'd been furloughed in March 2020, and he's been there ever since.
Gallagher is based out of Ashley Holzer's barn in Wellington in the summer and Loxahatchee, Florida, in the winter, and the atmosphere has been excitingly different there.
"Denielle's business is such a sales-heavy barn which, for me, is a lot of fun," Michael said. "It's opened my network up tremendously. It's good to be in that atmosphere like Denielle and Ashley's barns because they are real professionals who recognize you're a professional. Let me tell you, the vibe with the Canadians is the best in the world. There's a super good vibe at the barn, and it's just a fun place to work. Working for Denielle has been great because she has been on both sides of the spectrum; she groomed for Ashley  at the Olympics and managed her barn for well over a decade.
"They do the horses at the highest levels, but they have families. They all have fun. So as much as the horses are their No. 1 priority in life, they still have a life outside of horses, which I think is so, so important because that's what I grew up with."
It's A Matter Of Trust
Michael said Gallagher isn't a micromanager.
"It gives me a ton of confidence to do my job at a high level knowing that Denielle trusts me without question," he said.
About three months into working for Gallagher, Michael told her he needed to be a more permanent part of her team so his dream of owning a home would be on track. She agreed, and he now owns his own place.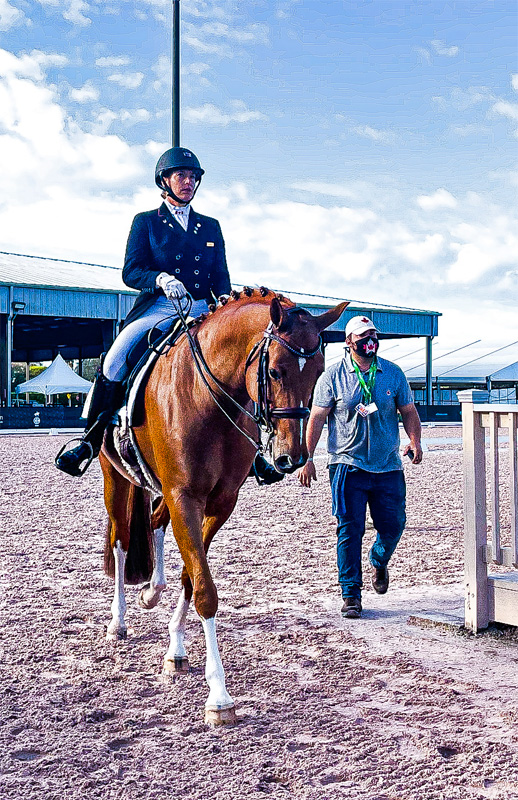 "There are a lot of people who've struggled their entire career, and I think that's horrible," he said. "And this might come off as arrogant but: Great grooms make great horses and riders. You can tell which riders have the same consistently steady grooms because they have success. I mean, grooming is one thing, but, at this level, you're doing so much more than just brushing horses.
"That, to me, is what's fun about grooming," he said. "I know that what goes down centerline is because of the long hours and difficult days. I've always prided myself on the fact that my riders only have to think about riding. I love watching my horses go with my riders, knowing that we are truly showing our best product and that our horses are happy and healthy."
He's taken a particular interest in the formation of an International Grooms Association, which is modeled after the British Grooms Association and is spearheaded by BGA founder Lucy Katan.
"That's great because there are not enough people who are truly advocating for grooms," he said. "I just looked at it and said we need to be able to lobby for health care because that's not always offered. We need to be able to have a set salary that is demanded by law. There needs to be a certain number of days off. That kind of stuff has to happen because it's the only way to support the community, in my opinion."
Do The (Side) Hustle
In addition to grooming, Michael also turned a side hustle into a mortgage-paying revenue stream. About four years ago, he started working for Respond Systems Inc., a company providing laser and magnetic therapy products for equines and canines. Steffen Peters' longtime equine therapist, Tom Meyers, has been Michael's mentor with the products for years.
"I'm an independent rep for Respond, but Tom basically taught me how to use the products the way he does on Steffen's horses and on the majority of the team horses," he said. "He basically said, 'Hey man, at some point, I'm going to get too old to be doing this. I want you to get going the way I'm doing it.'
"That has really become my bread and butter. I am super lucky that my network has expanded so much in the last season with Denielle and being at Ashley's barn in the summers. Denielle has given me so much freedom to have other sources of income. The whole team got me over the hump!"
He also recently started his own business, DeLuna Equine Services, a full-service concierge business, helping equestrians with a variety of needs from finding a barn for a client to lease during the South Florida show season, to booking a landscaper, to checking on a client's Wellington properties during the South Florida hurricane season. "Just kind of being a gopher," he said. "I really enjoy being a 'go-to guy.' "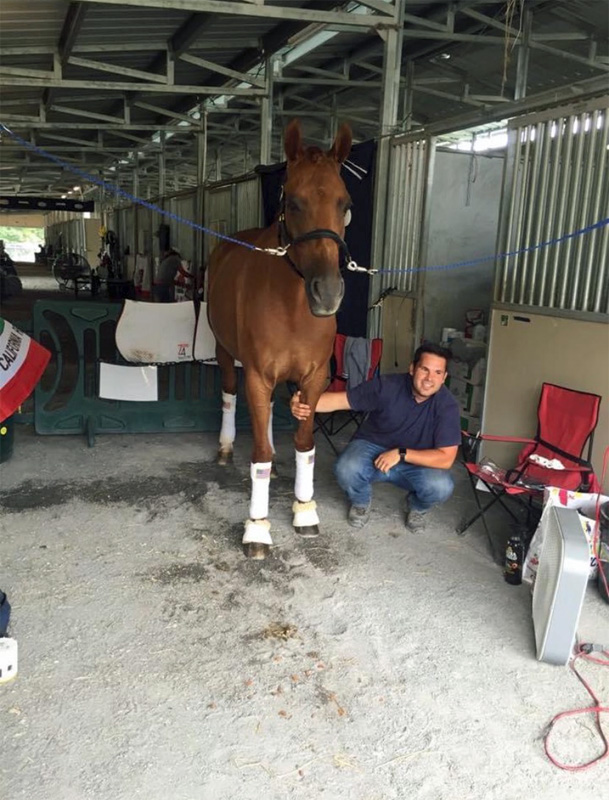 A Good Groom's Good Tip
When asked about grooming secrets, Michael shared one tip he swears by: a bathing ritual done once a week.
"I take Dawn dishwashing detergent, and I do the entire body with Dawn to strip all the oils from the body so that I can kind of open the follicles on the horse's coat," he said. "I rinse that, then I take coconut conditioner, and it can be any brand, and I put that on the whole body, and I let them marinate. So I let them sit in it for like 5-ish minutes, and then I rinse. It keeps the coat super shiny and keeps their skin super healthy. Being in Florida, we're clipping more than a lot of average people do around the country, and our horses are sweating way more; we've got to replenish those oils."
---
---