Down the aisleway of Peter Wylde's stalls at HITS Saugerties (N.Y.), I found Mandee Scalice setting grain with her helmet on.
Just before getting on her 16-year-old warmblood mare Anatalia 6, Scalice is scooping grain to maximize the few minutes of spare time she has; she has just enough for a quick ride before the next of Wylde's horses has to be at the ring. While the barn is being packed up in advance of a return to Wylde's base at Mullenders & Wylde Horses, LLC, at Winley Farm in Millbrook, N.Y., Wylde has horses showing in classes past 7:00 p.m.
"It starts with an early morning and usually goes for a long afternoon, but it's that organization factor that I think helps us," Scalice said of Wylde's operation. "[Wylde] is tremendously organized, and I think that's a strong suit of our barn. I like to think that we try and stay organized so it's not chaos, even though we tend to have bigger numbers showing throughout the day."
Scalice, 28, is Wylde's do-it-all girl, but her current primary title is horse show manager. She travels with Wylde and his string of show horses on a near-weekly basis, making sure horses are tacked up and at the correct show rings. She also helps ride Wylde's mounts, oversees his working students, grooms, drives the trailer and even cleans stalls when needed.
"She's the best," Wylde said. "She does everything—grooms, rides, drives the trailer, cleans stalls, you name it. She does it all. She's a great role model for kids that want to work in this business."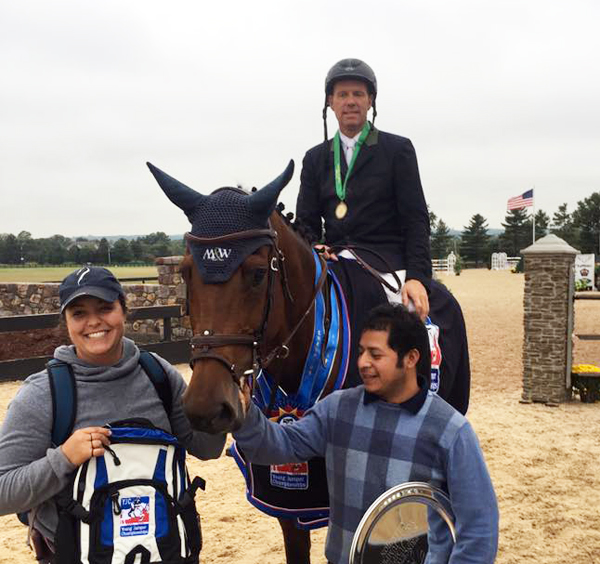 Mandee Sacalice (left) with fellow groom Humberto Martinez (right) and Peter Wylde on Canamera after the mare won the 7-year-old Young Jumper Eastern League Final.
Scalice was one of those kids not too long ago. In fact, she grew up idolizing her now-boss. Raised in northern Pennsylvania, her mother was also a rider, and her family owned a hotel business in the Poconos (Pa.) where there were always horses around.
"My grandmother says that was the worst thing she ever did—put my mom on a horse—because it was all downhill from there!" Scalice jokes.
Scalice learned to ride in the same environment. She wasn't exposed to the more serious horse show industry until she began training with Irish show jumper Kevin Babington and experienced her first winter show circuit.
"That's how I fell in love with this end of the sport," she said. "We did it a little bit 'backyardy' until that point, and then I met Kevin randomly at a horse show, started riding with him and followed him to Florida the following winter. That's when I decided that this was what I wanted to do forever."
When One Door Closes…
After graduating from high school, Scalice determinedly sought out to start her own business with the aim of using the income to fund her own showing and the purchasing of investment horses. After her mom retired from her longtime job as a school superintendent, the duo decided to take the plunge in 2006.
"I guess it was partly out of necessity," Scalice recalled. "My family and I got to the point where we had to either go full-throttle or not do much at all. I've always had my horse, and the goal was to do whatever we could do to be able to show my horse, if that was doing summer camp, teaching up-down lessons or whatever I had to do."
With graduation and retirement coinciding, the timing seemed right, but environmental factors intervened. "We're just in a tough spot in Pennsylvania," Scalice said. "There are a lot of backyard people, western riding and a lot of summer homes, too. There's not a tremendous amount of full-time people that want to ride, and the economy really affected our area.
"Right as we were getting into it was when the economy just tanked. I feel like our target audience would have been the teachers and the people who could have afforded a horse and afforded to go to some shows in the summer and maybe once a month or something the rest of the year, but [after the economy took a turn for the worse], those people just couldn't afford to do it anymore around us. Then, we were going to try to do a rehab-type thing, and again, I was pretty positive and hopeful about that, and it just didn't take off."
Scalice wasn't entirely sure of her next move, until Wylde, a team gold medalist from the 2004 Athens Olympic Games, announced in 2013 that he was returning to the United States after spending the previous 12 years based in Europe. With nothing to lose, Scalice looked up his number and called him, completely out of the blue.
"I literally just called him up one day," she said. "I just have always been one of his biggest fans ever. I had a job at the time, and I was looking for a horse and needed a trainer to help me. I called him, and he said 'Sure.' That [other] job ended up not working out, but I kept the connection with him."
At the time, Scalice was riding with Kevin McQueen at Mill Stone Farm in Asbury, N.J., where she found Anatalia 6.
"I'm not quite how the stars aligned, but we were able to buy her," Sacalice said. "Kevin had imported her two years prior, and I actually picked her up from quarantine, and I just fell in love with her. I basically told him that if he ever wanted to sell her to please call me first."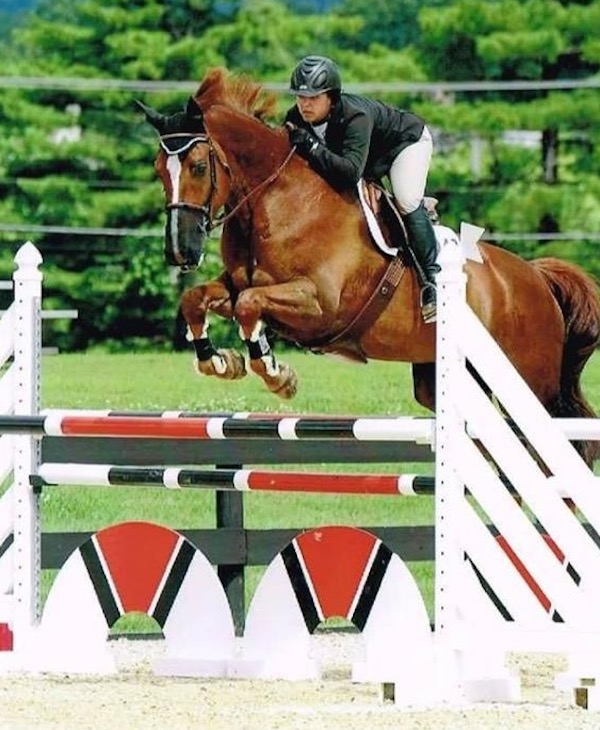 Mandee Scalice's mare Anatalia 6, affectionately known as "Abby," travels with Wylde's string. Photo by Paws and Rewind Photography
When she got a part-time job working with Wylde, she followed the show jumper to Florida but left "Abby" at home. When she returned, she brought the mare for a lesson with her new employer; he liked the mare so much, he allowed Scalice to bring her on the road with his string. The mare is currently rehabbing from injury, but Scalice hopes to return her to competition at the 1.30- and 1.40-meter levels.
"She's my first love," she said. "I was kind of hoping to move up and do some bigger things with her, but she got injured, and we've been sidelined a little bit. But she's able to come with us to the shows, and I can keep her going and get her fit. She's feeling really solid."
Working Her Way Up
Scalice started out helping Wylde on a part-time basis, as she'd meet up with him at various horse shows and do some showing of her own.
"I would help him at the ring, get people there on time and that sort of thing, and I'd show my horse at the same time," she said. "After a week was done, I'd go home and teach lessons at home, and when he needed me again, he'd call me."
Gradually, the work became more frequent, and a year ago, Scalice joined Wylde's team on a full-time basis. In the months since, she's gradually taken on more responsibility. She works as the barn's manager at shows, while Nancy Snyder manages the home barn.
"I just love his whole system," Scalice said. "It starts with his horsemanship, and it's the whole shebang—he has it all, and he's a tremendous horseman and a tremendous rider. His goal, to me, is always, 'What can we do to keep the horses happy and doing their job?' He does a fabulous job of finding that. His grand prix horse [Aimee] has gone through some ups and downs, for sure, but it's amazing to me how he keeps trying to figure it out while doing the right thing for the horse. It's just awesome."
Scalice has become particularly fond of Aimee, an 11-year-old Dutch Warmblood mare (Solitair—Oletta, Silvio II) whom Wylde started riding at the beginning of the year after being campaigned up to the 1.45-meter level by Hester Klompmaker of the Netherlands. Aimee finished third in the $130,000 Adequan Grand Prix CSI*** at Tryon (N.C.) in July and jumped a clear round to finish sixth in the $75,000 Ulcergard Grand Prix Aug. 7 in Saugerties.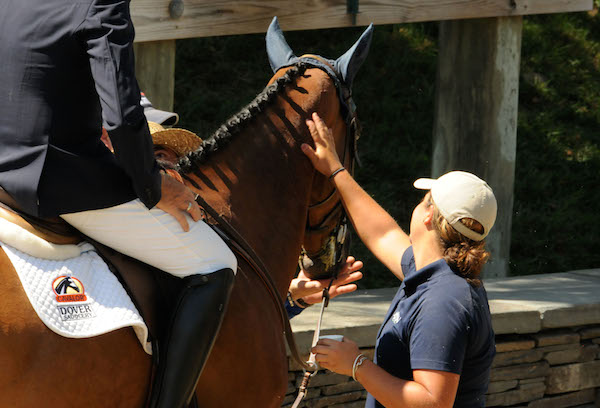 Scalice had many pats for Aimee after she and Wylde jumped clear in the first round of the $75,000 Ulcergard Grand Prix at HITS Saugerties (N.Y.) to ultimately finish sixth. Photo by Catie Staszak
"She's totally my favorite," she said. She's really come into her own over the last few months. It's amazing to see her now. Her whole personality has changed. She's gotten happier, stronger and more confident, and it's so cool to see. But really, I love riding all of his horses."
Scalice says she doesn't think about it much—she's probably too busy to do so—but occasionally, she reflects on how she's gone from teaching up-down lessons to riding her childhood hero's grand prix horse, and she's glad she didn't give up on her goals to work professionally in the industry.
"I've looked up to Peter my entire life, and to say I'm this person for Peter Wylde is just pretty a cool thing," she said. "Sometimes I think about where I came from, and being here, doing this now, it's cool.
"I just love the horses," she continued. "At the end of the day, I love the horses and seeing their success; it's just the best. There's just no better feeling than that. To see [Aimee] succeed and see Peter succeed at that level again—it's just the best. To know you have a hand in that compares to nothing."
This is an article in Groom Spotlight, a new series of groom profiles to be featured on www.coth.com. Make sure to follow www.coth.com and like the Chronicle's Facebook page to see them posted. If you know a fantastic groom you'd like to see appear in this series, email molly@coth.com.