At any prestigious horse show, it's hard to miss super groom Luis Ruiz. He's always at the ring with one of Maria Rasmussen's hunters, and he's prepared to win with a towel hanging from his belt loop and a grooming backpack in tow.
"Luis is my right-hand man," said Rasmussen, who owns and operates Sea Change Farm out of Wellington, Florida. "We cannot function on a daily basis without him."
Ruiz, 38, came to the U.S. in 2001 when he was 15. He learned about cows and horses on his family's farm in Guanajuato, Mexico. "I worked more with the cows because we only had two horses there," he said. "When I first came to America, I spent three months working in the fields in California."
A move to Chicago led to a job with Lynn Jayne at Our Day Farm in Elgin, Illinois. Ruiz was there for five years, traveling to Wellington to work the Winter Equestrian Festival four times. After that, he went to work for Forest Hill Farm in Chicago, where he first met Rasmussen in 2010.
"We worked together for three years there, and then I followed Maria when she opened Sea Change," he explained. "And I've been here ever since."
Sea Change Farm spends a lot of the year on the road, and Ruiz travels with it, managing the grooms and 15 to 20 horses. When they're at home, Ruiz oversees 20 to 25 horses, and he knows them intimately.
"Luis knows all of his horses like the back of his hand," Rasmussen said. "He always calls me if he thinks a horse doesn't look right. He always does extra for all of the horses, and he goes above and beyond for everyone."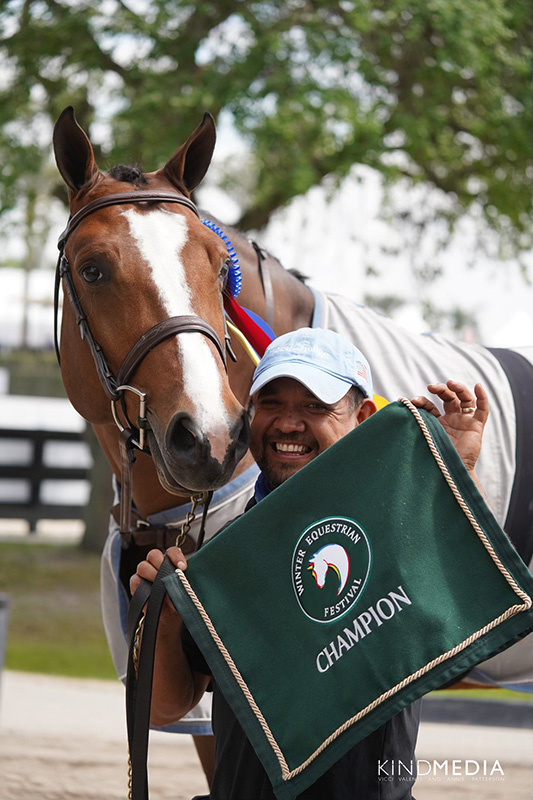 In 2021 Ruiz received the Shapley's Grooms' Award for Best Turned Out Horse with Hobbs Lane in the WCHR 3'3" Junior Challenge at the Capital Challenge Horse Show in Upper Marlboro, Maryland.
Rasmussen's assistant trainer, Katie Wood, relies on Ruiz, especially at WEF. Wood, 33, has spent the past two years working with him.
"I couldn't do my job without him," she said.
Sea Change rents two barns at two different farms in Grand Prix Village, and that makes for a lot of running back and forth.
"Sometimes I get stuck at the show or at the other barn, but I know he's getting things done at the barn," Wood said. "He's got a lot of responsibility. He does a majority of the longeing, manages our guys, and he keeps up with what's happening at the horse show through the ShowGrounds Live app to make sure we're not missing classes. It's nice to have a team behind you because I certainly cannot do it all myself."
Ruiz's favorite part of the job is watching his horses go well.
"When we win, it is very special to me," he said. "When they win, I feel good. We work so hard to help all of the horses every day; it's nice to see the hard work pay off. I also love it when Maria wins the hunter derbies—they're such special classes. You're making memories that you will remember forever."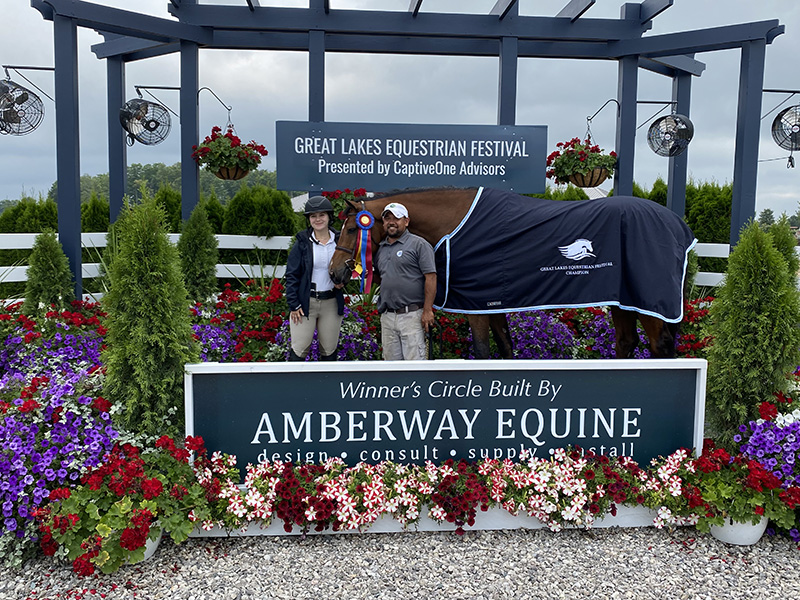 One of Ruiz's favorite horses is Sunset View Farm LLC's Worthy, an 11-year old Holsteiner gelding by Cannavaros who competes in the 3'6" performance hunters and hunter derbies with Rasmussen and did the small junior hunters with owner Sydney Hamel before Hamel left for college.
"Worthy is so nice and sweet," Ruiz explained. "When he first came here, he was scared and a little wild. I did a lot of work with him, and now he's a different horse."
Ruiz always has Worthy's favorite treat, a banana, on hand after he shows, and the pair make quite a content picture on their way back to the barn after a good class, often accompanied by Maria's dog, Simon.
Rasmussen jokes that Simon thinks Ruiz is his owner. "If I'm on the phone and I pull up to the barn, Simon starts whining if I don't let him out of the car immediately," she said with a laugh. "He will follow Luis around all day long."
Ruiz's favorite show every year is the Devon Horse Show in Devon, Pennsylvania. It's been canceled for the past two years due to COVID-19 restrictions, but Ruiz is excited to go in 2022.
"It's an important show; there's lots of winning there," he said. "It's warm there at that time of year—I love indoors too, but it's too cold there sometimes!"
One of the qualities that Wood admires most about Ruiz is his work ethic.
"His hours can be so long, but he never complains," Wood said. "He makes sure to set the example for the other guys and teaches them how to do things properly. Above all else, I always know the horse's well-being comes first."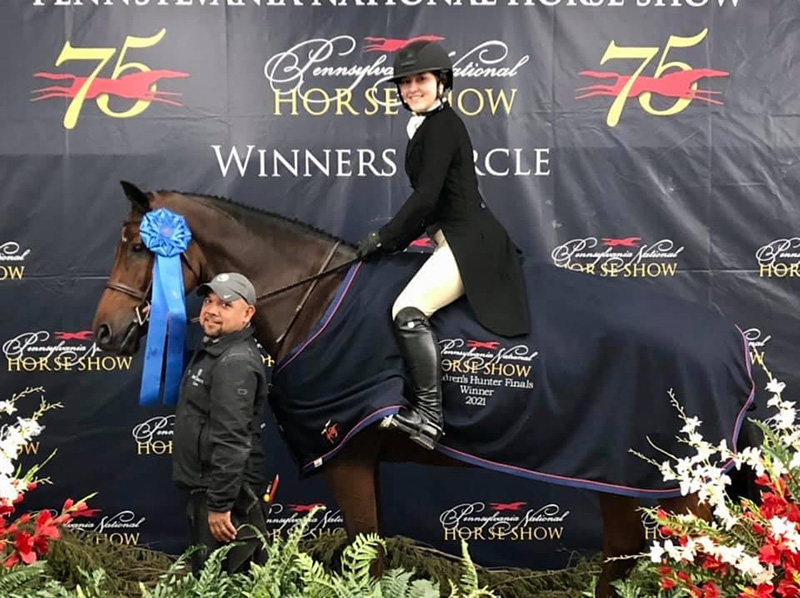 In 2019 Ruiz, who lives with his wife, Norma, and two sons, Junior, 13, and Angel, 10, started a quest for his U.S. citizenship. With the help of Jill Abrams, one of Rasmussen's clients, Ruiz did virtual tutoring while on the road at horse shows.
"He studied so hard for this test; we are all so proud of him," Rasmussen said. "The hardest part is how the questions are worded, and he did so much studying to make sure he would understand."
In July 2021, Ruiz took his written citizenship test and passed. In February 2022, he attended the swearing-in ceremony and officially became a U.S. citizen.
"It's been so many years of this process," he said. "I'm so excited for this. I've done so much work to make this happen."