Circling the arena in advance of the judge's signal at the 2018 Nations Cup at Rotterdam (the Netherlands), Adrienne Lyle suddenly pulled up her mount, Salvino. The stallion's noseband had snapped. In the hush of the high voltage atmosphere, it wasn't clear how the pair would continue.
Then Salvino's groom, Morgan Klingensmith, brandished a fresh cavesson from her bag.
"I said, 'Don't worry! I've got two in here!' " Klingensmith, 24, remembered with a laugh. "I'm known for being like Mary Poppins at horse shows. Electrical tape, clips, buttons, super glue, nosebands, a sewing kit. I've learned that you never know what you might need."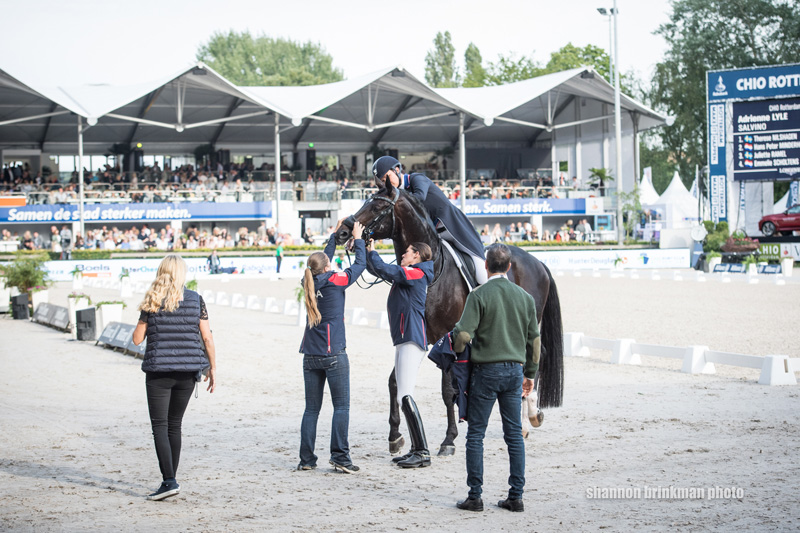 Klingensmith started grooming for Betsy Juliano, who owns Salvino and supports Lyle, immediately after high school. She evented as a teenager and grew up just down the road from Juliano's Middlefield, Ohio, farm.
Initially, Klingensmith hired on to help veteran groom Liz Siders with the retired horses.
"Morgan learned quite a bit from Liz," said Juliano. "She already knew horses, but she learned a lot from Liz about what it takes to really take care of them. Over the first couple years, Liz grew more and more impressed by Morgan's abilities and work ethic. I did, too."
In January of 2017, Juliano had an opening for another groom to travel with her show horses to Wellington, Florida. Klingensmith spent the season working under Juliano's in-house trainer, Jennifer Baumert, and got to know Lyle through Salvino (Sandro Hit—Dynastie, Donnerhall).
"My first impression of Morgan was that she was a very hard worker and a very good horse handler," remembered Lyle. "She was rather quiet at first, but I was always impressed by how self-sufficient she was at dealing with things that were thrown at her. Morgan is the epitome of cool under pressure. I have never seen her get flustered. We always joke that a bomb could go off next to her, and she wouldn't flinch."
After the Florida season, Klingensmith hardly had time to unpack in Ohio before Juliano tapped her for another traveling assignment. Salvino's groom couldn't go with him to Europe.
"I went to Morgan and said, 'Do you have a passport?' " Juliano said. "She says no. And I said, 'Well you better get one because you're going to Europe.' The first plane ride of her life was to Belgium, and she flew over all by herself."
International adventures agreed with Klingensmith. Over the next three years, she flew to the continent every summer, visiting Sweden, Germany and Luxembourg. She groomed Salvino at the 2018 FEI World Equestrian Games in Mill Spring, North Carolina, and Handsome (Hochadel—Wyona K, Weltmeyer) for Baumert at the 2019 Pan American Games in Lima, Peru.
"I've been fortunate to go a lot of places, but I really love going to Aachen [Germany]; that's probably my favorite," Klingensmith said. "It's such a big horse show, and all the best of the best people are there. There are so many incredible trainers to watch in all different disciplines. It's very, very cool."
Juliano appreciated how Klingensmith absorbed information from her high-performance experiences and applied it in the barn aisle and atop the off-the-track Thoroughbred she kept from her eventing years.
"Morgan is quiet, less so once you get to know her, but definitely at first," Juliano said. "She's reserved, but she's a watcher. After spending that first summer in Europe and watching not just Jen and Adrienne but also Laura [Graves] and Kasey [Perry-Glass], she came home, and her own riding had taken a huge leap forward. And she hadn't ridden all summer! But after watching all these great riders, she was able to incorporate what she observed."
Juliano promoted Klingensmith to head groom at Havensafe Farm. Then this year, she gave her the ride on two imported young prospects—one bound for Baumert, but the other potentially for Klingensmith to keep.
Klingensmith spent the spring and summer bringing the 6-year-old mares along in Florida with the help of Lyle, Baumert and even U.S. Dressage technical advisor Debbie McDonald.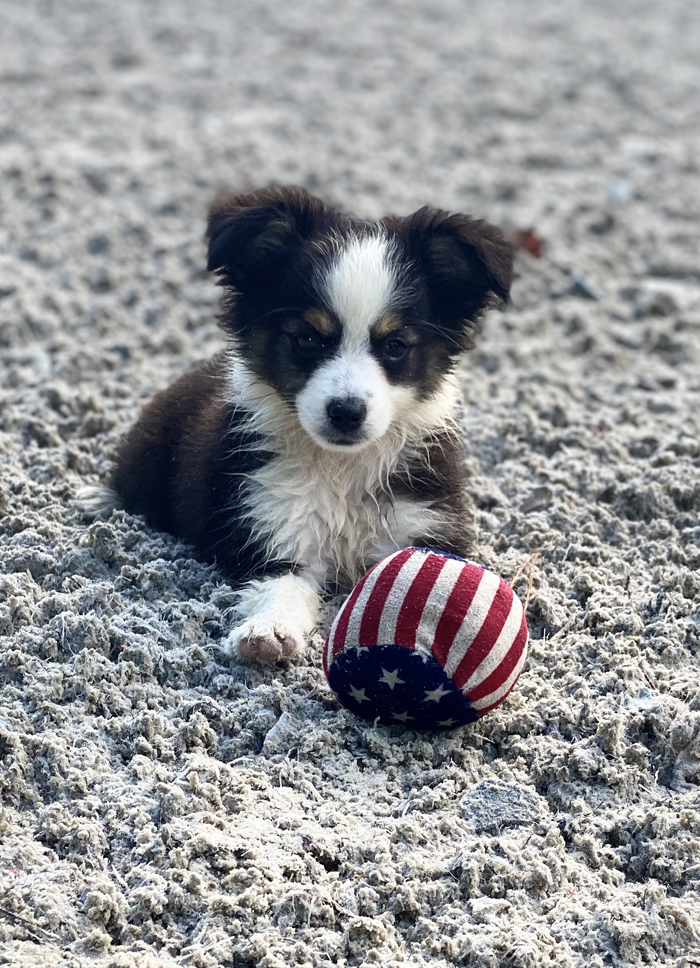 "I'm incredibly grateful for the privilege of working with Betsy's young horses and learning from just the best mentors you could ask for," Klingensmith said. "I did a lot with young off-the-track Thoroughbreds growing up. They used to call me 'the tick' because I didn't come off easily. It's been really cool now, though, to have groomed so long and traveled the world with the U.S. team, watching and learning. It's like I get to apply all of that to the young horses coming up. I just feel really grateful."
Juliano sees riding as the next phase in Klingensmith's development.
"People gave me chances when I was young and supported my professional life, and I like to do the same," Juliano said. "I like developing people versus bringing in people who think they already know everything. Morgan has proven time and time again to be a very good and very conscientious decision-maker. She never seems to run out of energy. And at every step of the way, when I've given her something more to do, she's proven she could handle it. That's a person I want to invest in."
Klingensmith admits she struggles to take breaks, let alone vacations. She lives above the barn with her 6-month-old miniature Australian Shepherd, Lulu, and she likes being able to hear the hum of farm life even on an afternoon off.
What keeps her motivated?
"Learning," said Klingensmith. "That's the best part about being a groom. No matter how much you think you know, you look across the barn aisle at a competition and see another groom or a rider doing something differently and think, 'That's really smart. I'm going to start doing that, too.' And the same goes for riding as for grooming. I just take it day by day and see what opportunities present themselves. I'm incredibly thankful to Betsy, Debbie, and Adrienne for helping me come this far. We'll see what happens next!"