It's not everyone who could keep smiling through long workdays managing top show horses at three different equestrian properties in Wellington, Fla., but you don't have to spend much time with Kira Johnson to realize she isn't like everyone else.
Some people who work exclusively with horses are not terribly chatty when a human journalist invades their barn sanctuary, but Johnson waved me right down the aisle of La Victoria Farm in Wellington with a friendly hello, saying not to mind her very old and very deaf dog who was barking his own loud and discordant hello.
A beautifully crafted white stable with peach colored ceramic shingles lining the roof and dark wood stalls lining the interior, the paved aisle is spotless as Johnson walks through and introduces her charges, including the hard-to-miss little palomino quarter horse named Miles, Johnson's own personal reining horse.
"I've been in the wrong discipline my whole life!" Johnson said with a laugh. "I got into reining on a whim, a friend of mine took me. I was working for Kate Levy at the time and she said 'we need to go on an adventure, be ready at this time, I'll pick you up and we're going to go.' We went out to this place up in Connecticut and had a reining lesson."
It wasn't long after that lesson Johnson got talked into buying Miles by a friend who was working for top international reiner and breeder and former show jumper Sarah Willeman, who owned Miles (Mi Colonel Can Twist) and competed him in reining derbies.
When she's in Wellington for the winter season, Johnson tries to make it down to Fort Lauderdale to take lessons with a reining trainer, and she's always open to converting other hunter/jumper horse friends.
"I have a waiting list of people who want to try reining, because it's really fun!" Johnson said.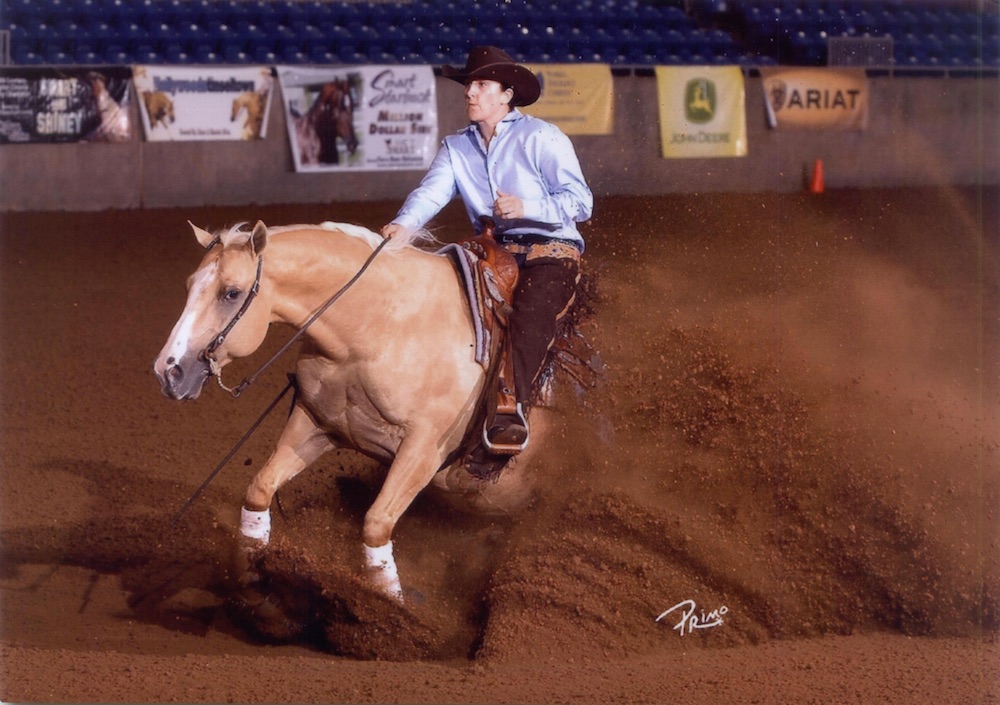 Kira Johnson showing Miles in a reining competition in 2010. Photo by Primo
Speaking with a few of Johnson's friends, you get the sense that there is rarely a dull moment in her life.
"If you hang out with her you're always going to smile, and you know there are not many people like that necessarily," said Anna Katarina, a friend of Johnson's for over a decade. "And it doesn't even have to be outside of work, it can be at the horse show. You just always get a very nice feeling from being around her."
Sliding through the sand in a western saddle on a gold pony are worlds away from Johnson's very proper English riding roots—as a junior, Johnson trained with equitation legend Missy Clark and her mother, Doris Clark.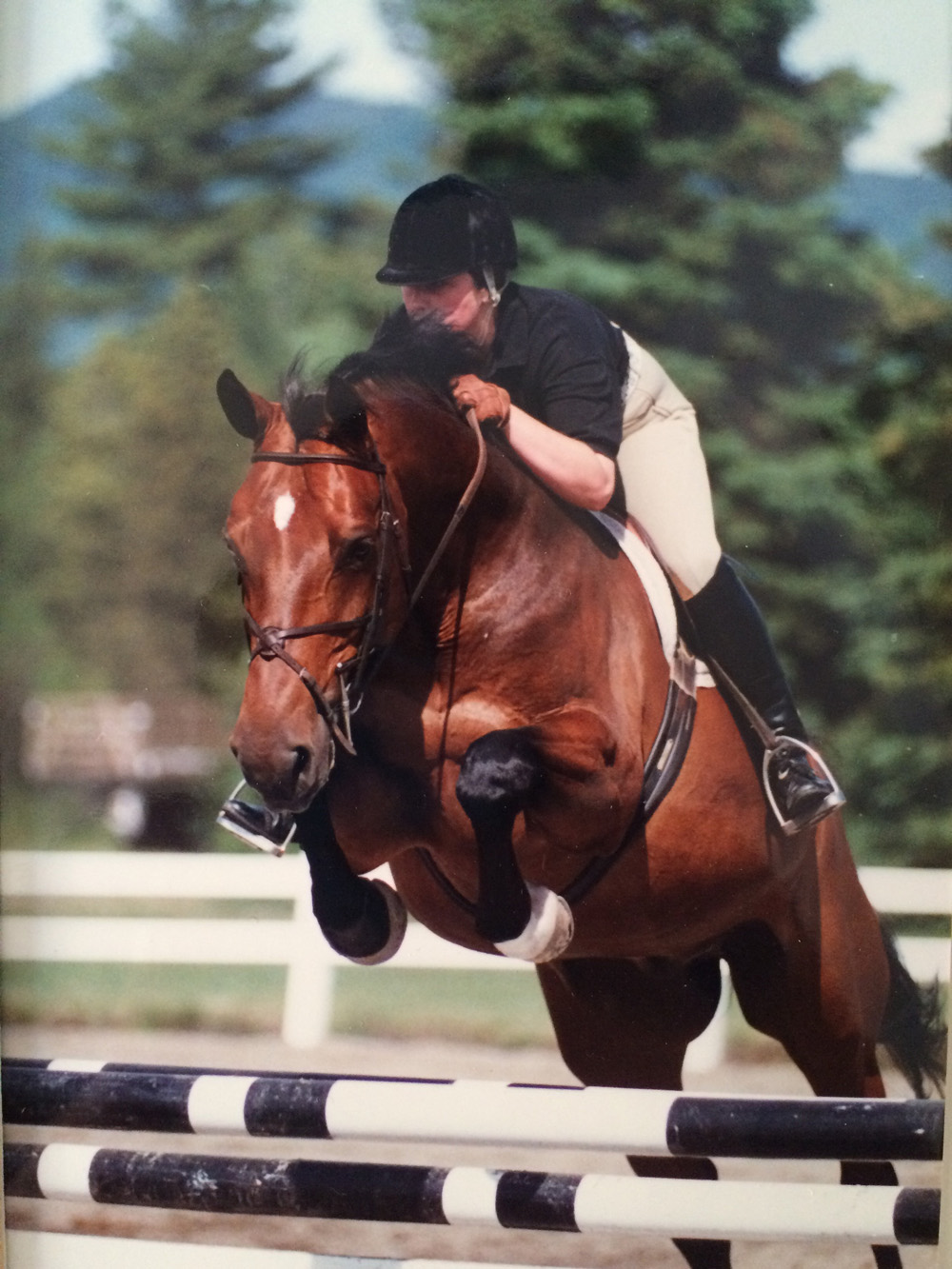 Kira Johnson jumping Barclay Square at the I Love New York Horse show in Lake Placid, N.Y., in 1996. Photo by The Book LLC
After her junior career, Johnson tried stepping away from the show world by enrolling at SUNY Geneseo (N.Y.), but it seemed the show world wasn't ready to let her go so easy.
"I got a call during my first semester at school asking if I wanted to come down to Florida and groom and manage two horses for Amanda Forte and Journeys End," Johnson said. "I was in Rochester, New York, in December, and there was snow up to my eyeballs, so I said absolutely!"
What was supposed to be a one-semester break turned into a career change Johnson never looked back from—after working for Forte, she took a position with grand prix show jumper Debbie Stephens, then top hunter riders Caroline Moran and Havens Schatt, British Olympic rider Tim Grubb, Scott Kemery of Waterside Farm, top amateur show jumper Jessica Pasmore, Hunter Harrison of Double H Farm, and professional rider Kate Levy.
Johnson finished her undergraduate degree online in paralegal studies (and with a 4.0 GPA, to boot) while working full time at various positions in the horse industry, but doesn't expect to be stepping into the law field anytime soon.
"I've been doing this for a long time," Johnson said with a sigh and a smile after running through the list, looking out across the freshly dragged arena in the farm's courtyard.
Johnson has been at her current two-barn, four-location position with Lucy Mitchell-Innes' Comfortside Farm and Steve Weiss' SMW Equine Services for the past five years. It's an unusual set-up for a barn manager and groom, but one she loves.
Her position entails quite a bit of riding to prepare horses for different clients, and though she is plenty talented and capable enough to show the horses, Johnson said she much prefers not too.
"When I worked for Caroline Moran, [trainer] Tom Wright was great. He said 'You know, you're very unique, because you ride well, but you don't have any delusions of grandeur, you don't want to be in the spotlight,'" Johnson recalled. "And he's right, I have this much desire in doing that," she said, holding her pinched fingers a hair's breadth apart.
"I am so much happier looking at whoever the horse's parents are and saying OK, this is what your horse is, this is what needs to happen to have your horse go in the best possible way it can for you when you get on it," Johnson continued. "So then I can sort of tailor what I do with each horse to make them sort of as good as possible for their parents."
In her current position, Johnson's schedule involves reporting for the first rides of the day right around 6:00 a.m. After riding amateur Lucy Mitchell-Innes' four horses, it's feeding and turnout time before hustling off to the second farm, Steve Weiss' training operation. If there are horses stabled at the show grounds for the week, she'll need to motorbike over there too, and also to the Pasmore family's property to care for one horse of Weiss' that's stabled there.
"I do night check in three or four different places," Johnson said. "Sometimes I feel like a ping pong ball!"
Hectic schedules often lead to cranky people, but not with Johnson—even as we're speaking for the interview, she is walking down the aisle, throwing hay to the horses, speaking in short, friendly Spanish phrases with her fellow groom Jorge Aravelo, and laughing when her little dog, Theodore, jumps up on her lap and nearly hits her in the face.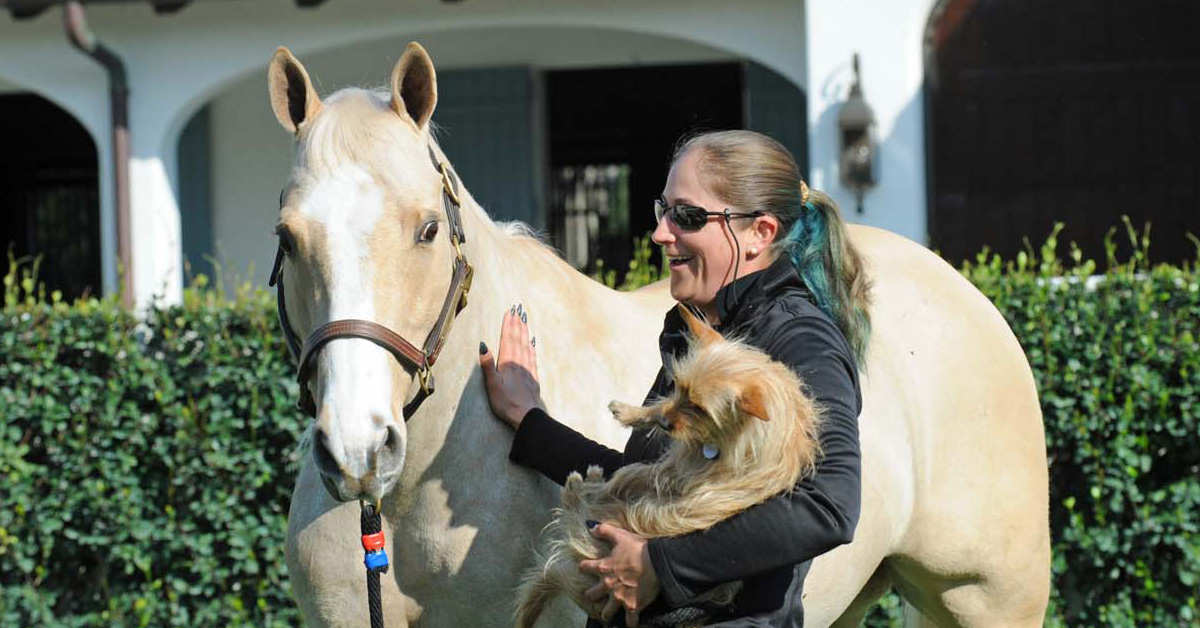 Kira Johnson with Theodore and Miles. Photo by Ann Glavan
"I never seen her mad or angry. She's very open and friendly, and very happy," said Janni Olin, another friend of Johnsons. "You know people you get a good feeling from being around with, or some people you don't get a good feeling? With Kira, it's always a good feeling."
Johnson's many and varied experiences give her a unique perspective on the job, and what the people doing it need from their employers to make the working relationship a successful one.
"As I've done this longer and longer, I think it's important that people know they're valued and know that you appreciate the job that they do, that you appreciate their contribution. That's sort of tapered off a little bit," Johnson said, emphasizing that even little things like a good morning to your in-gate crew or show office secretary goes a long way.
Regardless of whether you're swinging a leg over a top show horse or taking care of one, it's important to Johnson to have a little perspective on the whole industry.
"I think we're all really, really lucky to be a part of this, and I think people forget that pretty quickly," Johnson said, leaning forward in her chair. "We're really lucky to be able to do this," she said emphatically, "and at the end of the day we're a luxury, so look at where you are, and be happy."
This is an article in Groom Spotlight, a new series of groom profiles to be featured on www.coth.com. Make sure to follow www.coth.com and like the Chronicle's Facebook page to see them posted. If you know a fantastic groom you'd like to see appear in this series, email molly@chronofhorse.com.