Some days, Katy Long rides around the nearly 400 acres of rolling hills, flowing creeks and sparkling ponds that make up show jumper Sloane Coles' Spring Ledge Farm in The Plains, Virginia, and has to pinch herself to believe it is real. But in her role as groom and manager for Coles, Long knows that she is finally just where she is meant to be.
"If you picture a magazine article about a Virginia horse farm, that's what it is," says Long, 41. "It is incredible. Sometimes I just ride around and think, here I am on this beautiful farm, riding this amazing horse, and this is my job. It makes you appreciate it."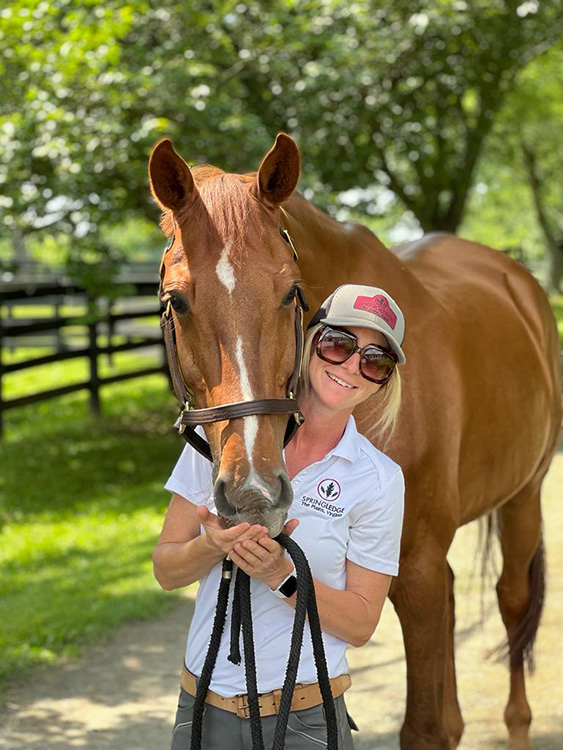 But Long has worked hard in the equine industry for many years, and that cumulative experience led her to this point. A former event rider and occasional show jumper originally from Oregon, Long had riding goals and aspirations of her own. After college, she moved just down the road from Rebecca Farm in Kalispell, Montana, where she groomed and rode for a show jumper. From there, she started teaching her own clients and eventually ran her own facility. Before she knew it, nearly a decade had gone by.
"Then it turns out, life happens, and that's really expensive to do on your own," says Long. "I competed through intermediate, and I did a few [advanced/intermediates], but never actually went advanced. I didn't realize when I stopped competing that particular horse that I wouldn't ever do that level again. I just thought, 'Oh, I'll bring another one along.' But it's not easy.
"In the real world, a lot of times you have to sell your horse before it gets to that level, because that's when it financially makes sense," Long continues. "I realized, 'OK, I'm not going to win the Olympics, and I might struggle to pay my bills in the meantime, so how I am going to keep horses in my life?' "
Knowing she was at a crossroads, Long accepted a grooming position with eventer Jon Holling in Ocala, Florida, where she would spend the next six years. Though eventing was her first love, in time Long noticed that grooms in the horse show world enjoyed a more "sustainable" existence.
"Anyone who is in the horse world knows that it is so much work," Long says. "But eventing in particular, it is just crazy as far as the amount of work that goes into it. In eventing, there are more proper working students, and grooms with horses of their own. But in the show world, you can make a career and a living grooming and riding, without having your own horse.
"Classically, you're not going to get rich as a groom," Long continues. "It's really a lifestyle. I knew [grooming] was the lifestyle I wanted, but I needed to think long term about how I could make it work to where it was sustainable."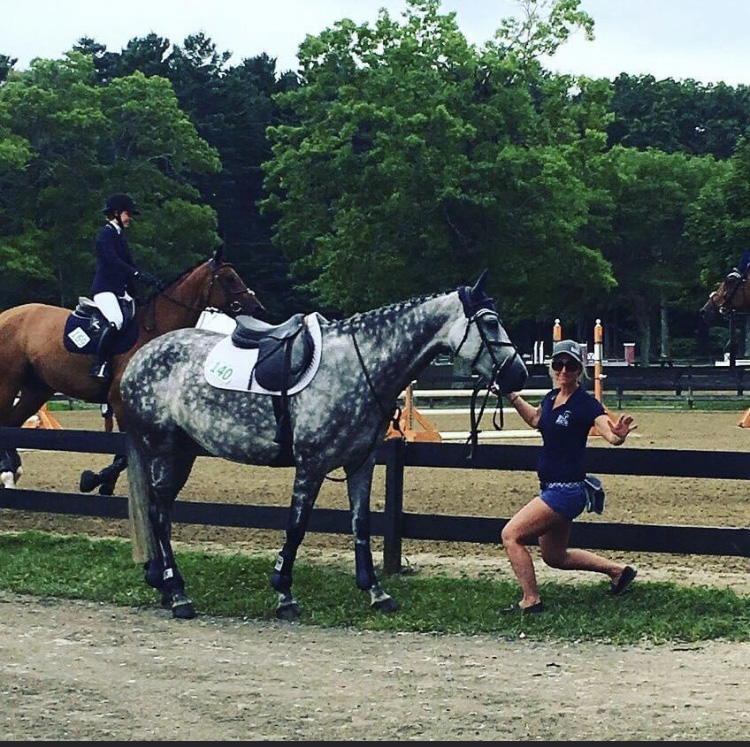 Long accepted a position in Connecticut, where she maintained a private string of show jumpers owned by a New York City-based family. During the week, she was solely responsible for the exercise and care of their animals—and she knew she had made the right choice.
"At the end of the day, I love horses," Long says. "I love riding; I love grooming them, and they're going to be in my life somehow. This is my way of paying for it."
When she interviewed with Coles, Long emphasized that being able to ride was an essential part of the job to her.
"Every groom says that they want to ride," Long acknowledges, laughing. "But I have a lot of experience to back it up. For me, it is something I really enjoy, and what keeps me going in the industry. It is also helpful with grooming, because I know what that horse is like under saddle. It is another piece of the puzzle—I can have a better understanding of how to prep them for the show, or to give feedback to the vet or farrier if I am rehabbing a horse from injury."
At Spring Ledge, Long works with a team of four other grooms, but she describes her own position as being akin to a floater at a restaurant. She balances her time grooming, riding and coordinating medical care and maintenance for the 15 to 20 horses in Coles' program. Long is the primary individual responsible for horses with injuries or in need of rehabilitation. She also provides general oversight and coordination of the team's efforts.
Coles splits her time between Virginia and Wellington, Florida, in the winter. When the team is up north, Long spends an equal amount of time traveling to shows and staying home.
"It works well because I have a lot of grooming experience, but I also have a lot of riding and managing experience," she says. "So, I can fill in wherever. Some people only want to go to shows, some only want to stay home. But I like the variety of doing both."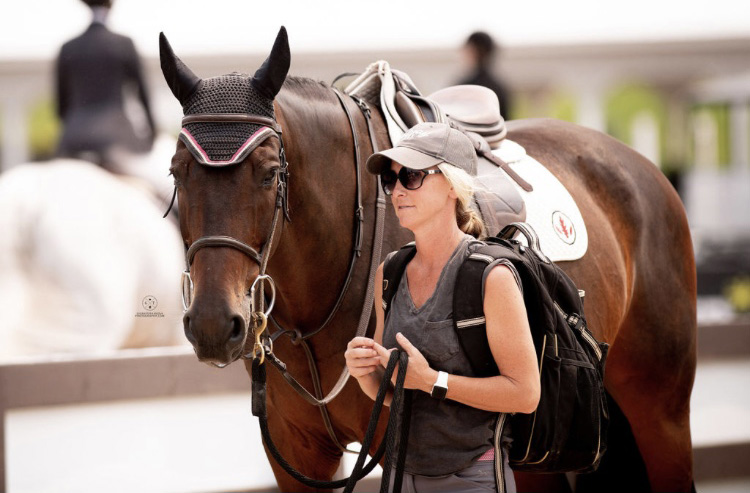 Long has found that her background in eventing has paid off while caring for show jumpers. Her experience with extremely detailed post-ride care has helped her to catch potential soundness problems or injuries before they become major issues.
"Eventers are very good at aftercare, things like icing legs, because event horses pound so much," says Long. "In eventing, if you get a horse ready for a big competition, and they are not sound, there isn't another opportunity for five or six months. That's a huge deal. Being meticulous about keeping track of how their legs look is important.
"[While eventing], I learned to pay attention to soundness, and to the shoeing schedule, so you don't get a hot nail going into the jog," Long continues. "In the show world, I plan ahead. For example, if I know the horses are traveling, we don't want to shoe them just before they go."
Long has also learned that her own health and well-being are an equally important part of keeping her equine charges happy and healthy. A few years ago, Long underwent major surgery that ultimately relieved debilitating, long-term pain. At the time, she felt guilty about not being in the barn during the weeks leading up to the procedure and while she recovered. But she realized that relieving her own pain made her better at her job.
"Imagine a flight attendant telling you to put on your own oxygen mask before helping others with theirs," says Long. "This is your mental and physical health. We all work ourselves to the bone for these horses, but if we aren't 100% in our own brain and body, how can we possibly give 100% to our horses?"
When she is not grooming, Long mostly enjoys relaxing with friends, visiting the beach, and playing with her rescue dogs Senna Meters Long, a 3-year-old shepherd mix, and Tug A. Long, a 10-month-old hound mix. But Long also confesses that she is busy writing two novels, one based loosely on her experiences as a show groom.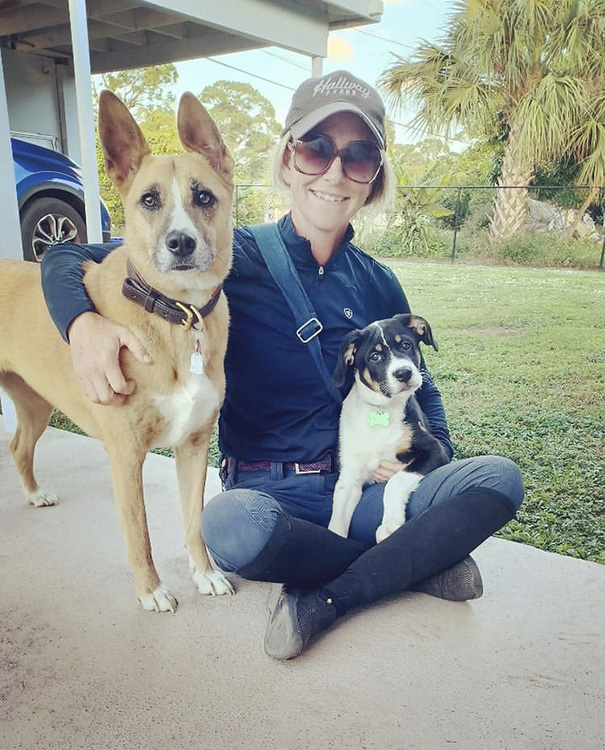 "It's a little like 'The Devil Wears Prada' but from a groom's perspective," Long says with a laugh. "What I do is take only the really dramatic aspects and bump them up way bigger than they actually are. It is like the 'Real Housewives' version.
"The funny thing is, when I have a day where everything goes wrong, those are the days I will sit down and write," Long continues. "And of course, I exaggerate it. It is never my fault—it is always everyone else's fault!"
Through the years, Long has learned that there's no short cut to success.
"The secret to grooming is that there is no secret," she says. "Do a good job every day, and that gets you much better results than a particular grooming product or 'hack.'
"I think of [grooming] as being an advocate for your horses," Long adds. "Yes, the person writes the paycheck, but you are there to speak for the horse. Notice changes in behavior and follow your gut—and speak up!"
---
Do you know an exceptional groom who deserves to be showcased in our Groom Spotlight section? If so, email kloushin@coth.com to tell us all about that person.
---