It was only four years ago that Katherine Maroko, 17, attended her first horse trials in person. She had begged her parents to drop her off for cross-country day at the 2018 Plantation Field International Horse Trials, just minutes from her home in Kennett Square, Pennsylvania. There, the young teen watched in awe as horses and riders tackled seemingly impossible fences. And she thought to herself, "Some day, I want to be a good enough rider to do that."
Flash forward four years, and Maroko, who grew up catch riding at local hunter schooling shows, has successfully made the transition from three-ring rider to three-phase rider, working under the direction of five-star eventer Hannah Sue Burnett. What started as a working student position in June 2021 has grown into what Maroko calls an "apprentice groom" role that, remarkably, saw her earn, with fellow groom Ashley Kapinos, the Buckeye Feeds Best Turned Out Horse Award at this year's Land Rover Kentucky CCI5*-L.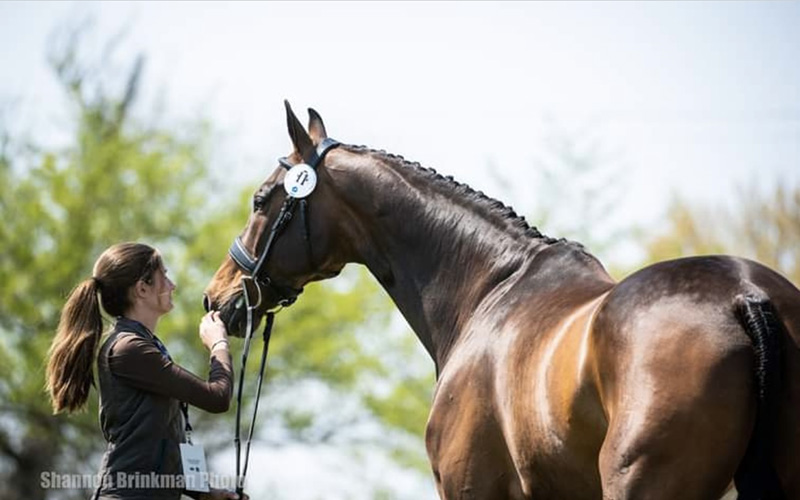 "Before working with Hannah, I didn't know very much beyond the basics about eventing," Maroko said. "I knew very little about working at an upper-level barn like this, so it has been a learning experience in all regards. When I started, I didn't even know how to do things like dressage braids, because I'd never had a reason to learn."
But thanks to a strong work ethic, determination and Burnett's patient mentoring, Maroko's skillset has increased considerably. In fact, not only is Maroko entrusted to supervise the home barn while Burnett is on the road, but at Kentucky, Maroko and Kapinos, Burnett's former groom, shared the best-turned-out prize for their presentation of Burnett's veteran mount Harbour Pilot.
"[Kentucky] was a pretty amazing experience, and being part of the team to be able to help Hannah was one of the greatest things that has happened since I started working here," Maroko said. "And then to win the Best Turned Out Award—considering that neither of us had ever even been at an event like that before, never mind groomed at one—to walk away with that kind of award was unreal."
While Maroko was quick to credit "William's" natural good looks for making their job easy, she added that learning how to keep horses in top condition from the inside out, with attention paid to every detail (including an ever-present shine on the coat and braiding the tail), has been one of the most important parts of her education since joining the HSB Eventing team.
"It's been a lot of new experiences over the past year," Maroko said. "Working with someone like Hannah who is so nice and supportive and very involved in the everyday life of the horses has been really cool."
When Maroko began looking for a summer working student position in 2021, her main goal was to gain more experience in the sport of eventing. A few months earlier, she had completed her first schooling horse trials, and she was hungry for more. She interviewed with eventer Lillian Heard, who introduced her to Burnett, and Maroko began work just one week later. By the time fall came, she was hooked, and because Maroko attended an online high school, her schedule was flexible enough to stay on with Burnett. But for several months, Maroko pulled some long hours to make it all work.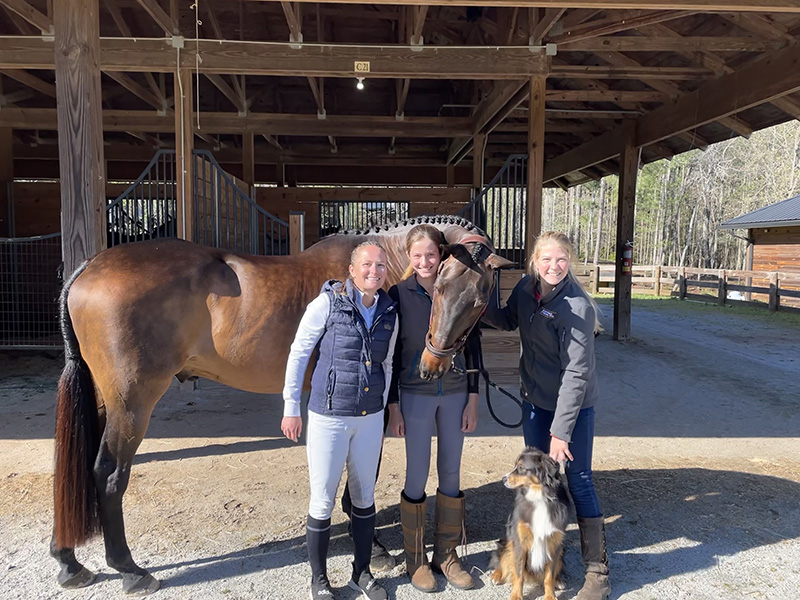 "I would work at the barn during the day, and then do school at night," she said. "The [barn] day starts about 7 a.m., and we were usually done by 5:30 or 6, with some days later and some earlier. Then I would go do school for a few hours, and go back at 9 if we had any horses that we needed to do night check on. Last fall when it was really hot out, we would leave the horses in until 8 or 9 p.m. and then turn them out and do the barn. Then I would go back and do even more school work."
Maroko admits the schedule was exhausting, but she had amassed so many credits that she knew if she could just hold on for a few months, she would be able to finish high school early. She officially graduated in January 2022 and now is focusing on eventing full time.
"My list is quite long when it comes to what sets Katherine apart, not only from people her age but most people in general," Burnett said. "Her attention to detail and desire to learn are among my favorite attributes. I love how much I can count on her. This sport is dangerous, and every detail matters. Having someone that notices things and cares as much as I do—and sometimes more—is such a blessing."
Growing up in the equestrian community of Kennett Square, Maroko was surrounded by top level riders in multiple disciplines and had ample schooling opportunities. Previously, she trained in Cochranville, Pennsylvania, with Becky Mark, who specializes in sales and starting and training young horses. Under Mark's direction, Maroko learned to help settle nervous youngsters and how to slow the rhythm of an off-track Thoroughbred's canter for the hunter ring. Though Maroko dabbled in hunters and jumpers, equitation was her first love.
"Equitation was more interesting to me because there were more technical courses and more focus on you than just the horse," Maroko said. "Because I did it for so long, most of the skills I had starting here came from that form of riding. I was riding a lot of young horses and Thoroughbreds off the track at the barns I'd been at previously, which provided many skills that remained useful when I made the switch to eventing."
Her previous training over fences also helped Maroko as she learned to ride her current lease, Rosie's Little Miss Liberty, a former advanced horse owned by Denise and Lisa Barry. "Cece's" experience has given Maroko a massive dose of confidence in her new sport. In October 2021, the pair made their U.S. Eventing Association debut at the Virginia Horse Trials in the novice rider division. It was Maroko's first sanctioned event, and she admitted that before leaving the start box that day, she was equal parts excited and nervous.
"I wanted to show that I am capable of eventing, to solidify that this is what I want to do, and that I can be an eventer," she said.  "But as soon as we were out of that start box, it was all excitement. She just powered around the course."
The pair moved up to training at the Ocala (Florida) Horse Trials in March and have never finished below third in five starts at the level. A few months ago, Maroko purchased her first horse, a 5-year-old Zangersheide gelding named Kito Al V (Kiko for short). She is competing at novice with hopes of moving up the levels in the future. Despite her somewhat rapid rise in the sport, Maroko said that she still sometimes feels over her head when she thinks about all there is still to learn.
"Both in terms of the physical aspect of it being a really exhausting job with long hours, and mentally it can be exhausting, I always feel completely out of my depth and like I don't know what I'm doing at all," Maroko says with a laugh. "I know I must know more than I think I do, or else Hannah wouldn't trust me to take care of her horses for her!"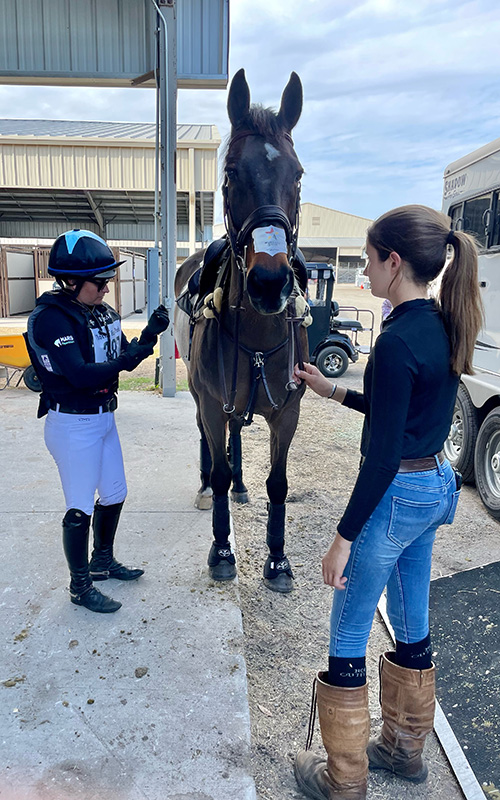 Graduating from high school early meant that Maroko was able to travel with HSB Eventing for the winter season in Florida. Not only was she able to progress in her own riding and training, her role within the program increased. Maroko began travelling to day shows at the Florida Horse Park with Burnett and Kapinos. When Kapinos left the program this spring, Maroko suddenly found herself in the unexpected position of attending all of Burnett's shows in the role of groom.
"When I was a new working student, I would mostly take care of and ride the horses left behind," she said. "When we came back up to Pennsylvania, I was the only person working for her, and so I got to experience a lot more of the groom side of things. Hannah is one of the most supportive people I know. She is always helping me learn how to better take care of the horses and with my riding. She even lets me ride and take lessons on her own horses, to learn from them. She does everything possible to make sure I am as prepared as possible, whether I'm at an event grooming for her or out competing."
"We work really well together," Burnett said. "I love helping her learn all the different aspects of riding and caring for horses. I have yet to find a horse that doesn't instantly love her."
Maroko plans on taking at least a year to continue her eventing education before considering next steps, which likely will include a college degree. But for now, she is quite content to learn as much as possible from her teammates at HSB Eventing, and she hopes that she can remain involved with the sport long term, either as a rider or a groom.
"I think the young horse I have right now is very talented, so I'm hoping we'll continue to advance," she said. "It would be amazing to compete at the upper levels, but I have no idea if that will even be in the cards. Before coming here, I had been really interested in eventing, despite having very limited experience in the discipline. To see the inner workings of what goes into making a five-star horse, and to be part of that team, is amazing.
"Before coming here, I hadn't been to many events or places around the country," she continued. "I'd never been to the Kentucky Horse Park for any event at all [before this year's Land Rover Kentucky Three-Day Event]. The places I've gotten to go with Hannah, and to see so many different things, and being part of a team—it's been a really incredible experience."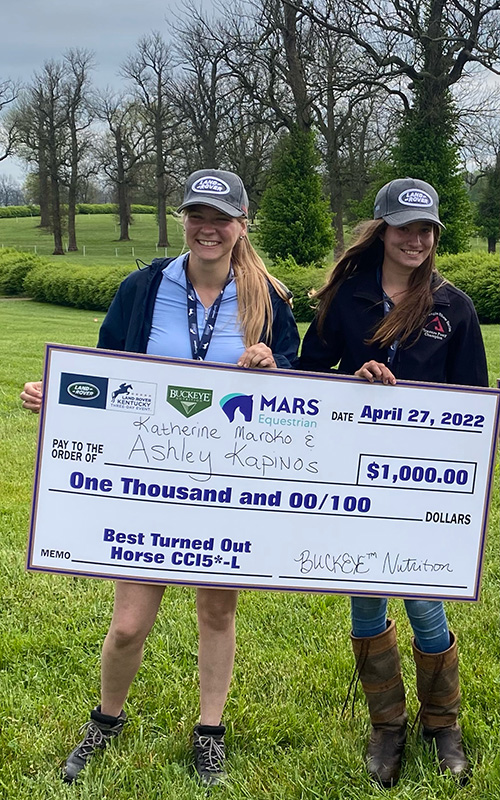 Burnett considers Maroko to be an "irreplaceable" part of her team, but she is just as excited to see what the future holds for her young apprentice.
"When the time comes for her to go do great things in the world, I will always be her No. 1 supporter," Burnett said. "There are very few people I completely trust with my horses, and she is one of them."
---
Do you know an exceptional groom who deserves to be showcased in our Groom Spotlight section? If so, email kloushin@coth.com to tell us all about that person.