Esther Bukkems, groom for top show jumping rider Jessica Springsteen, may mingle with celebrities now, but in her heart she is still just a horse crazy girl from the Netherlands who fell in love with the Shetland ponies that lived next door.
Bukkems, 24, has been a professional groom since completing her studies in horse management at Citaverde College in Roermond, the Netherlands, in 2014. But a career with horses wasn't always a given. In fact, during her teen years, Bukkems was more focused on becoming a professional musician than a paid equestrian.
"I played trumpet," said Bukkems. "I was pretty serious, and I was always in between the two worlds, horses and music. I was leaning towards the music more, but people started pushing me too hard to do solos and concerts. It was too much pressure. So I went more towards the horses."
Bukkems was drawn to the animals at an early age, despite having not one other "horsey" relative. "My parents are more terrified of them, but they wanted me to do what I like," she said. "They have always supported me."
When Bukkems was 8, a neighbor asked for help taking care of her Shetlands. This situation encouraged Bukkems' burgeoning passion and led to an opportunity to take lessons at a riding school. But despite being obsessed with horses, riding wasn't her main desire.
"I would rather spend an evening with the ponies than go have a lesson," Bukkems said. "Just being around the horses was my passion."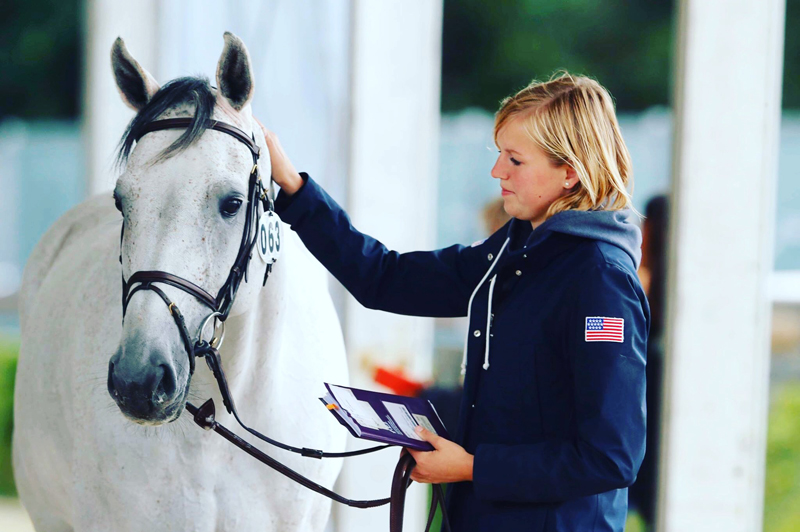 As a college student, Bukkems was required to do an internship within the industry. And a lucky coincidence launched her career. "There was a restaurant I always went to, and the chef was into horses," said Bukkems. "He mentioned, 'There is this man who comes here every day who is also into horses. You should ask him for an internship.' "
Bukkems didn't know who the man was or what his connection to horses was, but she talked to him anyway. She ended up landing an internship with Ger Poels Horses in Swolgen (the Netherlands), a top show jumping training and sales barn that has produced Olympic and World Games horses for riders around the globe.
"On the first day, I learned quickly how big the barn was, how professional," said Bukkems. "To go from my riding school where I brushed my pony with one brush to working there, it was like I had missed 10 steps of education."
Interning at Ger Poels became an immersion course in horsemanship, and Bukkems' skills and knowledge improved immeasurably. When the internship ended, she started working there on weekends, and then eventually as a full-time employee.
At first, Bukkems groomed mostly at home. But when one of the stable's riders, Australian James Paterson-Robinson, qualified Boris III for the 2014 Alltech FEI World Equestrian Games (France), she got the opportunity to travel with him.
"Most people, they start with the local shows and work their way up," said Bukkems. "I got really thrown into it. I got my truck license and everything."
Despite learning on the job at the highest level, Bukkems never let her lack of experience hold her back. "I was so determined to give good care, and I had so much motivation," she said. "I would rather skip dinner than not do the horses properly. It is in you, or it is not. I found out it was really in me."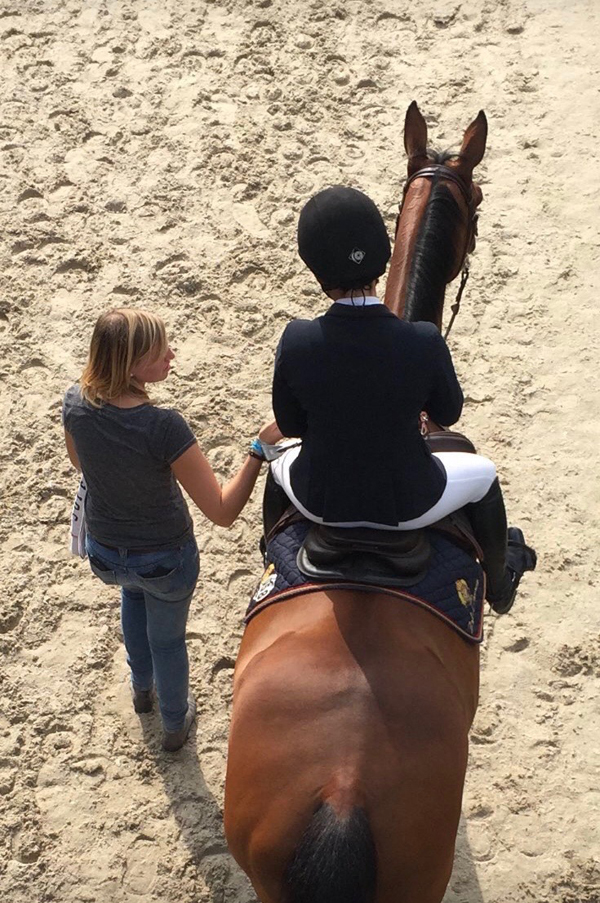 After five years of different positions for Ger Poels Horses, Bukkems sought the next opportunity. She heard through top Australian show jumper Edwina Tops-Alexander that a client of hers was looking for a head groom. Bukkems only knew the rider was American.
"When I told my parents I was going on an interview for a job with an American client, I guessed then it was for Jessica Springsteen," said Bukkems. "I knew that she and Edwina were being sponsored by the same company [Gucci], and I just had a guess. I didn't really know who she was, but I knew of her."
Bukkems interviewed with Tops-Alexander and then came back the next day to meet Springsteen, who at the time was based in Europe for eight months of the year. The two connected immediately, and Springsteen hired Bukkems to care for her seven horses. For the past three years, Bukkems has been Springsteen's head groom, preparing horses for competition all over Europe and in the United States. During that time, the team grew to a total of four grooms, and in December of 2017, Springsteen relocated her operation back to her family's farm in Colts Neck, New Jersey.
Today, Bukkems and her team care for 10 horses at two facilities; Springsteen rides four Rushy Marsh Farm mounts, which are stabled separately. This past year, Bukkems opted to stay home from the shows and gave one of the other grooms a chance to head out on the road. She handles day-to-day care, hacks the horses when Springsteen is away, and makes all the major arrangements for the horses' care and competitions.
"They are all so special and so different," said Bukkems of Springsteen's horses. "This is what makes it so fun and interesting."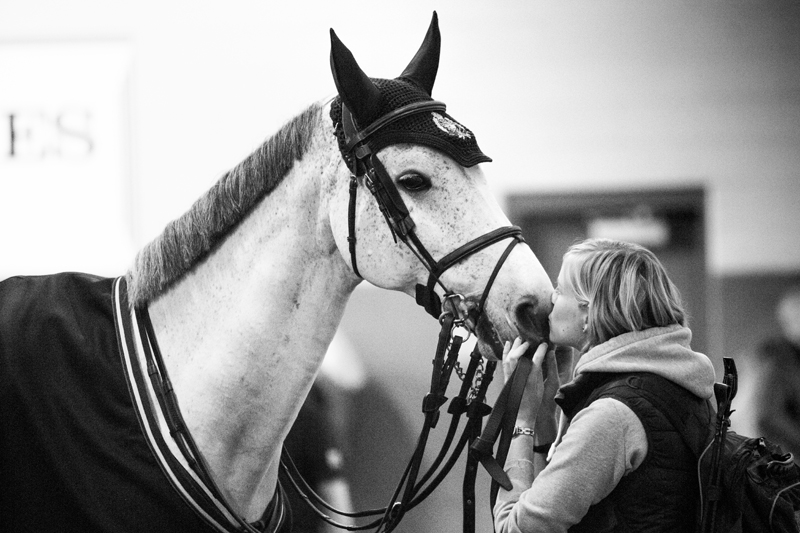 Bukkems has an especially soft spot for Davendy S, a 15-year-old Belgian Warmblood mare who was one of Springsteen's breakout stars during the 2015 season.
Grooming can be a grueling profession, with long days and heavy pressure, but Bukkems said the team working for Springsteen is tight knit and well supported. "Jessie is such a cool boss," said Bukkems. "She is easy going and really appreciative of what we do. Her parents [Bruce Springsteen and Patti Scialfa] also really make you feel comfortable and important."
Choosing horses over the trumpet has led Bukkems on an unexpected path to top show jumping arenas on two continents and a new home in the United States, but she has no regrets. "There is no job in the horse world that I am going to like as much as this one," said Bukkems. "I just love spending time around horses, developing a special bond with each one. I love seeing how they develop and grow."