When I met Crystal Lee, she was attempting to wrangle the insanity of Jim Koford, his horse, and their equipment at the Festival of Champions at Gladstone, N.J., in 2012.
I was working for Tina Konyot at the time. Our similar hours in the stalls under the old USET headquarters where we were stabled meant that we became fast friends. After the Festival, I kept up with Crystal via Facebook, and I know now is the time for her story to be told.
Crystal used to work a corporate job, putting her two degrees to use in the technology field. Her love of horses filled all the gaps and spare hours her 9-to-5 job afforded her, and when her branch was closed and she polished her resume, it was horses that wrote her next ticket.
Jim Koford had recently moved to the area, and Crystal approached him to see if she could help. At 31 years old, she originally stepped on as a working student and "just seemed to roll with it," according to Koford. Eventually, Koford shares, it all morphed into her new professional calling as Crystal organized and galvanized the two of them into his self-labeled "Jim and Crystal show." From daily tasks grooming and managing Jim's horses and their exercise, Crystal graduated to also writing grant proposals, traveling to shows, and using her tech experience to get Jim instant video feedback of his training rides.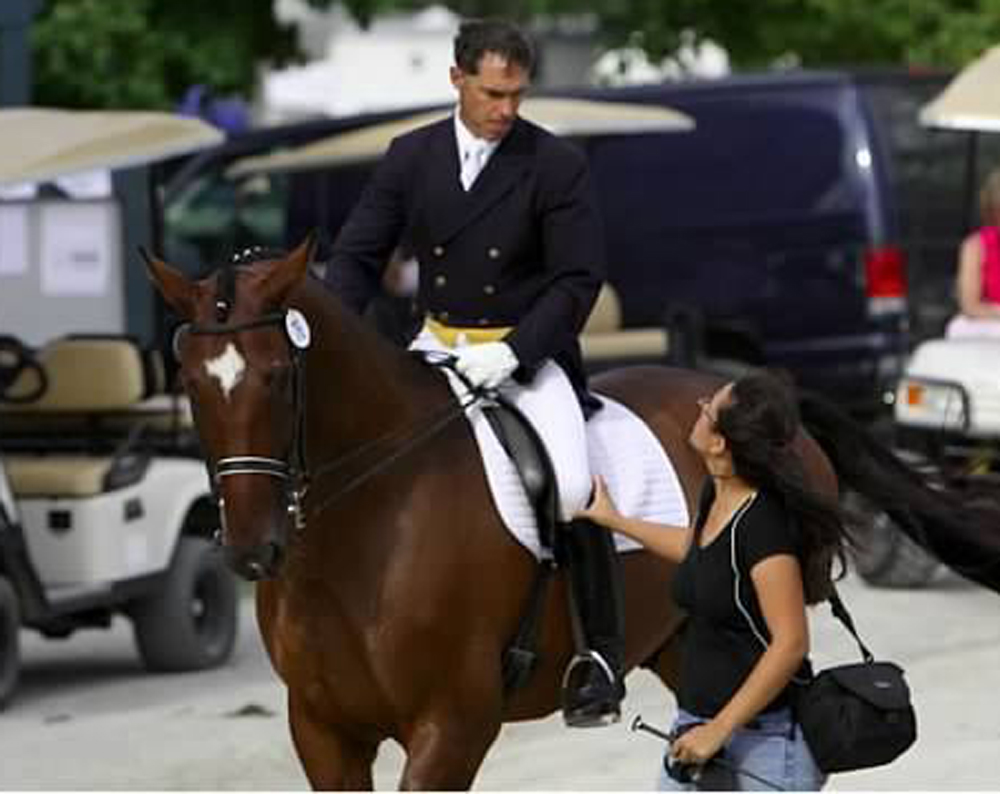 Crystal and Jim Koford on the way to the ring. Photo by Shirley McQuillan
Crystal loved every minute of it.
The equestrian lifestyle quickly took hold and never let go. It was the love of the sport, Crystal warns, that kept her from a healthy habit she'd had while employed in corporate America. "Then, regular doctors visits for annual checks and routine medical care were an excuse to get out of work! I'd make my appointment in the morning and take the rest of the afternoon to spend more time at the barn," she said. Crystal says this habit stopped once her new job with Koford fulfilled her heart—and filled her calendar.
Late in July 2014, Crystal's life changed overnight. Subtle bleeding that prompted a last minute appointment graduated into substantial bleeding on the way to her physician. With one quick look, Crystal was delivered the words that would forever change her life: "You have cancer. I can see the tumor. You're going to surgery."
Her doctor confirmed she needed emergency surgery for a burst blood vessel on a visible tumor easily "the size of a hockey puck." While her doctor ordered her to emergency surgery at North Carolina Women's Oncology Hospital, Crystal declined a suggested ambulance to drive herself, except she didn't go straight to the hospital.
"I went to say goodbye to the horses… and I also had to give a Banamine shot to a horse with an eye ulcer." Jim Koford was her second phone call after family—the forever story of an equestrian's priorities.
Crystal, once she was admitted to the hospital, underwent emergency surgery to remove the cervical tumor. The tumor removal was the first surgery of three over the course of the following 12 months. Her second surgery compares to "emergency colic surgery," requiring bowel resection where the chemotherapy took a large toll on the bowel wall. A combined total of four rounds of a variety of different chemotherapy treatments bring her to where she is now, a veteran of hair loss, PET scans, and weight loss.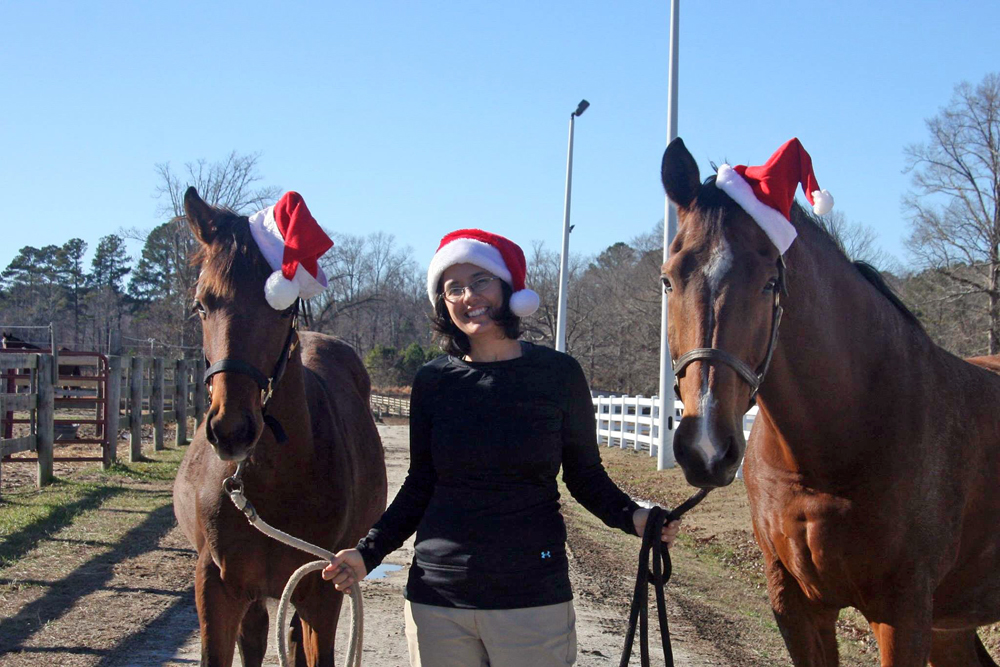 Crystal and her two horses.
Throughout her varying appointments and procedures since her original surgery, preserving her ability to continue to work and ride has been paramount. Jim Koford has remained a critical piece to the process. They both chalk this up to their relationship as mentor, coach, and student.
"I don't sugar-coat anything and sometimes you need that," Koford says. "I have no medical background, but I know her brain and how she responds to challenges and good or bad news. I can talk real with her when she needs a frank discussion about the things you don't want to talk about, since we've done that with the riding." Their friendship has created an incredible bond that extends far beyond the riding arena. Koford drove overnight from Lexington to Raleigh to be at a diagnostic appointment with Crystal. Of course, he didn't call to ask Crystal if she'd like him there until he was already on the road.
Just like Jim went cross-country to be there for Crystal, she returned the action this year and was ringside—in her wheelchair—to watch Koford warm up at Dressage at Devon. Koford reminisces over the scene with fond nostalgia. "When you're in a wheelchair you're seen as such a victim. She can be sick but it's still Crystal. If I missed a lead change or had a sloppy halt, I don't care how miserable she is, I want to hear it from her. In that way, it's still intact. She may look like chemo [has taken its toll], but once a horse girl, always a horse girl. Thick or thin, sickness or health, she's an addict; she'll still sit there and give me grief if I'm not up to snuff, and frankly I love having her be part of it," he said.
The coping with life and death issues that horsepeople do with our animals has a sobering translation to the dynamic between Crystal and Koford. Crystal's project and life's investment is stabled beneath her apartment at Pepperwood Farms; a coming 2-year-old Hanovarian gelding named Dragon.
Partnered with Koford, Crystal used her access to a top mare and asked Jim who his top stallion choice would be to produce "something really special' for the future." He said Don Shufro. So she made it happen, as she always does. She's tenacious and leaves no stone unturned. She's a Jack Russell terrier. She knew she had to move heaven and earth to get the mare pregnant, and she did.
With only one shot at the $2,000 stud fee for one vial of what is known to be very difficult semen, Crystal's dream came true when Dragon hit the ground in May of 2014—less than two months before her life-changing diagnosis.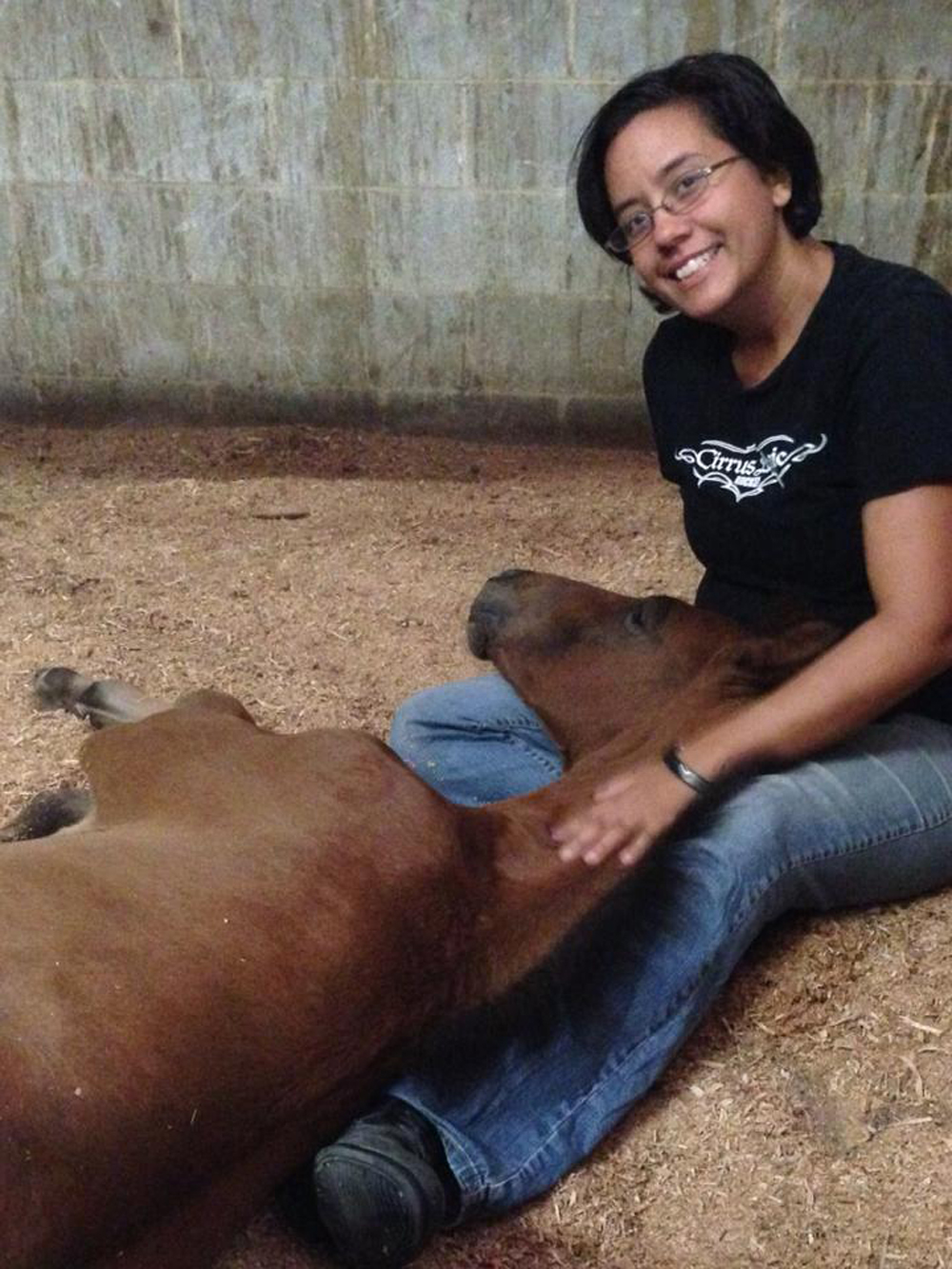 Crystal and Dragon.
Dragon will be a project for Jim once he is of-age to head to the training barn. Until then, he regularly cuddles with Crystal and stands as a reminder of what is important. When I asked Crystal what her advice is to fellow horsepeople, her warnings are simple.
"Get checked regularly. You cannot ignore the warning signs. For women; get your regular PAP smears," she says.
Koford echoes this sentiment, saying, "As concerned as we are and as proactive as we are for the horses we are neglecting ourselves. Don't stick your head in the sand, the consequences are so far beyond us. Get out of the barn, go to the doctor, get checked out."
Crystal's second sentiment is a common dilemma found in the horse industry, where (expensive) insurance policies offered by employers are not the norm, as it is at Pepperwood. "As young professionals, we live hand to mouth and try and afford the next horse, vet bill, show. I hit them upside the head if they argue between [affording an] insurance policy and a horse show," Crystal says.
And finally, Crystal insists, "Make a plan for your horses! Who would you contact in case of an emergency?" It's a strong suggestion to leave contact information and instructions in your wallet in case first responders have to reach out. Additionally, Crystal says, "know your state laws regarding listing horses and animals in a will. Creditors can place liens against items listed in a will, which can influence how they may be sold or confiscated."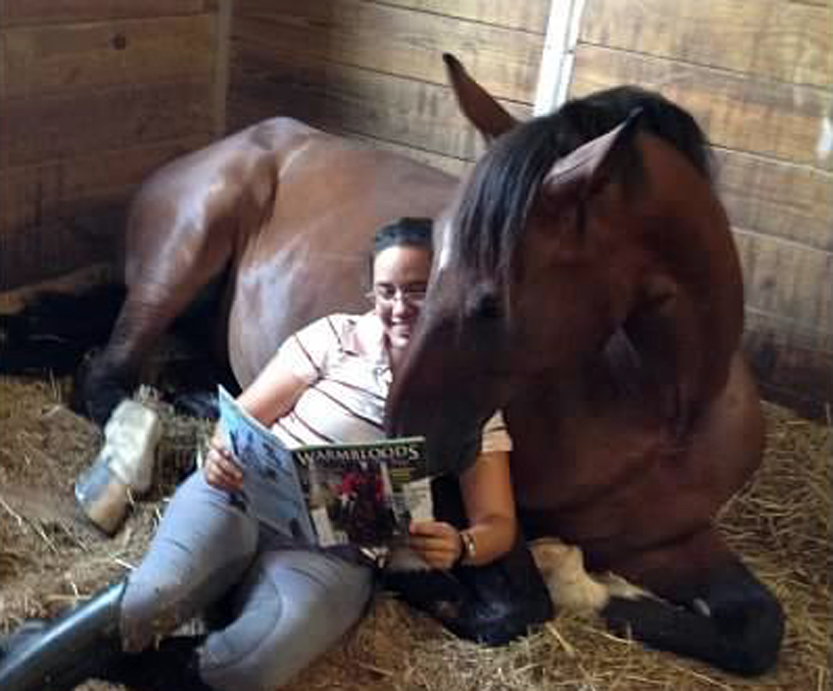 The horses are what have kept Crystal going.
Crystal's priority, in addition to spreading her newfound wisdom, is to get and stay healthy enough to continue working. In addition to Koford, Crystal is thankful for her support system and network, who are instrumental in managing both her treatment and the horses while she's recovering. Meredith Crawford, who owns Pepperwood; Rebecca Vick, who rides her young horses; and Rachel Cervone, a longtime best friend, are pillars of support for Crystal in any situation. Rachel's educational pursuits are based on her intent towards medical school, which stem from Crystal's time spent in oncology departments.
While Crystal has insurance that has been good about the coverage of her treatment, her cancer has made her an expert in all things technical in regards to treatment options, medications, and prescriptions. Different tiers of drugs are ranked according to need, not cost, so oftentimes her required prescriptions that come out-of-pocket are not covered, leaving her with the crippling cost of medical supplies and pharmaceuticals that fall out of the range of her covered deductibles.
When I spoke to Crystal just this last week following her fourth surgery, her treatment options and medication management continue to center around preserving her ability to get back in the saddle. When asked what consumes her, without hesitation her answer is "finding out when I will ride again; I live to ride." Her optimism has never faltered, insisting that I share her optimism and positive outlook on a life she has lived "with no regrets, and would live it all again."
UPDATED FEB. 1, 2016: The Chronicle is sad to report that Crystal Lee lost her battle against cancer
Chronicle blogger Lauren Donahoo (formerly Keeton) groomed for Olympian Tina Konyot and was head groom at Jan and Amy Ebeling's The Acres. She also appeared in a story "A Good Groom Is A Horse's Home Base" in the Sept. 9, 2013 Horse Care issue of the Chronicle. Read all of Lauren's blogs.