Picture this. You're grooming at the 2018 FEI World Equestrian Games (North Carolina) for Adrienne Sternlicht, the youngest member of Team USA. Your charge, Cristalline, is usually a good girl, but every now and then she can have a moment. You're hand walking her in the ring and sharing space with Olympic gold medalist Steve Guerdat, who is stretching Bianca's legs. All of a sudden "Stella" drops to the ground and rolls.
"So I'm standing there with her rolling around on the ground," Cristalline's groom Emma Chapman recalled. "She just lays there for a while. She dozes. She groans. And people were just staring at us. [I was like,] 'Stella, please! You're embarrassing me!' "
But Chapman immediately forgave Stella. Because when it's time to send the 11-year-old Bavarian Warmblood  (Cristallo I—Mona Lisa, Cartello B) into the ring, Chapman couldn't be more proud of the talented mare, and watching her help the NetJets U.S. Show Jumping Team clinch gold at the WEG was an incredible payoff for the many months spent in careful preparation.
"It's amazing seeing your horse go into the ring sound and ready to go," said Chapman, 29. "Winning is just the cherry on the cake."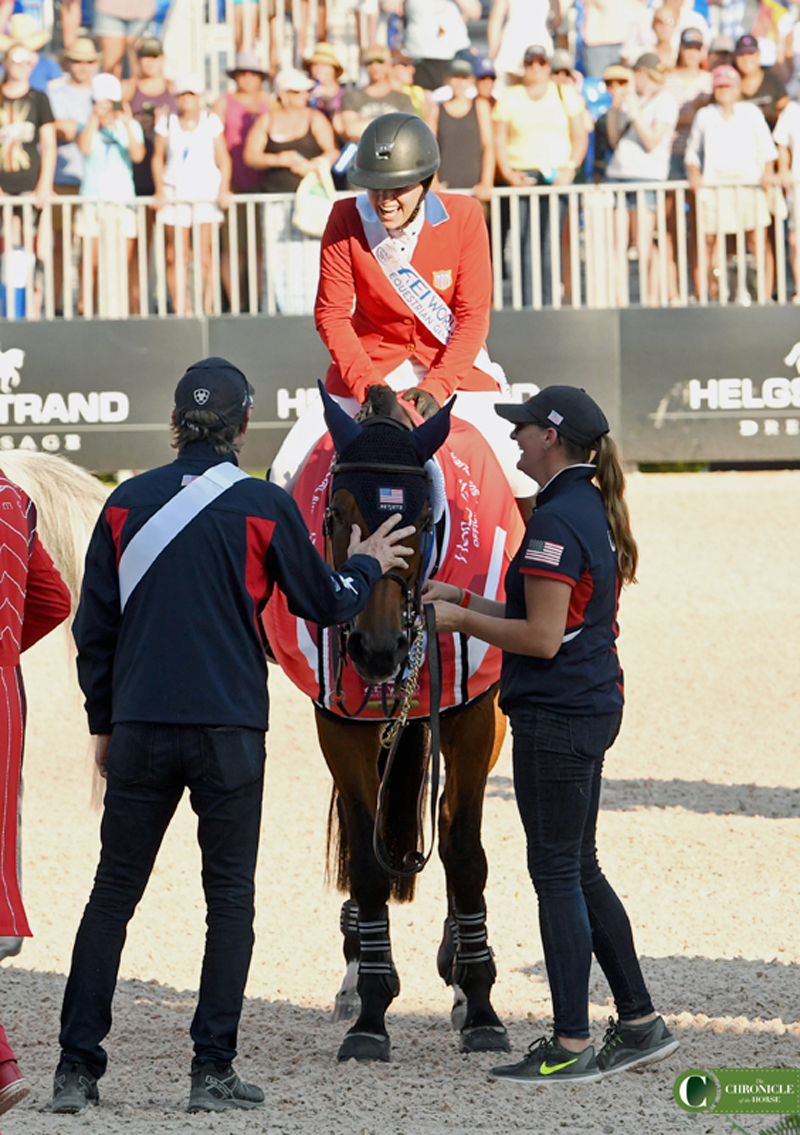 Week after week, throughout Sternlicht's road to the WEG, Chapman was there, ensuring Stella never lacked for anything. When the mare walked out of the ring at the WEG wearing a world championship cooler, Sternlicht said there were tears all around. "I was not only so happy that day because of my own performance and the performance of my horse and to contribute to the U.S. team in such a way, but [Chapman] has worked harder than I have to get there—or equally as hard as me—and I could tell how ecstatic she was," Sternlicht said. "That was a really special moment for us. She was crying, and she's not very emotional."
Devotion to horses runs deep in Chapman's family. Her grandfather was a jockey in Ireland, and her mother followed in his footsteps until a knee injury forced her into longer stirrups. She competed in show jumping but stopped riding by the time Chapman was born.
That didn't stop her daughter from catching the bug though. "I was always fascinated with horses," Chapman said. "My parents used to take me to equestrian centers just to look at the horses and pet them and everything. And this was the biggest treat for me."
Her family moved to the countryside of County Kildare, Ireland, when she was 10, and she had multiple ponies throughout her childhood. Her first, Molly, was a test of patience, but Chapman didn't care. "Molly broke out of any pasture you put her in, and she tried to walk on your feet," she said.
As a teenager she became a working student to pay the bills. "[I started working at] Harmony Cottage riding school when I was 15 or 16, and they employed an Australian rider, Scottie Barclay, to jump some horses in the national grand prixs, and I started taking care of them," Chapman said.
This was her introduction to top-level sport, and she never forgot the lessons Barclay taught her. He put her in charge of every aspect of his horses' care. "He was nervous about letting me [bandage], but he said that the only way to learn was to do it," Chapman said. "I stayed back at the barn that night and bandaged a horse over and over again, probably 20 times, until it looked like his."
As she gained experience, she moved on to other jobs working for Irish show jumpers. She first traveled internationally with Conor Swail, and there she found another great instructor in Marie York, Swail's head groom. "[She] is the best teacher and mentor I ever could have asked for," said Chapman. "To this day, if there's something I'm picking my brain about, something I'm struggling with, I can call Marie."
Next Chapman did Nations Cup tours with Alex Duffy, and then in 2011 she left Ireland for the United States, where she worked for Irish rider Ronan McGuigan.
In 2017, the opportunity arose for Chapman and her boyfriend Sean Kissane to groom for Sternlicht. Chapman knows the routine for each of Sternlicht's eight horses, but she's personally in charge of two: Sternlicht's 7-year-old stallion, Shadowfax 111 and Stella. She described Stella as being "a different level of amazing," and said, "We're very lucky to be around her."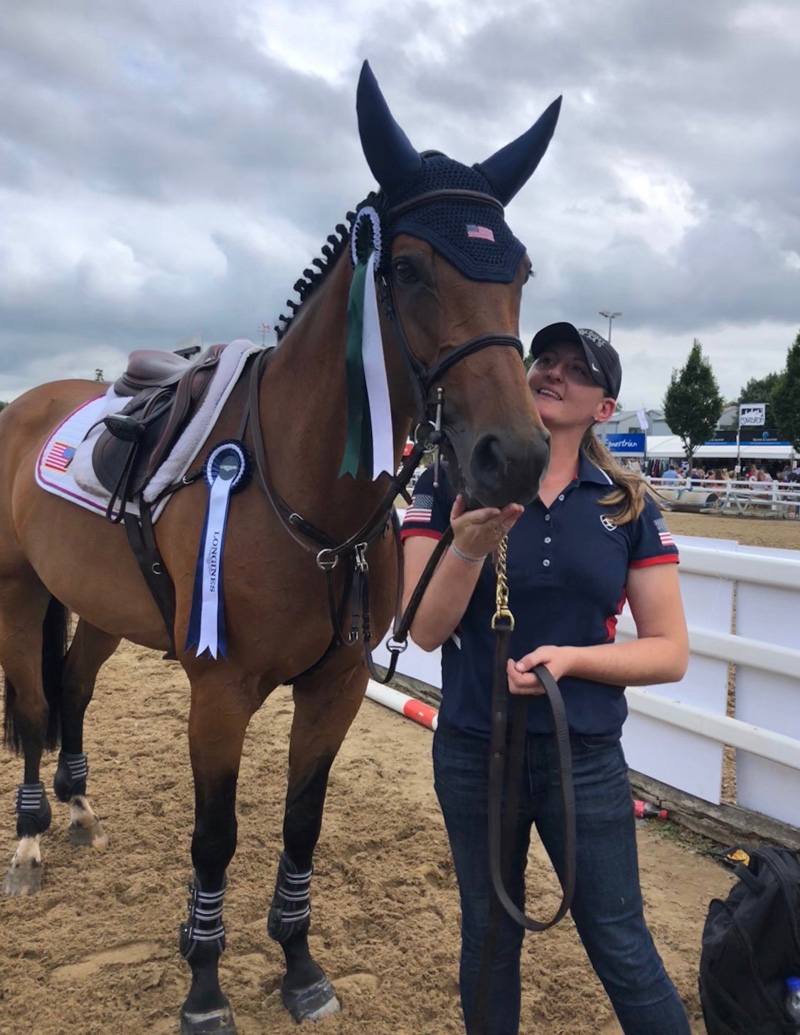 Chapman has a special bond with the mare and appreciates her calm, straightforward demeanor. "When you watch Cristalline [in the ring], she's explosive," she said. "Everything is huge, whereas, dealing with her day-to-day, she's very mellow."
Despite 13 years of grooming, Chapman's thirst for knowledge has never diminished. "The minute you think you know it all, it's time to stop. You can never stop learning in this sport," she said.
That attitude doesn't go unnoticed. "It's impossible not to respect her," said Sternlicht. "She's willing to do any and everything for the well being of the horse. She's less concerned with the amount of time it takes to do something, the hour of the day, what else is happening around us, as she is focused. She exemplifies a total devotion to the horse and keeping everyone in the best program possible."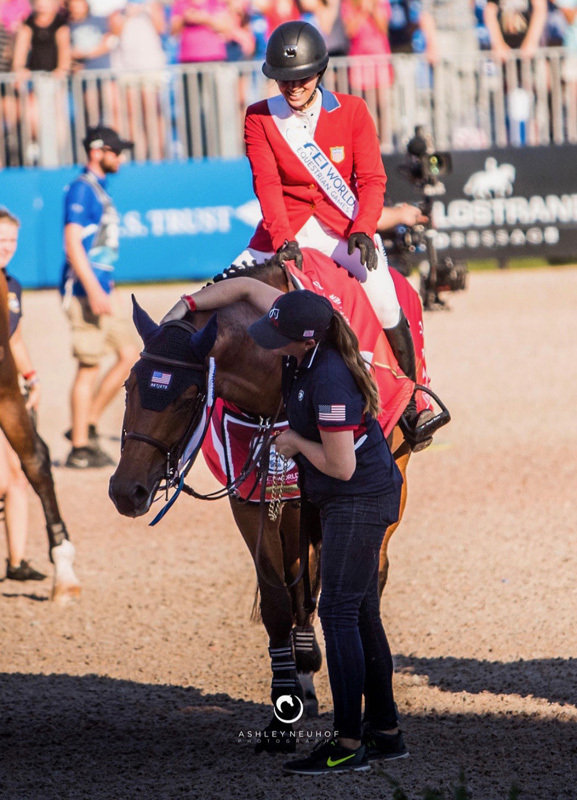 Chapman has always groomed for riders on the international grand prix circuit, so she's as invested in the sport as she is in the horses themselves. The rider's goals are her goals. "She and I are completely obsessed with horse sport at the top level," said Sternlicht, "so when we're not competing, we're always watching the shows, talking about horses and looking for horses. Complacency is not a word that is in her vocabulary."
But that devotion to the job means other things sometimes fall by the wayside. "I think a lot of people, when they start this job, don't realize that it's more than a job. It's literally your life," said Chapman.
She's missed countless friend and family commitments due to her work. "If you have to sit with your horse literally all night, you will sit with your horse all night," she said.
But for Chapman, the benefits of the job make the long hours worthwhile. "I love going different places and seeing different shows," she said. "I like taking care of the horses on their trips and making sure they are as comfortable as possible—that they get where they're supposed to be fresh and happy. I get itchy feet if I stay in one place for too long."