Anu Harrila had to postpone her original interview thanks to a trip to an urgent care center after getting knocked around by a horse. When she called back a few hours later she breezily assured, "I'm brushing a pony; everything is fine."
Harrila would likely characterize any situation as "fine" if it involved a horse. She grew up in Helsinki and took riding lessons at a local stable but never owned a horse of her own. When she was 16 she decided to pursue horses professionally. She applied to the Ypäjä Equine College in Ypäjä, Finland, which specializes in training equine professionals.
"Originally I wanted to be a young horse rider," Harrila, 40, said. "But I didn't get into the school. I was more at the stable than at school, so my grades were not the best. [Young horses] were something to get my foot in the door since I didn't have my own horse, but then I figured out I like grooming."
Harrila's first job was with Marika Sohlberg, a Finnish rider based in France at the time, but Harrila quickly realized France was not for her. She went home briefly, part of her doubting if she'd made the right choice with grooming, but then she accepted a position at the Beerbaums' farm in Thedinghausen, Germany, with Marc Wirths. Working for Wirths reassured Harrila that she'd chosen the right career, and when Wirths moved on, Harilla opted to stay and work for Meredith Michaels-Beerbaum.
"That was 21 years ago," Harrila said. "By now we're like family; it's like a family business."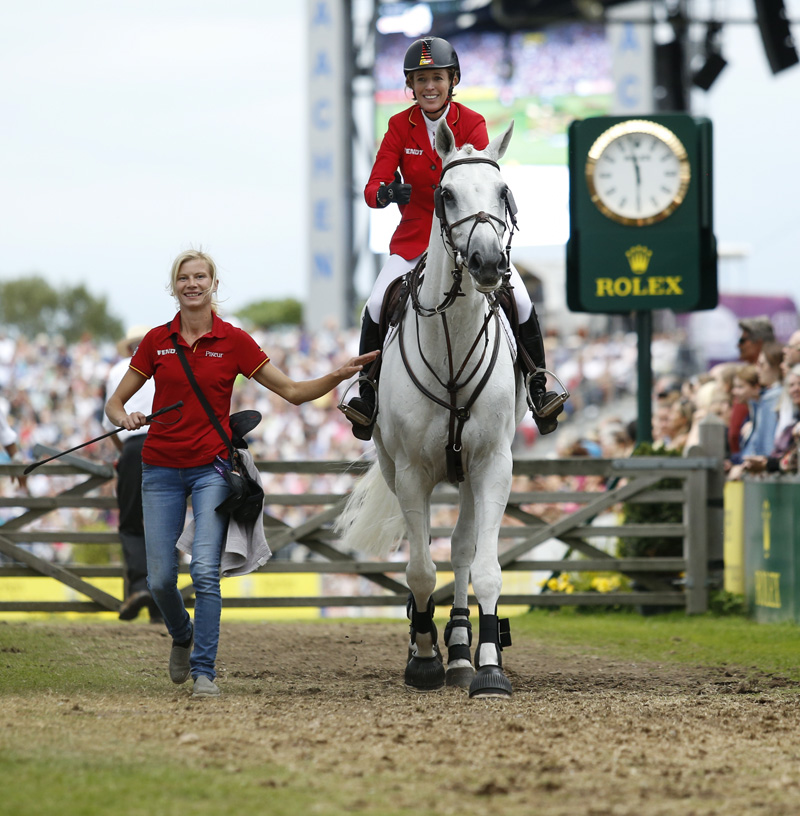 Harrila has assisted in every part of Michaels-Beerbaum's international career, from her first German team appearance in 1999 at the FEI European Championships (England)—when she was the first woman to ride on a German show jumping team—to her most recent performance on the bronze medal-winning German show jumping team at the 2016 Olympic Games (Brazil).
Harrila has also cared for some of Michaels-Beerbaum's most iconic partners, including Shutterfly, Checkmate 4 and Fibonacci 17. In addition to her grooming duties, Harrila often flats horses the day before Michaels-Beerbaum arrives at a show.
"She can and has ridden my very difficult horses over the years, like Shutterfly and Checkmate," Michaels-Beerbaum said. "She can really work a horse to improve it and get them calm and relaxed and trusting. She can also recognize when I'm extremely nervous or tense, and she's been able to say just the right words to keep me focused, to take the pressure off, to help me do the job."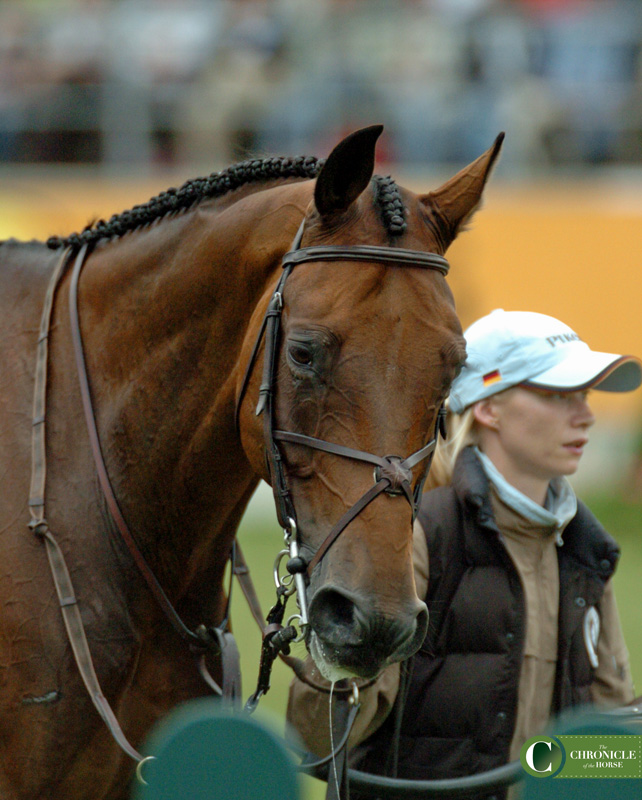 The life of a groom is inevitably marked by highs and lows, but Harrila said her memories are dominated by Michaels-Beerbaum's numerous triumphs, such as Shutterfly's 2009 Rolex FEI World Cup Final win in Las Vegas, (which was his third and final time claiming that title) and Michaels-Beerbaum helping the German team win gold at the 2010 Alltech FEI World Equestrian Games in Lexington, Kentucky, just six months after giving birth to her daughter, Brianne Beerbaum.
"I've been fortunate enough to take care of some amazing horses," Harrila said. "Shutterfly is my No. 1. He came as a 6-year-old, and I was there when he retired at 18. I was there his whole career. He stole my heart. I like the challenge with every horse, to figure out how they are and what they do and don't like."
Harrila does some managing in the barn, but she prefers to stay hands-on with the horses. Her favorite venue is Aachen, Germany, because of its organization, and her secret weapon is baby wipes.
"You can use baby wipes for anything," Harrila said.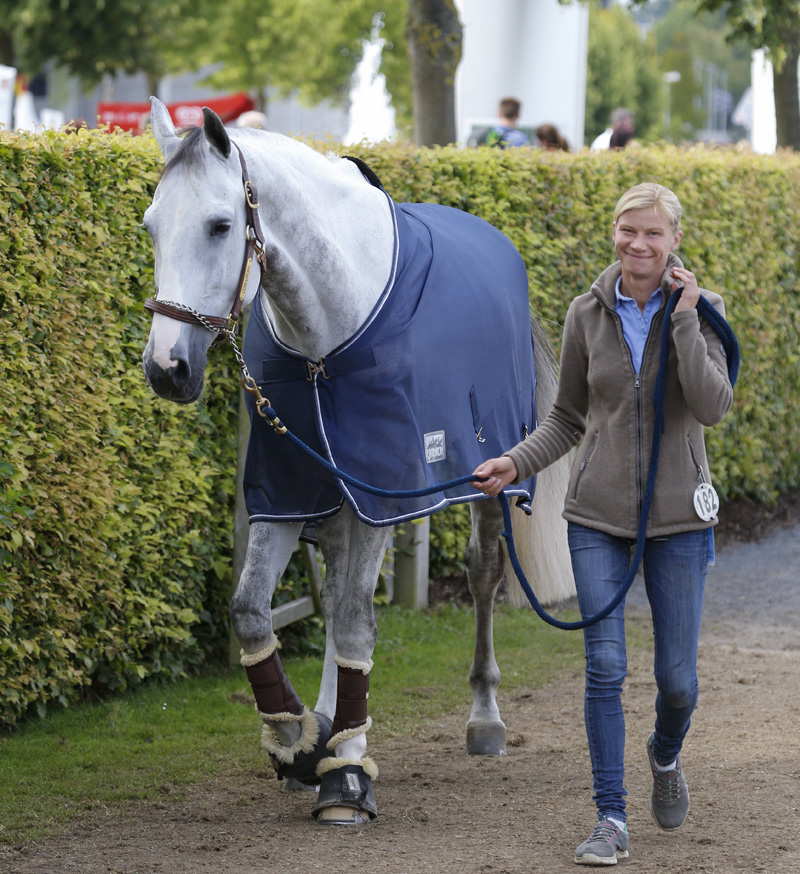 After more than 20 years in the business, Harrila isn't thinking of slowing down anytime soon, nor does she feel an itch to swap careers.
"I guess you always want to be better," she said. "Of course if the horses do well that motivates you, but also, if there's something you're working on and you can see it's bringing results, that keeps you going."
Harrila's hard work hasn't gone unnoticed. Michaels-Beerbaum credits Harrila with an "enormous part of my success" and is grateful for her dedication.
"Anu is a major backbone in the stables," said Michaels-Beerbaum. "She's an amazing team player, and she's incredible with the horses; she has an amazing empathy for the animals. She's incredibly knowledgeable; her expertise is essential, but she's also the person who will stay up all night to make sure a horse is OK even if it's not her horse. I would take her in my foxhole with me; I would do anything for her, and I know she would do anything for me."