There's one childhood day Anne-Marie Duarte remembers distinctly. She was on a ferry and being held by her father when she saw a poster for riding lessons that sparked her interest. From there, she was hooked; she buried herself in any horse care book she could get and pursued every backyard pony lesson she could find.
"I could recite the Pony Club A/B manual. I had every horse care book; I had "Grooming To Win." I just had it down pat, but I had very little practical knowledge," said Duarte. "I spent a lot of time doing bandages on the kitchen table at home, but it's really different when it's a real horse."
Eventually, Duarte joined a local Pony Club, which helped fuel her horse obsession without requiring her to own a horse.
"It was perfect because I still, to this day, have never owned a horse of my own, and Pony Club had lots of outlets for kids who didn't have their own horse," said Duarte, 28. "I became more involved in Pony Club and was able to borrow ponies for some activities, but I was really involved in the activities that didn't require horses. I would often go to the rallies as a groom and do that sort of thing."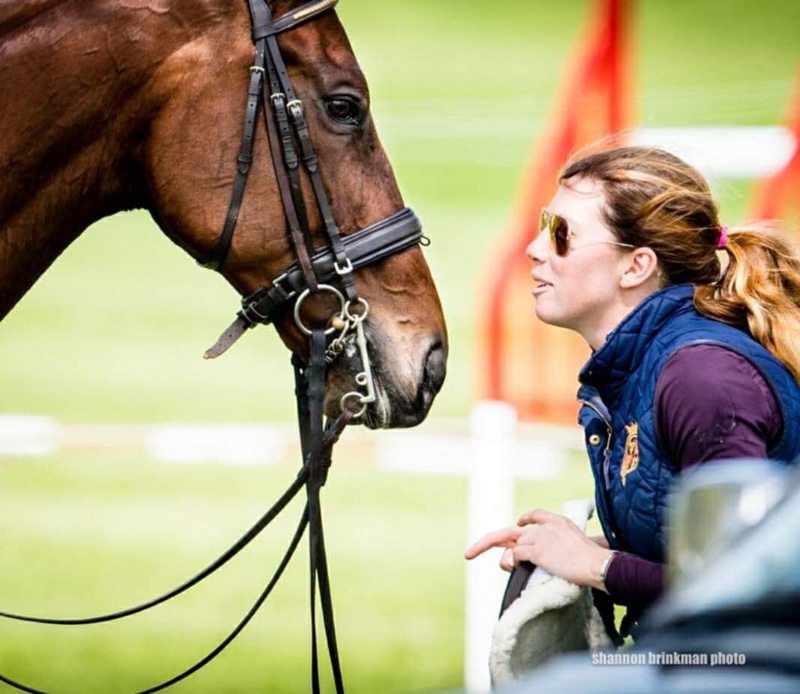 While still in high school, Duarte attended a Pony Club rally held at Hawkridge Farm in Elgin, Ontario, where Olympic eventer Selena O'Hanlon and her mother, former international equestrian Morag O'Hanlon, were based out of at the time. Duarte heard that Selena was looking for a new working student, and she decided to jump at the opportunity.
"I just walked up to them and introduced myself. They didn't know anything about me, and I had no riding ability whatsoever. I was just appalling," she recalled. "I distinctly remember dreading my mom coming to pick me up at the end of the weekend and wondering how I was going to tell her I just said yes to going to them for the summer."
Duarte eventually convinced her mother to let her work summers with Selena. Summers then turned into working winter breaks too, and when Duarte graduated from high school early, she began working for Selena and Morag full time. Duarte is now Selena's head groom at Balsam Hall in Kingston, Ontario, and is in charge of taking care of four-star horse Foxwood High. While she thought she knew exactly what she was getting into, Duarte's background as a Pony Club groom didn't fully leave her prepared for the demands of international grooming.
"I thought I knew all the different types of wounds and that sort of thing, but when you're dealing with a real life first aid situation, it's different," said Duarte. "It was so exciting to witness parts of grooming that were exactly like everything I'd always read in the books. Even the little things people take for granted, like trot sets. I'd read so much about trot sets, and I was like, 'Oh my gosh, I'm doing the real thing.' "
Now with almost 10 years under her belt working with Selena and Morag, Duarte deftly runs through her horse care checklist, keeping Balsam Hall in tip-top shape.
"Whenever there's a question I don't know the answer to, I just say, 'I don't know, I just ride here. Go ask Anne-Marie,' " said Selena. "If it weren't for people like Anne-Marie, I couldn't do what I do."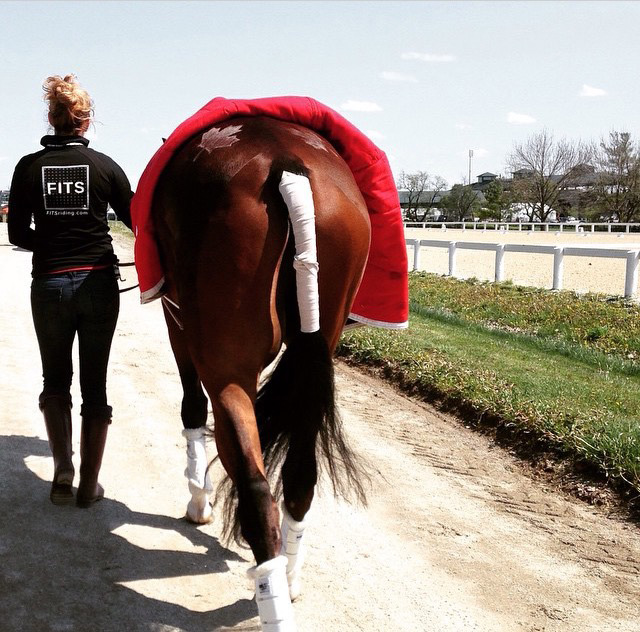 Once Duarte began working full time, she was also was able to receive structured riding instruction, helping skyrocket her ability in the saddle. When she first began working with Morag and Selena, Duarte only had a D2 Pony Club rating, but with their help and willingness to always provide her a horse to ride, she worked up to earning her A in 2010. Growing up, Duarte never had any specific discipline interest, so it was almost by chance she fell into eventing.
"In our area, it's mostly hunter jumpers, but of course with the Pony Club influence, I was exposed to eventing in that way," said Duarte. "I was game for anything. I could have easily ended up being a reiner!"
Duarte has now mastered the balancing act that is grooming professionally, and in her limited spare time she rides and competes Selena's homebred, Rather Boldly. "Riley" has helped bring Duarte up through preliminary.
"The fun part is I've literally known [Riley] since he was first born. I'm sad I never got to know his mother [Be Bold Juliet], who was Selena's advanced horse," said Duarte. "I didn't meet her when she was in her competitive heyday, but I did get to know her when I was first at Hawkridge. She was already sort of settling into retirement and being a broodmare."
Selena brought the Thoroughbred gelding up to prelim on her own, but in 2016, Duarte took up the reins. Duarte hopes to  compete in her first Fédération Equestre Internationale event soon.
"She's her own worst critic with her riding, and that's why she excels really quite quickly because she's always looking at pictures and videos and always watching the best in the world," said Selena. "I think she puts the two together, being a groom, but [she] also takes it all in as a rider.
"She absorbs it all. She does it all. She learns how to ride while she looks after all of us and the horses and myself, plus on top of that, she grooms. It's just a lot, and I don't know how she does it. And she does it all with a big smile on her face," Selena continued.
As Foxwood High's main groom, Duarte has developed an extremely close bond with the 16-year-old gelding and jokes that she can never answer a question about "Woody" too seriously­—she just loves him too much.
"I would have a hard time picking an absolute favorite [between Woody and Riley], but Woody is certainly right up there. I only have to be careful, because Riley will buck me off if he hears me say otherwise," she said with a laugh. "Their stalls are right beside each other, and I pretend it's even, but really Woody has the upper hand."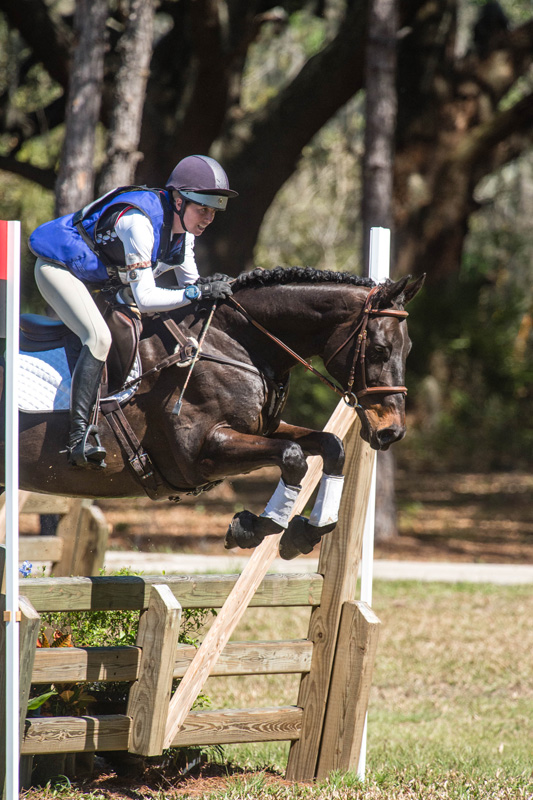 Duarte feels fortunate for all that Selena and Morag have done for her since they took a chance on a green and eager teenager 10 years ago.
"Pony Club had formed a lot of my sort of pseudo-competition experience, but Morag and Selena have always been really good about letting myself and the other working students have the opportunity to go out, even if it's to schooling shows or that sort of thing," said Duarte. "I did have some competitive experience, but Riley has taken me to my first few prelims, and that was certainly a level that I had never dreamed of before."
Even though it's hard work, Duarte stresses that anyone should go and try grooming if they have an urge to; you don't need to be an expert to start.
"People tend to think of grooming and riding as exclusive, but a fact I only learned [recently], Andrew Nicholson first attended Badminton [England] as Mark Todd's groom, and I think that's so cool," said Duarte. "Especially as I've progressed in my own riding, and there [are] so many girls who I meet at the shows and look up to as grooms. You only ever see them at shows; you only ever see them in jeans. I sometimes wondered if they even rode at all, but [many of them] are really, really experienced, really capable riders in their own right. So that was really inspirational for me that, it just doesn't have to be exclusive. There's no reason why you can't do both. I think it would be more difficult for me to do either-or. I can't imagine doing one without the other. It's definitely hard and some days you don't have time for everything, but I certainly enjoy getting to do both."