With a degree in equine management from Cazenovia College (N.Y.) in her hand, Amy DeVisser was on the hunt for a position at a show barn. She thought maybe somewhere smaller, a local place that focused on jumpers.
One of her former professors, Karin Bump, heard about an internship offered by the John Madden Sales, Inc., team, luckily right down the road in Cazenovia, N.Y., and recommended DeVisser take the position.
That was 23 years ago, and that internship has morphed into a thriving career for DeVisser—one that has included caring for some of the world's top show jumpers. "It kind of just fell together, so I just never left," she said.
DeVisser found her love of horses when she was about 7 years old, despite the fact that neither her sister nor her parents were horse people.
"I had a babysitter who had horses, and I always wanted to go to the barn," Devisser explained. "So my mom blames it on the babysitter." After that, Devisser was hooked, and joined 4-H and rode at a small barn near her house in Rochester, N.Y., riding whatever horses she could and competing in local horse shows, mainly in the hunters.
"As a kid, I always wanted a horse and my mom always said, 'Oh there are plenty of horses you can ride out there honey,'" Devisser said. "So, I never had a horse. But now I have lots of horses and I get paid to play with them and take care of them."
When she graduated from high school, Devisser attended Cazenovia College for two years and received a degree in equine management. "I was going to college and my mom said you should go for something you enjoy," remembered Devisser. "So I said, 'OK, I'm going to go for horses.'"
After completing her internship at John Madden Sales, Inc., Devisser, now 42, was hired full-time, and immediately was thrown into the hustle and bustle of a busy barn, including constant travel.
She was assigned care of two of Beezie's top grand prix horses at the time: Dynamite, who would go on to be American Grand Prix Association's 1997 Horse of the Year, and Judgement ISF, whose victory in the $1 Million CN International (Alberta) was one of numerous grand prix wins and who jumped on Nations Cup teams for the United States for many years.
With those horses, DeVisser got the opportunity to spend several summers in Europe, as well as attend World Cup Finals in Gothenburg (Sweden), Helsinki (Finland), and Las Vegas with Judgement.
While she no longer rides now, in addition to grooming at horse shows and general care at home, DeVisser would exercise the horses, including Judgement and Beezie's two-time Olympic team gold medal partner Authentic.
While she enjoys the traveling, about six years ago DeVisser decided she wanted to slow down and stay closer to home and care for the horses that stay behind in Cazenovia.
"I kind of describe this job as a circus," DeVisser said. "You go to a town, you unpack, you do your show, you pack up, you go to another show, you unpack, you do your show, you go to another town."
"I told John I wanted maybe a year off, to stay home, and that led to about five years," she continued, laughing. "It's nice because I feel like I got to switch my job within my job."
Last fall however, DeVisser came out of traveling retirement when John asked her if she would like travel work at the Winter Equestrian Festival (Fla.) this year. "I told John I'll do the horse shows where there are beaches and sun," she quipped. "So this past fall I was in California for eight weeks and then went to Florida."
Back on the show scene she has three horses she cares for, including Coach, an 8-year-old Holsteiner gelding who's been winning at the 1.40-meter level. She also looks after Madison Goetzmann's Under-25 grand prix mount Wrigley and another horse Goetzmann rides, Coral Reef Wise Guy.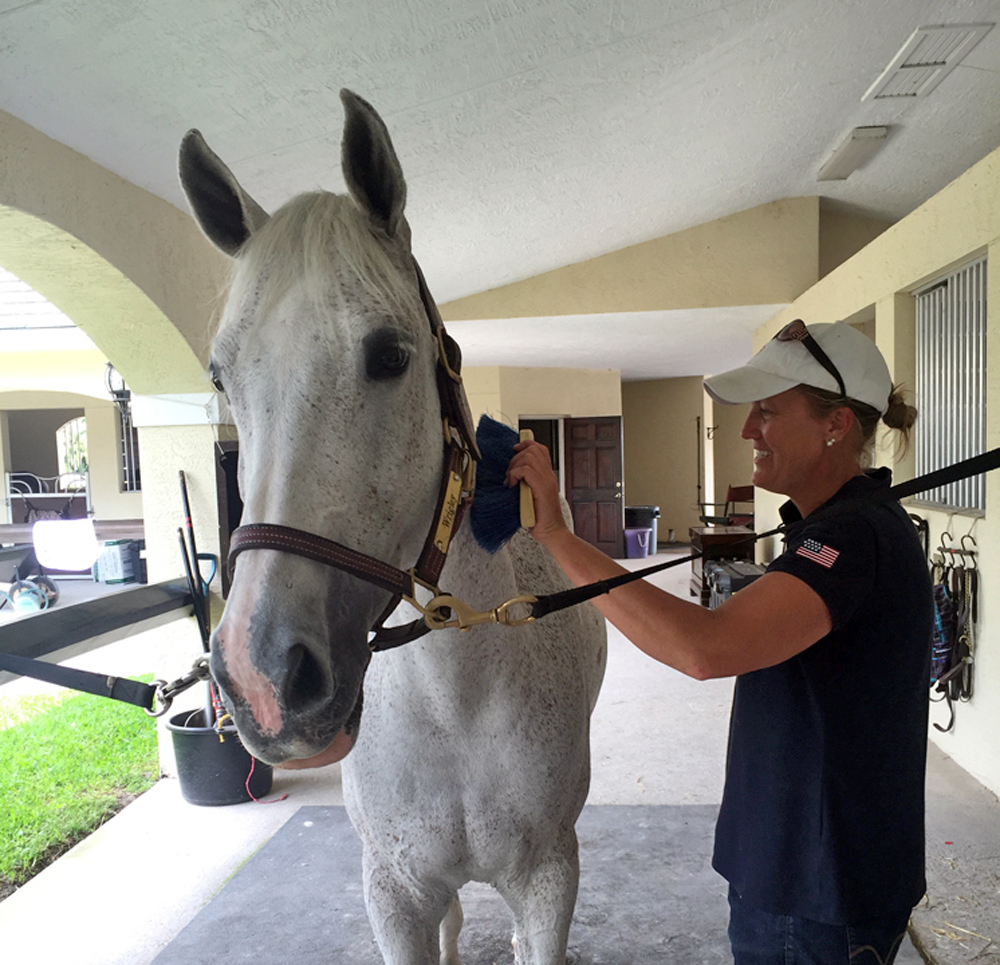 Amy DeVisser and Wrigley. Photo courtesy of Amy DeVisser
With the string of successful mounts Beezie has, you'd be hard pressed to get an answer from DeVisser on who her favorite is, but there are some that stand out in her mind.
"I traveled a lot with Judgement; he was a very nice stallion to deal with and work with, so he was pretty nice," she said. "We also have Coach—I can't even describe him, he's just like a little kid—into everything and he loves everyone. He's pretty fun, he's entertaining at least."
While DeVisser has traveled to her share of international competitions, she's not thinking she'll be the one going to Rio de Janeiro, Brazil, should Beezie make her fourth consecutive Olympic team. That would fall to Clark Shipley, who cares for Cortes 'C' and Simon and has worked for the Maddens for decades as well. (You can read more about him in "Clark Shipley—International Groom And Globe Trotter.")
"If something happened to him and he couldn't go, I would love to go," she said with a laugh. "But it's just like its your horse, and you put the time into them and you want to see them succeed."
So after 23 years, what is DeVisser's favorite part about being a groom?
"I would have to say the traveling. When I first got out of college I was basically getting paid to go to Europe. And right now I'm being paid to be in Florida," she said laughing. "You get to experience so much stuff that other people would not."
Looking toward the future, DeVisser has no problem saying that she is staying right where she is working for John and Beezie.
"I'm happy here," she said. "Sue [Schlegal] and Clark [Shipley] have been here for 22 years, we have another girl who's been here almost 12 years, so yeah people tend to stick around. John and Beezie treat us very well, it's nice.
"Even though I've been here 23 years, it seems like I learn something new almost every day, or at least almost every week. There's always something new."