"You just won me a lot of money!" Those were the surprising first words Liza Boyd heard from groom Alberto Ramirez right after she and Brunello won the USHJA International Hunter Derby Championship for the third consecutive year on August 15.
It turns out that Ramirez had placed a friendly but not insubstantial wager with, let's just say, the groom of another top contender. He had that much confidence in the 17-year-old "Ike," who was leading by only 1 point after the classic round.
"I'm glad I didn't know about that bet before I rode, I would have been even more nervous," reported Boyd. In fact, she admitted that both she and her brother, grand prix rider Hardin Towell, feel extra pressure when Ramirez even comes ringside to watch. "If he's at the ring we have to do well because anything that goes wrong will be our fault—it's not Alberto's fault because he's been at the barn since 4:00 a.m."
Ramirez has actually been at the barn for 10 years. He came to the Towell family's Finally Farm in Camden, S.C., after growing up in Mexico among an extended family of horsemen and blacksmiths. "I noticed right away that Alberto was sometimes very critical of a horse's shoeing job, but that background explains it," according to Boyd. "Because he's always been around horses, he knows a lot. He's really good at handling them, especially the ones from Europe, which can sometimes be up on their hind feet. He's a real horseman."
Today Ramirez oversees everything as Finally Farm's "head guy" and de facto barn manager. "He hires the guys, manages the guys, and they all manage the horses," Boyd explained. "Some big barns divide horses among grooms but here everyone is responsible for a little of everything."
Fellow groom Carlos Ramirez (no relation) said, "Alberto takes everything very seriously. He is proud of his horses, proud of his guys. If anything looks wrong, we go to Alberto."
"If anything doesn't look right to Alberto he comes to me and we discuss it," Boyd added. "These guys know their horses inside and out. They know if they're sick, how much water they're drinking, how their manure looks. It doesn't matter how well you ride or how fancy a horse you have, if a horse isn't hydrated or isn't manuring, it's not going to do well.
"It's Alberto and the guys who make us able to do what we do in the show ring. And with Alberto, he always wants to get there earlier. My dad [trainer Jack Towell] will say 'I'll pick you up at such-and-such time' and Alberto will say, 'No, I want to get there an hour earlier.' He wants the horses to be prepared, the stalls clean, everything ready before the show starts."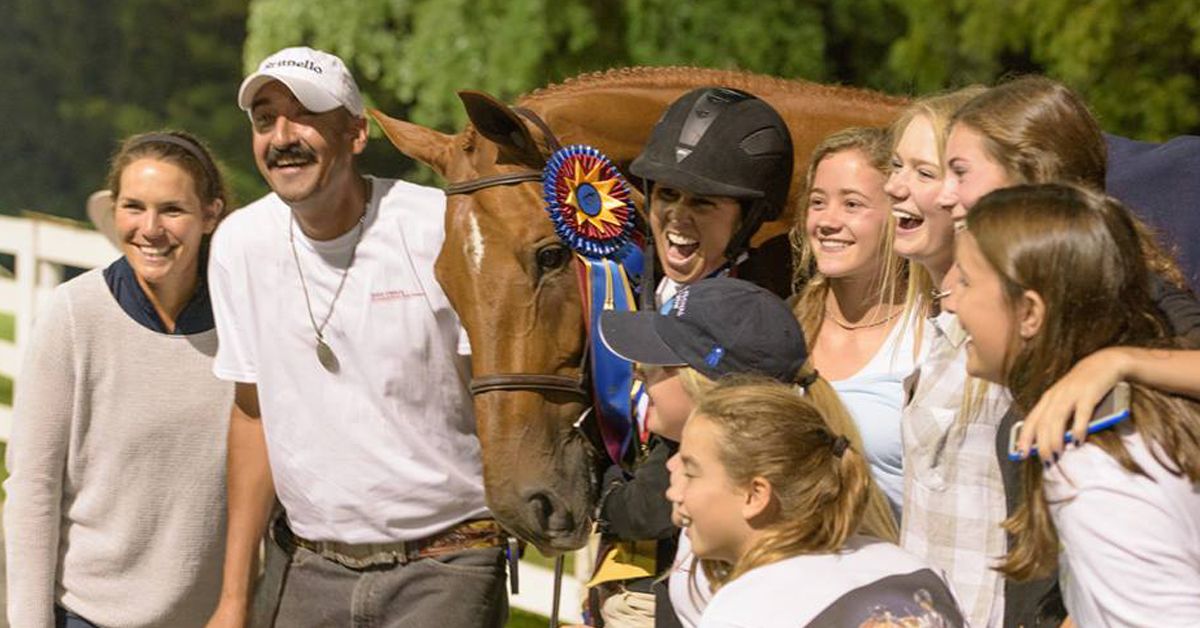 Alberto Ramirez (second from left) celebrated Brunello and Liza Boyd's win in the USHJA International Hunter Derby Finals with the Finally Farm family. Photo by Tricia Booker
Ramirez expects the riders to take things seriously, too. "Even with students in the barn, from pony kids to juniors, he'll tell them, 'Don't bring your boyfriends to the show. No boyfriends allowed!'" Boyd said. "He's half-joking but half-serious—he wants them to do well and not have any distractions."
Ramirez is a man of few words who says he treats all the horses the same but admits that Ike, who he's cared for since he was imported in 2007, is his favorite. Boyd often introduces him as "Ike's best friend" and says their relationship is special: "They're alike in some respects. Alberto is all business, not a lot of conversation. They're really good together—just two kinda grumpy guys."
A telling story from Boyd about one of those grumpy guys: "A couple of years ago Alberto started doing those little checkerboards on Ike's rump for the shows. Now he even does it on days when Ike's not competing. He always wants that horse to look his best when he's out because he knows people will be looking at him."
A clue to how Ramirez is feeling about a horse is whether he comes to the ring to watch. "He usually stays at the barn when we're showing," Boyd said. "But it's funny—when we get a new horse he may come to the ring a couple of times to watch it. If he stops coming you know he doesn't think that much of the horse. At least not yet. Sometimes after a year or two he'll come back and start watching them."
Not surprisingly, Ramirez is always ringside for Brunello. And competitors should be forewarned: he's been coming to the ring pretty regularly for Boyd's younger derby horse, Sterling, too.
This is the third article in Groom Spotlight, a new series of groom profiles to be featured on www.coth.com. Make sure to follow www.coth.com and like the Chronicle's Facebook page to see them posted. If you know a fantastic groom you'd like to see appear in this series, email molly@chronofhorse.com.