Saugerties, N.Y.—Sept. 11
As Patricia Griffith rode Skorekeeper into the ring for the final round of the Diamond Mills $500,000 Hunter Prix Final at HITS Saugerties (N.Y.), Callie Seaman didn't know what to do with herself.
"It's the most nerve-wracking experience," she said. "It's really incredible. As a rider, I get nervous, but I've never been that nervous in my life."
Seaman owns Skorekeeper, a 12-year-old warmblood gelding by Casall, and she usually competes him herself in the amateur-owner division, but she lent the horse to her trainer Griffith for the competition after Griffith earned a bye to compete in the class.
"You know how good your horse is, and I know how great Patricia is, but watching it, you just feel super out of control," Seaman said. "It's exciting, but it's also really nerve-wracking."
But Seaman needn't have worried; Griffith and her horse, jumping last in the class after claiming the overall lead after two rounds of jumping that took place Friday and Saturday, continued their string of top performances to win the lucrative event. Their third round score of 268.25 (scores of 91, 90 and 87.25 from the three judging panels) kept them at the top of the standings, and they maintained that position after a final fourth course designed by Rian Bealls. Hope Glynn and Lake of Stars finished second, Tracey Fenney and MTM Fashion checked in third, while Dorothy Douglas and S&L Just a Cobbler rounded out the top four that returned for the final round in the expansive grand prix arena, winding around massive jumper jumps set for the Saugerties $1 Million set to take place later in the afternoon.
"Words can't describe [how I'm feeling right now]," said Griffith. "I'm so excited. I'm very thankful to the Seaman family for lending him to me for this class. He's a great horse. He's 12, and he's experienced, so there was a little extra pressure, because I felt like the horse, on paper, was for sure the winner. I needed to sort of stay out of his way, and he was awesome.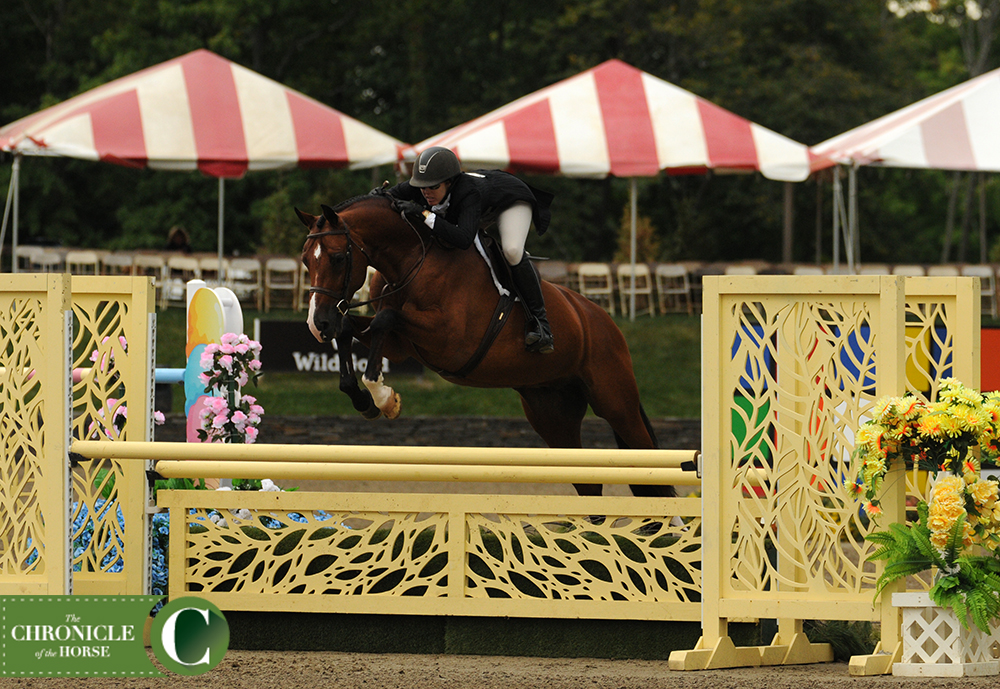 Patricia Griffith and Skorekeeper
"[The course] was great," she added. "It's always a little tricky managing riding around the jumps for the jumper classes, but it had a beautiful flow to it. The jumps were nicely decorated, and I felt, for the most part, all the horses jumped great."
The win was the second in the class for Griffith, who also captured the event in 2012 with with Lexi Maounis' Sienna. She and Aaron Vale are the only two-time winners of the class.
"When you win it four years ago, you're thinking, 'You're only as good as your last show,' " said Griffith, who works alongside Andre Dignelli as a trainer and rider at Heritage Farm in Katonah, N.Y. "So, I wanted to win something big, and this, for sure, was. I want to thank [HITS President and CEO Tom Struzzieri] and everyone here at HITS. This kind of class is just amazing. To jump for that much money just means so much to us as hunter riders."
Glynn rode the 7-year-old Lake of Stars to runner-up honors, shipping the striking gray gelding east from her base in Petaluma, Calif. The Holsteiner began his year doing the pre-green hunters but moved up to the first year division toward the end of the winter season at HITS Thermal in California. He moved up to claim reserve championship honors after sitting third overall after the second round.
"When I convinced my clients to ship all the way from California to here to do that class, I knew how much they've spent to either fly or ship them here, how much they've spent on rental cars and hotel," Glynn said. "I know what it costs to get here, so I really do feel an extra pressure. You're doing one class; you need to come home with a check. This will probably be one of the only horse shows where my clients go home with a check and make money! [Those situations] are few and far between.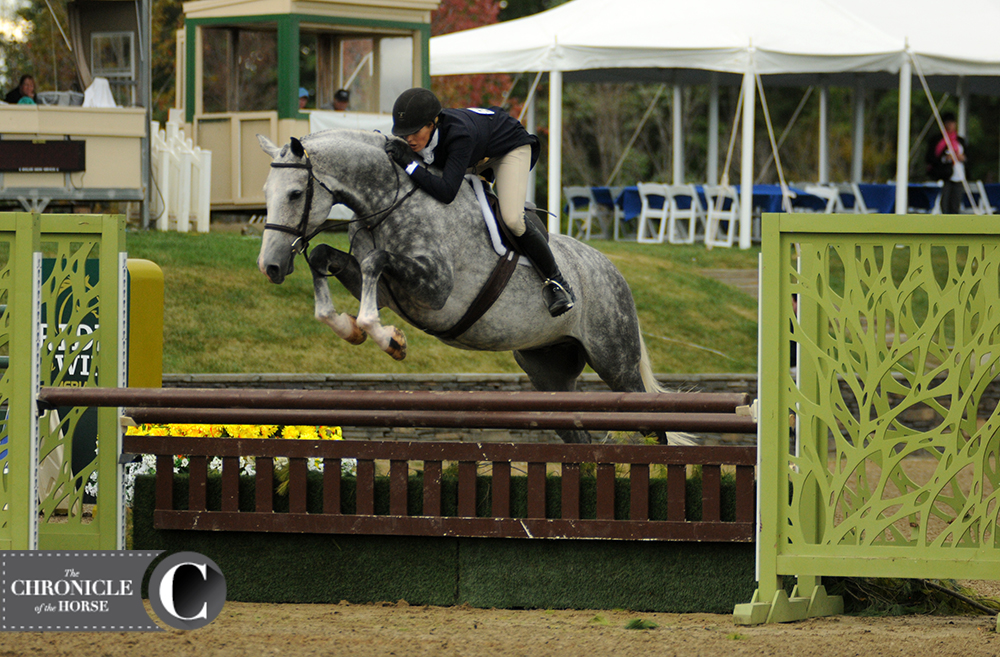 Lake of Stars and Hope Glynn
"If I'm going to bring one here, it's got to have a chance at being in the top group, and I've got to feel confident that I'm going to get here," she continued. "I wasn't sure with the 7-year-old what was going to happen, but I was going to take a chance on winning, because I knew he was good enough to do it if it was right here. You bring a winner to this playing field."
Fenney made the most remarkable jump in the standings. Each of the top 25 riders to make the third round started with a fresh slate of scores, and the Flower Mound, Texas, native capitalized on the opportunity. She and MTM Farm's 6-year-old warmblood gelding sat in 25th after Round 2 and, after their third round score carried them into the final round of four despite being the first to navigate the course, they finished third.
"I had nothing to lose, obviously," said Fenney. "Coming in last and [first in the order] is a bit of a disadvantage, but it's better for me to do what I do instead of worrying about how everyone else does and trying to stay up with them. I just wanted to go in and go for it."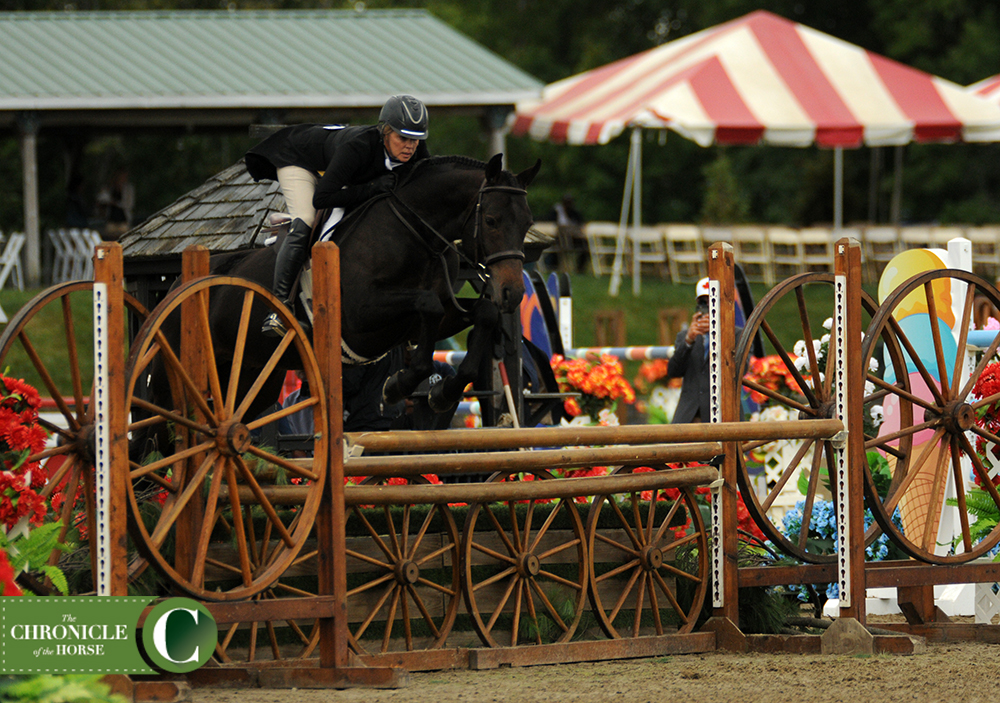 MTM Fashion and Tracey Fenney
Sunday's final also had special meaning due to the context in which it was held. On the 15-year anniversary of the Sept. 11 terrorist attacks in New York City, Glynn put things into perspective.
"Personally, for me, I got up this morning, and I just wanted to have a good time," she said. "It sounds strange, but it didn't hit me until this morning when I put on the news that it was September 11, and it did make me realized how blessed I am to be here today in New York doing something that I'm so passionate about.
"Whatever happens, happens, but waking up this morning thinking about that, I realized what a blessing it is to get to have this and to get to do this today, and it's five times the money I'm getting anywhere else in any class anywhere else in the world," she continued. "This is that big of a class. It's a really cool thing."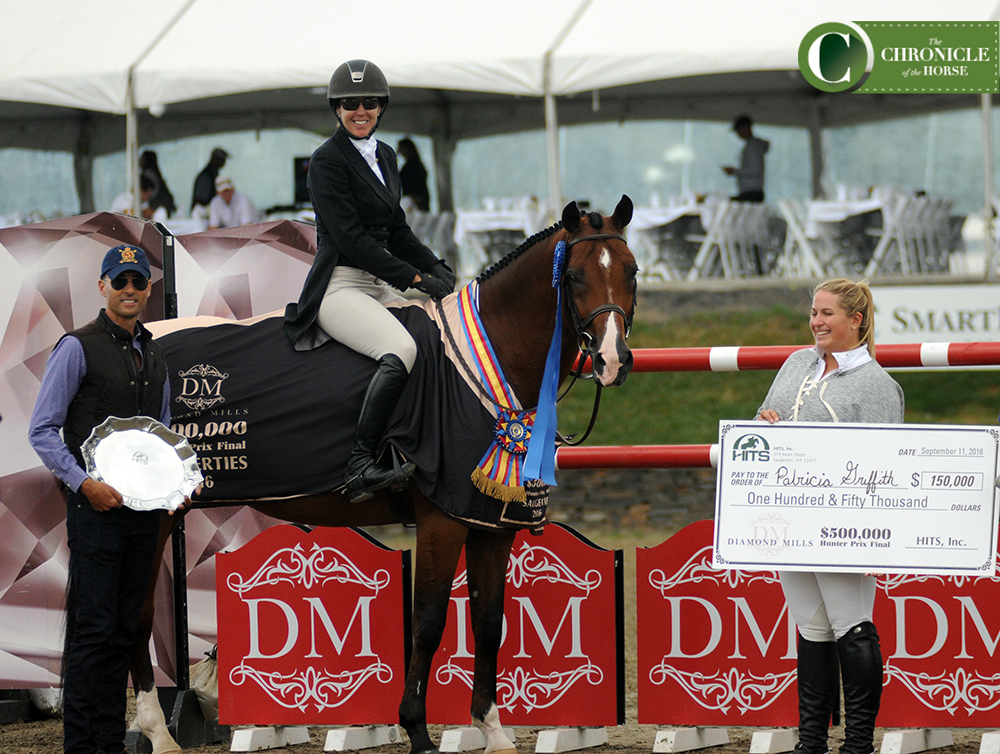 Andre Dignelli and Callie Seaman joined Griffith for the winner's presentation.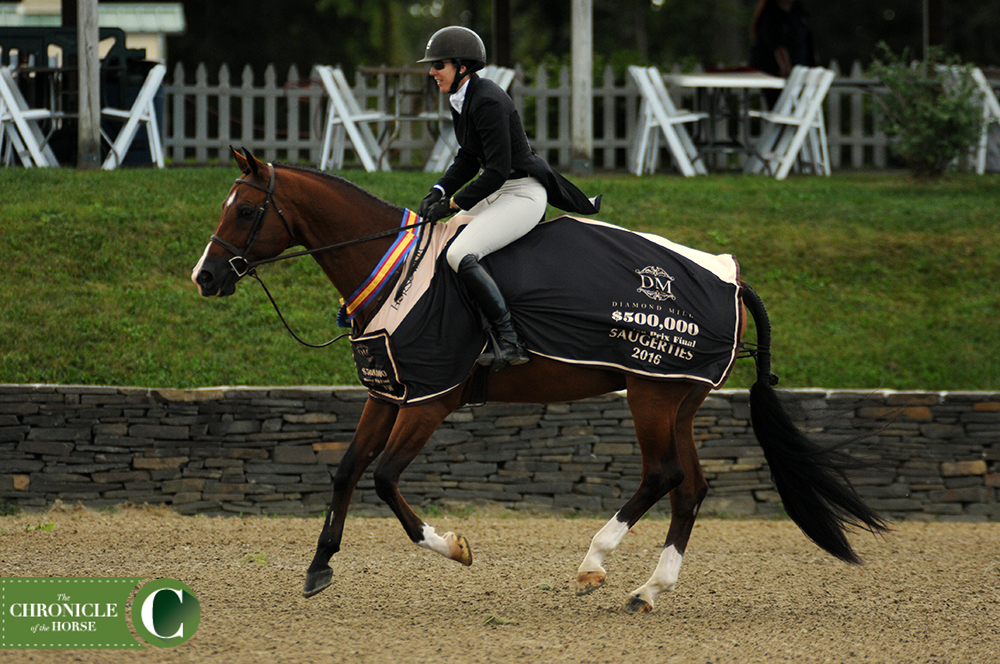 Griffith and Skorekeeper take a victory lap.
Want more from HITS Saugerties? Read about Allie Joyce and Boccaccio's win in the Platinum Performance $250,000 Hunter Prix Final, and check back for more online coverage of the Black Barn $250,000 Junior/Amateur-Owner Jumper Prix and the CSI***** Saugerties $1 Million Grand Prix. For more on the Diamond Mills $500,000 Hunter Prix Final, pick up a copy of the Sept. 26 issue of the Chronicle.