Dear Rita,
I'm back at the keyboard.
So there I was, teaching a seminar on Good Riding, Good Footing and Good Shoeing at Hilltop Farm during the North American Stallion Sport Test when I had a revelation: I understood more fully why horses instinctively protect their mouths! Duh.
My husband, Dr. Gregory Staller, and I had agreed to teach a mini-symposium at the stallion test on maintaining soundness and longevity in the lifetime of a sport horse. Greg brought along a PowerPoint on Good Footing and Good Shoeing, while I brought along two horses and another rider to demonstrate some principles of Good Riding.
At the highest level of any sport, it is almost impossible to avoid injury in the athlete over the course of a top competitive career. And certainly in dressage horses the bigger the mover, the more risk for injury. But in equestrian sport in general, you can increase the chances of your horse staying sound and/or recovering quickly and permanently from injury by employing the practices of Good Riding, Good Footing and Good Shoeing.
I was in the middle of a demonstration about the Good Riding part when a light bulb when off.
Rita, this may sound ridiculous since I have preached about the importance of good hands for years and years, but as I was riding around the indoor at Hilltop in Colora, Maryland, wired for sound as I talked the spectators through my seat-to-hand connection with Lady Stark (hot new prospect, wait for it!), it suddenly occurred to me that horses—like all mammals—eat with their mouths. And when the mouth gets injured, some animals may not be able to eat, which means they do not survive. So of course, they protect their mouths from harm!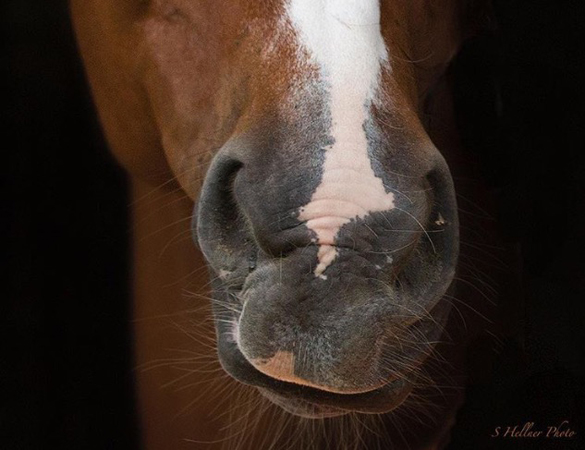 I have always been keenly aware of the sensitivity of a horse's mouth. I'm the first trainer to make you feel really bad about all the sneaky jiggling and see-sawing you've been doing in the past by reminding you that the bit contacts the bars of the mouth—the bar being a relatively flat, toothless area of the lower jaw bone that is minimally protected by thin gum tissue. The sensitivity of that area would be close to the sensitivity of the front of your shinbone. So, to better understand your horse's response to the bit, try dragging a metal bit across your shin and see how that changes your perspective.
But there I was, old hat, full of knowledge, trying to demonstrate the perfect contact, espousing on a subject I've always been passionate about, when I decided to gently (or at least I thought so) demonstrate the WRONG way to "supple" a horse by senselessly moving the head and neck around with the reins. Left, right, left, right.
Blammo! It only took four steps before Lady Stark made it very clear that she was not going to be ridden by an ape, and if I continued with such bad riding, I could just go back to beginner school and get another horse to ride for the demo.
And though this mare is way too polite to do anything I can't handle, I did not miss her warning signals. She tossed her head out of her lovely frame, held her breath, lifted her tongue, shifted the bit over to one side of her mouth, clenched her jaw and carried tension in her whole body for another two minutes. Rather than "ride her through" this behavior, I chose to walk a few strides, check her bits from the saddle, apologize, and let her take a deep breath before we continued.
Then she was fine. You see, Lady Stark and I had only been together for two weeks when I decided to bring her along for the riding demonstration at Hilltop, and her trust in me was simply not well enough established for me to question her immediate and unequivocal rejection of even the mildest bad riding. (I thought: Good on ya, mII'are!) She is a sensitive horse—a characteristic that I love and respect and want to preserve! I felt bad that she had to take those four strides for the team, but clear rejection of the bad example shown speaks volumes when you are trying to educate horsemen. Lady Stark is a great teacher, and she will forgive me.
Understand this: Every day that you ride brilliantly and build trust with your horses is like putting capital in the bank. The more capital you build up, the less costly it is to make a little withdrawal during a bad moment. And we all have bad moments! Because building trust is an integral part of daily training. Understanding the correct function and feel for the bit in the horse's mouth is necessary for building this trust.
It is your job as the rider to position the bit in the horse's mouth in such a way that he can carry it without pain and eventually show the desire to step freely forward INTO the bit in order to focus his balance UPWARD into self-carriage. But that's a whole 'nother blog.
The point I had been trying to demonstrate when the light bulb went off was this: The horse has every right to be sensitive in his mouth, and we as riders often forget that because it is so commonplace to strap metal bits in there and pull on them. We do not spend enough time developing good, kind contact with the bit that the horse accepts and can depend on to find his balance. And of course, we have to develop our seats in order to independently ride into this fine contact.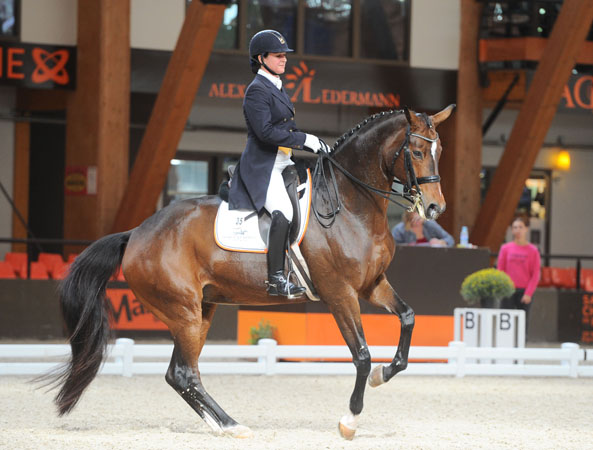 Riders who have not reached this level of skill mistakenly move the neck of the horse by pulling on the mouth in order to bend the horse in some attempt to "supple" it. What they do not understand is that horses, being longitudinally-balanced animals (as opposed to a vertically-balanced human being), depend on a stable neck for balance. It is really very easy to knock a horse off balance by moving the neck around too much, too fast or in the wrong moment.
If "suppling" the horse by moving its head and neck around with the reins is part of your system of riding, you probably have a hard time producing a truly supple horse. True suppleness comes from a horse engaging his entire topline to enter self-carriage as he allows the impulsion created behind the saddle to transfer all the way through to his mouth without tension and resistance. This requires balance. Balance requires a stable neck. A "stable" neck is not fixed; it is relaxed, and you cannot achieve that relaxation without a trusting mouth.
Are you smelling what I'm cooking here, Rita? Like all living beings, horses instinctively protect themselves from harm. So, look at resistance as a defense, and see if you can find a better way to soften the horse's response. See if you can find a way "in" without force. Improve YOUR skills. To create a beautiful, elastic, athletic dressage horse that swings into self-carriage, you have to convince your horse to relax in the jaw and accept the bit as a point that he wants to push his whole energy INTO. More on this soon.
I'm Catherine Haddad Staller, and I'm sayin' it like it is from Califon, New Jersey.
Training Tip of the Day: It takes 10 correct steps to erase one bad step when training a horse. Concentrate on the 10 correct ones.
---
Catherine Haddad Staller lived in Germany for almost 20 years and accumulated more than 120 top-10 placings and wins at Grand Prix during that time. In 2006, she was the team alternate for the FEI World Equestrian Games in Aachen, Germany, and the following year, she finished seventh at the FEI World Cup Finals in Las Vegas with Maximus JSS. She was reserve for the WEG once again in 2010 and rode in the Leipzig FEI World Cup Final (Germany) in 2011. She returned to the USA in 2012 and runs training facilities in New Jersey and Florida. She's continued to compete internationally at Grand Prix and has also coached many riders at the FEI levels. An avid breeder, Haddad's foals have taken "best in class" honors at four Hanoverian foal shows in recent years. catherinehaddadstaller.com

Read all of Catherine's blogs for the Chronicle.