During the COVID-19 pandemic last year, Tommy Greengard had the chance to buy a horse he knew could help him reach his eventing goals. Joshuay MBF, a 7-year-old Dutch Warmblood (Foreign Affair—Fernacchy MBF, Quasimodo VD Molendreef), had been imported by Andrew McConnon and was ready to go preliminary when Greengard brought him home to California in May.
The pair was able to complete a modified/training event, and it looked like their partnership was off to a great start, but "Josh" began developing eye problems just five weeks after arriving at his new home. They started with mild eye gunk and allergy symptoms, and quickly progressed to both eyes swelling shut.
Greengard, 21, rushed him to the University of California, Davis, equine hospital, where the gelding spent six weeks. He was diagnosed with a rare condition called eosinophilic keratoconjunctivitis, or "EK," which is an inflammatory disease of the conjunctiva and the cornea. While it is well-documented in cats, dogs and rabbits, EK has not been studied as closely in horses.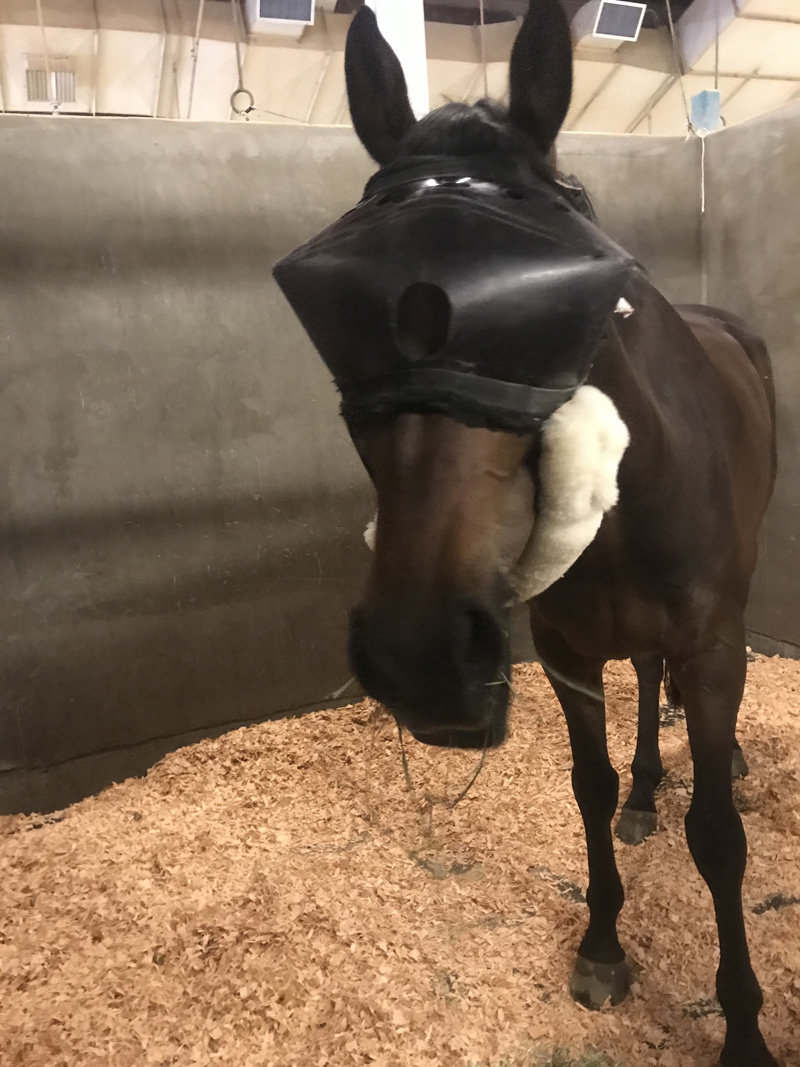 Veterinarians believe it can be caused by parasites, allergies or could be an immune response.
Josh was treated with catheters in both eyes and received antibiotics and anti-fungals.
"They scraped the eyeballs lightly to get rid of any of the debris," Greengard said. "It gets a callous over the eye. For a little while there he looked quite gnarly, but we were really fortunate that the team at Davis has a heck of an ophthalmology department. You would never know it now. You'd have to really, really look at his eyes to see some of the scarring."
The condition can flare up in the summer months, so Greengard is on high alert now. The vets told him the majority of cases come from the Piedmont region in North Carolina, which is where McConnon is based.
"There's a high chance that it could have been in his system at that point, and then it flared up when he came to California after the stress of change and traveling, but we'll never know. It's all hypothetical," Greengard said. "We now have a good idea of what the symptoms are and what to look for, and we've cut down on the allergies in his environment. He gets steamed hay and a fly mask all the time. When he's at home, he's on an antihistamine. We pay a lot of attention to it, that's for sure!"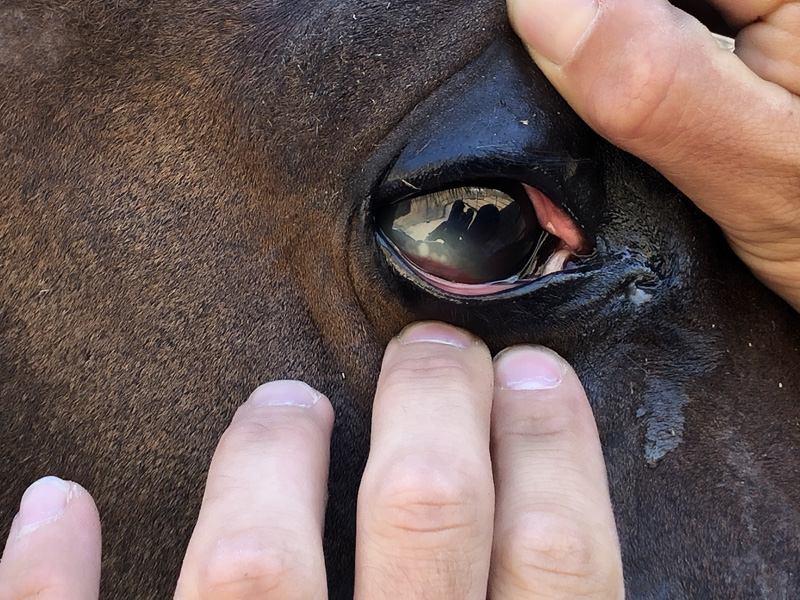 Average cases can take up to eight months to heal, and horses often don't fully heal because of scarring in areas of the eye that affect their primary field of vision. Luckily, Josh had minimal scarring, and was able to go back to work after his hospital stay.
"It was brutal because he was brand new to us, and his whole world changed, and then it was COVID so you couldn't see him," Greengard said of Josh's hospital stay. "They let me sneak into the barn for five minutes to give him a pat on the nose, and that was pretty much his world—a hospital stall for six weeks. I just felt horrible for him."
The pair was able to compete lightly in the fall, and they "came out swinging" this spring, moving up to preliminary and winning twice at Twin Rivers Horse Trials (California) before topping the Woodside Preliminary Rider Challenge at The Spring Event At Woodside, held May 28-30 in Woodside, California.
The preliminary challenge has a rider and horse division and is a way to showcase lower-level pairs.
"It's a really good opportunity to show jump a tired horse before a long format event, and you can jump in front of the crowd," Greengard said. "It gets a lot of spectators, and there's a lot of atmosphere, which you don't always get at events. I was lucky to ride two in the division, so by the time I got on Josh, I was pretty laser focused. That definitely played to my advantage."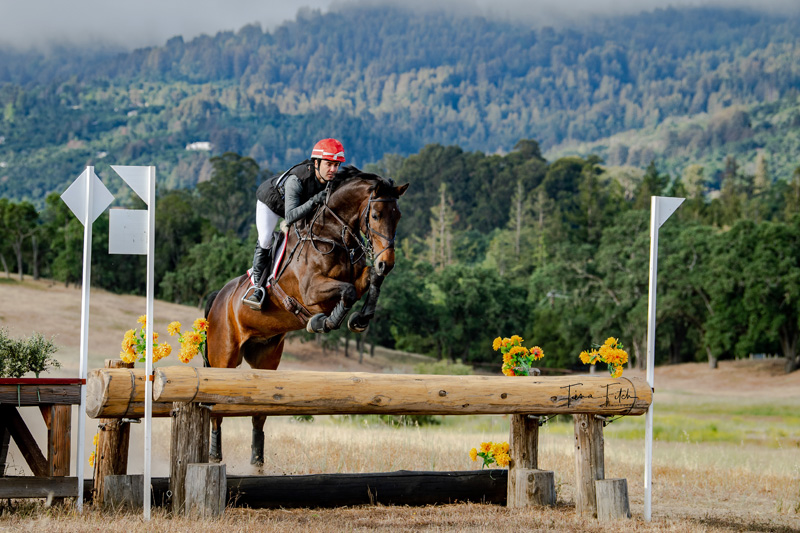 Greengard grew up in Malibu, California. His mother, Liddy Morrin, rode horses and inspired his love of them. He spent nine years training with eventer Robyn Fisher in Los Angeles, and she encouraged him to go to college.
Greengard is entering his senior year at the University of California, Berkeley, where he's studying environmental science. But he's hoping to become a professional rider.
Fisher encouraged him to go to Chocolate Horse Farm in Petaluma, California, to train with Andrea Pfeiffer and Amber Levine when he started school in 2018.
"Andrea has opened a ton of doors for me," he said. "She made it possible for me to work for Ned Glynn for my first two years of college, and I worked for him until a month ago, when I started working for Andrea full time. She has totally upped my riding ability, helped me riding the right horses and just having a better understanding of what it takes to get where I want to get to. She's been there day in and day out to make it better and help bounce ideas off and get creative with the horses, and it's made a world of difference."
In the summer of 2019, Greengard connected with Glynn at his Sonoma Valley Stables and began riding his hunters and jumpers at home.
"They run a very professional program. It was so eye-opening to see," he said. "They have probably 50 horses on their property, and they run a machine in all the best ways possible. That was phenomenal."
Greengard said he learned a lot about smoothness and relaxation in his riding that he's been able to take back to his sport.
"It's amazing how similar the two are," he said. "That's what I've learned as I've gotten older. Good riding is good riding across the board. It's been really cool to see what they can produce and just apply it to my own riding—just neaten everything up and quieting it all down and making it a bit of a prettier picture."
Along with riding for Glynn, riding his own horse and going to school, Greengard also worked at Dover Saddlery, but he's since gotten busier working full-time for Pfeiffer.
He did virtual school last year due to COVID, but this year he plans to make the 1 ½-hour trek to school on Mondays and will graduate early.
Greengard hopes to get to the top of the sport, whether it's on Josh or another horse in the future.
For now though, his goal is the Rebecca Farm CCI2*-L (Montana) with Josh. He also co-owns with Pfeiffer a 5-year-old, Leonardo Diterma, who just moved up to training level.
"I've learned to just kind of let go of the timelines a little bit," he said. "When I was 15 and 16 and I really wanted to do the young rider thing, in my head there was a lot of timelines that had to be achieved. I've learned that it'll be what it'll be, and it's just enjoyable to produce the horses on their own timeline. That seems to give me the best results and the best opportunity to let them shine. We always joke that Josh will do what Josh wants to do, and we'll just go with it."