Rio de Janeiro, Brazil—Sept. 15
Following superb wins by British riders in the Grades II and Ia individual tests at the Olympic equestrian center in Deodoro on Thursday, Great Britain won the overall team championships of the Rio 2016 Para-Equestrian dressage competition.
The British team has won every Paralympic team competition since the sport was introduced to the Games in Atlanta 1996 and remain undefeated in European and World championships too—a total of 18 team titles.
The U.S. team of Angela Peavy, Sydney Collier, Rebecca Hart and Margaret McIntosh finished up in 12th.
"I'm absolutely thrilled," said Great Britain's Chef D'Equipe Sarah Armstrong. "I couldn't have wished for a better result and the guys have been great.
"When I took on the role in November I took a massive personal risk. They were coming off the back of a home Games and it was a big ask to return this and improve on it but I just knew that the athletes, the horses and the amazing support team that we have, I just knew that we could do it."
The team, made up of Sophie Christiansen and Anne Dunham (both Grade Ia), Natasha Baker (Grade II) and Sophie Wells (Grade IV) had a combined score of 453.306 to finish 20 points ahead of Germany in silver (433.321) with the Netherlands in bronze (430.353).
"It's very exciting" said Dunham, who has now won five team titles with the team since starting her Paralympic Games career in Atlanta 1996. "The one horror that all of us have at the moment is being on the team that doesn't actually win the team gold medal. But we won it, and we won it in style."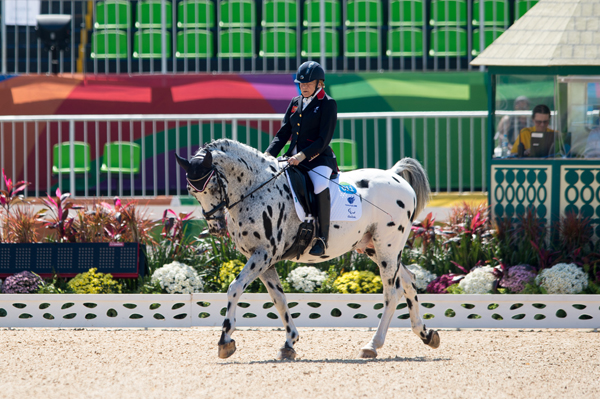 Anne Dunham on LJT Lucas Normark. Photo by Liz Gregg/FEI
The team result rounded off a good day for Great Britain, starting with Baker's win in the grade II individual test. Riding Cabral she scored 73.40 percent to finish just short of two points clear of The Netherlands' silver and bronze medalists—Demi Vermeulen, and Rixt Van der Horst.
The win was all the sweeter for Baker as it follows her defeat to Van der Horst at the 2014 FEI World Equestrian Games and the 2015 FEI European championships. In 2014 she was the strong favorite for gold but Cabral was spooked by the TV cameras as he entered the arena.
"I'm so happy. I'm still shaking. I'm still crying," said Baker. "I was so worried he was going to come in here and do a repeat of WEG. I'm just so proud.
"I just love him so much; he means the absolute world to me. I said to him as we were trotting round in the 10-minute box: 'Just trust me JP, just trust me,' and he did. He just worked with me and felt so relaxed. It wasn't the best test we've ever done but I'm just over the moon with him."
Christiansen won the Grade Ia individual title on Athene Lindebjerg with the top score of the week so far, 78.21 percent. Teammate Anne Dunham, competing in her fifth Games, was second and there was a hugely popular bronze for Brazil's Sergio Oliva, his country's second Para dressage medalist after team mate Marcos Alves took two bronzes in Beijing 2008.
"This is surreal at the moment," said Christiansen. "I've had a change of coach and just injury after injury and up until last week, I didn't even know which horse I would be bringing.
"I've always wanted to do my best at everything I put my hand to—academics, sport. It's going to sound big-headed but I think you have to have more than talent to stay at the top."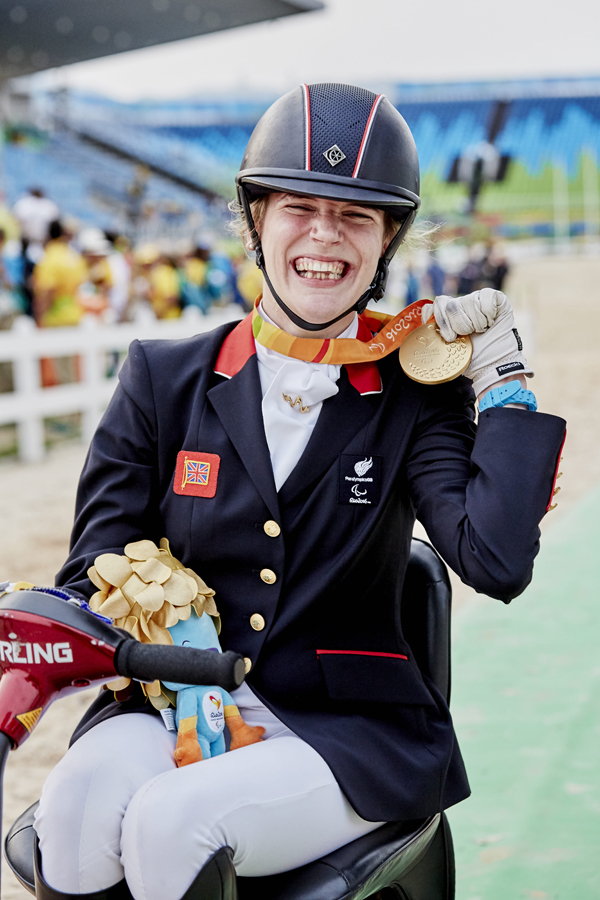 Sophie Christiansen of Great Britain. Photo by Liz Gregg/FEI
"For me it is a dream come true," added Oliva. "I have worked for more than 12 years to get this bronze medal so for me it means gold. I've worked hard to find the good combination—the two hearts—which to me means one heart, and to get a medal in my home country is amazing. I don't have any words. I love this. I love this moment. This is a dream."
Rebecca Hart was first down centerline for the U.S. Team in the Grade II Individual test, scoring 67.71 percent. In the Grade Ia Individual test, individual competitor Roxanne Trunnell produced a score of 69.56 percent, while team representative Margaret McIntosh scored 66.21 percent.
Hart, of Wellington, Fla., and Romani, her own 14-year-old Danish Warmblood mare, executed a respectable test and qualified for the freestyle. Though the pair never quite found their rhythm, it was a clean test that placed them ninth in the class.
"It was not the test that I wanted, so I am disappointed," Hart said. "Everything is a learning process though and you go with what you have at the moment; we did the best we could with it. I couldn't have done anything differently, it was just not our moment."
Speaking to her experience at her third Paralympic Games, Hart said, "It has been wonderful. It's been a pleasure to be here in Rio where everyone has been so hospitable, welcoming, and very gracious."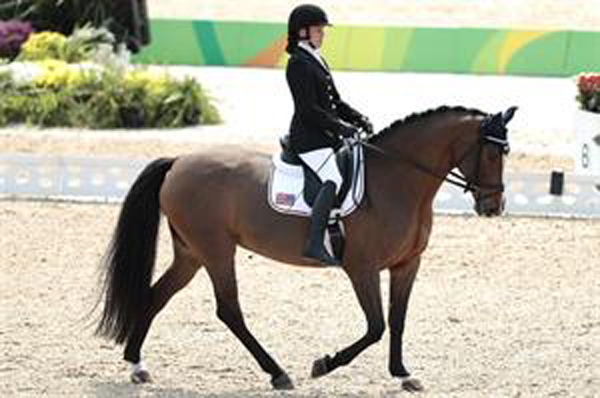 Rebecca Hart on Romani. Photo by Alexandre Loureiro
Riding as an individual for the United States in the Grade Ia Individual test, Trunnell delivered a solid test aboard Royal Dancer, Julia Handt's 11-year-old Westphalian gelding. The pair overcame a bobble during the first centerline to perform a harmonious test that placed them 10th in a very competitive field.
"I thought the test was good," said Trunnell. "Royal was a good boy, especially in the free walk. We have been working on relaxing and he just flowed with it. Compared to the Team test, he felt more relaxed in the arena."
This was Trunnell's first Paralympic Games and she commented on the event, saying "It is also Royal's first Paralympics so it's nice that we are going through it together. It's not something I could have ever imagined, there are so many more people here than I expected. The crowds have been really respectful of the lower grades which we don't always get, so that has been really nice."
Riding as the final member of Team USA, McIntosh and her own Rio Rio, a 10-year-old Rheinland mare, placed 20th in the Grade Ia Individual test.
"The weather was so beautiful today in comparison to how hot it has been, so my horse was very happy out there," said McIntosh.
Competing in her first major championship of any kind, McIntosh stated that while the actual competition experience was similar to a normal horse show, the exciting part of the Games for her has been staying in the Athlete Village. "I am in awe of the courage, determination, and effort that these athletes put into their daily lives, let alone what it takes to compete at this level and excel at their own sports. It's been overwhelming to walk around the village and to see so many vibrant people at the top of their game," she said.
See final Paralympic team results.