Sitting in the judge's box as the first horse cantered around the outside of the dressage ring at the 2021 Land Rover Kentucky Three-Day Event, Peter Gray could feel his heart pounding.
While there were no fans in the Rolex Stadium stands due to COVID-19 pandemic restrictions, he still felt the pressure and excitement to judge his first five-star. Gray had been in that arena and galloped around the Kentucky Horse Park as a competitor, but it was a different kind of thrill making it to the top of the sport as an international judge.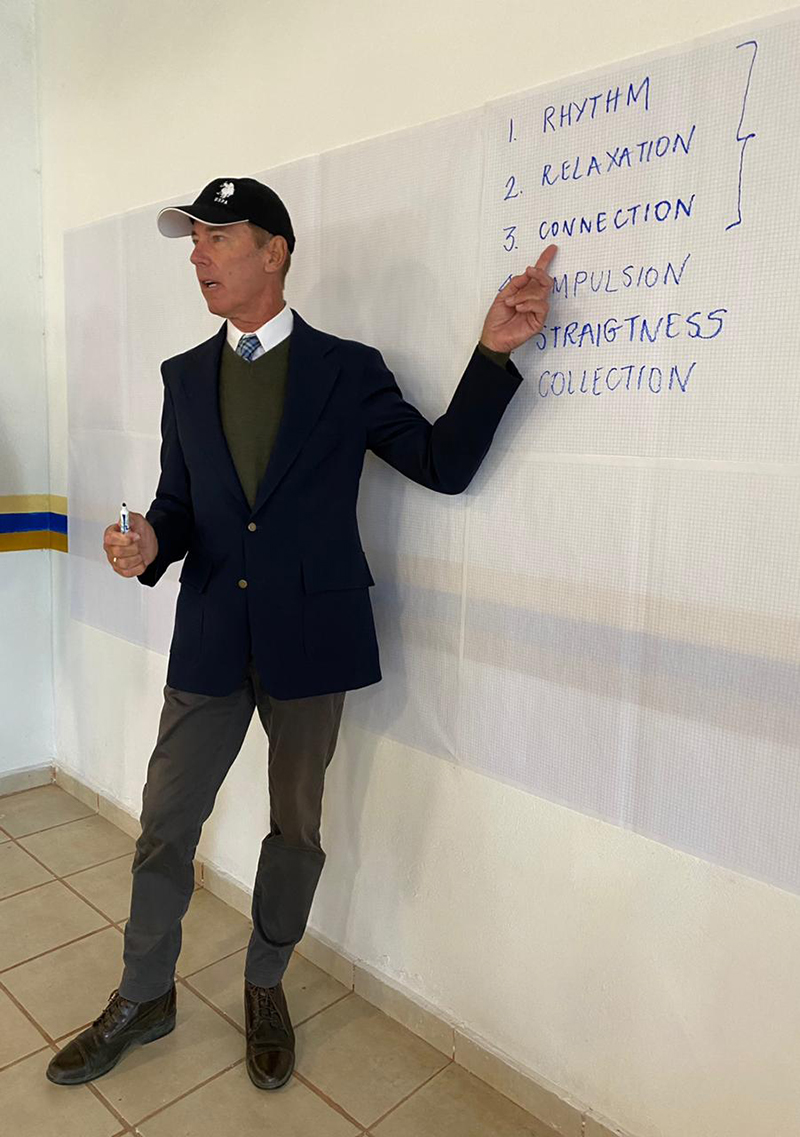 "I felt my heart pumping a little heavier than normal!" he said. "Then the first scores came up, and we were all to the decimal on the same score, so I could relax a little bit, like, 'I can do this.' "
Gray never expected be sitting in a judge's box at Kentucky, or that he'd have been chosen to serve on the ground jury at this September's FEI Eventing World Championships in Pratoni del Vivaro, Italy, but for those who know him, it's no surprise.
"He is a consummate professional and extremely detailed-oriented," said Lesley Grant-Law, a Canadian eventer who considers Gray a mentor. "He carries much pride in the work he does, whatever it is. Everything I've ever seen him do, from cooking a dinner to riding a horse to teaching a lesson to cleaning his car or his truck, everything he does he does with 100 percent effort and 100 percent pride in his work, and I know he would be putting the same amount of energy and pride into his judging."
A Love For Training
Gray's journey to eventing began in Paget, Bermuda, where he was born. He started riding on the 22-mile-long island on crossbred horses, and he competed in a variety of disciplines at local shows. Thanks to an active Pony Club, Gray earned a well-rounded education.
"I honestly did everything from equitation to hack to western pleasure to ride and drive. My poor horse did absolutely everything," he said with a laugh. "We usually got a championship at every show because I entered every class! He did everything, and looking back, I really recommend to my students and young people getting into the sport to do cross training and get involved in being good at various things, which is why I think eventing is such a wonderful place to start."
Gray's father, William Brownlow Gray, competed in sailing in the 1960 Olympics in Rome. His mother, Margaret Gray, was a horse lover who wanted to see her son progress.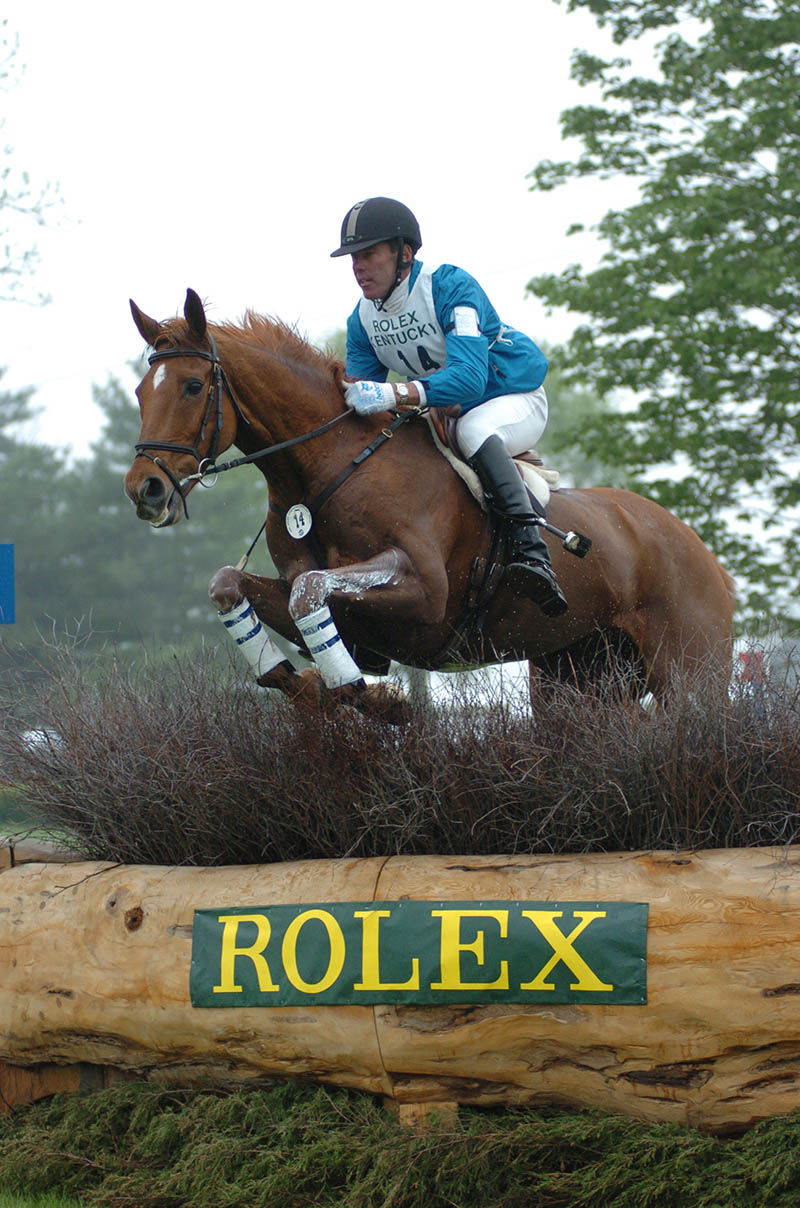 Peter studied animal science at the University of Guelph in Ontario, and he was introduced to the more competitive side of eventing through the Meredith family in Canada. He bought a Standardbred-Thoroughbred schoolmaster named Gunnar, his first horse, from Dick Meredith and took him to the 1980 Alternate Olympics in France. At 21 he became the first Bermudian event rider to compete at the Olympics.
"He could canter, but it definitely wasn't our strong point," he said of Gunnar. "It was four-beat and not very balanced and definitely the lowest score in the dressage!"
Peter trained with Polish cavalry officer Gen. Michal Gutowski, who'd moved to Canada after World War II and lived near the Meredith family's farm. He'd trained Canadian show jumping legend Ian Millar and competed in the 1932 Berlin Olympic Games in show jumping. Peter worked with him for 20 years and says he owes everything he knows to him.
"I was lucky enough to have the most amazing trainer I could have possibly dreamt," said Peter. "Fantastic sort of classical European equitation, very similar to what Bert de Némethy brought to this country—passive, progressive training. The horse was never at fault. It was always the rider.
"And probably one of the greatest expressions I learned from him was, 'Better to upgrade a year too late than one day too early.'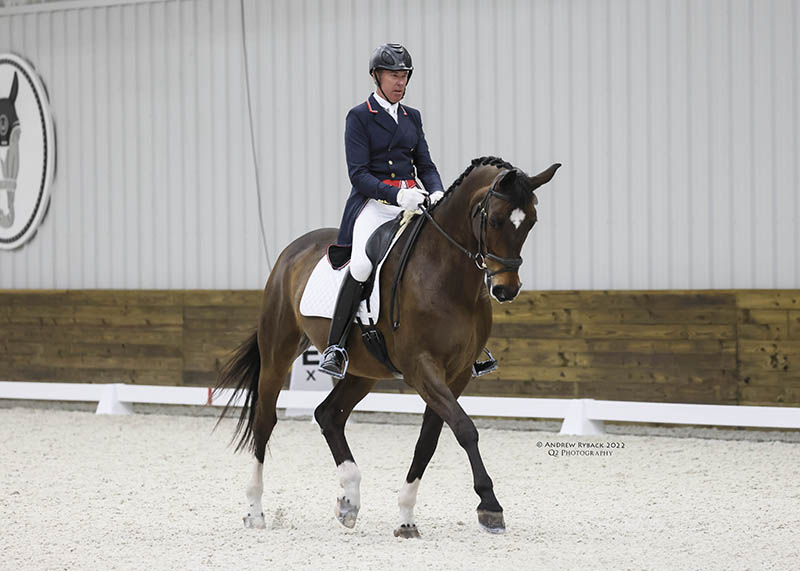 "It's always in the back of my mind when I'm coaching people and training young horses," he continued. "You see so many people in a hurry to make the team and to make the sale and to get the MERs. It's really a bit on the wrong pathway for correct training, I think, which should be more progressive. It's all about confidence and keeping the horses sound for a long period of time." Peter decided against becoming an equine veterinarian after college and went out on his own as a professional. With Gunnar retired and training young Bermudian riders, he then took Count's Best, a 15.3-hand Appendix Quarter Horse gelding Gutowski had found, to the Los Angeles Olympics in 1984.
In 1987 he won individual bronze at the Pan American Games in Indianapolis on Galten Farm's Trakehner stallion Amiego, and in 1988 he went to the Seoul Olympics on Somers, an English-bred Connemara-Thoroughbred he also took to the Burghley Horse Trials (England).
In 1990, Peter competed at the first FEI World Equestrian Games in Sweden on the Argentinean-bred Newport, finishing 23rd. The 17.2-hand gelding was spotted by New Zealand's Andrew Nicholson, and Peter bought him sight unseen.
"It was definitely my horse of a lifetime. He was an incredible, willing animal," he said. "He was the presidential ride of General Galtieri, the president of Argentina at that time. He was in their military and ridden by the army riders. He did some 1.50-meter show jumping and some eventing where Andrew saw him. He was a cavalry horse. As a sign of goodwill, the General put his Rolls Royce and his horse up for auction to fight the British in the Falkland Islands. I didn't know this at the time and had a couple of friends in the British marine who were in that war, so I didn't really mean to be funding it, but I got a nice horse anyway!"
During the height of his competitive career, Peter was able to do two two-year stints training in England, and he spent time with Lucinda Green and Mark Todd, as well as show jumper Dick Stillwell. He galloped around Burghley, Badminton (England), Le Lion (France) and Luhmühlen (Germany), all the while soaking up as much knowledge as he could.
Gray, now 64, made his career on the backs of more unconventional horses and enjoyed the training and learning process.
"With those less conventional horses, they don't have the scope and training," he said. "You have to be careful to keep them confident and not overtrain them and be careful where you select your pre- championship competitions so you go in with lots of confidence."
Peter was one of the first eventers to start importing Irish horses for sale and had a thriving sales and teaching business along with his now husband Paul Delbrook at their Stone Hill Farm in Ontario, where they're still based in the summer.
They also ran Stone Hill Horse Trials for 20 years. Peter was the Canadian team coach from 1996 until 2000, and he switched nationalities to ride for Canada in 2004. He's designed cross-country courses, served on the Canadian High Performance Committee and the U.S. Eventing Association Board of Governors, as a Canadian team selector, as a Canadian U-25 coach and on the FEI's Eventing Committee.
Five-star rider Jonathan Holling met Peter as a teenager through Green. He was a working student for Peter and Delbrook from 19 until 22 and has ridden on and off with Peter ever since. He counts Peter and Delbrook as close friends and confidantes.
"It was for sure the best decision I ever made," he said. "It was hard. Peter's hard to work for. He's very demanding and detailed, and so is Paul. We were up every day at 6:30 in the barn, and we were usually there until 6 at night, but I got to ride lots of nice horses. I had lessons all the time, really good instruction, and I certainly wouldn't be the rider I am and have a career [if] it hadn't been for him."
Holling jokes that he remembered being tired all the time, but Peter held him accountable and made sure everything his students and employees did was done correctly, done well and done with detail, whether it was sweeping the barn aisle or riding.
He recalled taking a horse to Kentucky for its first five-star, but he pulled up halfway around the cross-country course. He received an email from Peter three weeks later.
"Basically, the letter said, 'What did you think was going to happen? You weren't ready to be there on this one; it's a year or two too green, and you need to do a better job.' In a way, at the time it stung a little bit to get it, but I appreciated it at that moment, because I was like, you know what? Nobody else has really said anything other than, 'Gosh, go get 'em next time,' " he said. "But Peter, in his Peter way, came to me and held me accountable. He gave me a very well-thought-out explanation as to what  I needed to do next time to be better about it, why I wasn't prepared this time, and basically said to me, 'You shouldn't be shocked or upset because you went there; you weren't ready to go; do a better job.' It's one of those moments where you get held accountable by somebody you trust and respect, in a stern but positive way that I was able to take and do better the next time, and I did."
Grant-Law's known Peter since she was 16, and said he's shaped her as a horsewoman.
"He helped me with my riding, but more so he helped me with a vision of what I wanted to be like as a person in the industry," she said. "To this day, I try to dress well and present myself in a way that I would want other people to see me as. I try to present my horses the same way. I'll never be as detail oriented as him, but I try to be! I know even the little things are important."
Hanging Up His Boots
After being shortlisted for the 2004 Canadian team for the Athens Olympics, Peter tried again for the 2006 WEG in Aachen, Germany, on a Thoroughbred gelding named Balladeer Ted. He was juggling riding and coaching private clients, as well as working with the FEI Solidarity program, which gave him the chance to coach teams from Venezuela, Colombia and Guatemala to success at the Central American Games and Pan American Games level.
But he'd always been a one-horse rider at the top levels, and he found that without a lot of competition practice, he was starting to feel rusty.
"I was looking around, and I was at one competition, and Phillip Dutton had eight advanced horses entered, and I had my one horse. I only ever had one top horse at a time," he said. "I realized the reason I felt a little bit rusty was the fact that in one day he was doing as many cross-country rides in competition as I would do in a whole year. I think as you get more mature, to keep you sharp you need more than one horse. A string of horses is very expensive to maintain."
When Balladeer Ted had an injury before the 2006 WEG, Peter decided it was time to start focusing more on other things, although he did compete at the lower levels for a few more years.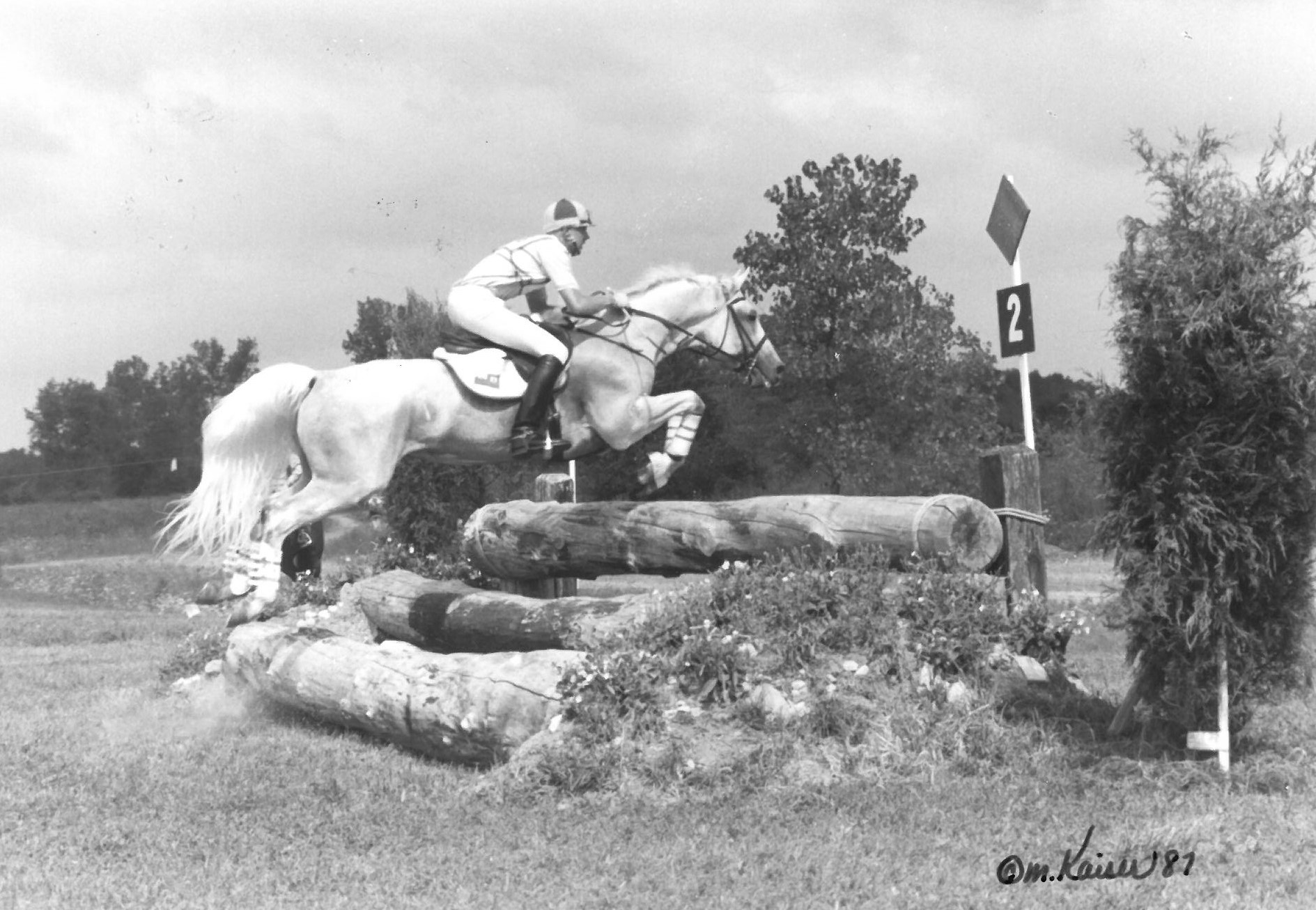 He'd been transitioning to more coaching and was starting to think about judging. He still wanted to compete in some way, so he picked up dressage and has since trained several horses to the small tour level. His most recent mount is Babuh, a 14-year-old Hanoverian gelding by Baumgart he's brought up from a 4-year-old. They competed in a CDI last year at the World Equestrian Center-Ocala (Florida) and have been in the national ring this season.
"It was just sort of a fun thing to keep me in the competition ring and [to have] the challenge and to learn new things about one of our disciplines in eventing and become better at it," he said. "As I've gone into the judging, I think it's been very helpful to keep me sharp and educated in what I'm judging at the top level."
Ten years ago, Peter started getting licensed through the U.S. Equestrian Federation, first as an 'r' judge, then earning his 'R' and 'S' licenses in quick succession.
"It takes a lot of work and mentoring and a lot of time to train with people and sit in and shadow judge," he said. "I went at it very rigorously. I have to say, I enjoyed every step of it because I enjoy education, and it was all interesting. I worked with the top people around. Hopefully I will become one of the good judges. There's lots of mediocre ones out there, but my goal is to be one of the top ones.
"I've had the opportunity to start to judge overseas," he added. "I would have to say that the licensing in the USEF is absolutely first-class. The education is so good. Whenever I judge with up-and-coming U.S. judges or when we go overseas, it's first class."
Peter's also earned his FEI level 3 eventing license to allow him to judge through the five-star level, and this fall he'll judge his first major championship alongside president of the ground jury Christina Klingspor of Sweden and Christian Steiner of Austria. He's judged with both on separate occasions, but they're not allowed to judge as a group in the year of a championship.
Peter still can't quite believe he was chosen, but he said judging in Pratoni will fulfill a longtime goal.
"I had a fascination with judging and thought it would be interesting, but only if I could judge at the Olympic level," he said. "It's been a very rewarding and interesting journey to be able to do the five-star at Land Rover last year, and to get invited to the world championships was a real thrill. I feel very blessed and lucky. This year I go to Aachen, then off to Pratoni. The test event [in May] was quite amazing. It's going to be a fantastic world championships. The countryside is beautiful, and the organization first class, so I can't wait to go back in September with 'Kiki' and Christian."
Holling was not surprised he was chosen.
"To me the sign of a good judge is one who's going to use the scale, and if he sees something as a 10, he'll give it a 10. If he's sees something as a 1, he'll give it a 1—and not get stuck in that 6-7.5 range," he said. "He's always been that way, and I think he's one of the few judges who's stayed that way. In my opinion, I find the longer the judges are in business, the harder it is for them to really use the scale. Certainly the top judges, that's what they do. Peter's never been afraid of that. He sees what he sees, and he puts the mark down on the paper, and I think the riders appreciate that. I think all the riders really enjoy riding in front of him because you know you're going to get a test back that's going to have marks that make sense for what you did."
Peter counts Linda Zang and Marilyn Payne as judging mentors.
"Even to this day, I will phone either one of them and say, 'Hey look, this happened, and I gave a 2, and the other judge gave a 5. Was I on the wrong track?' " he said. "The most interesting things can happen in the ring, and it's nice to have a mentor to phone and just make sure you're still on track. Marilyn and Linda have been amazing in that area."
Payne has judged on several panels with Peter, and she said he's a great team player who works hard and is honest with his comments.
"He's always really willing to learn, which I think is paramount in a judge, not just to think you know it all," she said. "He's very humble, which is great, but on the same token, he's very confident in what he does and confident in the comments he has to the riders because he has such a great background. I always look forward to working with him as an official, one, because of the judging but more so because of all the time you're together. He's knowledgeable and personable, and very fun to be with. We have a great time. "
Peter said the thought of competing again in eventing has crossed his mind, but he admitted he would have been doing it to prove to others he still could.
"I had made a decision, and it was a good one," he said. "I need to train other people to be better riders, not to go back into it just because you want to prove something."
He's hoping to continue with his dressage goals at the small tour and strives to be a better judge and teacher.
"This attention to detail I was taught, this classical European jumping equitation, rider position, rider balance, horse's confidence, gymnastics, trotting poles, canter poles, all footwork that people don't spend enough time doing anymore—the education I've had to be a dressage judge, I want to be able to pass that along as well and help people achieve better performances and scores when they go to competitions," he said.
"There's lots of things I used to teach my students that I now say, 'I know this is what you were taught, and what I taught, but honestly, as a judge, I know you're going to get a better mark if you do it this way.' There are several interesting things like that that can help get better scores," he added.
---
This story originally appeared in the Sept. 5 & 19 issue of The Chronicle of the Horse.
Subscribers may choose online access to a digital version or a print subscription or both, and they will also receive our lifestyle publication, Untacked. 
If you're just following COTH online, you're missing so much great unique content. Each print issue of the Chronicle is full of in-depth competition news, fascinating features, probing looks at issues within the sports of hunter/jumper, eventing and dressage, and stunning photography.