Aachen, Germany—July 19
Laura Graves came to Aachen with a clear goal in mind: to win. She succeeded in doing so off the bat with her Grand Prix test. However her most fierce opponent and constant rival, Isabell Werth, clearly under performed today. That certainly is going to add an extra touch of excitement to the Lambertz Dressage Nations Cup.
The judges awarded Graves and Verdades a score of 80.60 percent for their Grand Prix test. A super result and the clear lead. However, Graves had to wait until the last pair before she could celebrate her victory. Because the last pair to compete was Werth and Emilio 107. The Westphalian-bred gelding had to fill in for Werth's World Cup winner, Weihegold OLD, a decision that the German Dressage Committee took in view of the 2018 FEI World Equestrian Games in Mill Spring, North Carolina.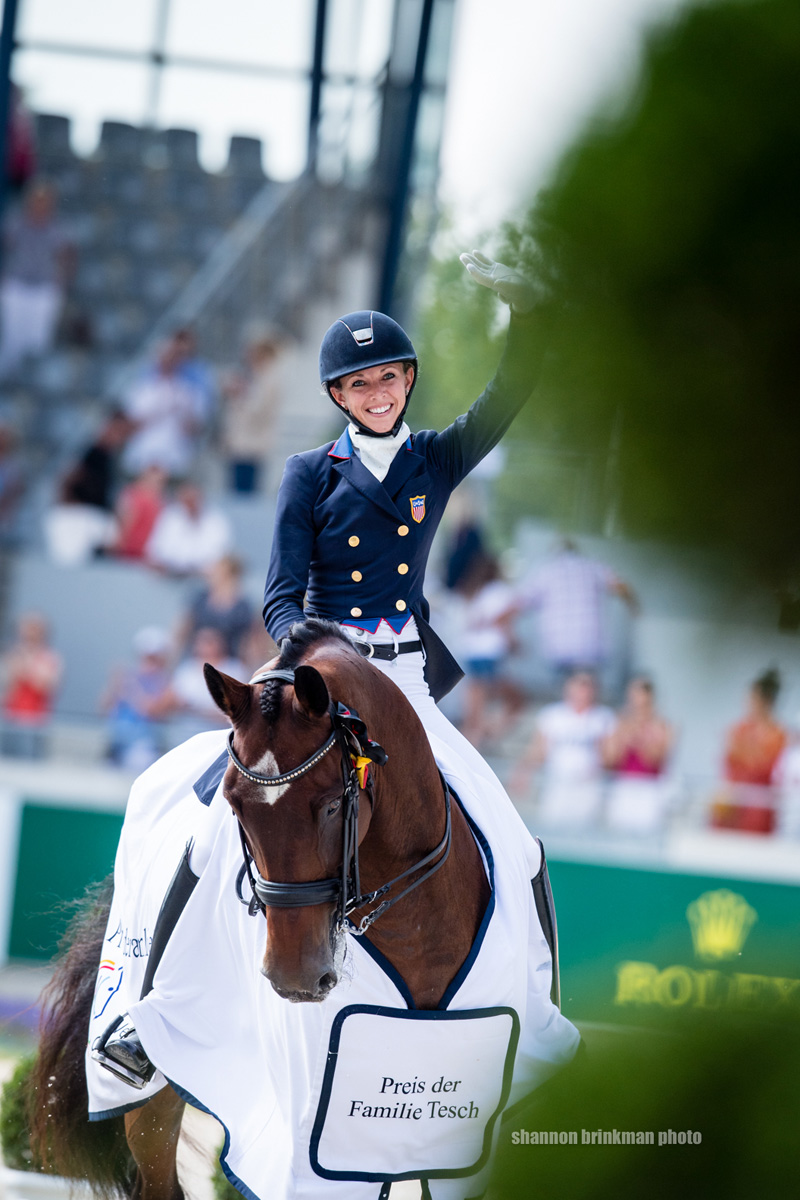 But Emilio didn't want to play today. In the first piaffe he demonstrated that he's also mastered the exercises of the high school and tried to rear. Werth coped well with that thanks to all the experience she has gained after winning 595 national and international Grand Prix with 27 horses. But Emilio didn't calm down. Further mistakes followed, which ultimately led to a final score of 72.51 percent. Nobody had reckoned with that. And nobody could explain it either.
"I don't know what happened," said Werth. "I will have to sleep on that one first. One certainly envisages something totally different for the Nations Cup in Aachen."
But one woman's struggle left the door open for another's triumph.
"I'm always very happy to be invited to ride at Aachen," said Graves. "It's a real privilege. I'm very excited for us this year with a very strong American team — and hopefully using this as a stepping stone to get us to [the WEG]. For me, this is definitely the last show unless of course we are selected for the team in Tryon. This is the last competition for selection, so I think we can expect the week after we leave here there will be an announcement for the team."
Watch Graves' winning test, courtesy of ClipMyHorse.TV
With Graves' win in the Grand Prix, the U.S. was boosted to the top of the standings of the Nations Cup, but the Grand Prix Special on Saturday, June 21, will decide the competition. The U.S. sits on an interim score of 231.98, ahead of Germany with a score of 229.79 and Denmark on 223.10.
"When you get a horse to this point, they know the job," Graves said of her long partnership with "Diddy." "They know all the tricks, and it just really becomes about these half-point marks and trying to boost your horse's confidence. My horse tends to lack confidence, but it's just small details. We took what we learned in Paris [at the FEI World Cup Final], and I was really pleased because sometimes you are able to develop that in training, and then you go back into the show arena, and it's back to where you were before. I was especially pleased with him today and how we both brought our new education into the test.
"He's 16 this year, and he's a really tricky, sensitive horse," she continued. "He puts so much pressure on himself. Most of my job is helping him take that pressure away. If anything he tries too hard and makes a mistake, so he's really trusting me to say that's enough, and he's learning to wait. That for him is the challenge."
Not only did Graves collect plenty of points for the U.S, but her teammate Kasey Perry-Glass, who came fifth with Goerklintgaards Dublet, was also awarded 76.80 percent after a harmonious ride. The other U.S. riders included Adrienne Lyle with Salvino (74.58%) and Steffen Peters with Rosamunde (71.35%).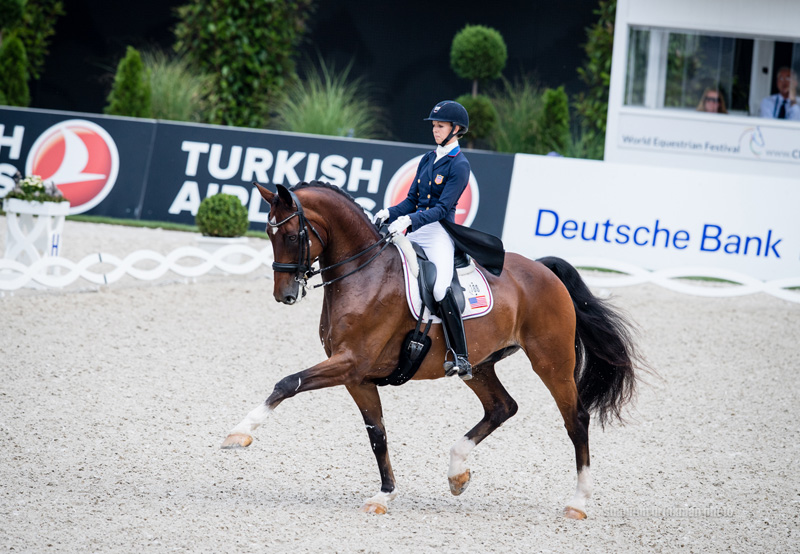 Second place went to the bronze medalist from the FEI European Championships, Cathrine Dufour with her Cassidy (78.49%). She struggled with a big mistake when the 15-year-old gelding spooked after the transition from collected walk to passage and leaped forward, but he found his concentration immediately again.
"Otherwise the test went very well for us," she said.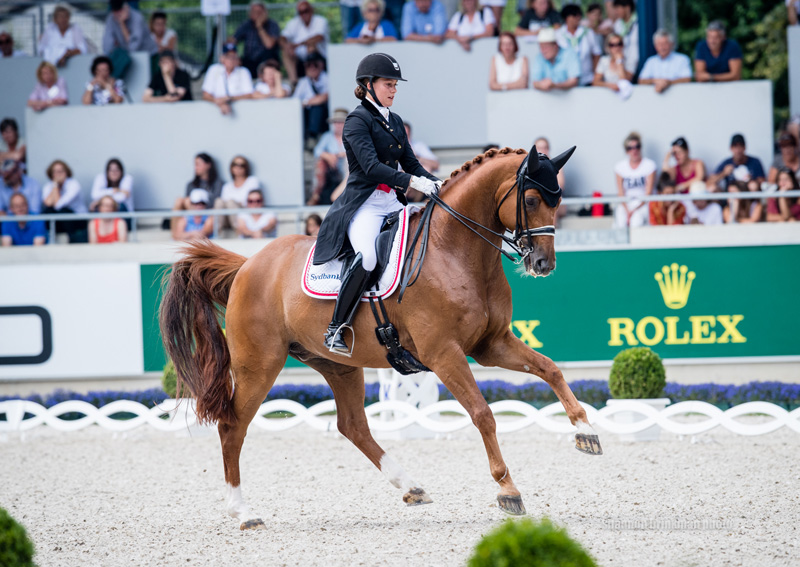 Third place could almost be described as a wonder of Aachen. Helen Langehanenberg gave birth to her second daughter, Finja, just four weeks ago. A few days later she announced she intended to ride in Aachen. She had already mentioned the plan in the spring in Neumünster [Germany] during the World Cup qualifier, adding: "But it will have to be a precision landing."
Her daughter Finja obliged.
Langehanenberg mounted her team European champion, Damsey, just five days later. During the rider's maternity leave her "super team" kept him fit, so he hadn't forgotten a trick. So much so that on Friday national coach Monica Theodorescu rang Langehanenberg and told her she'd been nominated for the team in the Lambertz Nations Cup instead of competing in the CDI***.
"I couldn't breathe for the first three seconds," said Langehanenberg.
But nerves have never been a problem for her: "I am not the type who gets nervous," she said. "And I can't do any better than ride well." Which is exactly what she did today—77.03 percent was a personal Aachen record for her and Damsey in the Grand Prix.
"I can't really say, because I have never given birth to a child, but that she rode that well is amazing!" said Theodorescu.
For full results from Aachen, click here.
For Grand Prix results, click here.
For Nations Cup standings, click here.