Wayne, Ill.—Aug. 25
It's been more than three years since Laura Graves cantered down centerline with her Olympic partner Verdades, but she thinks she's found a worthy successor.
Since "Diddy's" last competition at the 2019 FEI World Cup Final (Sweden) and official retirement in early 2020, Graves has been keeping busy at her Geneva, Florida, base. During her time out of the spotlight, a lot has changed for the 35-year-old.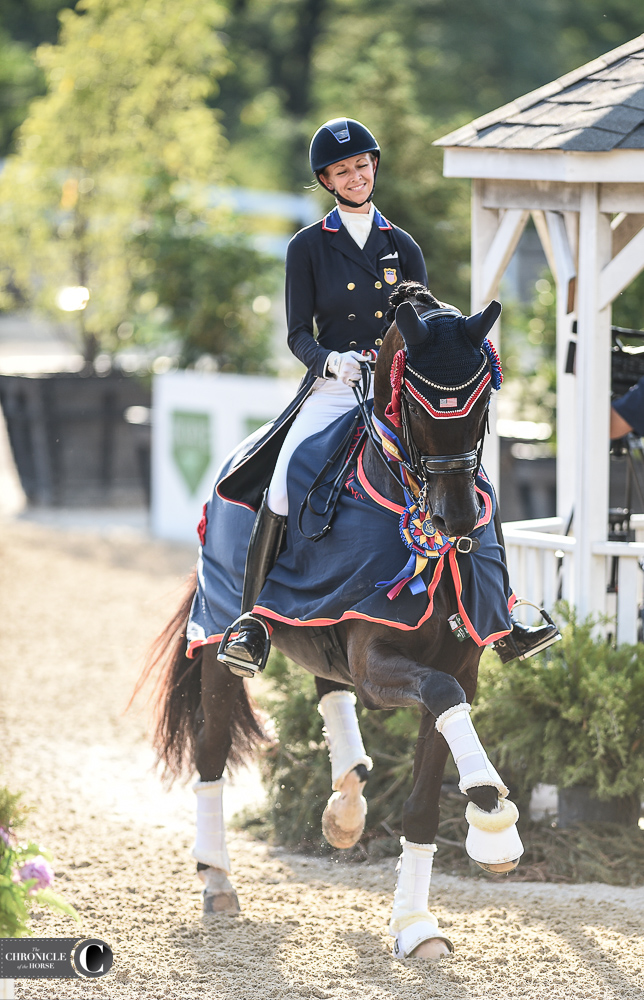 She welcomed a daughter, Mackenzie Maes, with husband Curt Maes in December 2021, and in early 2020, she got the ride on an exciting up-and-coming star, SenSation HW.
Graves' name was back in the headlines this week at the U.S. Dressage Festival of Champions when she topped the USEF Intermediaire I National Championship on "Louie," winning Monday's Prix St. Georges (75.11%) and Tuesday's Intermediaire I (74.79%) tests and finishing second in Thursday's Intermediaire I freestyle (76.00%).
Emily Miles won the freestyle on Daily Show (77.30%) to finish as reserve champion, and Rebecca Rigdon and Iquem finished third overall.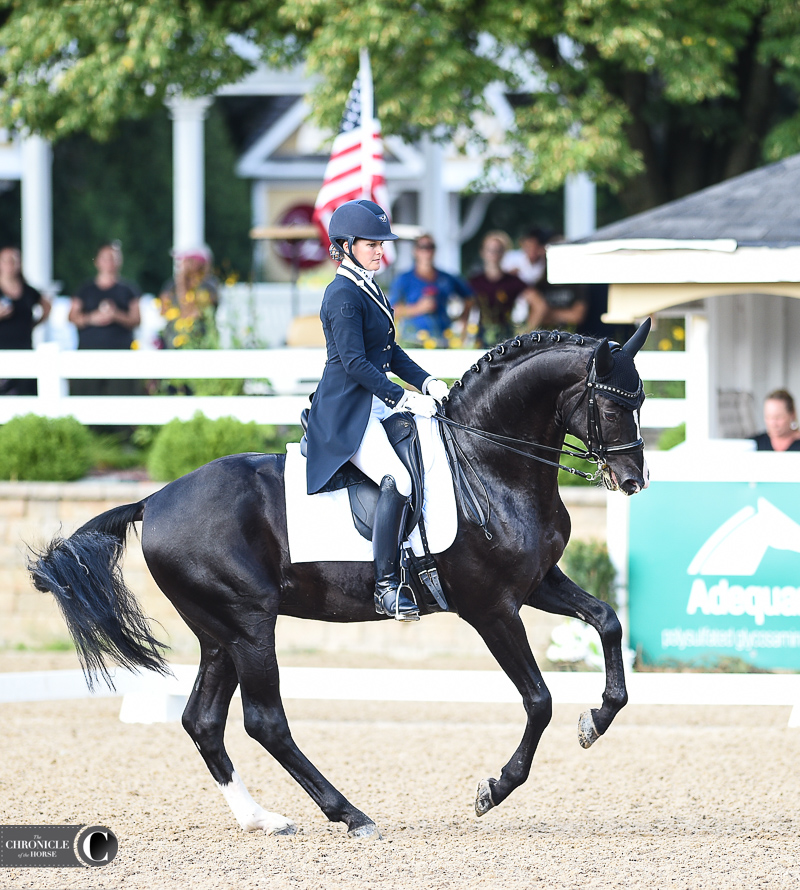 "I'm always so excited to stand top-three with women, because I just think it's so amazing for us to support each other—it's such a difficult industry—and to see smiling faces and people who are supportive of you," said Graves. "That, for me, has topped this week so far. To be here with this horse, it was the second time I've ridden this freestyle, and the first time in this big atmosphere. It's just the beginning, I think. Really getting to know him, super proud of the tests he put in at the beginning of the week. We're moving forward, and I'm excited about it."
Owned by Carol and Scott McPhee, Louie, a 9-year-old Westphalian gelding (Sunday NRW—Donata, Dancier), is a Festival of Champions veteran, having won the 5- and 6-year-old divisions with Michael Bragdell.
For Graves, taking on a trained horse is a bit different, considering she brought along Diddy from a foal.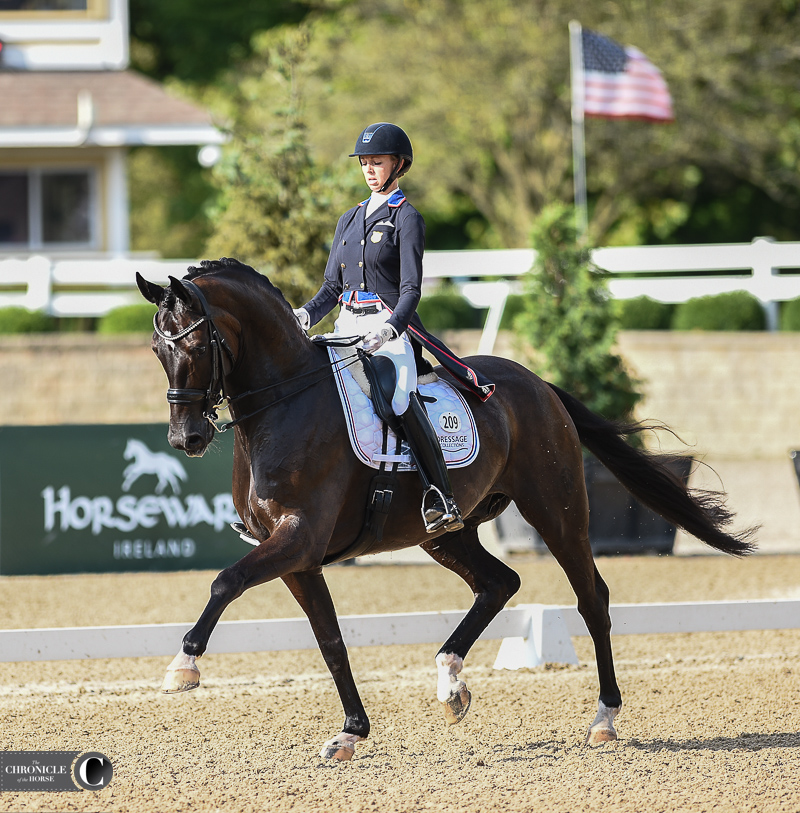 "It's super exciting for me," she said. "To take over someone else's ride is never easy, and then there's also a lot of pressure—as I'm sure people can imagine—with a horse who's been very successful with another rider, and myself, people have high expectations of me. It's a lot to put yourself out there anytime we do what we do, but I was feeling especially a lot of pressure with this horse. I'm glad we've been able to get to know each other and be successful and making our own partnership."
For Miles, the Festival of Champions is a special place, as she won at nearly every level with her former partner WakeUp.
WakeUp died unexpectedly in 2021 after his retirement, but Miles keeps his memory alive by riding his freestyle with Daily Show, an 8-year-old Hanoverian stallion (Danciano—Schwedenlady, Stockholm) owned by Leslie Waterman.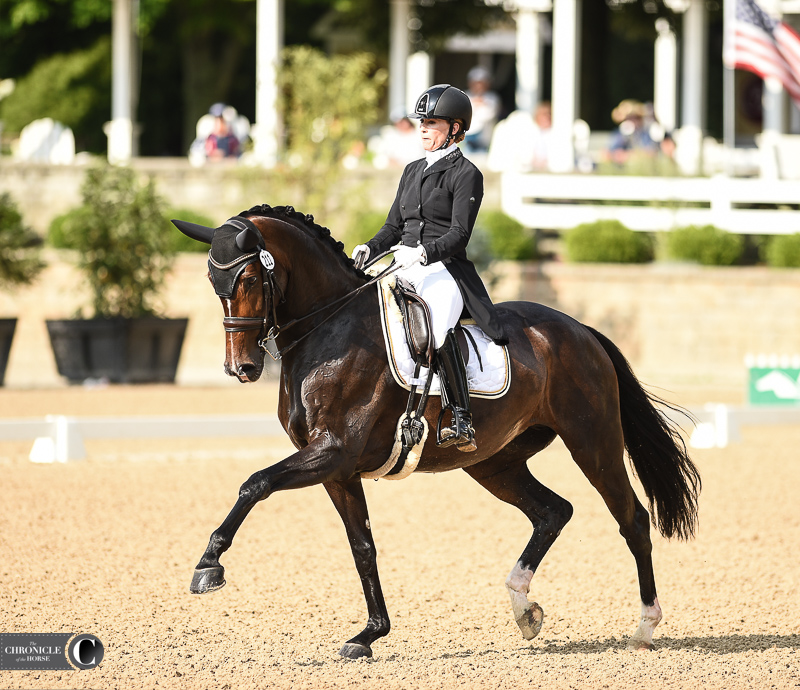 Daily Show is also a veteran of the Festival of Champions, having gone through the young horse levels. He won the Developing Prix St. Georges championship in 2021.
"Leslie is a huge supporter, and I think it's brilliant she is willing to buy a young horse and hope and pray," said Miles, LaCygne, Kansas. "That's kind of what you do with young horses. He's just really coming into his own. I think that he's only going to get better. As a young horse he was gawky a little bit and has just matured. To be able to ride that freestyle tonight and put pedal to metal and say, 'Come on, buddy, let's do this,' and he was like, 'Cool, let's do it.' That's an amazing feeling.
"It's a really special freestyle for me because it's WakeUp's freestyle, and the music is the music that I got my first dance with my husband, so there's a lot wrapped up in that freestyle," she added. "The first time I rode it, I pretty much broke down and cried the entire test, and it was terrible, so I'm very proud that I did not do that today. He lived up to that, and I'm sure WakeUp is looking down here and thankful tonight."
Competition at the Festival of Champions resumes at 8 a.m. (Central Time) Friday.
Full results I COTH's Coverage I Schedule I Live Stream