When Breanna retired from Grand Prix competition in 2018, rider Kathleen Raine and her husband David Wightman thought that would be the end of her career.
But the Hanoverian mare (Brentano II—World Queen, Weltmeyer) had other plans.
Raine and Wightman kept her in light work at their Adventure Farms in Murrieta, California, and when 15-year-old Josephine Hinnemann was looking for a horse to take to the FEI North American Youth Championships this year, it seemed like a natural fit.
Breanna and Raine competed at the international level from 2011 until 2018. They represented the U.S. in Nations Cup competitions and as individuals at prestigious shows like Hickstead (England), Aachen (Germany), Stuttgart (Germany) and Rotterdam (the Netherlands) and were regular winners at CDIs in California and in Florida.
"Jojo" Hinnemann is the daughter of dressage professionals Stephen Hinnemann and Natalie Hamilton-Hinnemann. Her grandfather is well-respected German trainer Johann Hinnemann.
Her family's farm is minutes away from Adventure Farms, and she'd been keeping Breanna, now 21, in light work over the past year.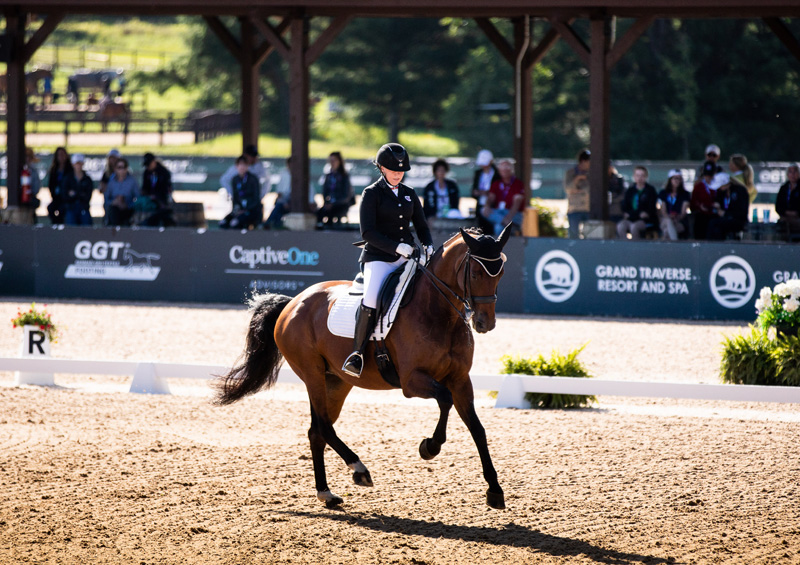 "[Breanna] was retired at that point, and 'Jojo' would come over and ride her just for experience and fun and to keep Breanna kind of working," Wightman said.
Natalie suggested that the pair start showing together, and the mare's owners agreed.
"In the beginning, it was obviously pretty green for Jojo because she was just starting and learning, but through the season she progressed from scoring in the lower 60s basically up to the high 60s and even 70," Wightman said.
Josephine's previous experience had been with an FEI Childrens pony, so getting the ride on Breanna and preparing for the Junior division at her first NAYC was a challenge. She and the mare won nearly all of their classes this season to qualify for NAYC, held Aug. 11-15 in Williamsburg, Michigan, at the Flintfields Horse Park. They helped the Region 7 team win silver and finished seventh in the Junior Individual championship and eighth in the Junior Freestyle championship.
"Being at NAYC has been a great experience, and riding Breanna is amazing. She's extremely talented and fun, and her personality is amazing," Josephine said. "Everyone here is great to be with, and they're all really nice people. It's really fun to be with them and for all of them to be such great riders and have such talent as well."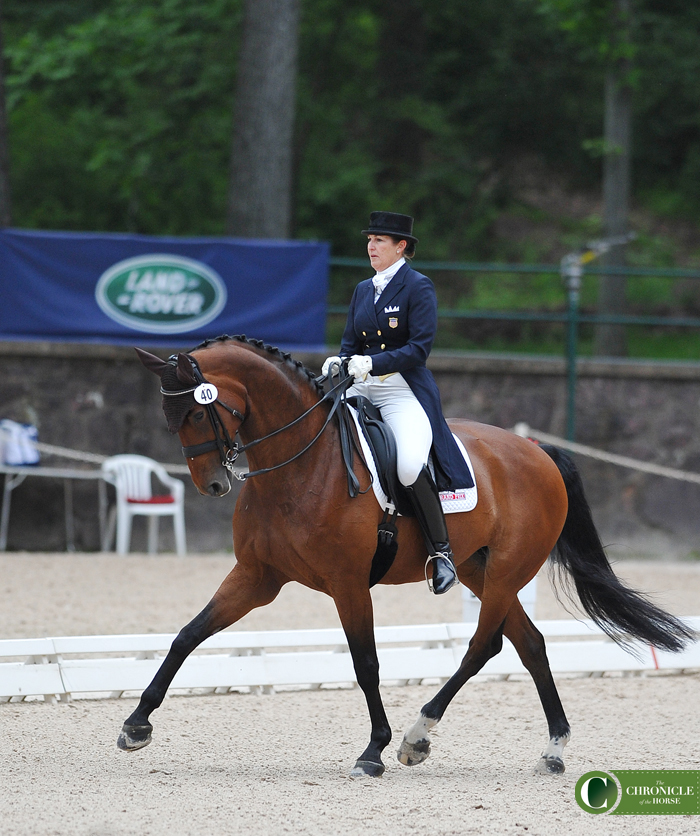 Josephine said she feels a little nervous riding such a well-known and experienced horse.
"Definitely at the beginning, and there's some pressure, but I forget about it all when I'm riding," she said. "At the beginning, we didn't really know each other, but after awhile I think we get along really well. We work together really well, and I understand her a lot more than I did before. I think she gets me more as well."
"It was pretty sentimental," said Wightman after Josephine's first ride at NAYC. "That horse is so important to us, and she means so much to us. To watch her out there is really special. I think she loves being here. She's always begging for more carrots all the time. She likes the attention, for sure."
Breanna's legacy lives on in several foals she's had via embryo transfer, including a mare, Finesse, by Festrausch, who is competing at Grand Prix with Jennifer Hoffman, and Quincy, a gelding by Quaterback who competed with Niki Clarke to Grand Prix and is now competing at small tour with Jennifer Mason. Wightman and Raine currently have a 3-year-old by For Gold.