Not many adult amateurs looking for a dressage prospect would consider a pony like Georgia, a 14-hand Haflinger formerly used in lessons. But for Donna Sayers, she was perfect.
Sayers took Georgia from a project pony to fourth level, earning a U.S. Dressage Federation bronze medal along the way. They've earned two scores towards their silver medal, and Sayers has her sights set on Prix St. Georges.
"Sometimes I get so emotional that I'm like, 'I cannot believe that this pony is doing this,' " said Sayers, who works as a flight attendant. 
Sayers grew up in Decatur, Georgia, and she fell in love with horses after attending riding camp. She eventually managed to talk her parents into buying a horse for the family. 
"Probably, over the period of six months, he dumped or kicked everybody," Sayers recalled.
It wasn't long before her family gifted him to her exclusively.
"Back then, our parents would drop us off at the barn, and we'd ride with no shoes, barefoot, and we'd be out there all day," said Sayers, who rode hunt seat and participated in lower-level eventing until she graduated from high school.
When she began her career as a flight attendant, living in Oregon, Sayers bought a horse and started focusing on dressage. Before moving to her current home in Loxahatchee, Florida, in 2016, she rehomed that horse and started looking for a more permanent dressage partner.
Sayers was on the search for a smaller mount in an affordable price range. A friend found Georgia in Maine, where the pony had been in a lesson program. When Sayers went to see her, she fell in love with the mare and decided to ship her to Florida.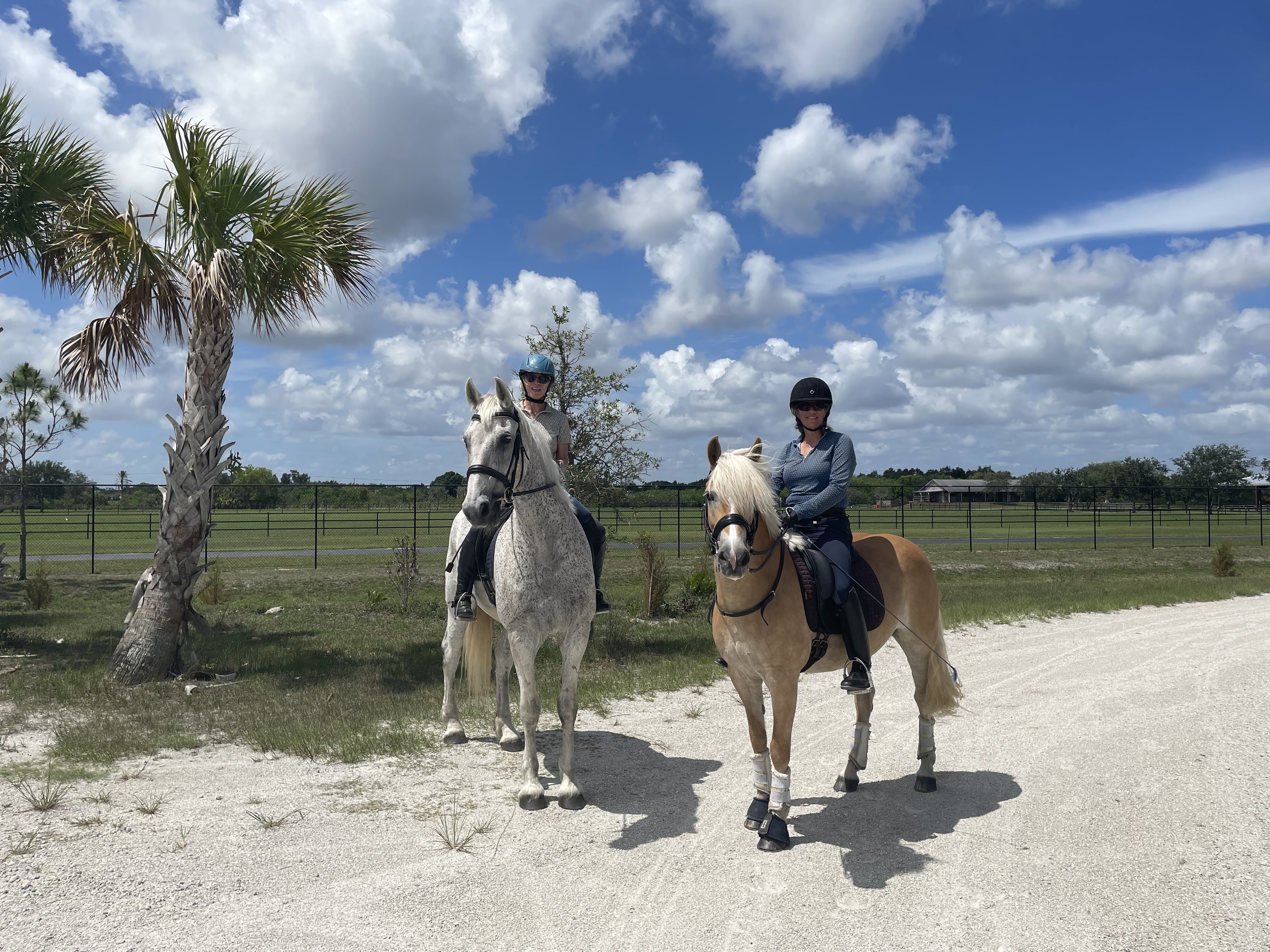 There were many bumps along the road to building a strong partnership. Georgia arrived in Florida with some behavioral issues, and Sayers realized she needed to establish a bond with the mare on the ground before they could begin serious training.
"I ended up, as ridiculous as it sounds, turning to clicker training, and she loved it," Sayers said. "I taught her some tricks, and that built the bond with us."
Even so, training a Haflinger in classical dressage did not prove to be easy. 
"She's athletic and talented, but she's also a draft pony. So she's got big muscles like a bodybuilder, and I'm trying to get her to do ballet moves," Sayers said.
But Georgia began to enjoy the challenging movements. 
"The more complicated the dressage work got, the happier she was, and the more effort and energy she would put into it," Sayers said.
Affectionately called "Georgia The Wonder Pony," she's often recognized at shows with her prodigious golden forelock and a heart clipped onto her hindquarters. 
While comments on Georgia's cuteness are common and well-received by Sayers, she's particularly proud when Georgia's talent is mentioned.
She was overjoyed by a comment from U.S. Equestrian Federation "S" Judge Lee Tubman that read, "This is a very nice horse." 
"Typically the comments from the judge that I get are, 'She's absolutely adorable' or 'She's Barbie's pony,' things like that. So they're very complimentary, but she's also quite obedient," Sayers said. 
Sayers' current goal with Georgia is to compete at Prix St. Georges, but her dreams extend even further. 
"The dream goal would be to get an off-breed, Haflinger, 14-hand pony to compete at Grand Prix in Wellington [Florida]," Sayers said. "I kind of feel like I owe it to other people that are trying to do this with horses like this to show them you can do this! It's not easy, but it is possible, and it's fun along the way."
Sayers has traveled the world as a flight attendant for 32 years, but she's now made riding and training her top priority. 
"I'm fortunate that I have been able to travel pretty much my whole life, and I've seen a lot of amazing cities and beautiful countryside, and I've gotten to see a lot of things that people don't get to see," she said. "But I still just want to be here."