He takes the Tennessee feature for the second consecutive year.
In a flawless performance, Good Night Shirt and jockey William Dowling captured the $150,000 Iroquois grade I hurdle stakes for the second year in a row.
The Irishman made the rest of the seven-horse field work for their placings, letting the big galloping horse cruise with authority over the 3-mile course in Nashville, Tenn., to win by more than 4 lengths in a hand ride on May 10.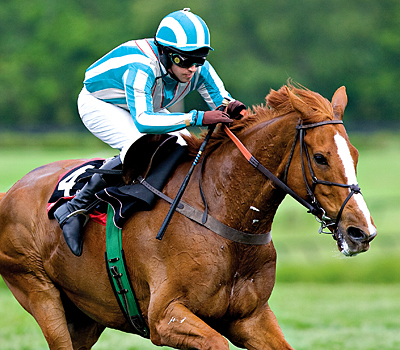 Calvin Houghland's New Zealand-bred mare Sweet Shani (Xavier Aizpuru) was the closest to the 2007 Eclipse Award winner for most of the running, but by the end her little gray legs could not keep up. She was passed by Sarah Jeffords Radcliffe's Best Attack (Chip Miller) and had to settle for third.
Dowling, who started this journey a year ago on Good Night Shirt and ended up piloting him to three grade I wins, was floored by his latest performance.
"This was his best race ever," Dowling said. "He was so much more professional this time. We didn't miss one fence. He was more relaxed and seemed to enjoy himself here. This sort of course really suits him. He has such a big gallop. Here he can really stretch his legs."
Dowling was very aware of the other two horses. "Oh, I could hear them," Dowling said. "I knew they were there, but they did not have enough left. I just wanted to make sure I got a good last fence."
Bruce Miller of Pennsylvania trains Best Attack. Last year the horse ran in steeplechasing's Triple Crown series and won the last leg at Radnor (Pa.), but once the drought set in, the ground got hard and Best Attack never really surfaced again.
"He ran the best he could possibly run against a horse like that," Miller said. "I am happy to be second, grateful to be second to Good Night Shirt. It's never soft enough for Best Attack. I think I'm the only one who ever wishes for rain at Far Hills [N.J.]. With the rain earlier this week, it was almost soft enough for him here."
Really Magnificent
Trained by Jack Fisher of Monkton, Md., and owned by Harold "Sonny" Via of Virginia, Good Night Shirt, a 7-year-old, 17-hand plus chestnut son of Concern, hasn't always been the darling of the barn.
"Jack has never really had a nice thing to say about him," Via said. "But that's Jack's way. I think he likes to give his owners low expectations so they won't be disappointed. He told me here last year just before the race, 'Don't worry Sonny, we will have him running over timber by the end of the year,' and you know how that turned out."
Via said this time, Fisher seemed to soften toward his horse. "For the first time Jack told me, 'He ran good didn't he? He looked great,' " Via said. "I could not believe he was talking about The Shirt."
Via said Good Night Shirt is taking his new celebrity status all in stride. A couple of days before the race he visited him in the stabling area.
"When you walk down the row, any number of horses will pin their ears back and try to take your arm off," Via said. "But not The Shirt. He loves the attention. He lets you get close, pat him, take his photo. He's the biggest ham you ever saw. He really is magnificent."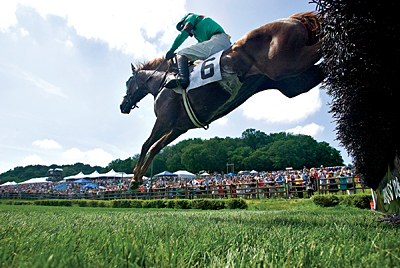 Fisher said the plan is the same as last year—give Good Night Shirt the summer off. Skip Saratoga Springs (N.Y.), bring him out to the $150,000 Lonesome Glory Belmont Stakes (N.Y.) in September, move on to the $300,000 Breeders' Cup (N.J.) in October, and if the title of the year or the Eclipse Award nomination is in question, finish up the year at the $150,000 Colonial Cup (S.C.) in November.
Dowling also won the $75,000 Mason Houghland Memorial timber stakes with Irvin S. Naylor's Allimac in much the same fashion. By the wire, the closest horse to him was Whitewood Stable's Music To My Ears (Calvin McCormack), a distant 22 lengths back.
"He did it a bit quicker than I would have liked to," Dowling said. "We took out a few rails. I was kind of fortunate the best horse had run in the Virginia Gold Cup the weekend before, so I just had to let him do his thing."
This is Allimac's second timber win at Iroquois; he won in 2006 with Jody Petty up but bowed. Trainer Desmond Fogarty said he babies this horse, swimming him and training him on Polytrack synthetic surfaces.
"He's done for the season," Fogarty said. "He's 11 and is more of a spring horse. He won Middleburg Spring Races [Va.] and here, and I could not have asked for more."
Subbing In
When stable jockey Padge Whelan broke his foot in a fall at the Virginia Gold Cup, May 3, Maryland trainer Tom Voss had to find a substitute for several of his best horses. He found one with last year's leading jockey Xavier Aizpuru.
Aizpuru hopped on The Fields Stable's Guelph and wired the $50,000 Sport of Queens filly and mare series race, winning over Radcliffe's Jellyberry (Carl Rafter) by more than 3 lengths.
The Englishman was happy to pick up a few rides for Voss.
"You hate to get rides that way," Aizpuru said. "But there is something about these fillies when they are as professional as they are at this level they are such a pleasure to ride. She just set off today. We knew she could do it. Mr. Voss said if she is going to be happy out there and comfortable then let's just leave her to it. She out jumped them over the last three fences, and that's what did it."
Aizpuru then sat on Trillium Stable's Dreadnaught for Voss, winning the $25,000 maiden hurdle in a wild stretch run.
Randleston Farm's So Amazing (Liam McVicar) stole most of the race, leading by some 30 lengths, but on the final turn it looked like he might pull up. As Dreadnaught approached, So Amazing found a second wind and hooked up with the fresh horse, but by the stretch he had to give way to the former flat track winner.
Dreadnaught has won several grade II flat races in his day. Oddly enough, he started his career over hurdles when he was 4, but after Voss took him on the flat a couple times for a pipe opener he realized he had some speed. Now that he's 8, Dreadnaught is returning to his roots.
Aizpuru said you can feel the immense power surge in this horse.
"My guy is a pretty useful horse on the flat, and they were always hopeful he would be nicer over hurdles," Aizpuru said. "For whatever reason he always has found one better than he is, but today we crossed the Rubicon so to speak. Not often I get to ride a horse like that in a hurdle race. Once he cleared the last fence and realized he was going to catch the horse in front it gave him a little incentive."
Voss agreed, "Class shows sometimes like it did today."
Houghland's Turf
Owner Calvin Houghland of Tennessee has been a staple in American steeplechasing for many years. As a jockey, he won several races, including the Iroquois in 1943 on Frederick II, and he owned the 2002 Eclipse Award winner All Gong. His trainers try to bring as many of his horses to the Iroquois as they can, and this year they rewarded the lifelong jump race participant with two wins.
His first victory was with Mon Villez in the $35,000 amateur 3-mile hurdle race. Ridden by H. Brooks Durkee, the grueling highweight race came down to the last fence. Durkee sailed the final hurdle while Lucy Lindsay's Luongo (James Slater) tried to play catch up, never quite getting there.
Trained by Bruce Miller, Mon Villez has been a tough horse to train. He was the favorite to win at Block House (N.C.) but placed fourth with Colvin Ryan up.
"Brooks gave him a great ride," Miller said. "He saved it for the end. Mon Villez is a very good jumper, but he's very neurotic. He's training better this year. I gave him a couple of flat races in between. When we went to Block House [May 19] we even stayed all night in the stall with him. That didn't work out; he was still upset, but it all came together today."
Jonathan Sheppard trained Houghland's Dr. Bloomer (Robert Walsh), winner of the $50,000 Marcellus Frost grade III hurdle stakes. Run over just 2 miles, Sheppard was a little worried that it might be too quick for his horse.
"The horse has speed, but I know he can stay too," Sheppard said. "I try to bring everything I can that is still standing for Mr. Houghland because this is his meet. It means a great deal to him."
Sheppard's stakes horse William Pape's Mixed Up (Danielle Hodsdon) had the lion's share of the weight, carrying 158 pounds on his small frame and finished fourth.
"Mixed Up probably has just lost a step now," Sheppard said. "He's 9, and he gets burdened with these huge weights, and my heart goes out to him. At this point in his career, he might be better at a tad more distance, but he wasn't disgraced."
Houghland's Tennessee runners sent him almost to the top of the National Steeplechase Association's leading owner category. He sits in second position at $159,072 so far for the year just under Naylor who has $159,200. Via is not far behind with $150,000, all from Good Night Shirt's efforts this spring.

Sarah Libbey Greenhalgh