Wellington, Fla.—Jan. 21
Olympian Enrique Gonzalez of Mexico bested them all in Saturday night's $86,000 Marshall & Sterling Insurance Grand Prix CSI** riding Chacna at the 2017 Winter Equestrian Festival. U.S. Olympians Margie Engle and Laura Kraut rounded out the top three, with Engle aboard Indigo in second, and Kraut riding Nouvelle third.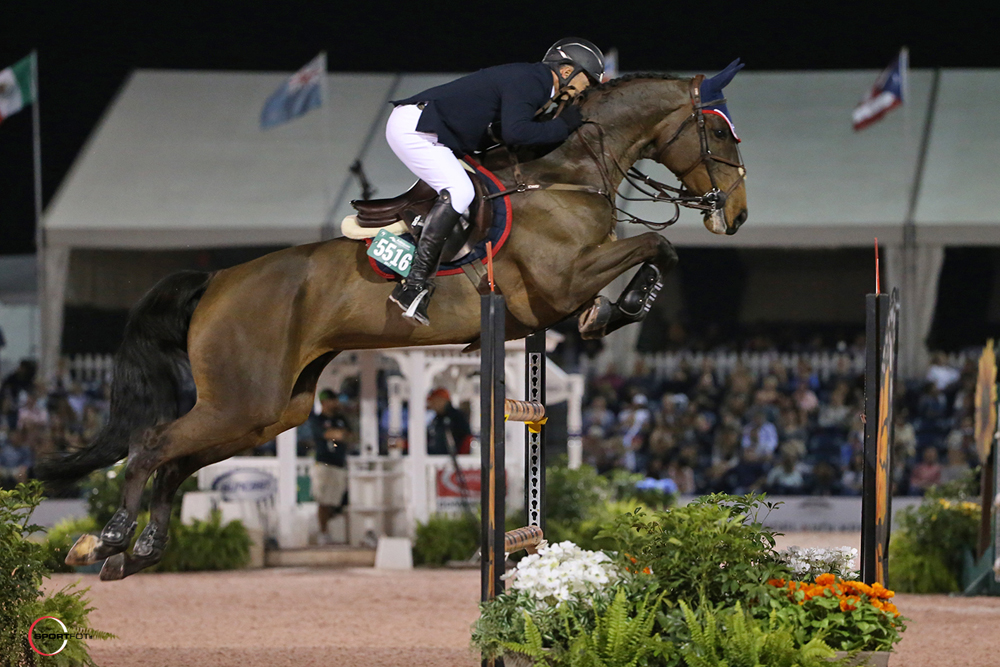 Enrique Gonzalez on Chacna. Photo by Sportfot
"The last year has been really good. She learned a lot, and she improved a lot," Gonzalez said of the 10-year-old Hanoverian mare by Chacco-Blue. "Now I think she is ready to really compete at this level. She has never shown here, and she has never shown in a night class in an open place like this. I really wanted her to go tonight to be ready for the coming weeks."
Gonzalez last competed at the Winter Equestrian Festival in 2011, and this was his first grand prix win at Palm Beach International Equestrian Center. He usually is based on the West Coast, splitting his time between California shows and the Spruce Meadows (Alberta) venue in Canada.
"We are here for the whole season, so it is definitely a very nice way to start, and hopefully we can keep it up for the rest of the season," he stated.
Following the WEF circuit, Chacna may have a trip to the Longines FEI World Cup Finals in her future, as Gonzalez is currently leading the West Coast standings and qualified to compete in April in Omaha, Neb., in the Finals.
Ana Catalina Harris Cruz of Mexico set the course for 44 horse and rider combinations Saturday night at the Palm Beach International Equestrian Center. The track yielded eight horses for the jump-off, which featured Olympians and veteran show jumpers, alongside some top up-and-comers.
Andrew Ramsay and The Doodle Group's Cocq A Doodle set things off over the short course, finishing with 4 faults in 40.55 seconds to eventually place seventh. Mavis Spencer jumped her first "Saturday Night Lights" grand prix riding Mike Collins' Cornetiero, and dropped two rails in 46.43 seconds to place eighth.
Gonzalez was next to go, completing the first double clear round in 40.36 seconds for the win aboard Chacna. Kara Chad of Canada and Torrey Pines Stable's Gin Tonic vd Haagakkers, cleared the track in 44.13 seconds to place fourth. Laura Kraut and the Evita Group's Nouvelle followed with the third place time of 41.35 seconds.
Beezie Madden had the time in 40.12 seconds on Abigail Wexner's Breitling LS, but dropped the front rail of the final oxer to end sixth. Engle went next, racing through the timers in 41.02 seconds riding Griese, Garber, Hidden Creek, and Gladewinds' Indigo to land the second place prize. Last to go, Daniel Coyle of Ireland, who has already won two grand prix classes at WEF, knocked one rail with Ariel and Susan Grange's Cita, but clocked the fastest round of the night in 39.49 seconds to secure fifth place honors.
For Engle, Saturday night's second place was a great result with longtime partner Indigo, a 17-year-old Dutch Warmblood gelding by Indoctro.
"He doesn't know he's any older," Engle remarked. "He acts younger than most of my young horses. He gave it a shot [in the jump-off], and I went as fast as I could at the beginning. I may have gone a little wide to the last fence, but he is always ready to go. He is very enthusiastic, and he always wants to go forward. He is still young at heart."
Indigo jumped the first two weeks at WEF and will now have a few weeks off. Engle said, "He doesn't owe me anything. He probably won't show a lot the rest of the season. It gets bigger and bigger as it goes on, and now that he's older I pick my spots with him. He's been a great horse for me."
Kraut was going for the win Saturday night, but was happy with her finish aboard Nouvelle to start the circuit. This was the first week jumping since the beginning of November for the 13-year-old Dutch Warmblood mare (Solitair x Contango).
Commenting on her jump-off, Kraut detailed, "I knew Enrique was fast. I went as fast as I could. I just messed up that last turn; I started to turn too early. She made a heroic effort over that jump to not knock it down, because I did everything in my power to knock it down. I think I probably lost it there."
Also competing in the International Arena on Sunday, the Hollow Creek Farm Under-25 Grand Prix Series got underway with one if its 10 events offering a total of $215,000 in prize money for the WEF circuit.
And back-to-back wins in the $10,000 welcome speed class and the $25,000 grand prix came for 20-year-old Lillie Keenan of New York, N.Y., aboard Chansonette Farm LLC's Be Gentle.
The $25,000 Hollow Creek Farm Under-25 Grand Prix saw 65 entries Sunday morning in the International Arena at PBIEC. Keenan and the 11-year-old Dutch Warmblood mare (Ticallux Verte x Gentleman) topped a five-horse jump-off.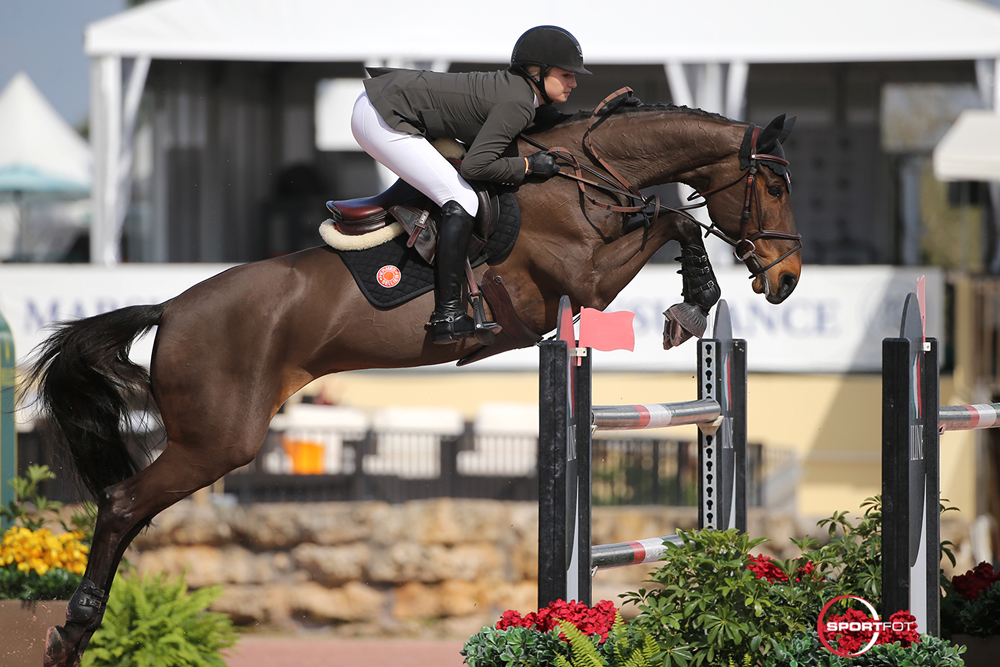 Lillie Keenan on Be Gentle. Photo by Sportfot
"I have a lot of confidence in my horse," Keenan said following her win. "I have had her for over a year now and I have jumped her in some bigger classes, so we have experience together. She is lightning fast against the clock. I would say out of all my horses, she is the most straightforward and trustworthy. The feeling that she gives you is that you could really point her to the eye of a needle. Some of the angles that you can point her at for a jump are really remarkable."
Keenan detailed her jump-off, explaining that her position to go fourth out of five was an advantage.
"I got to see Lucas go and I think really where I made up time was on the turns," Keenan said. "I have experience going very fast on my horse. That was something that I tried to fine tune throughout the year, and I feel like now it's really coming together."
Keenan, who has been competing and training in Europe with Olympian Cian O'Connor of Ireland, enjoys the experience that the series offers.
"I am very grateful that they offer this division because it is a great stepping-stone," she noted. "I haven't been in the show ring since November, so it is a big confidence boost to start the circuit with two events like this.
"I am very fortunate to have had the experience of competing in America throughout my junior divisions, going to Young Riders and making the transition to competing in Europe and showing against the pros," Keenan continued. "Having the experience of myself jumping on a Nations Cup team, you need to learn how to deal with pressure and how to work in different environments, so I think we are very lucky that Hollow Creek Farm offers that for us here."
Final Results: $86,000 Marshall & Sterling Insurance Grand Prix CSI 2*
1. CHACNA: 2007 Hanoverian mare by Chacco-Blue x Narew XX; ENRIQUE GONZALEZ (MEX), Enrique Gonzalez: 0/0/40.36
2. INDIGO: 2000 KWPN gelding by Indoctro x Unknown; MARGIE ENGLE (USA), Griese, Garber, Hidden Creek & Gladewinds: 0/0/41.02
3. NOUVELLE: 2004 KWPN mare by Solitair x Contango; LAURA KRAUT (USA), Evita Group: 0/0/41.35
4. GIN TONIC VD HAAGAKKERS: 2006 Belgian Warmblood gelding by Labor's VDL Indorado x Saros Van Het Gestelhof; KARA CHAD (CAN), Torrey Pines Stable: 0/0/44.13
5. CITA: 2006 Holsteiner mare by Casall x Pik Ramiro; DANIEL COYLE (IRL), Ariel and Susan Grange: 0/4/39.49
6. BREITLING LS: 2006 Dutch Warmblood stallion by Quintero x Accord II; BEEZIE MADDEN (USA), Abigail Wexner: 0/4/40.12
7. COCQ A DOODLE: 2007 KWPN mare by Tolan R x Niagara; ANDREW RAMSAY (USA), The Doodle Group: 0/4/40.55
8. CORNETIERO: 2006 Westphalian gelding by Cornet Obolensky x Liberty Life; MAVIS SPENCER (USA), Mike Collins: 0/8/46.43
9. TEQUILA DE LILE: 2007 Selle Francais mare by Luccianno x Etna Paulelle; MARKUS BEERBAUM (GER), Artemis Equestrian Farm LLC: 1/72.12
10. BLUF: 2006 KWPN gelding by Ukato x Placido; BRETT BURLINGTON (USA), Alden Burlington: 1/72.15
11. BABALOU 41: 2005 Oldenburg mare by Balou du Rouet x Silvio I; TODD MINIKUS (USA), Two Swans Farm: 1/72.48
12. RIVALE DU BARQUET: 2005 Selle Francais gelding by Adelfos x Iago C X; SPENCER SMITH (USA), Ashland Farms: 1/73.17