Temecula, Calif.—Jan. 26
All eyes might be on the international ring at the Adequan West Coast Dressage Festival, but amateur rider Wanda Goldberg has a lot of people talking about her flashy gelding Patent On Patina as they trot down centerline for their training level tests.
Goldberg is making her recognized dressage debut this weekend with her 6-year-old spotted Friesian Sport Horse (Murk Fan De Sanbuorren—PPF Mandys Dahlia).
"He's been amazing. He loves it here," she said. "He's so sweet, and he's really honest."
The pair scored a 63.87 percent on their training, test 3, ride yesterday. They didn't complete their second ride due to a couple of errors, but Goldberg's got a few more chances this weekend, and she chalked up yesterday to a warm-up day.
"It's my show to mess up," she said. "He's doing great. I need to remember my pattern!"
Born in Saskatchewan, Canada, Goldberg was always horse crazy and became a farrier after a one-year course in Alberta and a six-month apprenticeship in Australia. She served on the World Championship Blacksmith Committee for eight years.
A conversation with a friend who was a stunt coordinator in movies and television changed the course of her career though, and because of her small athletic build, she became a stunt rider in 1999.
Her first big movie was a western. "My first stunt ever I got run over by a horse at a full gallop. I was like, 'This is amazing! I love it!' " she said.
Among her credits as a stuntwoman are as Erika Eleniak's stunt double on the TV show "Baywatch," as a stunt double on the Nickelodeon series "Caitlin's Way," and driving a stagecoach in the 2001 movie "Texas Rangers" starring James Van Der Beek, Ashton Kutcher and Dylan McDermott.
"I had the ability to slow things down—step one, step two, step three," she said of her aptitude for stunts. "And I didn't get nervous. Nothing really scared me. I've jumped off the top of trains, I've been thrown off trains into oncoming trains, but I never had any fear—until I had a child!"
She met her husband, World Wrestling Entertainment wrestler Bill Goldberg, on the set of a movie in Vancouver 15 years ago.
He'd recently retired, and they decided once they had their son Gage, now 12, that Wanda would retire from the business.
But that didn't mean she stopped thrill seeking. She started racing cars, and she has a 1970 Trans Am with an LS 7 that she drives in a three-tier course called an Optima Challenge, that involves a drag race, autocross and a road course.
With a background in marketing, Wanda and a friend wrote a TV pilot called "Faithful Friends" that was picked up by Animal Planet and ran for two seasons in 2008 and 2009. Wanda hosted the show, although she wasn't so sure about being in front of the camera at first.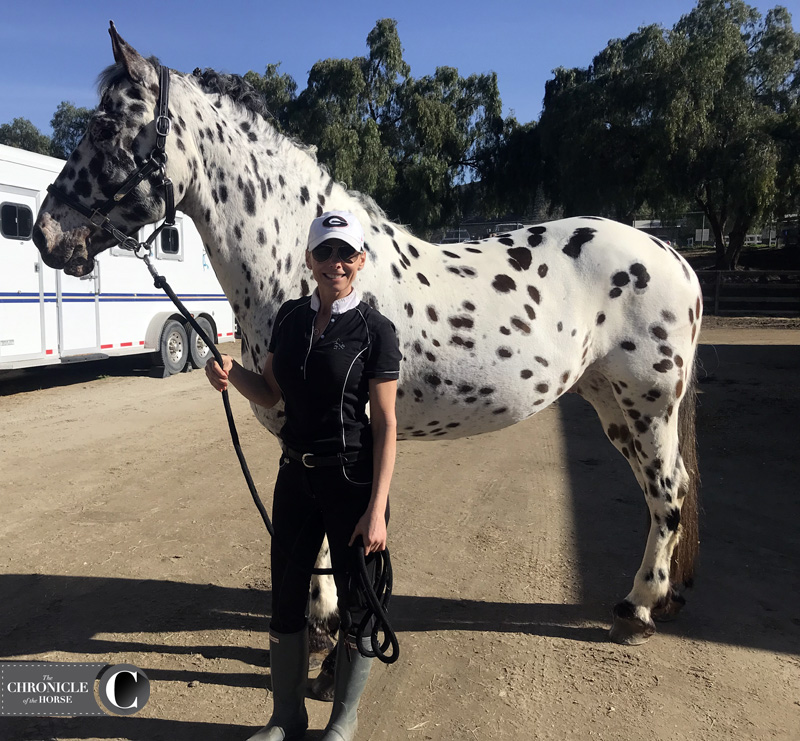 She and a friend started Cowgirls For A Cause, a t-shirt company made with original artwork, and they sold it after four years. Now Wanda runs her own Hide And Chic Boutique, where she specializes in refurnishing and reupholstering antique furniture with cowhide.
So how does someone with Wanda's resume and risk-taking attitude get into dressage? Shouldn't she be eventing?
"Eventing is not off the list, because he can jump!" she said of "Patton." "But I'm fascinated by dressage because I'm an absolute perfectionist. I love the details. There's all these movements, and it's like dancing on horseback. It just caught my attention. When I got Patton I thought, 'He has all the ability in the world. I think dressage is it.' "
Wanda, Bonsall, California, bought Patton off Facebook from Indiana as an 11-month-old colt. She had him gelded and froze some semen for future breeding.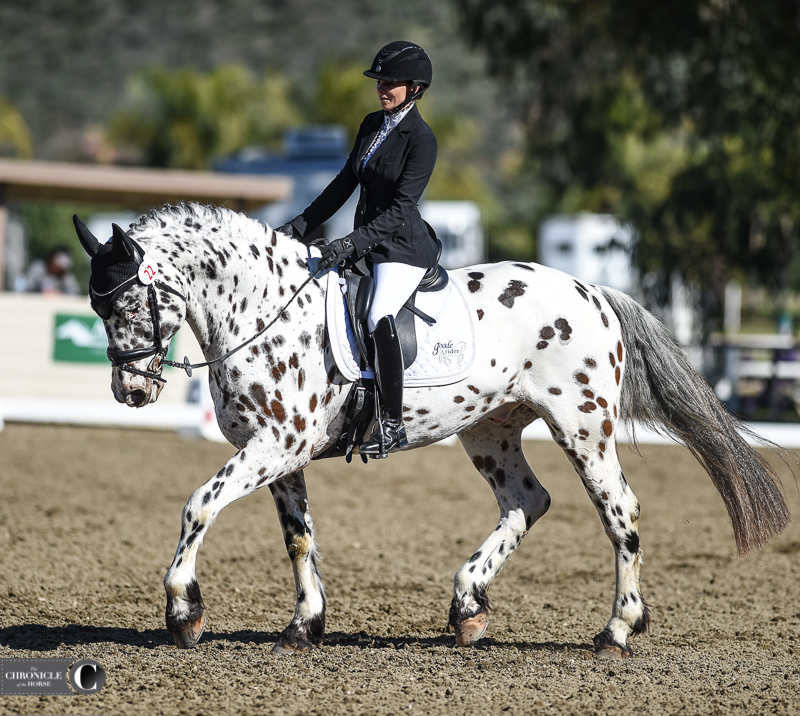 She worked with trainer Nash Jimenez to break Patton, and she did a variety of disciplines including jumping, English pleasure, cattle sorting and trail riding before discovering dressage less than a year ago.
She began working with Robin Garrett, and she and Patton competed at three schooling shows before coming to the AWCDF.
At 17.2 hands, Patton is a commanding presence, but don't let that fool you.
"He'll do whatever you want," said Wanda. "He's always the barn favorite because he's like a big dog. He's so sweet. Every time we go to a show everyone's like, 'What is this horse? What is this thing?' Then they meet him and just fall in love."
Wanda isn't sure what her next goal is for Patton, so for now she's just enjoying the ride.
"Being a Friesian, they mature quite slowly, so he's still got a baby mentality," she said. "[Robin's] been great, and especially with me because I'm learning as he learns. I think he's excelling a little better than I am, but I'm trying to keep up!"
For full results, click here.
The AWCDF is live streaming the international ring. Visit their Facebook page for the feed.
We'll have much more from the AWCDF all weekend at coth.com and in the Feb. 11 print edition of the Chronicle.