Devon, Pa.—May 31
As Carleton Brooks led his charge Only Always out of the Dixon Oval, Nick Haness draped the Devon blue-lined cooler over his left hand and with his right laid a congratulatory hand on Brooks' back. The two Californians, who traveled over 2,500 miles to get to the Devon Horse Show, had done it: They earned a green conformation championship.
"What an exceptional animal this horse Only Always is," said Haness, of Temecula, California. "What makes it more exceptional is the team behind him. I've been very fortunate that Carleton selected me to be this horse's rider. We came together at the very end of last year, and we had our sights on being champion at Devon. This moment—it gives me goosebumps."
Brooks, of Los Angeles, discovered the 10-year-old gelding of unrecorded breeding while scrolling through videos with his wife Traci Brooks. The Brookses run Balmoral, a top hunter barn in California, and Carleton, a USHJA Lifetime Achievement Award recipient, is known for his modeling prowess.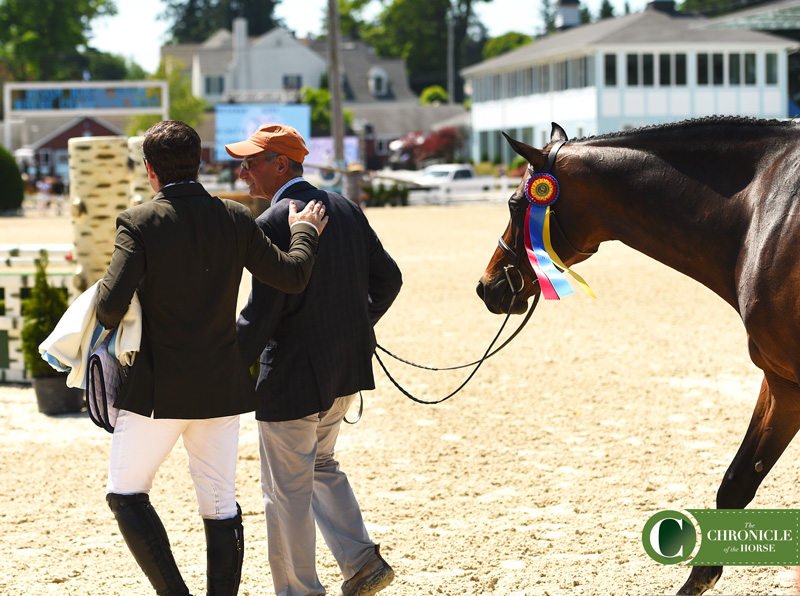 "Traci and I were hunting through videos, and we saw something," he said. "I went, 'Oh, that's a great horse. He's intelligent, and he's very well balanced.' He was over in Europe. We bought him sight unseen except for the video."
And with Carleton assuming modeling duties, he asked Haness if he'd take riding duties.
"Nick is probably at the top of his field," Carleton said. "He's very intelligent in how he thinks as a horse, and he's very patient with the ones most just want to get it done. He is unbelievable rider and great communication."
The admiration is mutual for Haness, who cherishes the Brookses' ability to truly see the positive ramifications of teamwork.
"We're both professionals from California with our own businesses, and it was really a treat to come together on something so special, on a horse like this, because horses like this don't come around that often," Haness said. "He's a very special horse. He's beautiful. He's elegant. He's a beautiful jumper. And it's been a beautiful journey to be able to work together and collaborate, me as his rider and Carleton [as] the whole behind the scenes and training this horse at home and bringing him to the ring and presenting him the way that he does. He's turned out beautifully, and it's a testament to Balmoral and their care. Traci and Carleton do an exceptional job with that, so for me it's a blessing and a privilege to be able to get on a horse and just do what I love to do and go in the ring and shine."
Though Haness has to head home on a red-eye flight Wednesday morning, he's still having goosebumps despite the 90-plus degree weather.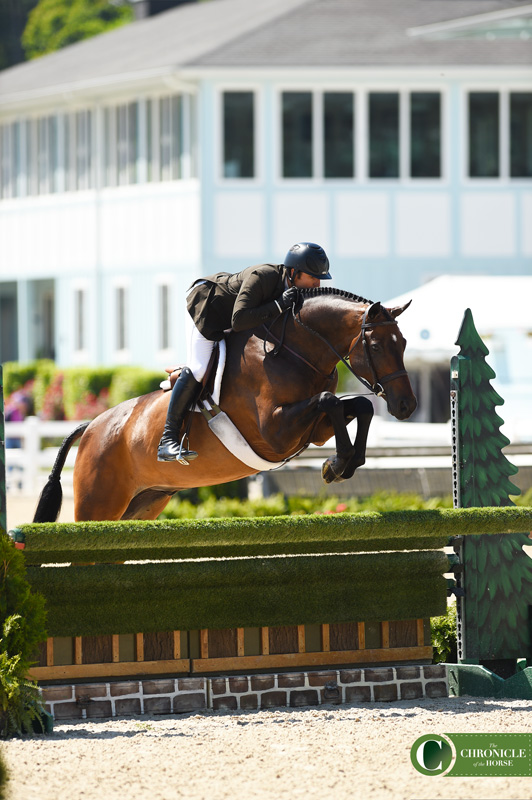 "He sort of bloomed this year and came out in the winter really strong and blew people away from the beginning," Haness said. "He's been champion every time he's shown. So, we really wanted to bring him to Devon. Today, this moment, is something we've been really working towards together for this whole time with this horse.
"I think more than anything, it's a long way for us to come," he added. "I think it's very important that the West Coast comes and shows what we've got—which is really strong, great horses—especially at this horse show. To come all this way, certainly, it's a trek. For me I left my business in California. I've got 28 horses showing tomorrow morning back in California. … [But] the Devon Horse Show is an iconic horse show that most people dream about being here to compete, to be champion here."
The gelding coincidentally came with the name Carleton and now is called "CJ" for Carleton Junior in the barn. Does Carleton Senior feel he's worthy of that nickname?
"Oh, he's surpassed it," Brooks said.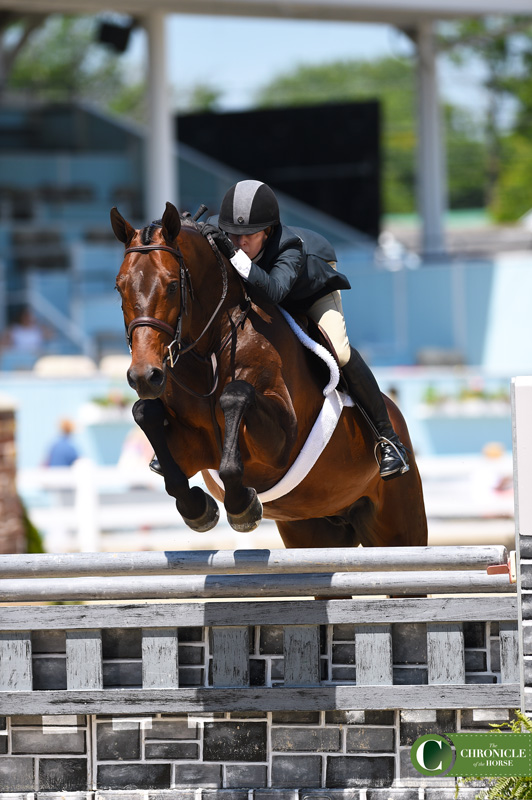 Stewart Makes The Day A Memorable One 
You'd be hard pressed to find an honor or distinction that Scott Stewart hasn't earned. And Tuesday at the 2022 Devon Horse Show followed suit like many before it, with Stewart walking in with a breathtaking horse to collect a Devon championship. This year's breathtaking horses are Nottingham and Ever After, who earned the 3'9″ and 3'6″ green championships, respectively.
Without fail, Stewart peaks his horses just at the right moment for this show.
"We did do Kentucky two weeks ago, just to do a show before here," he said. "So I try to do a little bit before an important show and then not so much the week before. None of these horses really jump much at home, so they're pretty fresh."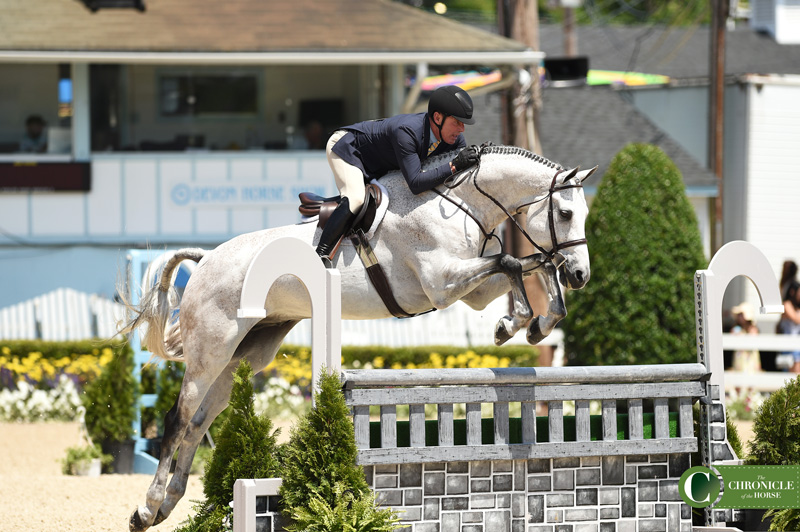 Betsee Parker's Nottingham earned the championship in the 3'9" green division above Jimmy Torano and Laskano. And Bikoff Equestrian LLC's Ever After's strong day on Monday earned him the tricolor in the 3'6" greens above Hunt Tosh and Corragio. Both horses were sourced by Stewart. But what's his secret? How does he weed through the millions of videos to find the next Devon champion?
"Some horses want to do it naturally, but this is hard," he said. "Not that jumpers are not, but it's hard to make it look so easy and make it look like you're loose-reining them around, and you have to guide them. In jumpers, you can hold them and give them confidence. Here you have to let them learn on their own. It's really just repetition and just getting them confident and going like that with the young horses to get them relaxed."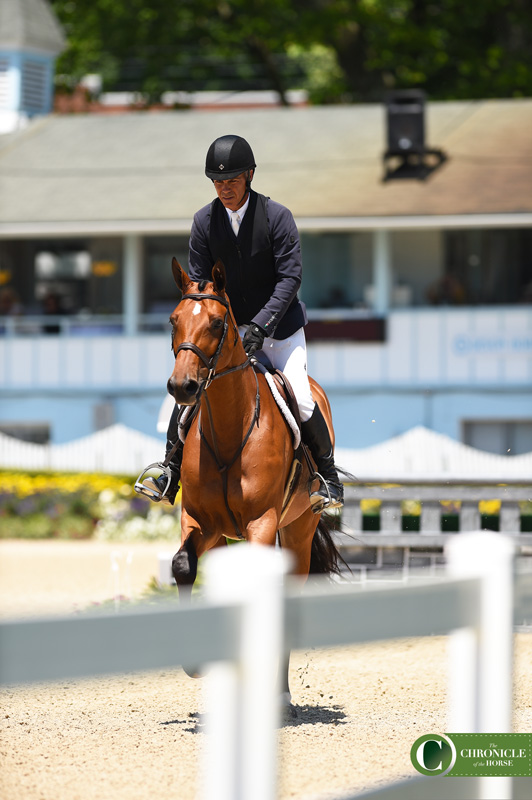 And while it was a good day on the job for the Flemington, New Jersey, professional, Tuesday evening will bring an honor Stewart has never earned before. When the show day is done, he'll head to the Merion Cricket Club to be recognized for his contribution to the sport by being inducted into the National Show Hunter Hall of Fame.
"It's an incredible honor—even though I tell them that I'm way too young," he said. "I'm really honored to be inducted tonight, that's for sure.
"[Fellow inductees] John [French] and Tom [Wright] are friends of mine too—it's probably been the first time that so many actively involved people are people inducted," he added. "It's been amazing that your peers give that to you."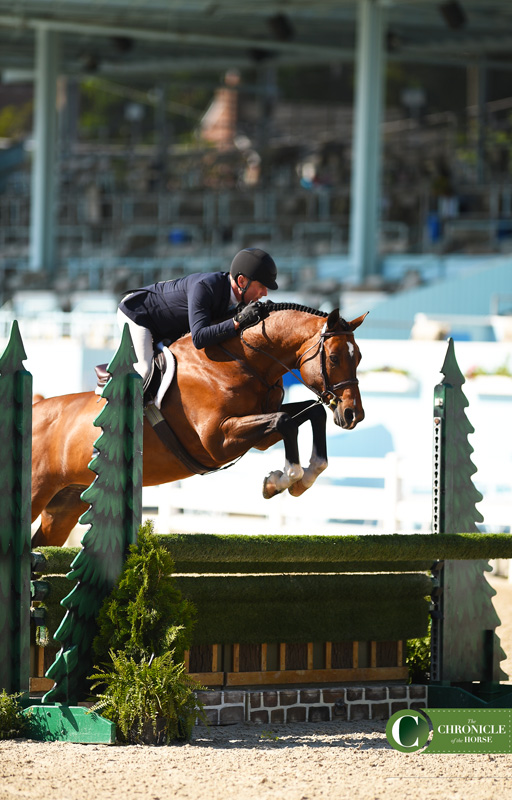 Important Links: Devon Horse Show website / Order of go and results / The complete schedule of classes and exhibitions / Livestreaming / All of the Chronicle's coverage
The Chronicle will be on site all week bringing you beautiful photos, daily reports and more. Don't forget to pick up copies of The Chronicle of the Horse magazine. Junior Weekend coverage will be found in the June 13 & 20 issue, and coverage of Senior Week will be in the June 27 issue.