The 2018 FEI World Equestrian Games Test Event for Dressage held April 20-22 in Mill Spring, North Carolina, commenced with a victory for Kasey Perry-Glass (aboard Diane Perry's 15-year-old Danish Warmblood gelding (Diamond Hit—La Costa, Ferro), Goerklintgaards Dublet, who bested the FEI CDI*** competition presented by Adequan. Perry-Glass and "Dublet" earned a score of 73.93 percent from the judging panel. Adrienne Lyle and Elizabeth Juliano's 15-year-old Oldenburg mare Horizon (Hot Line—Revue, Don Schufro), captured second place with a score of 71.95 percent, while third-place honors were awarded to Canadian Belinda Trussell and her own 15-year-old Westphalian gelding, Tattoo 15 (Tuareg—Renassance, Ramiro's Son), receiving a 70.04 percent.
In their second outing after an eight-month break from competition, Perry-Glass was pleased with her 2016 Olympic team bronze medal mount.
"With any athlete, I think you kind of need time to wind down to re-adjust and get your head right," said Perry-Glass. "I think for the last three years we've just been going, and it was a well-needed break for us, for me too, and it just helps him come back stronger. Yeah, we're starting our shows a little bit later than everyone else, but I think that he's showing that he can be right up there with the others and I'm happy we did it. At some points we were questioning whether it was the right thing to do, to wait so long, but for us it really worked."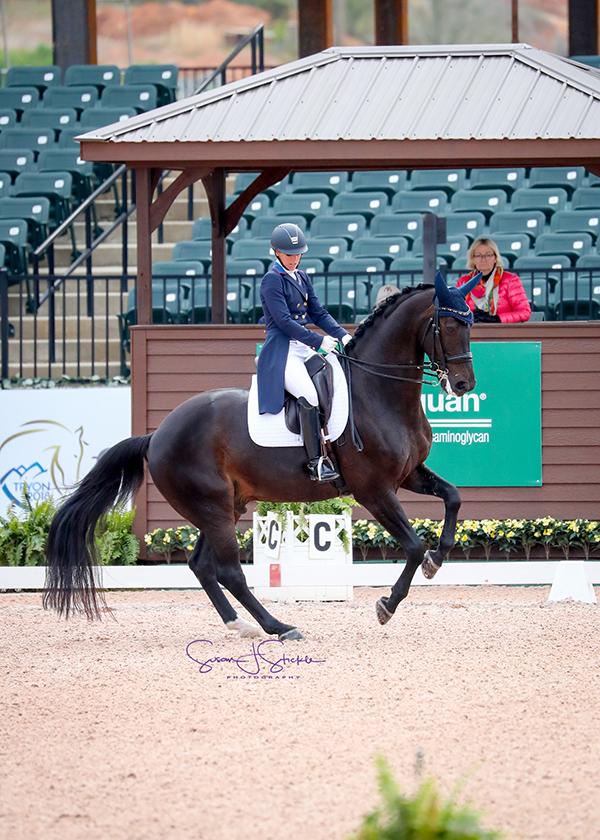 When reflecting on her test, Perry-Glass joked that "everything's positive because he's amazing," but that some elements of their ride in particular pleased her. She commented, "His pirouettes have gotten really solid. I love those and they're fun to ride. His changes are always really nice to ride. His piaffe passage is also great, and it's really correct and good."
"What I would like to nitpick on myself is just being able to ride each corner and focus on each corner," she said. "It's so meticulous, but it's so important, and that's where his points are going to start coming up because he can do every movement. He's trained and knows what he's doing. It's just preparing him for it, and I think that's where I have to get on myself for that."
Perry-Glass and "Dublet" finished their weekend with a win the the Grand Prix Special on a score of 75.83 percent, once again taking the victory ahead of Lyle and Horizon who finished in second on a score of 71.66 percent. Trussell rode Tattoo 15 to third with a score of 69.31 percent.
"He's still a spring chicken in there," she said. "He didn't lose any motivation or any kind of spark. He was actually more relaxed but with energy. That's what all of his pre-show training was for, getting his mind really good, the aqua-tread, and all the work we do outside the arena. I feel like it's really translated to his stamina and how he holds his energy."
Lipp Finally Gets Her Win
After coming off of a successful winter circuit consisting of several top ten CDI placings, Karen Lipp rode Kathleen Oldford's Whitney to the win in the Grand Prix freestyle. Second place was clinched by Geena S. Martin aboard Caroline Roffman's Bon Chance, a 13-year-old Hanoverian gelding (Belissimo M—Wintersong, Weltmeyer), scoring a 66.67 percent, while Abraham Pugh guided Elfenperfekt, a 12-year-old Trakehner stallion (Peron—Elfentraum, Zauberklang) owned by Alice Drayer, received a score of 66.615% and third place.
The partnership between Lipp and the 13-year-old Hanoverian mare (Whitestar—Grace, Grand Cru) has been blossoming for some time, but the pair did not contest the international ring until last fall.
"We actually purchased her as a 4-year-old and I competed her up through the Young Horse Program, which she did quite well in as a 4, 5 and 6-year-old," said Lipp. "For a period her owner was going to ride her then decided it wasn't the right match for her, and instead of selling her she said, 'You do well together, so go on together.' So now I'm back riding her, and I showed her in a few CDIs, and then unfortunately when I got home she got injured, so she had a period of time off, but thank God she's back.
"I would like to thank Kathleen Oldford, the owner of the horse, for giving me the opportunity to ride her," she continued. "It's been a really great journey for many years, and I feel really lucky and fortunate to have somebody who owns a nice horse and lets me ride it. It's kind of a rarity."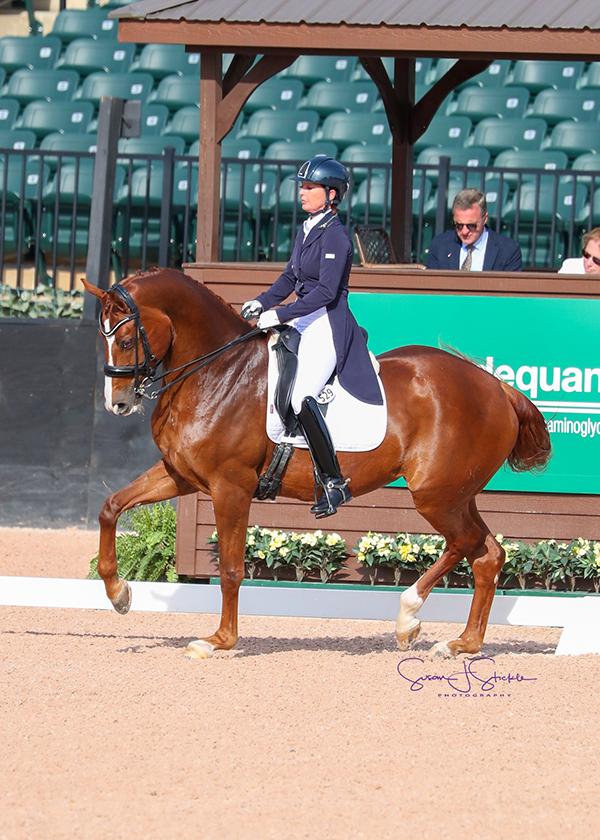 After capturing fifth place in the Grand on Friday, Lipp and Whitney's efforts for the Freestyle were rewarded with a 69.76 percent from the judging panel and after climbing the ladder to first, Lipp is using the win as a motivator for the future. "
I'm just going to keep on working at it and getting better," she said. "She's a hot, fiery horse, so the big thing is getting relaxation. Yesterday I had it a little bit better, and today was a little bit harder, but it's an electric place. She tries really, hard, but she's just a little bit of a nervous horse, so it's keeping that balance with her."
"I think what she's really good at is the power stuff," continued Lipp, who rode to an upbeat musical freestyle designed by Canadian Karen Robinson. "The extensions, the passage—I think when I come in she gets a little bit taken back, so at the beginning I felt a little stuck, but as the test went on it got better and better. She has really good changes and I made a mistake tonight that was me. Overall, I think she likes the music and likes the atmosphere, so in that way it's fun."