The first-ever FEI Youth Equestrian Games wrapped up this afternoon at CHIO Aachen (Germany) where South Africa's Thomas van Rijckevorsel claimed individual gold ahead of Morocco's Jed Guerraoui in silver while U.S. rider Mimi Gochman, who anchored the Team North America that won gold on Thursday, earned bronze.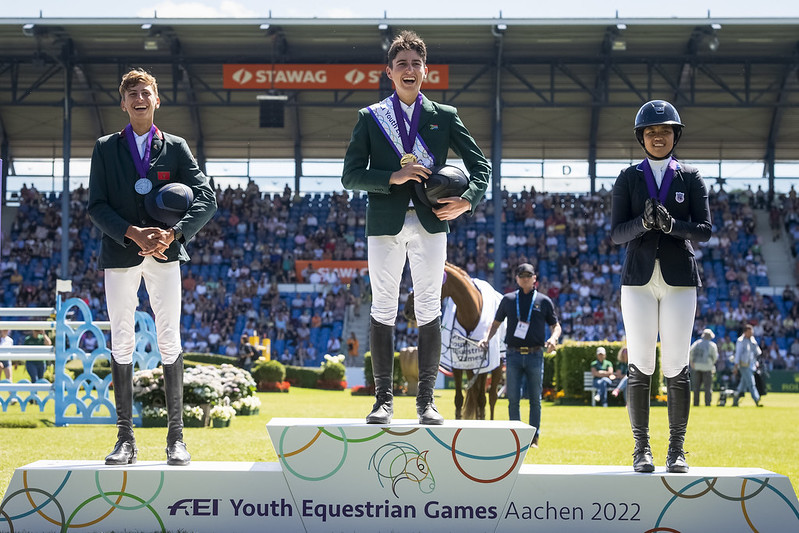 The competition featured 30 contestants, aged 15 to 18, from 30 different nations riding borrowed horses, and was created to replace the Dakar 2022 Youth Olympic Games, which were postponed to 2026.
And today 17-year-old van Rijckevorsel put his name into the history books when taking the individual title with the 9-year-old mare, Lucy 781.
"It was amazing—it hasn't sunk in yet; it's the best thing that ever happened to me!" said van Rijckevorsel, who was also part of Team Africa's bronze medal effort.
Bigger Track
German course designer Frank Rothenberger presented riders with an even bigger track today, with fences measuring up to 1.30m. Eighteen of the 30 starters still managed to jump the first course clear.
By this final afternoon, the horse-and-rider partnerships had really solidified, and although the line of fences from the vertical at fence 5 to the triple combination at 6 and the following oxer at fence 7 proved the undoing of some, it was clear that those going through to the second-round jump-off were all still highly competitive.
Colombia's Juan Felipe Gonzalez Cova gave it his all to set the target at 36.95 seconds with the 12-year-old gelding Diacco-Blue when first to take on the new course, but Egypt's Haya Osama El Borai and the 8-year-old mare Jadzia galloped home more than 2 seconds quicker when third into the ring.
Then Great Britain's Claudia Moore and Largo van de Molenhoek reset the target when clearing the line in 33.71 seconds and that looked tough enough to beat. But Germany's Charlotte Hoing, who along with Moore was a member of the Team Europe silver medal winning side on Thursday, had other ideas when next to go.
Setting off like a rocket with the chestnut gelding Andy'sBoy Bretoniere, the 17-year-old had the home crowd screaming in delight as she raced around the track only to fall foul of the very final fence for 4 faults in an incredible time of 31.18 seconds.
Next in, Belgium's Bart Jay Junior Vandecasteele overtook Moore for the lead when steering the mare Haya home in 33.33 seconds with real style.
Preparation
Meanwhile, out in the warm-up ring van Rijckevorsel hadn't seen any of that because he was busy working on his preparation with his trainer, Dominey Alexander. "Before I went in I just saw [Vandecasteele's] time and I thought he must have been pretty fast. Dom told me to just go for it and we just went for it—Lucy tried her heart out and it all just worked out in the end!" he said.
He had established a real bond with the little 9-year-old Lux Z mare, and the pair look perfectly matched as they scorched around the course that demanded serious turning skills and balance, especially on the penultimate bending line from the oxer at what had been fence 2 first time out and the vertical fence 3 before winding left-handed for the long run to the final vertical.
Stopping the clock on 31.69 seconds they wouldn't be beaten, but Morocco's Jad Guerraoui, whose jump-off ride clinched bronze for Team Africa on Thursday, came very close indeed with a brilliant run with the 8-year-old mare Lady Angeles, who broke the beam in 31.83 for the silver medal spot.
Fourth-last to go, Gochman and Merino van de Achterhoek earned individual bronze in 32.56 seconds.
Finishing just off the podium in fourth place was Qatar's Saad Ahmed Al Saad and DSP Cessy who were just 0.27 seconds slower.
First Experience
The FEI Youth Equestrian Games 2022 has provided the newly-crowned champion with his first experience of competing in Europe.
"I have three top open horses at home that jump at 1.40m and three young horses as well as a dressage horse," explained the young man who hails from Johannesburg. He had plenty of support in Aachen this week, not just from trainer Alexander, who himself took team bronze at the African Games in 2007, but also from his parents, grandparents, brother and sister who all travelled to see him compete.
And of course he had Lucy to rely on.
"She's a great horse—small and hot like one of my horses at home but super careful and just a fighter, so I just got on and clicked with her and she's been just amazing!" he said.
Talking about his future ambitions, van Rijckevorsel said, "after this week I definitely want to come back and jump at Aachen again. I'd love to have a career in this sport; it's my life!"
Silver medallist Guerrouai said his dream would be to represent Morocco at the Olympic Games. At just 15 years old, and one of the youngest amongst the 30 athletes competing, that seems like a real possibility following his brilliant performances this week. He was also thrilled to make such a significant contribution to the Team Africa bronze medal winning result.
And for bronze medallist Gochman, who is no stranger to success on the U.S. circuit and whose jump-off round clinched gold for Team North America on Thursday, claiming her second medal of the week was also super special.
"I'm very grateful and my horse was incredible!" said the 17-year-old. "In the USA we have a big riding community and it feels amazing to represent them proudly and with my head held high. Now I can go home knowing how incredible it is to ride in Aachen. Not a lot of people get that opportunity so I'm super lucky," she added.
For full results, visit the CHIO Aachen website. 
For all of the Chronicle's CHIO Aachen coverage, click here.