Washington D.C.—Oct. 30
Beginning 2011 and 2012, Mimi and Sophie Gochman entered the Verizon Center and demonstrated their presence in the pony hunter divisions. But this year, the capital city represented a closing of a chapter, as the two hang up their jodhpurs for good with their under 14.2 mounts.
"I was really hoping to make this day memorable since it's my last day on the ponies," said Sophie.
And memorable it was, especially since the two sisters aren't ones to leave without a bang. Mimi and Storyteller concluded their two year partnership with a grand pony championship on top of winning the large pony division.
"I've never been grand here which is really big thing for me and this is one toughest shows," said the 12-year-old. "The rings are small, and you really have to maneuver around poles in the schooling area and all the things that make this show tough. But it's definitely one of the best experiences I've had in the past two years. Doing it with Story was such an amazing experience, especially since it's my last show on him.
"He tries his best at all times," Mimi continued of Fair Play Farm's 13-year-old German Sport Pony who captured the overall grand pony championship at the Pony Finals (Ky.) this year. "I'm going to be sad that he is leaving, but he's moving along to another cute child that will have fun on him."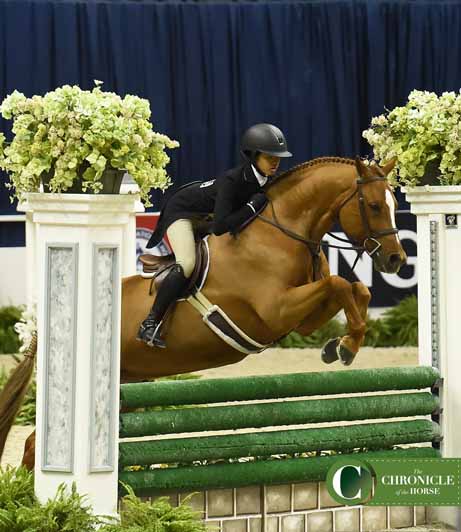 Mimi Gochman and Storyteller end their partnership with grand champion pony honors. Photo by Laura Lemon.
But Story wasn't finished winning. Sophie marched him around the WIHS Pony Equitation Classic and took home the blue ribbon—a title Mimi won last year aboard the gelding.
"It's really special because we've got two Gochmans on that trophy and two Storys on that trophy," said Sophie.
And an equitation win proved to be the cherry on top, especially with Sophie also capturing the small pony hunter championship on Betsee Parker's Bit of Love.
"Because I'm 13, this is my last year doing the smalls," said Sophie, who couldn't continue showing "Chester" even if she wanted. "So I was going to be happy anything but I was really hoping do well. To just go out with my pony career with a bang and to make it really special."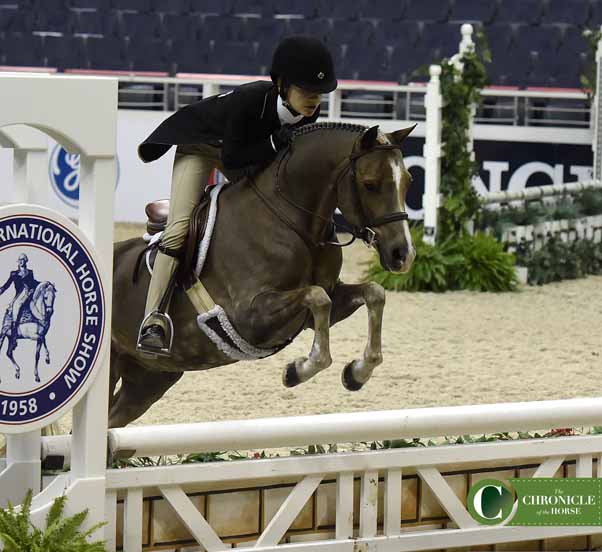 Sophie Gochman and Bit of Love. Photo by Laura Lemon.
And after Sophie's final victory gallop in the WIHS Pony Equitation Classic, neither of the two sisters could hold back tears as they wrapped their arms around Story's neck, signaling the end of their pony era.
But while the Gochmans turned to another page, 13-year-old Emily Aitken Washington's memories just began. In her first trip to the Verizon Center, Aitken and Hannah Berstein's Woodlands Stevie Ray took home the medium pony championship, which helped Aitken earn the Best Child Rider on a Pony title.
"I was just really happy to get here and then from there it just happened—so that was fun," she said.
And while also enjoying her chance to compete, Aitken took in the Washington experience and soaked up the horse show's traditions.
"We watched the puissance which was really great," she said. "I've never seen that before. I've watched videos but I haven't actually seen it in real life."
Endings and beginnings—the ponies signal the end of yet another year at the Washington International Horse Show.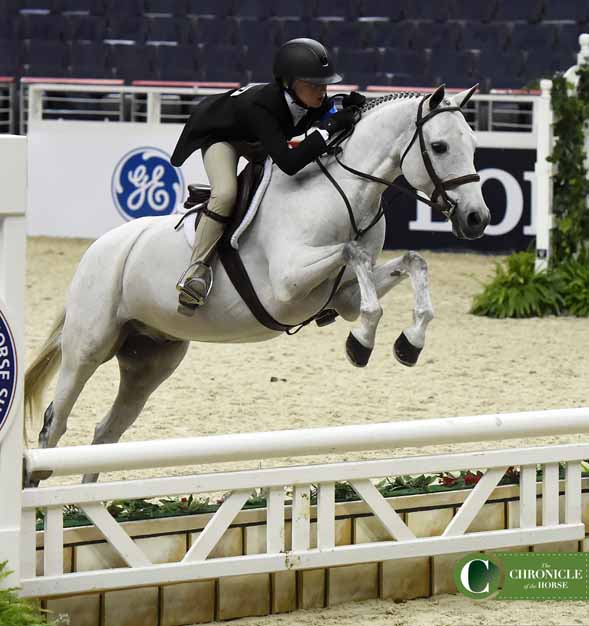 Woodlands Stevie Ray helped Emily Aitken earn Best Child Rider on a Pony honors. Photo by Laura Lemon.
Get full results at ryegate.com.
Want more Washington International Horse Show? No problem—we have you covered. And don't miss the Nov. 14 issue of the Chronicle of the Horse magazine for full analysis of the competition.