American young rider Mimi Gochman delivered a fast and clear jump-off round Thursday afternoon to break an exciting three-way tie and clinch gold for Team North America in the FEI Youth Equestrian Games 2022 in Aachen, Germany. Behind the North American quintet of Gochman (USA), Carlos Andrés Meany Morataya (Guatemala), Gabriela Maradiaga (Honduras), Shannon Grubba (Costa Rica) and Xaviera Maurer Buch (Mexico), Team Europe won silver and Team Africa won bronze.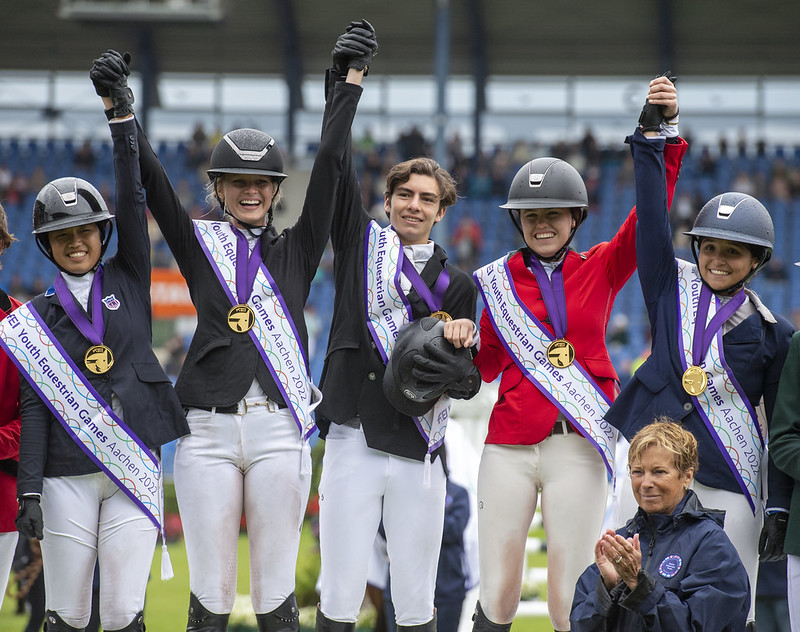 The FEI Youth Equestrian Games were devised this year to replace the 2022 Dakar Youth Olympic Games, which have been postponed until 2026. Divided into six continental teams, the 30 contenders, ages 15-18, from 30 different countries had only a few days to get to know their borrowed horses before the competition started Wednesday.
Gochman, New York City, a two-time FEI North American Youth Championships individual gold medalist, drew Merino van de Achterhoek, a 10-year-old Belgian Warmblood who has competed internationally through the 1.45-meter level.
"I spent as much time as I could in his stall, letting him smell me, letting him snuggle with me, to make sure he knows who I am and being really gentle and kind with him," Gochman said of getting to know the horse. "And then when it came time to get into gear I was able to really ask him for things, and I think he really knew he could give it to me and he could trust me."
The pair were the pathfinders in Wednesday's first round of team competition, where they jumped the first double-clear of what proved to be a fault-free day for Team North America. In the youth games format, each team has five riders and is allowed two drop scores. On Wednesday, four teams—Africa, Europe, Asia and North America—counted zero faults (from their best three results) in the first round, with North America and Africa boasting the distinction of getting all five of their riders around fault-free.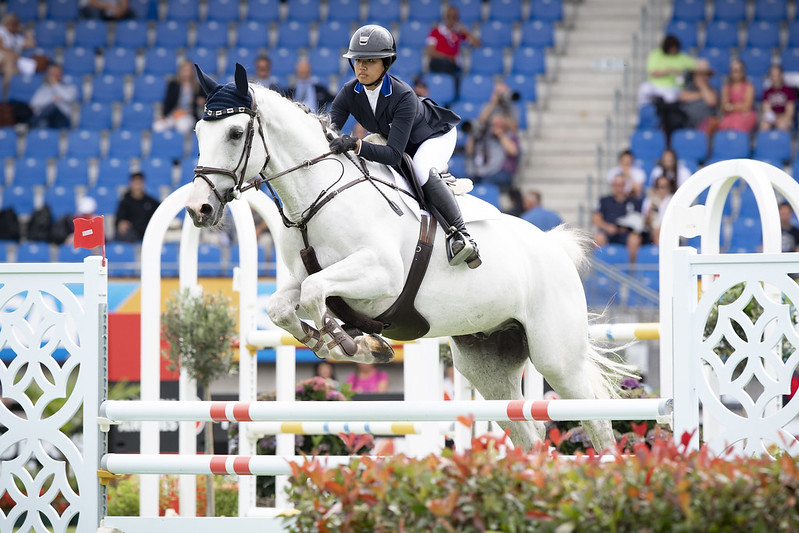 On Thursday, despite brilliant double-clears from Qatar's Saad Ahmed Al Saad and Iran's Marilya Manavikherad in the second round, Team Asia had to count 4 faults so slipped off the radar. That left Africa, Europe and North America tied on zero faults after two rounds. Fifteen combinations had jumped faultlessly over the two days, and with four of those coming from the North American team, they always looked threatening.
Each of the teams picked one rider to participate in the jump-off. Back in the pathfinder position, Gochman put Team North America in post position with a time of 32.26 that proved unbeatable. Great Britain's Claudia Moore was just 0.33 slower to scoop the silver medal spot for Europe, and Morocco's Jad Guerraoui stopped the timers in 33.33 seconds to earn bronze for Africa.
"Going first is a bit challenging sometimes, but I gave it my all and it paid off. I'm very proud of the way it went!" Gochman said.
Watch their winning jump-off round below:

Team Europe's Moore is a multiple medalist at European Pony and Junior level but said she still felt the pressure Thursday.
"I knew Mimi had an incredible round and I wanted to match that. I kept quite cool, calm and collected and went in and I had so much fun and I had my entire team behind me and I think that was the thing that drove me the most!" she said.
Like all the young riders this week, she thoroughly enjoyed competing in the world-famous Soers arena.
"The crowd, the atmosphere, the ground, the jumps, it's such an amazing thing for the youth. Some people in their professional career never get to jump at Aachen and for us to be able to do it at this age, and have this type of experience early on, is amazing!" she said.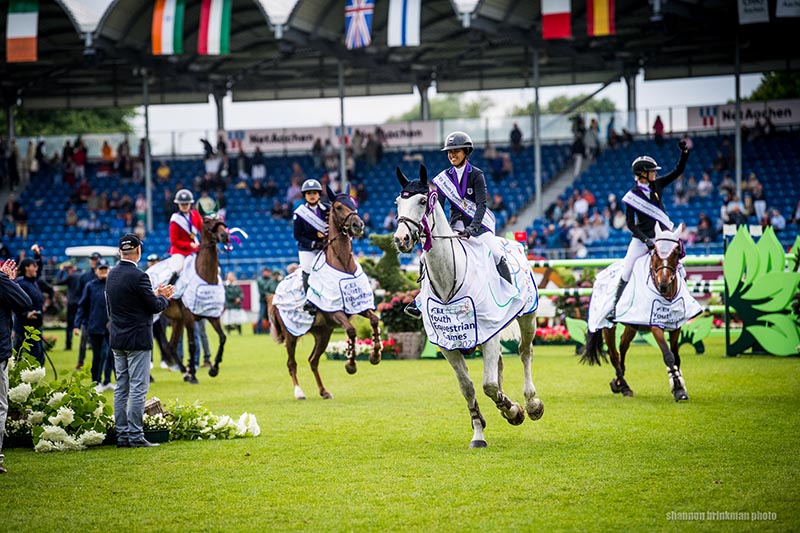 The winning team's chef d'equipe,U.S. Equestrian Federation Young Rider Chef d'Equipe DiAnn Langer, spoke about the positivity the FEI Youth Equestrian Games  has already engendered.
"The earlier they start this type of competition, the younger they are, the better for our future. It's about more than just producing a winner, a second and third; it brings the young riders together to meet so many new people and make great friendships," she said.
The youth tournament will come to a close Saturday with the individual competition.
Winning Wednesday For U.S.
U.S. athletes got the week of to a strong start Wednesday. McLain Ward and his Tokyo Olympic partner Contagious won their first class, the Turkish Airlines—Prize of Europe, while in the dressage arena, Adrienne Lyle and her Tokyo partner Salvino finished second the HAVENS Horsefeed-Prize FEI Grand Prix CDI4* behind Denmark's Catherine Dufour and Bohemian.
In the first major jumping class of the 2022 CHIO Aachen, Ward and Contagious (Contagio—For Mary, For Keeps) squeaked out a jump-off victory by 0.07 seconds over world No. 1-ranked Martin Fuchs of Switzerland and Conner Jei. U.S.-based Irishman Connor Swail finished third aboard Count Me In.
"Of course, I was a bit annoyed at first, because it was so close," Fuchs said afterward. "But now I am really happy! I had a super jump-off; I couldn't have done anything more and everything went exactly according to plan. But McLain is simply the best jump-off rider in the world and he proved again today why that is what I call him."
For his part, Ward said winning the class is something he had been hoping to do for many years.
"I remember that I have come here for many years and saw how one of my mentors won the Turkish Airlines— Prize of Europe, and I always thought one day I will win it too," he said. "And now, 27 years later, the time has finally come. Contagious was simply fantastic. I think it is a class that each of us dreams of winning one day. You know, Aachen is the best show in the world for us, which means the most to us riders, and the Grand Prix, the Nations Cup and the Prize of Europe are the competitions with the longest tradition, the main events."
Watch their winning jump-off round here:
In the first major dressage class of the week, the HAVENS Horsefeed-Prize FEI Grand Prix CDI4*, Dufour and her European Championships silver medalist and Tokyo Olympic partner Bohemian (Bordeaux 28—Sunshine, Samarant) won with a score of 80.41%. Lyle and Salvino, who are competing as individuals in Aachen, were second with a 76.89%, while Germany's Frederic Wandres and Bluetooth OLD, who spent much of the past winter winning at the Adequan Global Dressage Festival (Florida)  finished third on 75.21%.
"Salvino feels great. With no spectators in Tokyo, it's been a while since we've been in such a big atmosphere and he was quite enthusiastic in there today," said Lyle. "We're both so happy to be back here at this incredible show and I'm really looking forward to riding our freestyle under the lights on Saturday, which is an experience I've never had here."
 Visit the CHIO Aachen website for full results.
For all of the Chronicle's CHIO Aachen coverage, click here.