Thermal, Calif.—Mar. 18
John French had a target on his back when he entered the $50,000 USHJA International Hunter Derby held the final week of the HITS Coachella Desert Circuit. As the winner of the $50,000 derby held during the National Sunshine Series in November, and the holder of the top two placings of $50,000 derby held during Week 4 of the winter circuit, he was definitely the man to beat.
Hope Glynn, Alexis Taylor-Silvernale and Jenny Karazissis were all looking to dethrone French this evening, and in the end, it was Glynn, with her ride Lake Of Stars, who took home the top check. French slotted into second with the winner from the previous derby Skyhawk, while Taylor-Silvernale took third on Category and Karazissis finished fourth on Really.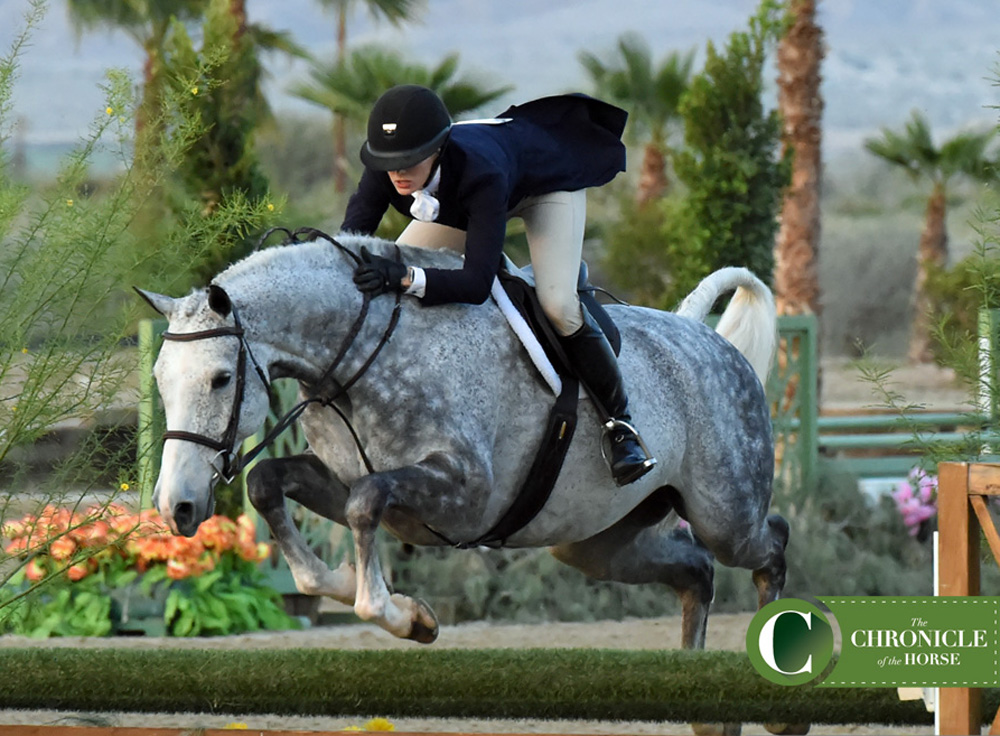 "When you have a great horse it's exciting to win as a rider for sure," Glynn said. "It's a great feeling, but when you have a horse that you really believe in, and you think is really special you like when they win a big class because you want to be like, 'I told you this horse was amazing!' It's validation because I want people to know I think he's that great.
'I'm slightly biased because I like him so much, but I do think he's pretty special," she continued.
While the top check and bragging rights were definitely on Glynn's mind, she had a little extra incentive for the win. A selfie taken with Alex Hindi, who typically runs the gate in the grand prix ring but was on hand for the derby.
Sure enough, Glynn got the selfie she was egging for.
"I said, 'I'm so going on his Facebook page tonight! [Show jumper] Mandy Porter's there all the time, and I'm finally getting in because he's in a hunter ring," Glynn joked.
While Glynn is no stranger to derbies, her partner Lake Of Stars is still getting his feet wet. The 9-year-old Holsteiner started his career as a hunter last winter circuit, and he contested his first international derby in July of that year.
After that Glynn decided to take a step back to help build the gelding's confidence, and he didn't show in another derby until November, where he was second to French and Center Court. Instead he showed in a few classes where Glynn knew he'd be comfortable, like the $50,000 Duchossois Cup at the Rolex Central Park Horse Show (N.Y.) and the Diamond Mills $500,000 Hunter Prix at HITS Saugerties (N.Y.).
"He wasn't quite ready for the next step up just because he still backed off stuff, and I didn't want to get into a situation where he jumped so high and ended up landing on a back rail because I thought that would make him more sensitive," said Glynn. "So it was really nice. He pretty much told me, 'I've got this mom!' "
Once again, the derby was held on the outside course, which is created by taking out the fence dividing two hunter rings. Halfway down the center of the now larger ring sits a berm for spectators. The course contains a small hill complete with banks as options in the handy round, though nobody took that option.
"The jumps are beautiful. I love the courses. It's really hard, because it's hard to be a spectator on the course out here," said Glynn. "I would love it, because I think it's a great class that deserves a lot of people to watch, so hopefully in the future they can either put a jumbotron out here or find a way that allows more people to be able to spectate.
"If you have a manager that puts this much money in a class, and I think the quality of horses here in this derby are as high as anywhere else right now in the country. I think people want to watch it and I sure hope they find a way to make it live-streamed because I had people in Europe today calling me wanting to see this class. If you want to increase popularity of hunters you've got to make it more accessible for people all over the country."
See full results from HITS Coachella here.
Want more from HITS Coachella? Read about Kaitlyn Lovingfoss' big equitation win, and check out a gallery from the professional hunters and don't forget to pick up a copy of the April 3rd issue of the Chronicle.