It's pretty safe to say that Gina Miles was the only rider in the low hunter division at the HITS Desert Circuit last week with an Olympic silver medal.
Miles won individual silver in eventing at the 2008 Olympic Games in Hong Kong aboard McKinlaigh and continues to train and compete eventers out of her Gold Medal Equestrian in Templeton, Calif. But she's got a horse in the barn who seems more suited for eight fences in a ring, so she put her hair under her helmet, braided him and took to the outside line, diagonal courses.
Bravo, a 9-year-old Oldenburg gelding (Bugatti Hilltop—Gaugin's Ideal, Gaugin de Lully) took a few spins around the low and schooling hunters at HITS in January, and returned for the HITS Desert Circuit VI on March 6-7. They didn't pin in the classes, which had more than 100 entries. "But by the last rounds, he was starting to get the quiet rhythm and meeting his jumps right," Miles said. "He probably could have placed in the last few classes, but then he missed his left to right change which he never does! Next time!"
Not only did Miles ride Bravo, but she also clipped and braided him to get him ring-ready. "I really like braiding," she said. "I used to braid when I was growing up and showing and I would make extra money by braiding. I actually really enjoy braiding and creating that beautiful picture on the horse. But I tell you, I hate taking the braids out! I will braid horses all day long and get them ready for the ring but I hate taking them out."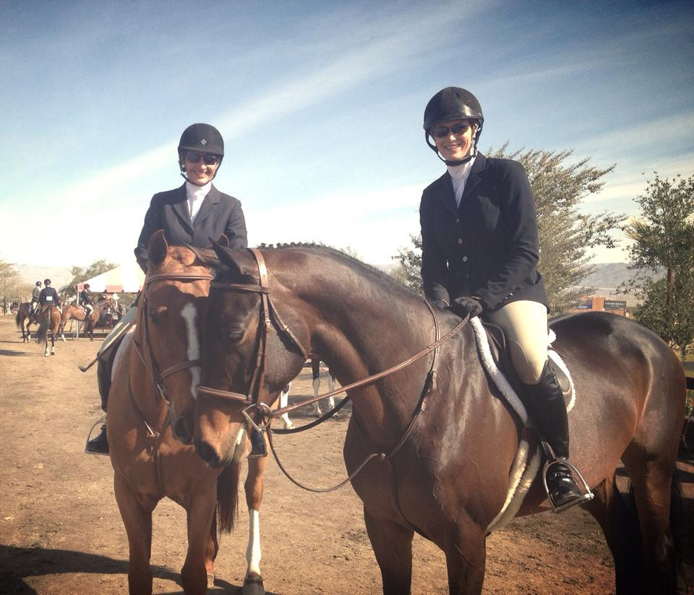 Gina Miles (left) spent a few days dabbling
in the hunter ring at HITS Desert Circuit with
her friend Hope Glynn.
Gina stabled with professional hunter rider and friend Hope Glynn, who gave her some guidance in the hunter ring. "Hope and her assistant Heather [Roades] were helping me out and keeping me from looking like an eventer in there!" chuckled Miles.
The biggest challenge Miles faced in the hunter ring? "For sure the biggest adjustment is riding to the 'hunter gap!' I'm so used to finding a deep one—I had to really work to adjust my eye. Bravo wasn't used to jumping from there either, so it was an adjustment for both of us," she said.
Miles competed Bravo at the one-star level last year, placing sixth in the CIC* at Twin Rivers (Calif.) in April. "He liked the idea of going a little slower and easier," Miles said. "I thought he would really enjoy the hunter ring, and he does actually." Bravo is owned by Chris Misita at Hidden Valley Farms in Cloverdale, Calif.
When asked whether her time at HITS was all for Bravo's training or maybe, also for the fun of it, Miles stated, "It is fun! Ever since I had McKinlaigh I have been trying to get out to HITS at least for a week. When George Morris coached us at the World Equestrian Games in 2002, he emphasized how important it was to do the jumper classes and know the technicality of the jumper ring with the related distances, the lines and the combinations.
"With eventing it's at least two to three weeks before you go to another event to practice. You can't get right back in the ring and try to fix your mistake, so it's harder to make improvements. We have been trying to go to some shows every year and make ourselves better show jumpers and study it as a sport of its own to bring into the eventing. And it's so good for my students; all of my students really nailed down what they needed to fix in the ring and it paid off at the next event that we went to."
Miles enjoys watching the top show jumpers and hunter riders do their jobs. "We can be better event trainers by studying what they do in those disciplines. And it is fun! We have fun crossing over and playing in another field. It's my dream to ride in one of the [USHJA International] Hunter Derbies."
As a wife, a mother of two kids, and an Olympic medalist who continues to train horses and riders, the really big question is, how does she juggle it all? "Boy, I just try to keep it all organized; you have to have a good support team to run around like I do. I probably have lists on a hundred different things so that I can remember and don't forget and remind myself about certain thing. I just really prioritize what is important, like my house. I just don't clean my house!" she laughed.
So what is next on the agenda for Gina Miles and Bravo? "We will try to catch another one of the [HITS Desert Circuit] shows, and we're practicing at home with his frame, outline and relaxation, which he's got down pretty good. Hopefully I will be good enough that Hope will let me do one of the derbies soon!"
Watch Miles and Bravo in action…