Sometimes with weddings, it's not about the venue or the catering or the dress. Sometimes it's about the timing, and—as newlywed dressage riders Katherine Abrams and Molly Ryan can attest—timing matters.
So on Saturday, July 16, during the bustle of the Dressage at Lexington horse show, amid a cluster of friends, family and decorations in Barn 2 at the Virginia Horse Center's stabling, which one passer-by briefly mistook for a stall-decorating contest, the professional trainer and the amateur dressage rider were married in a ceremony officiated by a fellow trainer. The moment was fitting for a couple so dedicated to dressage; the timing of that moment was more solemnly intentional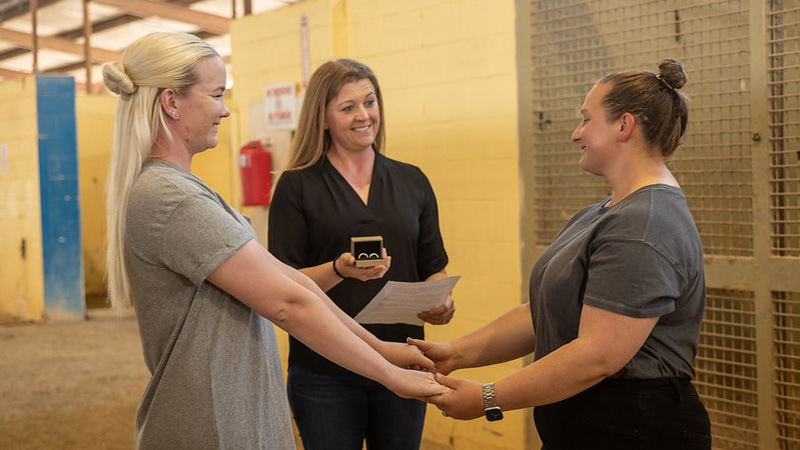 Abrams, a second-generation rider and trainer at her family's Harmony Hills Equestrian Center, and Ryan, an amateur dressage rider, met when they were in elementary school
"It's a really sweet, tropey story," Ryan said with a laugh. Ryan's parents took her to a pony birthday party at Abrams' parents' farm, Harmony Hills, where Abrams now runs her business. "And I just never really left after that," she continued.
The two grew up in Pony Club, and both gravitated towards dressage in their preteen years. They traveled together to horse shows and clinics, living the horse-girl dream life. In high school, they made their relationship official—but only to themselves.
"It was very much a secret," Abrams said. Eventually, their closest family members and some friends knew they were together, but no one else did. "A lot of people don't realize that coming out isn't a one-time thing—you have to do it again and again," she added.
Not ready to face any backlash from the horse community or the conservative southern Virginia area where they live, they tolerated people assuming they were sisters or good friends for 11 years before changing their social media bios to make their relationship status clear in the summer of 2021.
"Things seemed to be going downhill politically in terms of queer rights, and we wanted to be able to speak authentically about who we are," Abrams said. "We had a lot of conversations about when to go public, and eventually we just got tired of seeing so much disdain for queer people on our feeds, so it was time."
"We also wanted to try to be a light in the dark for younger queer equestrians," Ryan added. "We both knew we were queer from really young ages, but we didn't see other people like us."
The two grew up in Christiansburg, Virginia, a politically conservative area. They absorbed the message in high school that it was OK to be queer as long as no one knew.
"I had this transformational moment of realizing I don't actually have to be quiet about this; I can just be a person," Ryan said. "In our young 20s we were just making everyone comfortable like we thought we were supposed to do, but we realized that isn't right."
The couple got engaged earlier this year, within months of becoming open about their relationship.
"People want to know if I did some big proposal, but really, I was just doing our taxes and said, 'It's stupid that we're not married,' " Abrams said, "so then we went out and got engagement rings, and that was that."
The pair braced themselves for backlash.
"Social media is a cruel and uncertain world, and we were worried there would be uproar about it," Ryan said, but she added that most people who said anything at all to them were kind. "That gave me hope."
Abrams and Ryan had planned to enjoy their engagement and get married in the summer of 2023, but they decided to move forward sooner after the U.S. Supreme Court overturned Roe v. Wade on June 24, and Justice Clarence Thomas wrote in his concurring opinion about wanting to re-examine other decisions, including Obergefell v. Hodges, the 2015 case that legalized same-sex marriage.
While trying to figure out what to do in case their right to marry evaporated before their planned wedding date, Ryan remembered something their friend and fellow dressage trainer Lauren Sprieser told Abrams only a couple of months before.
"Katherine was at a horse show without me right after we got engaged," Ryan recalled. "Lauren came around to congratulate her and mentioned that she is ordained and could officiate weddings quickly."
With that in mind, she texted Abrams in the middle of the work day to ask if she thought Sprieser meant it, and if she would be willing to perform the ceremony during the upcoming Dressage at Lexington show, held July 15-17 at the Virginia Horse Center in Lexington.
"I was in the middle of a four-hour block of lessons, and I was like, 'Hang on, I have to answer this text right now,' " Abrams said, laughing.
Sprieser immediately agreed to perform their wedding, and the plan was made.
"I wrote their ceremony in about five minutes on Wednesday night before I left for the show—procrastination is my jam—and then we found a gap in between Katherine's students' show schedule and that of my own," Sprieser said. "We had 12 horses to keep an eye on, and I know Katherine's crew wasn't small, but we found the time."
The wedding was the highlight of the horse show for Sprieser, she said, on a weekend that also included winning a Grand Prix class and the trainer award, because it meant so much to be able to help her friends.
"They wanted the content of the ceremony to be a surprise, and their parents decorated the barn aisle and brought libations," she said. "I sprinted back to my hotel after my last student rode; I showered and blow dried and slapped on some mascara; we had about 10 seconds of rehearsal, and then someone hit 'play' on a beautiful playlist. And we were off!"
The ceremony itself took about two minutes, the couple said, but it wasn't about pomp and circumstance; it was about declaring their love and commitment to each other right in the middle of the dressage world they live in, the same world that they know is not always as accepting of queer people as they want it to be.
"We were backed into a corner by the court, but we were lucky to be surrounded by supportive people on that day," Abrams said. "It wasn't just a cute, spontaneous wedding at a horse show. It's about more than that; it's about being visible. A courthouse wedding would have been silent, and this was public."
The newlyweds want to use their visibility to give young queer people what they didn't have growing up: role models.
"I hope young queer equestrians don't feel like they are completely alone in this sport. They need to know they have equestrian elders who are happy to root for them and support them in any way they need," Ryan said. "It would have meant a lot to me as a kid."