This year's qualification circuit for the U.S. Dressage Team at the Alltech FEI World Equestrian Games wasn't without drama. Jan Ebeling elected to retire his 2012 London Olympic Games partner Rafalca—ranked third after the selection trials held in Gladstone, N.J., in June—and the pair returned from Europe without competing there.
Then when the official short list was named Aug. 14, it included a controversial note and decision regarding Caroline Roffman and her mare, Her Highness O.
But the team has gathered in Normandy, France, for this year's World Games is ready for a fight. As Anne Gribbons wrote in her analysis for the Chronicle's World Games preview issue: "The German team will be practically unbeatable, and the Dutch and English teams will breathe down each other's necks. But they aren't so strong that they couldn't possibly leave an opening for a medal for Sweden, Denmark or the United States. Let's hope for the latter!"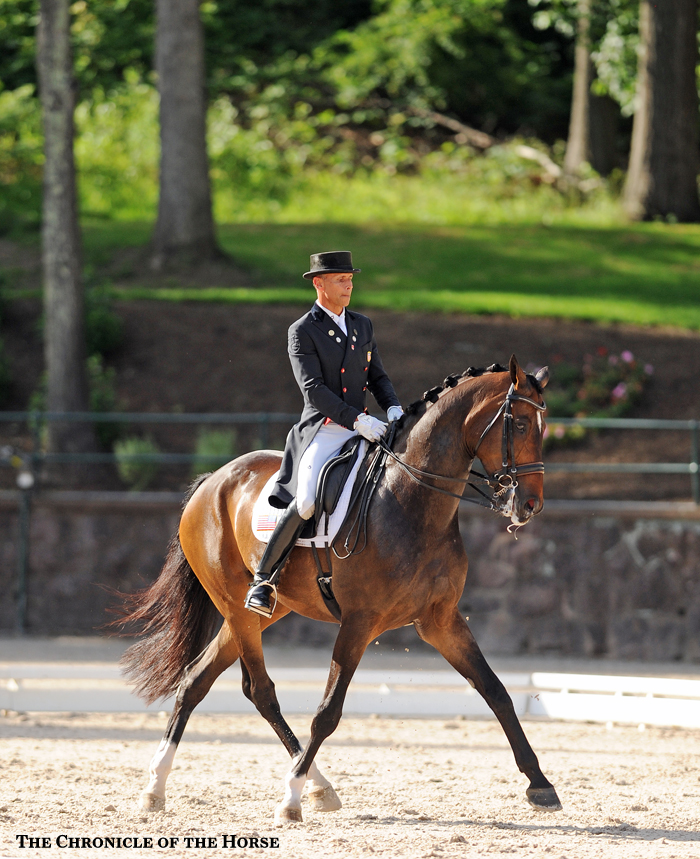 Legolas 92: b. g., 12 years, German-bred Westphalian (Laomedon—Furstin, Florestan), bred by Johannes Kissing, owned by Four Winds Farm LLC.
Steffen Peters: age 49, San Diego
Akiko Yamazaki's Four Winds Farm LLC bought Legolas for Peters to ride in 2011. The horse had little competition experience, but he was doing all the Grand Prix work with former rider Ullrich Kasselmann.
Peters and Legolas quickly found their way to the show ring, making their FEI début at the Burbank CDI-W (Calif.) in February 2012. Since then they've racked up a string of top finishes, including most recently winning the Verden CDI*** Grand Prix (74.98%) and Grand Prix Special (76.27%) in Germany as their final preparation for the World Games.
The horse's top CDI Grand Prix score is a 76.57 percent, and his highest freestyle score is an 80.17 percent.
Legolas is known as a horse with a super work ethic, friendly personality and slightly anxious temperament, and Peters spent the most time perfecting his one- and two-tempis. He regularly earns top scores for his piaffe and passage.
"I had to ride a lot of tests just to get him comfortable in his show arena," said Peters at the beginning of the year. "At the [World Dressage Master CDI], he was very nervous. It was his first experience with a bigger crowd in a difficult arena, and he could barely stand still. But things are clearly improving. We see this in more relaxation at the canter, a very relaxed walk, standing still."
Peters most recently dealt with a bout of pneumonia and pleurisy, which landed him in the hospital in Europe and forced him to miss the Aachen CDIO***** (Germany). He's now fully recovered and ready to lead another U.S. team.
Did You Know?
• Peters has won the U.S. National Grand Prix Championship more times than any other rider—eight. He and Legolas took the title three times, and he also won it with Ravel (two times), Lombardi, Floriano and Udon.
• Out of the 29 Grand Prix-level classes this pair has entered, they've won 19 of them.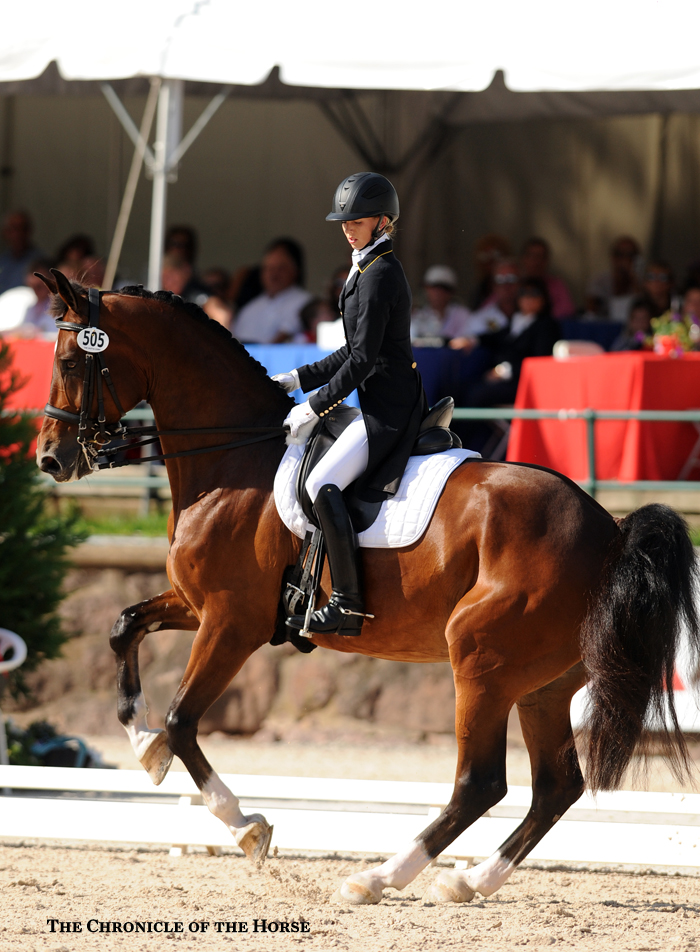 Verdades: b. g., 12 years, Dutch-bred Dutch Warmblood (Florett As—Liwilarda, Goya), bred by P. Crum, owned by the rider.

Laura Graves: age 27, Geneva, Fla.

Laura Graves, the youngest member of this year's U.S. team, blazed onto the international dressage scene just this year. With her Verdades, a horse she found when he was a weanling, she contested her first Grand Prix CDI in February. She then earned one of the last spots at the USEF Dressage Festival Of Champions (N.J.) and finished a solid second behind Peters and Legolas there to seal a spot in France.

"I didn't think I'd be a strong contender coming into this," Graves said then. "I've known for a couple of years that my horse has it in him. It just hasn't come together for us until now. This is really exciting. It's a whole new level of sport, of competition for me."

Graves, who brought the horse along with the help of Ann Gribbons before starting to train with USEF Developing Coach Debbie McDonald, competed in the CDIs at Aachen and Fritzens (Austria), earning eighth on 74.78 percent in the Aachen Special and second in the Grand Prix and Special in Austria.

The pair's best Grand Prix score is a 74.78 percent and their top freestyle score a 76.90 percent.

Did you know?

• Graves has a degree in cosmetology and was working at a salon before she started as a working student for Anne Gribbons.

• She trained her first dressage horse, a Quarter Horse, to fourth level.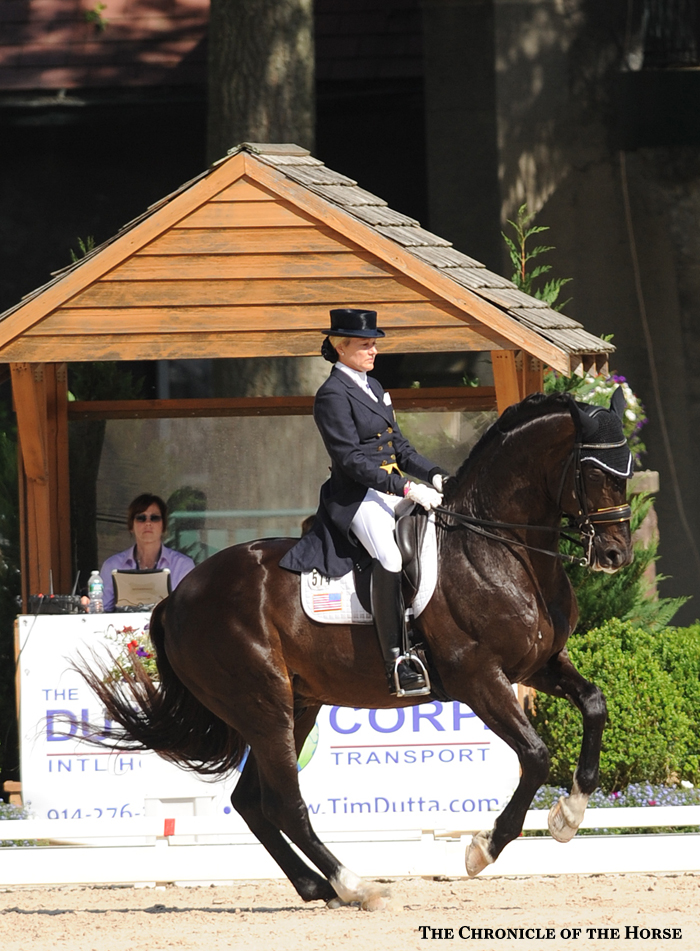 Calecto V: b. s., 16 years, Danish-bred Danish Warmblood (Come Back II—Bahera, Rastell), bred by Inge Toft, owned by the rider.

Tina Konyot: age 53, Palm City, Fla.

Tina Konyot and Calecto V are tough veteran competitors, but in any press conference Tina will also tell you that they're best friends. They spend their off-season time trail riding, and Konyot lets the stallion out—on a lead—to roll in the ring when they're competing somewhere.

The pair's been at the CDI Grand Prix level since 2009. They competed together at the 2010 Alltech FEI World Equestrian Games (Ky.) and the 2012 London Olympics—the only one out of the current U.S. Dressage Team to do both and then this year's World Games as well. They also contested this year's Reem Acra FEI World Cup Dressage Final (France).

Calecto's top Grand Prix score is a 72.72 percent, and his top freestyle score is a 79.25 percent. He's known for perfectly executed canter pirouettes, as well as his partnership with Konyot.

Konyot's repeatedly stated that the horse owes her nothing, and she's planning on the World Games as his last major international championship.

Did You Know?

• Konyot's equestrian family background is diverse. Her father, Alex Konyot, was a lifelong dressage rider and trainer, and her mother, Josephine Konyot, a high wire artist. Earlier relatives, including grandfather Arthur Konyot, worked for the Ringling Brothers and Barnum & Bailey Circus.

• Konyot's held off on breeding Calecto while he was competing. Now that's he 16, she's considering finding him a few mares after the World Games.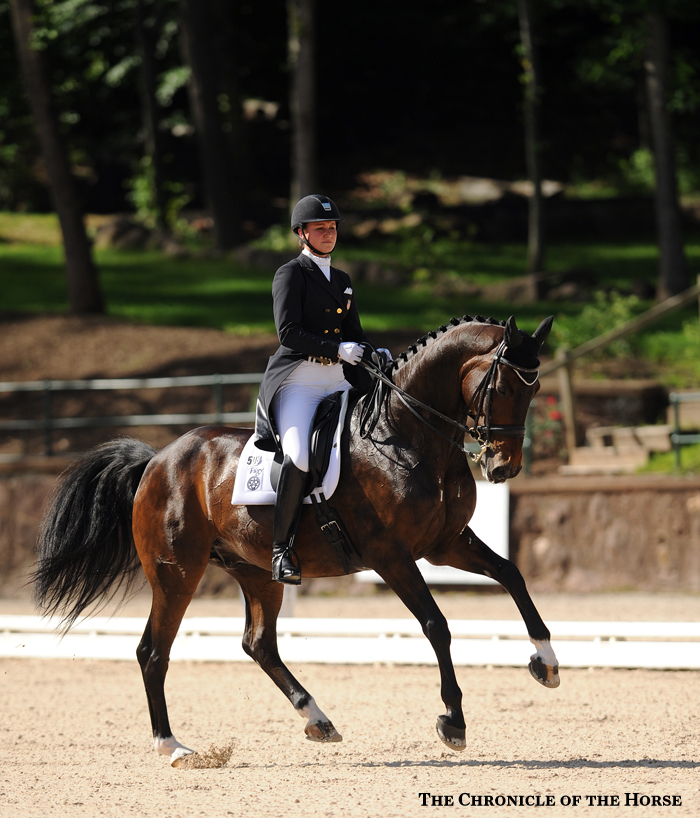 Wizard: dk. b. g., 15 years, German-bred Oldenburg (Weltmeyer—Pica, Classiker, owned by Peggy Thomas.

Adrienne Lyle: age 29, Ketchum, Idaho.

Adrienne Lyle and Wizard's partnership is an enduring one. Lyle started riding the gelding when he was just 7, and the pair made their CDI Grand Prix debut in 2009.

They competed as individuals at the 2012 London Olympic Games, and then Wizard was forced to sit out much of 2013 with a bone bruise. The pair came back stronger than ever this year, picking up good scores at the Aachen CDIO***** and Wellington CDI***** (Fla.) before they were named to the team.

The gelding's known as a hot mount, with a lot of energy and an opinionated persona.

"We've been really working on trying to confirm his piaffe and passage. The transitions between the two have always been a weak point," said Lyle earlier this year. "He's always had a talent for piaffe and passage, but kind of getting his brain wrapped around it and getting it all put together in an organized fashion was challenging. I think he's really starting to get stronger, mentally and physically."

Wizard's top Grand Prix score is a 73.02 percent, and his best freestyle score a 77.37 percent.

Did You Know?

• Debbie McDonald, Lyle's long-term coach and mentor, was originally slated to ride Wizard. But due to his size and her own desire to step down from serious competitive riding, McDonald offered Lyle the ride.

• Lyle's cousin, Maya Black, also rides at the FEI levels, but she does it in eventing.
Make sure to follow all the dressage action—and all the other disciplines too!—at www.chronofhorse.com. We have a dedicated page for World Games dressage coverage and coverage of all the other disciplines, too.