On June 21 the U.S. Equestrian Federation board of directors elected Murray Kessler as the next USEF president. He'll take over from Chrystine Tauber in January 2017.
Horses have always been Kessler's passion, and he and his wife, Teri, compete in the amateur jumpers. Their daughter, Reed, rode in the 2012 London Olympic Games on the U.S. show jumping team. At 18, she was the youngest equestrian at the Games. He also served on the board of directors of the North American Riders Group.
Murray, 57, spent his professional career in the business world. Most recently he was the CEO and president of Lorillard, Inc., retiring from that position last year. He is currently a director on the board of Reynolds-American, which merged with Lorillard in 2015. He and Teri live in Lexington, Ky., on a 150-acre farm they purchased in 2012.
After Murray was elected president, he spent three hours going over his strategic plan with the board of directors. The Chronicle's managing editor Sara Lieser sat down with Murray afterward to find out more about that plan and what he hopes to accomplish as the 14th president of our national governing body.
What inspired you to take this position?
If you talk to anyone in my professional life over the past 15 years or so, I always have had this desire. I always said to everybody, "I'm going to try to be successful enough that I'm in a position that I can retire and give back, and what I want to do is be head of the federation." So most of my friends who know me and work with me, they're like, "You son of a gun; you actually did it!"
I truly do love the sport and want to be involved in the sport. I've been involved with it for over 45 years. I think I have the business skills and the experience in horses of all different levels, although I have to learn more of the breeds. It's just something I've always wanted to do. It was part of our decision to move to Lexington.
What are your goals as USEF president?
The big idea for the federation—people thought it was growing sponsorship a few years ago. That's not the big idea. The big idea is to grow membership by making this a more inclusive organization and a more consumer-based organization. I want people to belong to the federation because they want to, not because they have to.
What do you think is the perception of the USEF today?
That it's "an organization I only joined because I have to." I presented to the board some of the member surveys, and people said, "You've lost touch with reality. You're too focused on the elite level of this sport." That's important, and we need to do that too, but we should be using the elite level of the sport to help grow the sport."
What are some immediate changes you hope people will notice after you take office?
They should notice a radical change. They should notice dramatic improvements in customer service, and I've already started on that. They should see more transparency. Hopefully in a year or in a couple of years, they should see membership growing again for the first time in years. They should see new advertising campaigns that are more emotion-based and more inclusive, that leverage the unique benefits of our sport like men and women competing equally in the Olympics and dramatic age diversity.
They should notice the complete re-work of the website, so it goes from being purely business-to-business to more consumer-oriented and brings more education and more accessibility and more access to data. Organizers should see better tools for being able to run horse shows. We should see more enforcement of quality standards at horse shows.
How will your business experience help you as president?
A lot of people who don't know might worry about the tobacco experience. It's not a popular industry. But on the other hand it's an industry that gives you tremendous experience with legislation and with regulation. I've spent the last 15 to 18 years of my career dealing with regulation, the FTC, the SEC, the FDA, understanding those processes and how to be a good governing body, or what is state of the art governance. It's the same thing with running a public company board.
This is a board of volunteers who are passionate and committed to the organization, and I'll help bring a little more process to some of that.
Tell me about your background in the horse world.
I went to a western ranch out in Colorado when I was 13 years old. I rode horses and found out I was pretty good at it. I came home and wanted to ride western. There was no western available where I lived in Devon, Pa., so I went to the Green Valley Riding Stables and started taking English riding lessons and, from there, started to show locally. Then for a summer job I went to work for Harry Gill and Sherry Robertson, and I groomed Idle Dice. I took him to the ring for a short amount of time for Rodney [Jenkins]. I slept in the tack room at night. After coming back from a horse show in Montreal, Sherry Robertson pulled me aside and said, "Go to university. You need to be an owner, not a groom."
I took her advice, and I went off to college. We had no wealth in our family. I went off to college and bought a couple of horses. A groom who worked for Hunterdon had gone off on his own, and he started helping me a little bit. He said, "You need to ride with Katie Prudent"—she was Katie Monahan at the time, and she had just started her business. If I wasn't Katie's first student, I was one of her first. I went and caught the bug and came back after [I'd gone to] graduate school and married my wife. She always had the bug. She was a Pony Clubber and involved at the grassroots level and rode at Sweet Briar College.
We showed locally. I made $35,000 a year when I started at Clorox, and I think I got an $8,000 or $10,000 bonus, which was what we had to show on all year long. Teri groomed for me, and I groomed for her for 15 years. I worked my way up to the high amateur jumpers. I think I rode him for 14 years, and then I bought my next horse, and for 30 years I had two horses [to show]. My wife has had a bunch, and now I'm working on the next one. I just retired my good friend [All That]. Over the years I got more and more involved.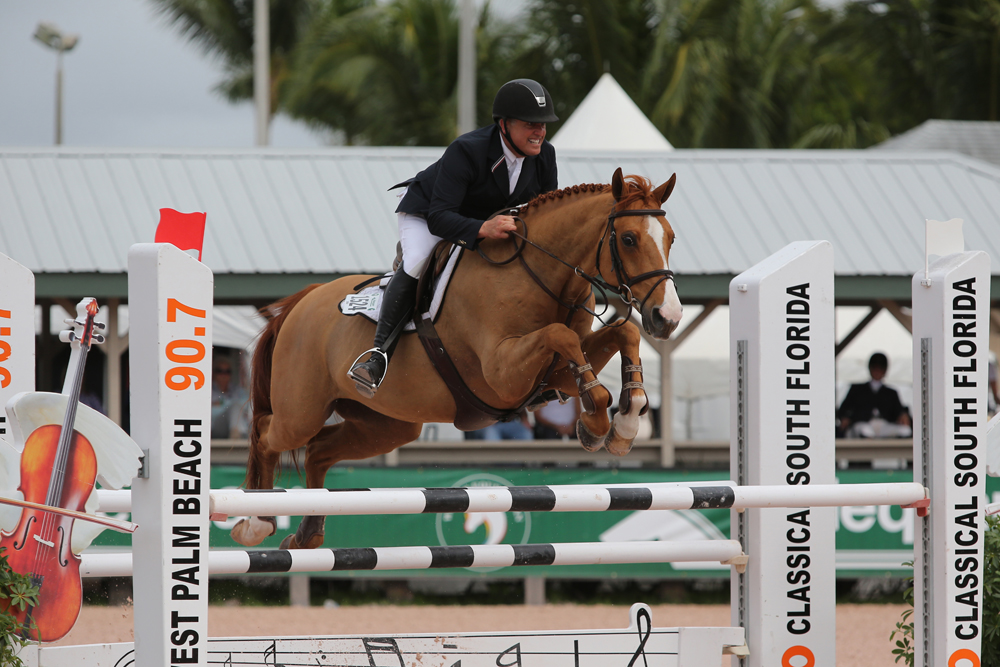 Murray Kessler showing All That in the adult amateur jumper division at the 2015 Winter Equestria Festival. Photo by Sportfot
Our daughter obviously had more talent. Reed's playpen was in the barn aisle. My wife took care of the horses and raised Reed; she went to horse shows before she could walk and then started riding ponies. She had a number of trainers that helped her, but Heritage Farm got Reed really going at a young age—Patricia Griffith. Then we switched to Katie, and the rest with Reed was history. My [professional] career really took off in the last 10 or 15 years, so Reed was fortunate to have the resources to be able to have bigger-time horses.
Teri and I still show all the time at the local level. I show in the adult jumpers, and Teri shows in the medium and high amateur jumpers. We've shown everywhere from the smaller shows in the country to the biggest ones.
What do you think is the biggest issue in U.S. horse sport?
In the United States, doping is a major concern still. Culturally, there's too much of a willingness to do it. Maybe the biggest issue in U.S. horse sport is that it's too much focused on financials and not enough on sport. The doping is just a symptom of that. I want everybody to make a great living. I want organizers to make a living. I want trainers to make a good living. But when they make decisions that compromise the sport or compromise horse welfare for the pure sake of financials I think it's very bad for the sport.
In world horse sport?
Animal welfare is a focus. What's the biggest issue in the world? There are a bunch of major issues.
My concerns are equestrian sports not remaining in the Olympics. That's a huge one, and that's why you have to be so vigilant on doping because I think this insular environment sort of gets accepting of things like doping and doesn't see that tennis players get set down for years and that the Russian track and field team [are banned from the Olympic Games because of doping]. If you read the IOC agenda 2020, your key to unlock the box of play is clean sport, and if you do not adhere, you will not be an Olympic sport.
Animal welfare remains a concern. You have to regulate very toughly, but you have to have some common sense. I've seen both sides of that issue, the U.S. compared to the rest of the world. My daughter, when she's in Germany she's not allowed to cut the whiskers on her horse. We can't get health papers to travel and compete if she cuts their whiskers.
It's illegal to use draw reins in Switzerland. A mark on the side of a horse had two people eliminated at St. Gallen [Switzerland]. These are people that were not abusing horses, so trying to strike the balance between good governance and good welfare and not being extreme in compromising sport is a fine line to walk.
How will you manage conflicts of interest since your daughter is a high performance athlete?
It's actually way easier than you think. David O'Connor managed it for eight years. His wife rode on the team. The board has almost nothing to do with the management. That is all done at the sport department level with the International Disciplines Committee. The coaches recommend to the International Discipline Committee and the sport department. In show jumping most of it is done with points off the ranking list.
The only thing the board does, which might be once a year or twice a year for a team, is look everybody in the eye and say, "Did you follow the procedure properly? Was there any controversy in this that we need to be aware of? Was it done fairly?"
I would recuse myself if it ever involved Reed.
What if she came before the hearing committee?
What if I came before the hearing committee? I'm active in the sport. And I can tell you we take great precautions, but I guess, like anybody else, accidents could happen. I'll tell you what, I have sympathy for folks because it's easy to feed a supplement you didn't realize. I have every member of our staff sign a code of conduct and an oath that they won't abuse an animal, that they won't provide anything illegal. We have video monitoring in our barn. When we have a new supplement we send it to the federation to test it in advance, but it's a scary world out there in testing.
What do you want people to know about you?
The biggest social media reaction—there was a lot of positive reaction, but the negative one was the people who just saw me as Reed's dad. A horse show parent who was wealthy.
I'm going to push at all levels because I've been at all levels. I think a large percentage of the membership, who haven't grown up with me, don't know that. So for me it's been a 45-year journey from the lowest level to the highest, and it's not 20 years ago I did the national level. We do it every weekend.
There are a lot of members who don't really know who the Kesslers are. We've had horses on our property basically for 45 years. They're not stabled somewhere; they're in our backyard. The backyard now is very big, but it wasn't for years.
I'm still the one driving the horse to the clinic. When my wife goes in the ring I take a towel and wipe off her boots and vice versa. My wife is still the one, despite the fact we have a great staff that works for us, who is in there grooming the horse for an hour and a half every day.
So is my daughter. She's running her own barn, and she goes over every one.
Want to learn more about Murray Kessler? Be sure to check out the Chronicle's July 11 issue where we continue our conversation with him in a more in-depth interview about his vision for the USEF and his presidency.