Germany took the lead with four fantastic performances in the speed class on the opening day of the Longines FEI Jumping European Championships 2019 in Rotterdam, the Netherlands, this afternoon.
Reigning world champions, Simone Blum and DSP Alice, were first to go and established the early lead with a sensational round. And when teammates Christian Ahlmann and Clintrexo Z and Marcus Ehning with Comme Il Faut were even quicker, and then Daniel Deusser wrapped it all up with a stunning run from Scuderia 1018 Tobago Z, Germany couldn't be touched at the top of the leaderboard.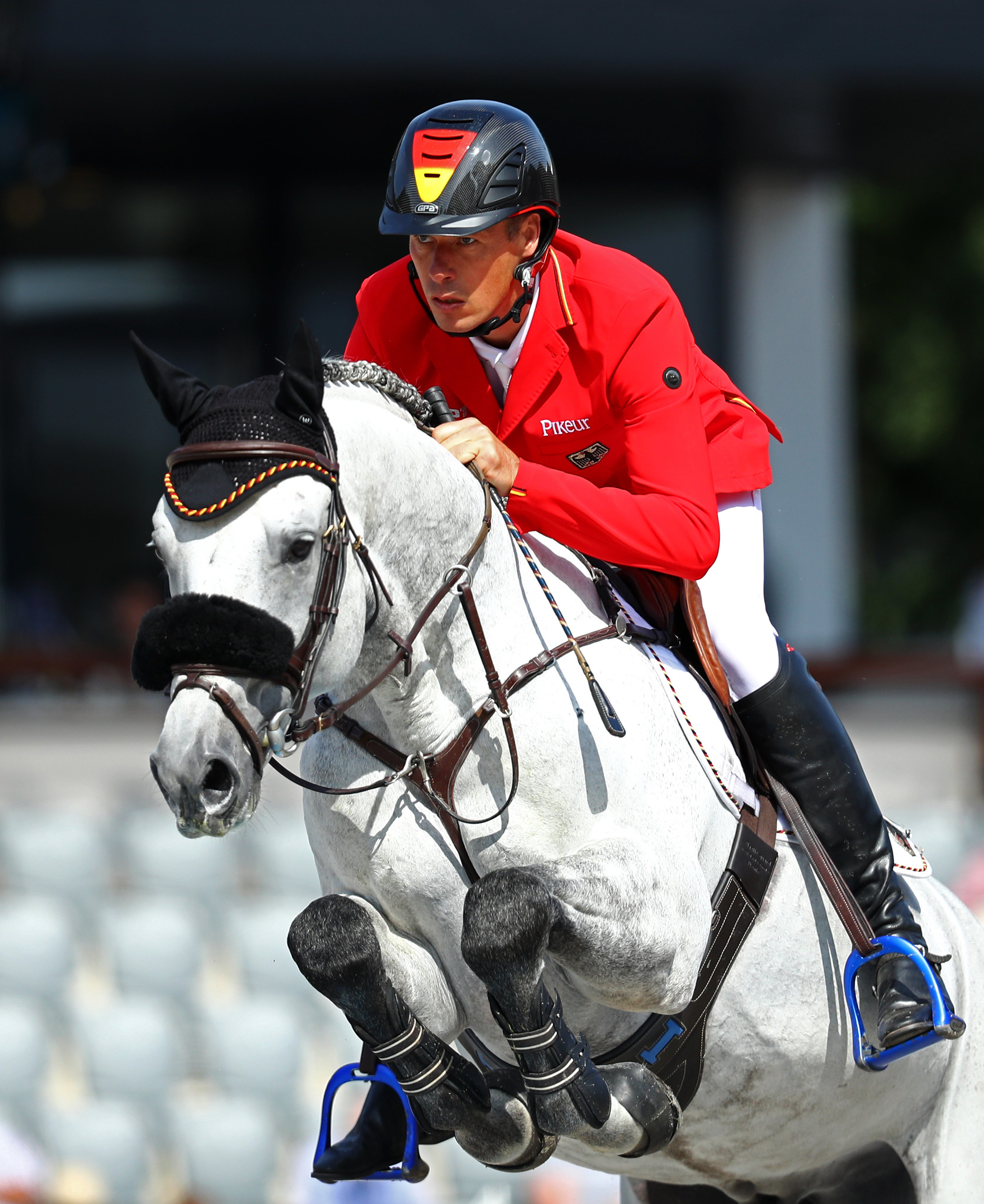 However first-day results are reconfigured into points, and when the team competition proper gets underway tomorrow with the first of two rounds that will lead to the medal ceremony on Friday, they have only a narrow advantage over France. And there's less than a single fence between them and Team Sweden in third place. Great Britain and Switzerland are just over two fences behind, while the defending champions from Ireland and Team Israel are also in hot pursuit in sixth and seventh places respectively.
A total of 15 nations started the competition today, and 10 of them are also hunting down one of the three team qualifying spots on offer for the Tokyo 2020 Olympic Games. So, just as it was in the dressage team championship earlier in the week, the next two days of competition will be as much about good placings as they will be about getting on the medal podium, and once again Team Germany is in command at the outset.
Course designer Louis Konickx presented a great first-day challenge in which the narrow Longines wall at fence five, the 4-metre-wide open water at nine and the penultimate double that led the way down the final line all proved influential.
Strong as the German contingent were today however, it was the defending individual gold-medal-winning partnership of Peder Fredricson and H&M All In who topped the individual leaderboard ahead of Austria's Max Kuhner with Chardonnay in second and Britain's Ben Maher and Explosion in third.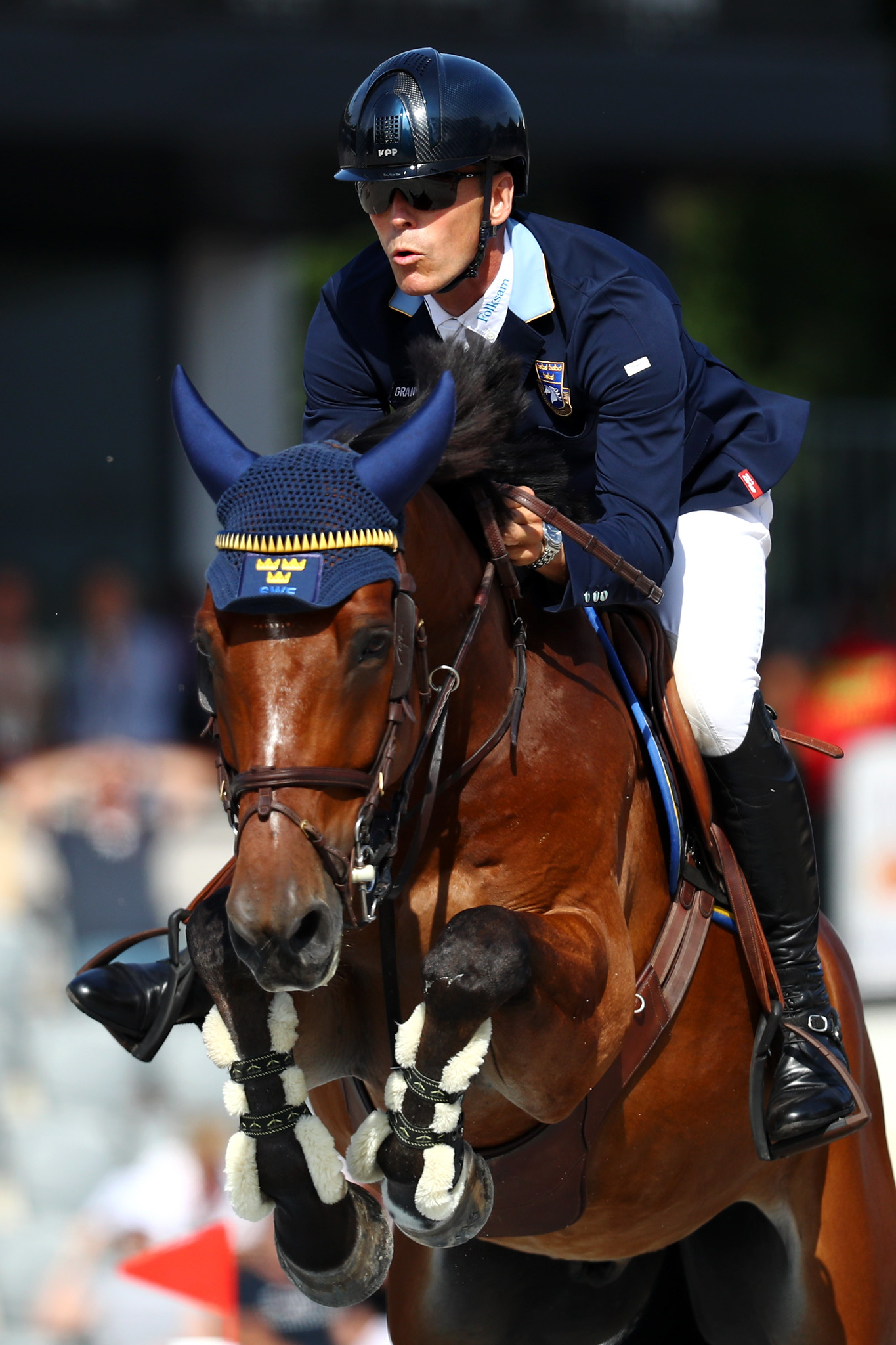 "It was a really nice course," said Fredricson. "You had to get going straight away between fences 1 and 2, you had to make a decision if you wanted to do seven or eight strides, and that set the pace for the rest of the course. All In is an unbelievable horse, and the plan today wasn't actually that I had to win, but I wanted to be quick enough so that if I had a fence down I would still be in the competition."
Watch Fredricson's round.

Kuhner, who has made a great recovery following a shoulder operation three months ago, was delighted to find himself in runner-up spot because he says his Chardonnay is not the quickest horse "but we improve together and we get a little faster with age!"
Maher was second-last to go of today's 70 starters. "It's always hard to wait until the very end, I didn't get to see Peder or Max go. Explosion is naturally a fast horse, and he was very excited to be here yesterday, he was fresher than normal. I just couldn't take a big risk today on the line with the Longines wall, that's where these guys were better than me today. Explosion has won a lot but he's young and he's being a little bit careful sometimes at these jumps", he explained.
He said the British have team gold as their target but you could tell this afternoon that the Germans, who hold the record with seven team golds in the 62-year history of the European Championships, are feeling fairly confident even though Christian Ahlmann insisted, "We've had a good start but its not much more, there's a long way to go." His breathtaking round with Clintrexo really bolstered their position, and this pair look to have a great week ahead of them, leading all the way up to Sunday's individual final.
"He's a breeding stallion but you can't feel it, he's a very kind and sweet horse, very positive and really quiet. He's a bit shy in the warm-up so you have to be aware of that, but in the ring he is fighting for his rider. He's not spooky at all, so he makes your life easy!" said Ahlmann who finished fourth today ahead of Swiss star Steve Guerdat and his super-mare, Albfuehren's Bianca, in fifth.