Mill Spring, N.C.—Sept. 12
As expected at the end of the first day of dressage, Germany is leading the team competition at the FEI World Equestrian Games, but with several powerhouse pairs to come tomorrow, gold isn't theirs yet.
Sweden is sitting in silver medal position after strong tests from veteran Tinne Vilhelmson Silfven (Don Auriello) and Juliette Ramel (Buriel K.H.), who slotted into second place individually with a score of 75.24 percent.
The United States is in third place, with Adrienne Lyle and Salvino as the top-placed combination so far in fourth on 74.86 percent. Steffen Peters and Suppenkasper scored a 73.49 percent for seventh place.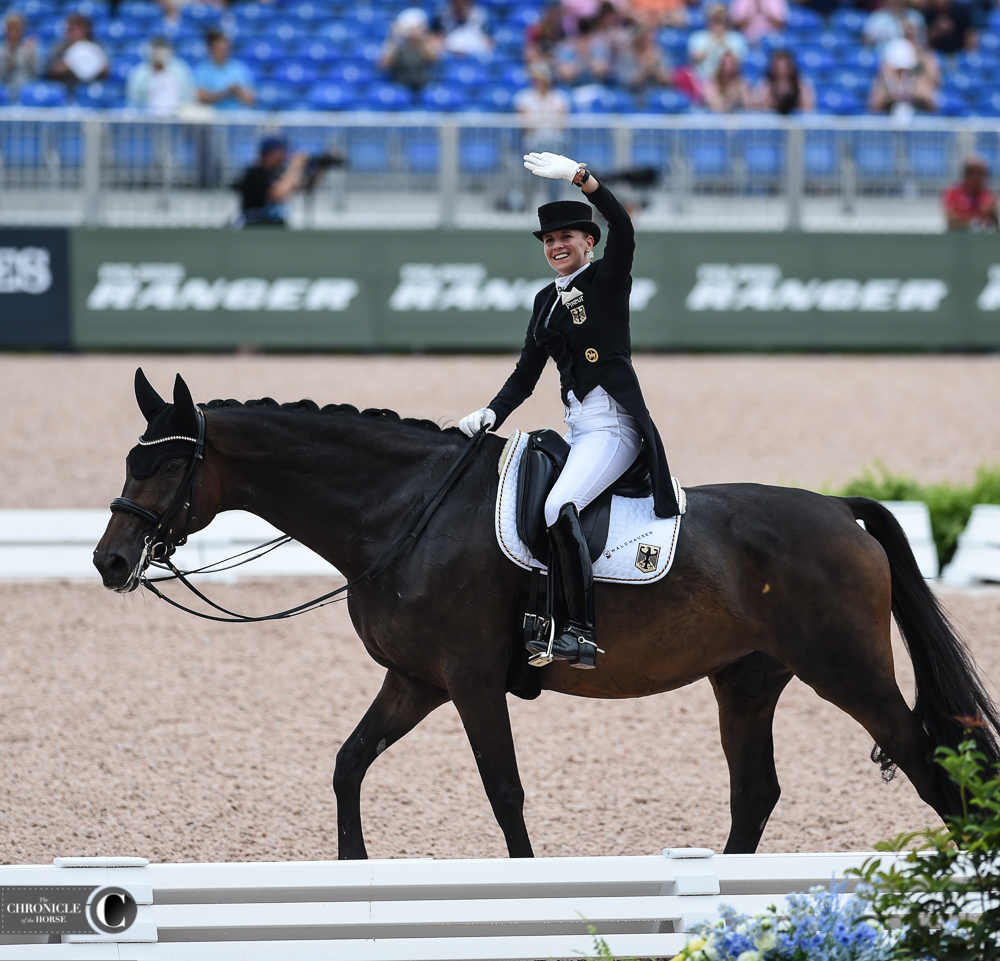 No one could top Germany's Jessica von Bredow-Werndl and TSF Dalera BB, an 11-year-old Trakehner mare (Easy Game—Dark Magic, Handryk), this afternoon. They set the score to beat this morning, a 76.67 percent, and no one could catch them. Her teammate Dorothee Schneider rode Sammy Davis Dr. into third with 75.06 percent.
"[She] was not interested in anything else but me; she was really focused, and she stayed with me the whole test," said von Bredow-Werndl of her ride. "She was on the point; she was concentrated; she wanted to dance; she wanted to do everything right, and we did a super job. There's still some more to go and some more points we can get, but for the first day for the team it was perfect.
"Her main strength is that she really has no weakness," she added. "She has nothing which would be below 8, so of course today there were tiny things, but she has just strength, and one of her main strength is piaffe, but I couldn't show it in the first today, but in the second and third I could show her dancing part."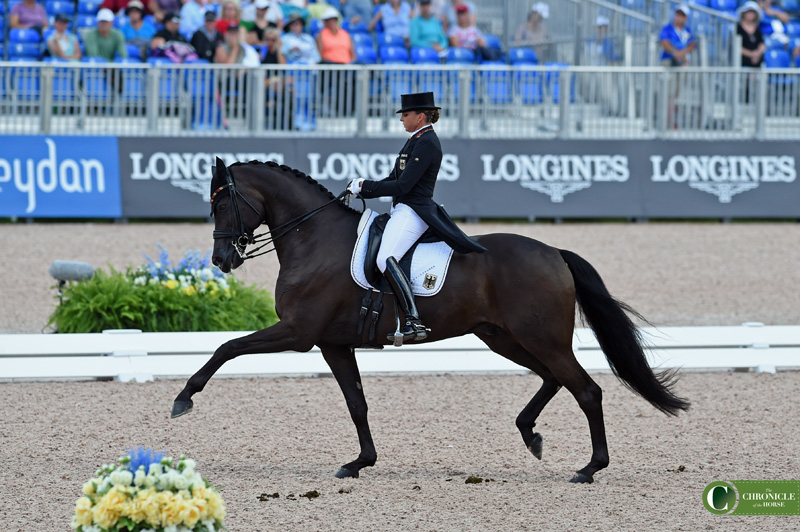 Schneider was thrilled with her ride aboard Sammy Davis Jr., a 12-year-old German Sport Horse (San Remo—Wenja, Wenckstern). She said there was a slight mistake in her first piaffe, and while he doesn't have the biggest walk, it was clear and quiet.
"The heat affected him a little bit," she said. "In the warm-up area in the sun, I [felt it]. I feel good, very happy to be on the German team, I think we're very good riders. I'm very proud, and we'll cross our fingers that it all works tomorrow."
Watch highlights from Scheider's test, courtesy of FEI:
Ramel started competing the 12-year-old Dutch Warmblood gelding (Osmium—Ronja K.H., Krack C) in 2014, and they represented Sweden in the 2016 Olympic Games in Rio.
"I did a lot of walking during the warm-up for not making him too tired, " Ramel said. "When he gets tired he is stressed. And today he walked in very relaxed, and even the applause did not phase him. Most of that is my trainer's doing. Patrik Kittel gives me a lot of confidence, and he believes in us. And that makes me stronger."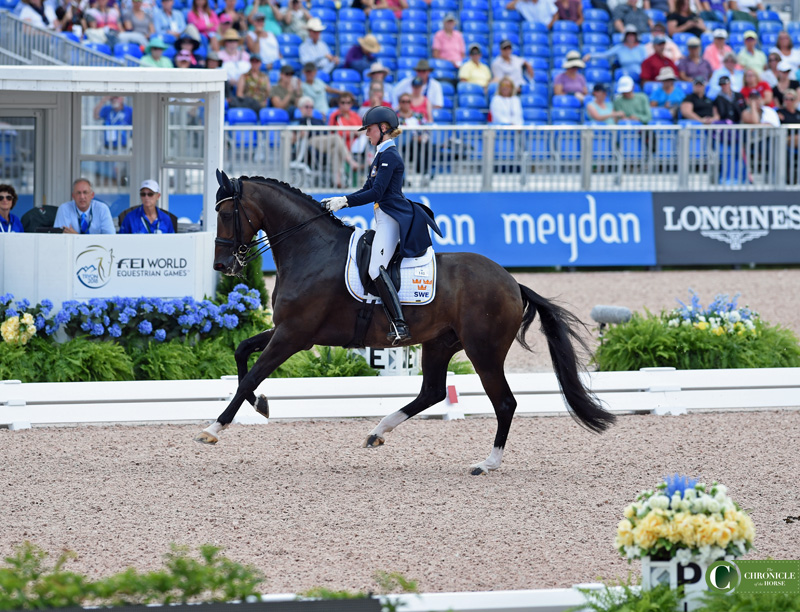 Lyle was thrilled to ride in front of a home crowd aboard Salvino, an 11-year-old Hanoverian stallion (Sandro Hit—Dynastie, Donnerhall). Highlights of his test included lovely piaffe and passage work.
"I've never ridden in front of our home country, so I didn't know how I was going to handle that extra bit of cheering and hooting and hollering when he went in, but I think he enjoyed it," she said. "I was really pleased with him, especially considering we warmed up in a complete downpour. I was trying to change gloves and dry off things because I couldn't hold in the reins, so it was a little bit of a disruption, and everything is blazing hot the next second, so fitness is a big factor here as well. He's a big dark horse, and I've done my best to get him fit, and I'm glad I did because it took every ounce of fitness he had out there to get through in that heat."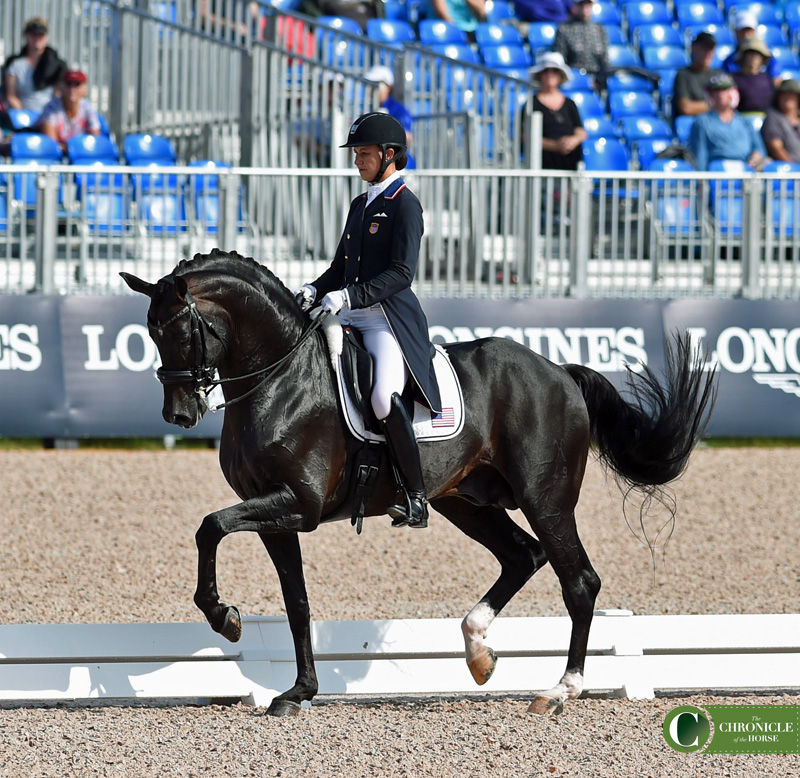 Lyle last rode on a championship team at the 2014 WEG in France on Wizard (where she joked that she also rode during a downpour) and is happy to be back on the international stage.
"I just feel so lucky," she said. "Everyone says years off when you're really working the hardest—trying to bring your next horses up to the level, and so I just feel so incredibly honored and happy to get to be here again. I love this. I love the top competition and getting to ride in front of your home crowd is amazing, I've always wanted to do that. I'm just feeling very lucky."
Dressage starts tomorrow at 8:45 a.m. with the third and fourth team riders.
For full results, click here.
For everything you need to know, including broadcast schedules, click here.
For all WEG coverage, click here.
We'll be onsite for the full two weeks of WEG to bring you all the news you need to know plus gorgeous photos and insight into the competition. Be sure to check out the Oct. 8 issue of the Chronicle for detailed analysis.
2018 World Equestrian Games - Dressage Grand Prix Day 1
Lindsay Berreth / Sep 12, 2018 8:13 pm