Aachen, Germany—July 21
While Germany is traditionally a powerhouse in dressage, on Day 1 of the Lambertz Nations Cup the riders from the USA were ecstatic to take the lead, with Laura Graves scoring the coveted win on Verdades in Aachen. But the Germans bounced back after the Grand Prix Special in the MEGGLE Prize, and Isabell Werth returned to her accustomed spot atop the podium.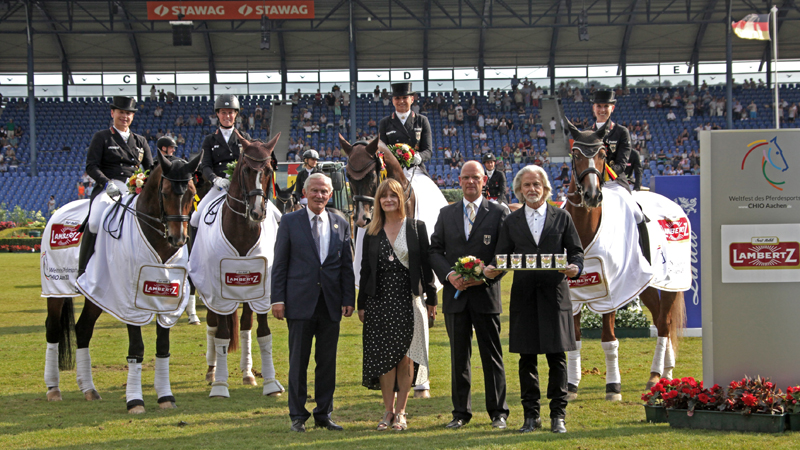 Emilio's birthday gift to Werth was 79.12 percent in the Grand Prix Special. Helen Langehanenberg came second with Damsey after scoring a personal record in the Special of 79.02 percent—just four weeks after giving birth to her second daughter, Finja—and U.S. rider Kasey Perry-Glass earned third aboard Goerklintgaard's Dublet (78.78%).
Watch Perry-Glass ride the Grand Prix Special, courtesy of ClipMyHorse.TV.
German team riders Dorothee Schneider on Sammy Davis Jr. and Jessica von Bredow-Werndl on Dalera BB came sixth (76.40%) and seventh (76.25%) respectively, which clinched the victory for the home nation, while the U.S. team finished second with Adrienne Lyle in 10th on Salvino (74.51%) followed by Graves in 11th on Verdades (74.08%).
It was a strange reversal from Thursday's Grand Prix when Werth and Emilio had a disastrous day and ultimately landed in 17th place. About that result Werth said: "I feel very guilty, and I am so sorry for Emilio that I didn't listen to what he was trying to tell me!"
But the Westphalian gelding started the Grand Prix Special with a completely different attitude. "Emilio was back to his normal self today, and we are a team again!" said Werth.
After her Grand Prix performance, Werth had to ride 12th in the order of go, so she hadn't expected to stay in front until the end. "My colleagues lent me some support there," she joked.
"That was obviously their birthday present for me," she added, as today is her 49th birthday.
Langehanenberg was amazed at her second place with Damsey FRH. "I already thought on Thursday that is the best we can do, but obviously not," she said. "I have only been riding again for 3 ½ weeks; our last test was in February. Maybe sometimes a break helps! I enjoyed the test today. I had a super safe feeling today, and everything was really easy in spite of the heat."
Perry-Glass's performance was so strong that two judges placed her first ahead of Werth. It was quite a reversal from her rides last year in Aachen, which prompted her to give the elegant bay an extended vacation.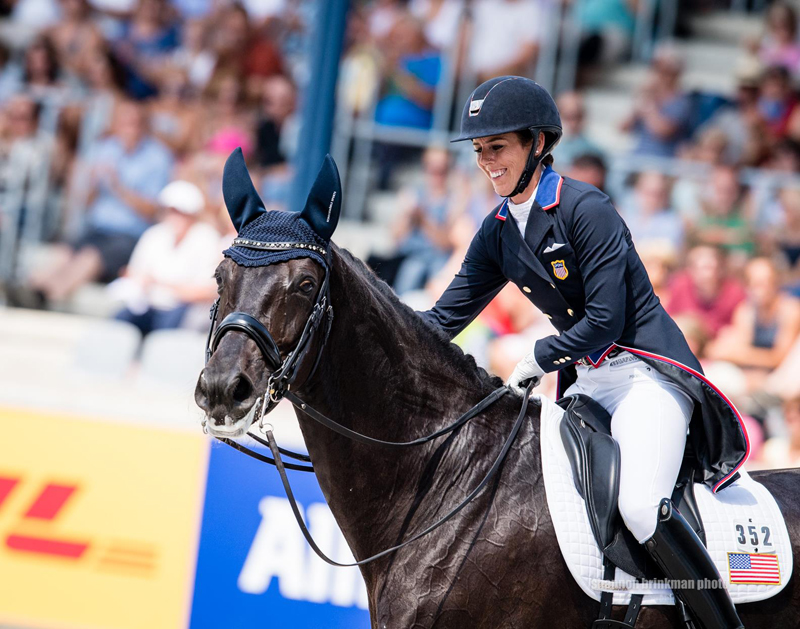 "My ride went super well today," said Perry-Glass. "I was really confident in our warm-up. It was just about getting [that confidence] in the ring. After Thursday's ride, I knew I had to go in there and perform again and really show that we can be consistent at our scores. I feel like our changes were spot on, and the pirouettes are getting better. It is just a matter of putting it all together and really going for it."
Graves fell victim to a moving camera when passing a judge's booth. Verdades spooked at the camera during the second extended trot, and he continued to be spooky through several movements along that side of the arena. However, Graves was able to refocus his energy for the end of the test. And tomorrow is her 31st birthday, so she's hoping it's Werth's turn to give her the gift of first place.
Tune into ClipMyHorse.tv on Sunday, July 22, for the CDIO***** Grand Prix Dressage of Aachen freestyle test at 3:45 a.m. ET.
"Winning the Grand Prix was a grand thing for America," said U.S. Chef d'Equipe Robert Dover. "We have to take into consideration that in Tryon [for the FEI World Equestrian Games Tryon 2018], the Grand Prix will be the Nations Cup, the medal. That is very exciting. We are thrilled that we have had some extraordinary rides from our horses here in Aachen, in both of the tours here, and a fantastic group of athletes."
Individual results from the Grand Prix Special.
Team standings from the Lambertz Nations Cup.
Full results from the Aachen CHIO.