Mill Spring, N.C.—Sept. 14
No one could catch Germany's Julia Krajewski today in the dressage at the Mars, Incorporated World Eventing Championship at the FEI World Equestrian Games, but her teammate Ingrid Klimke came close.
Klimke scored a 23.3 on SAP Hale Bob OLD to lie just behind Krajewski on 19.9. Great Britain's Ros Canter is in third on Allstar B with 24.6.
Klimke's score helped keep Germany in solid gold medal position going into tomorrow's cross-country, while Great Britain is in silver and the United States in bronze.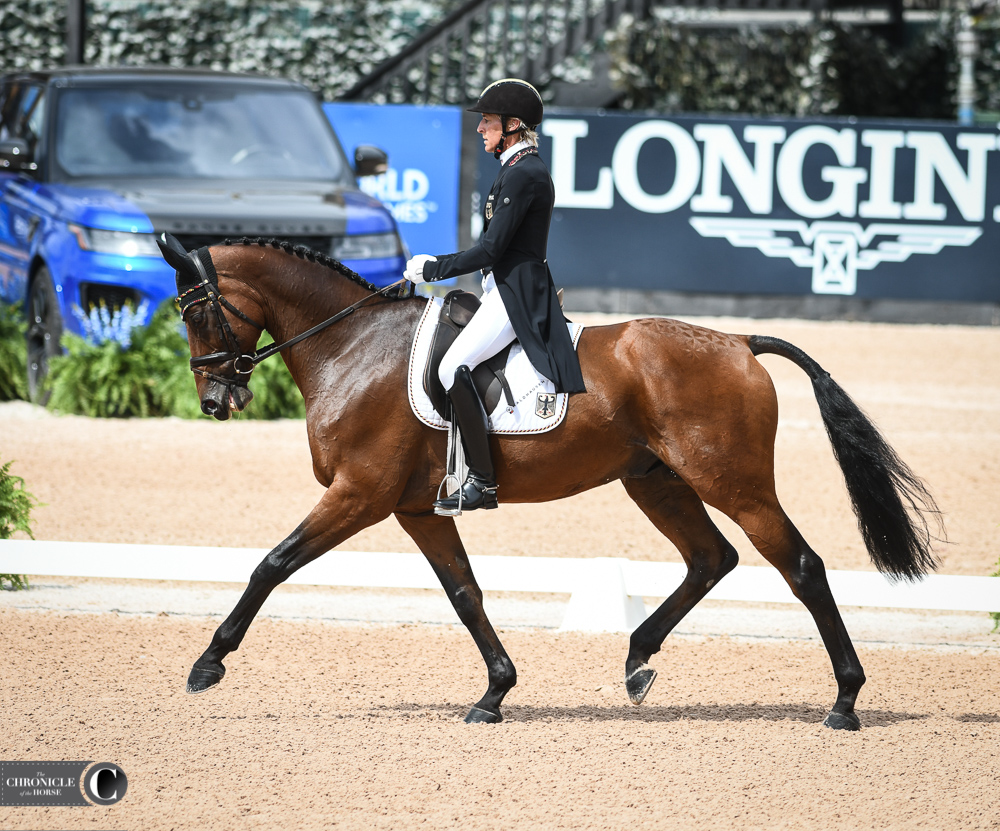 "I'm very happy because Bobby did such a wonderful job," said Klimke. "He was so relaxed, so calm, so concentrated, that I could really ride him, and I was not sitting on a bomb or anything. In earlier days he was sometimes a little bit hot, but today he was perfect. He's 14, so he's very mature, he knows his job, and he did a beautiful job for me. It was really fun. And I love to ride dressage!"
Klimke said the German team feels prepared after a hot summer in Germany.
"Definitely [the course is] demanding with the last hill, but we knew it before, so we all trained a lot so the horses are in good condition," she said. "There are beautiful jumps out there; the ground seems really nice, so I think it's going to be a wonderful day tomorrow."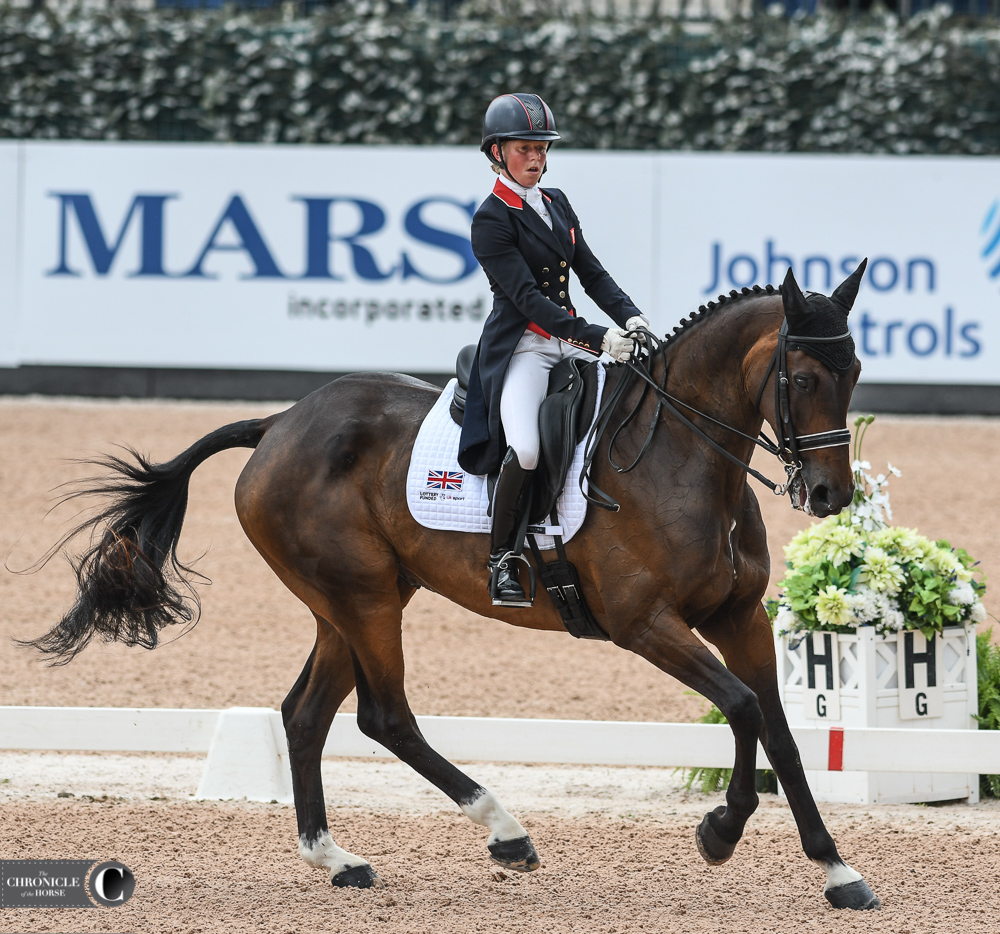 Canter was over the moon with Allstar B. This is her first WEG appearance, and she's a favorite for an individual medal.
"The last three or four years he's been ultra consistent in this phase, and it's really my job to make sure I get a mistake-free test from him because he's just so amazing in atmosphere; he never changes," she said. "I gave him a day off yesterday because he worked so well the day before, and he's just got that temperament where you know he puts 110 percent in for me every time. It's more the pressure for me really that I want to go and do him proud and everybody else who's helped get me here. But yeah, we're delighted."
Canter joked she could hardly remember the highlights of her test. "I just had all my trainer's words in my head, and just I knew all my preparation points, and it wasn't necessarily about the movements. It was about preparing every movement, and I just tried to get one movement out of the way at a time, but I'm just delighted that he kept on moving throughout the test because he can be a bit of a lazy horse, and he kept going all the way through the last halt. Normally he comes and turns down the last center and wants to jam his brakes because he knows it's coming, but he kept going all the way today."
Canter will ride last for Team GBR as the pathfinder. "Obviously the challenge is going to be the humidity and the potential weather conditions," she said. "As last man to go I don't know what weather is going to be thrown at us yet, but I should just try and stick to our plan and hope I can deliver for the team."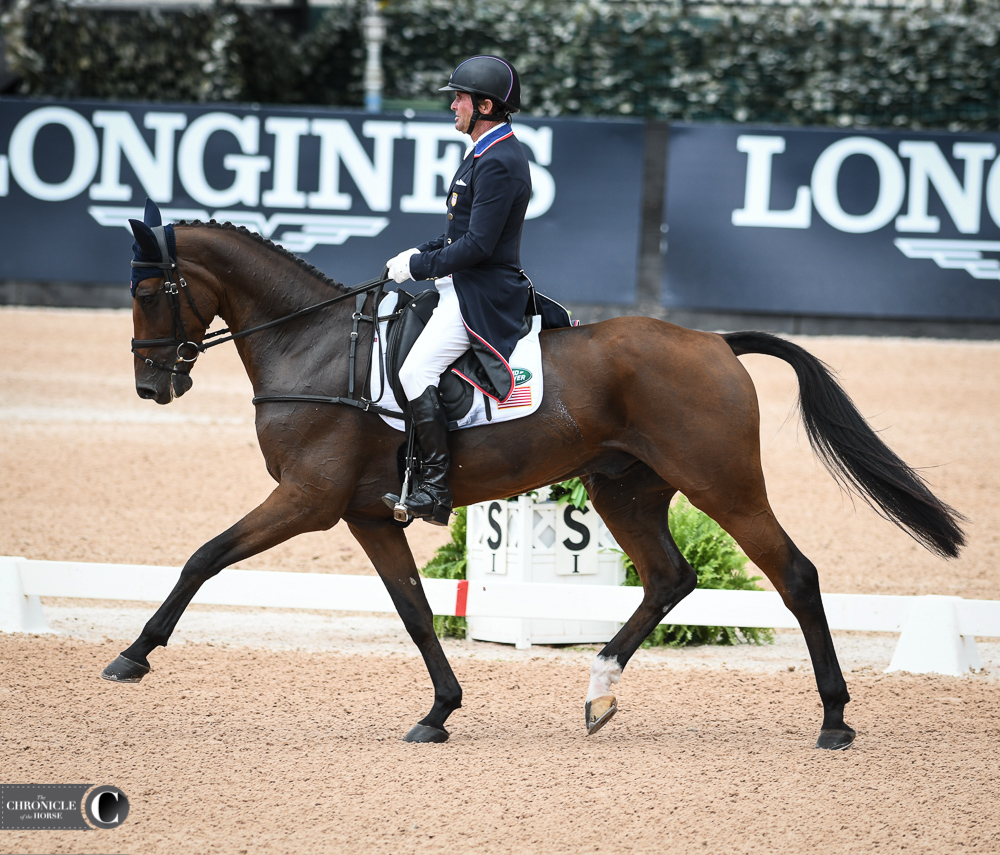 Phillip Dutton and Lynn Symansky completed their tests today to help the U.S. team hold a strong position heading into cross-country.
Symansky and Donner scored a 28.3 for 17th place. "He was pretty good," she said. "It's cool to be able to just rely on him in the dressage ring now. I've never had the ability to go in there and pick up marks based on his movement alone, so I try really hard not to give away points where I cannot give away any points. There's always more to be had, but the horse just gave me his heart and gave his all today, and I couldn't be happier with him."
Dutton and Z scored a 27.6 for 12th place.
"He's such an improving horse, and he just loves to work, loves to train, and it's really exciting," he said. "He went in there and wasn't perfect, but I can't expect him to be perfect at the level of his education."
Dutton's an experienced anchor rider for the U.S. team, and while Z is inexperienced at the level, he's ready for the challenge of Mark Phillips' cross-country course, which will run at full length.
"I think we've all trained for that, and I believe the teams were picked for that, so I think it's the right decision," Dutton said. "Nobody wants to see bad press and exhausted horses, but I think the riders will all set out knowing that that hill's at the end and keep that in mind at the beginning of the course as well."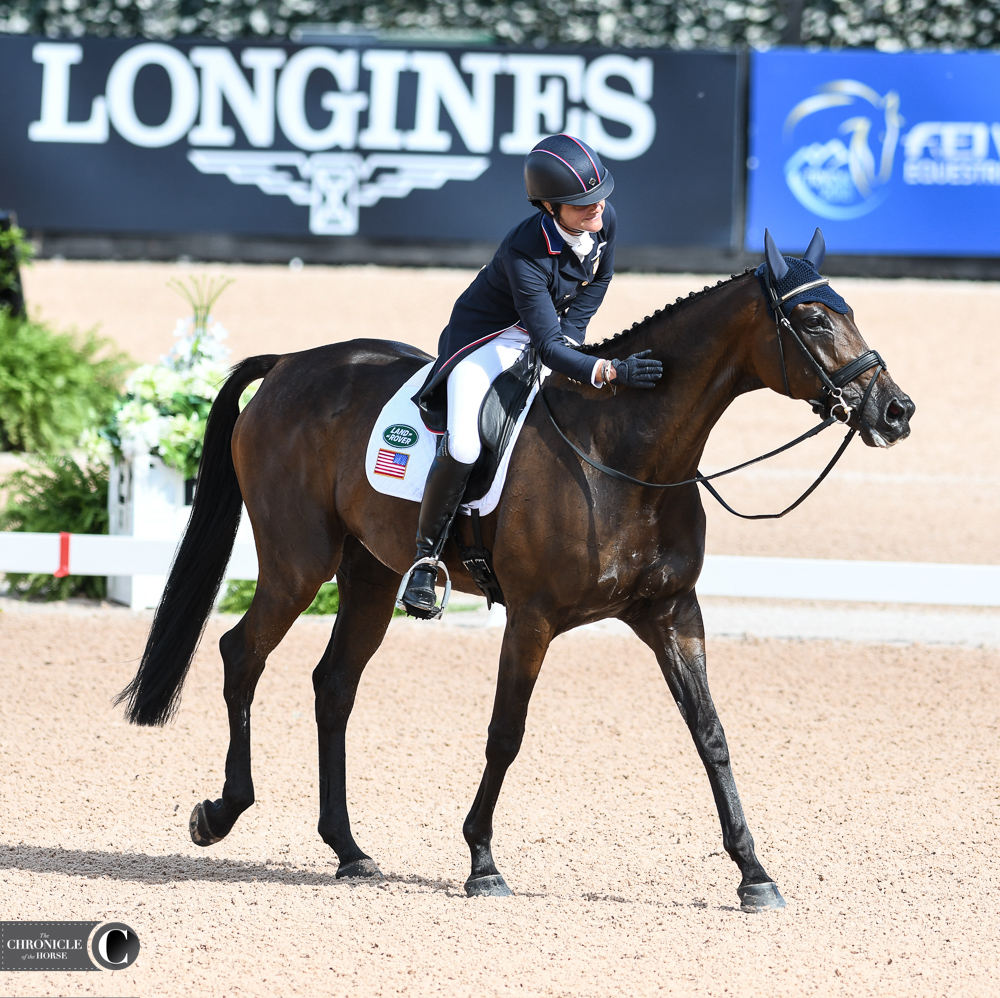 Symansky's excited to head out on course, although with smaller dimensions than a four-star, she thinks Donner won't be too impressed by the height. "It's a good course for him. It's not too big," she said. "The hardest thing will be some of the combinations. There's a lot to look at, and he's the kind of horse that can get a little distracted by things in the distance, so I have to make a plan to have him on his line. I hope the hill stays on and it ends up being a real fitness test, because this is what he's bred to do."
Olympic qualification is on the line for the U.S. team, which needs to finish sixth or better.
"Team competition is what we're thinking about first," said Symansky. "We're all competitive people, so we're trying to do our best but also keeping in mind what our goal is here; that is to complete the team, which we weren't fortunate enough to do in Normandy, where I was part of that team as well, so we're coming back with a vengeance and really going to do our best to represent in front of the home crowd."
For full results, click here.
For everything you need to know, including broadcast schedules, click here.
For all WEG coverage, click here.
We'll be onsite for the full two weeks of WEG to bring you all the news you need to know plus gorgeous photos and insight into the competition. Be sure to check out the Oct. 8 issue of the Chronicle for detailed analysis.
2018 WEG - Eventing Dressage Day 2
Lindsay Berreth / Sep 14, 2018 6:58 pm