Tokyo—July 24
At the end of Day 1 of the Grand Prix at the Tokyo Olympic Games, the results look like nearly every expert predicted: A German pair is sitting in first place. Jessica von Bredow-Werndl and TSF Dalera's score of 84.37% vaulted them to the top of the leaderboard.
"I [had] a lot of power, a lot of energy, a lot of focusing. She was very focused," said von Bredow-Werndl. "When she is that on, I have to control my body 100% because otherwise I can bring her out of balance. So it's very important. And there was a little second where I did a little bit too much sitting, and then she came back. But luckily she responded immediately, so everything was fine.
"There is no crowd, but there's still excitement in there because the atmosphere is different compared to the last days where we trained there," she continued. "She is a horse who always tries her heart out for me, and she's incredible."
Sitting behind von Bredow-Werndl, Cathrine Dufour rode Bohemian to a score of 81.05% for Denmark, and the Netherlands' Edward Gal filled out the top three on Total US—sired by Gal's 2010 Alltech FEI World Equestrian Games (Kentucky) gold medal-winning mount Totilas—with a score of 78.64%.
The only U.S. rider to go today, Sabine Schut-Kery on Sanceo, earned a personal best international Grand Prix mark of 78.41% for fourth place. The score secures her spot in the Grand Prix freestyle that will determine individual medals.
"It may sound cheesy, but he's always just so with me," said Schut-Kery of the 15-year-old Hanoverian stallion owned by Alice Womble. "It really feels like a partnership, absolutely. You go in there, and he gives you a little bit that feeling, 'I got it.' Then he also likes going into the venue. He definitely puffed up a little bit."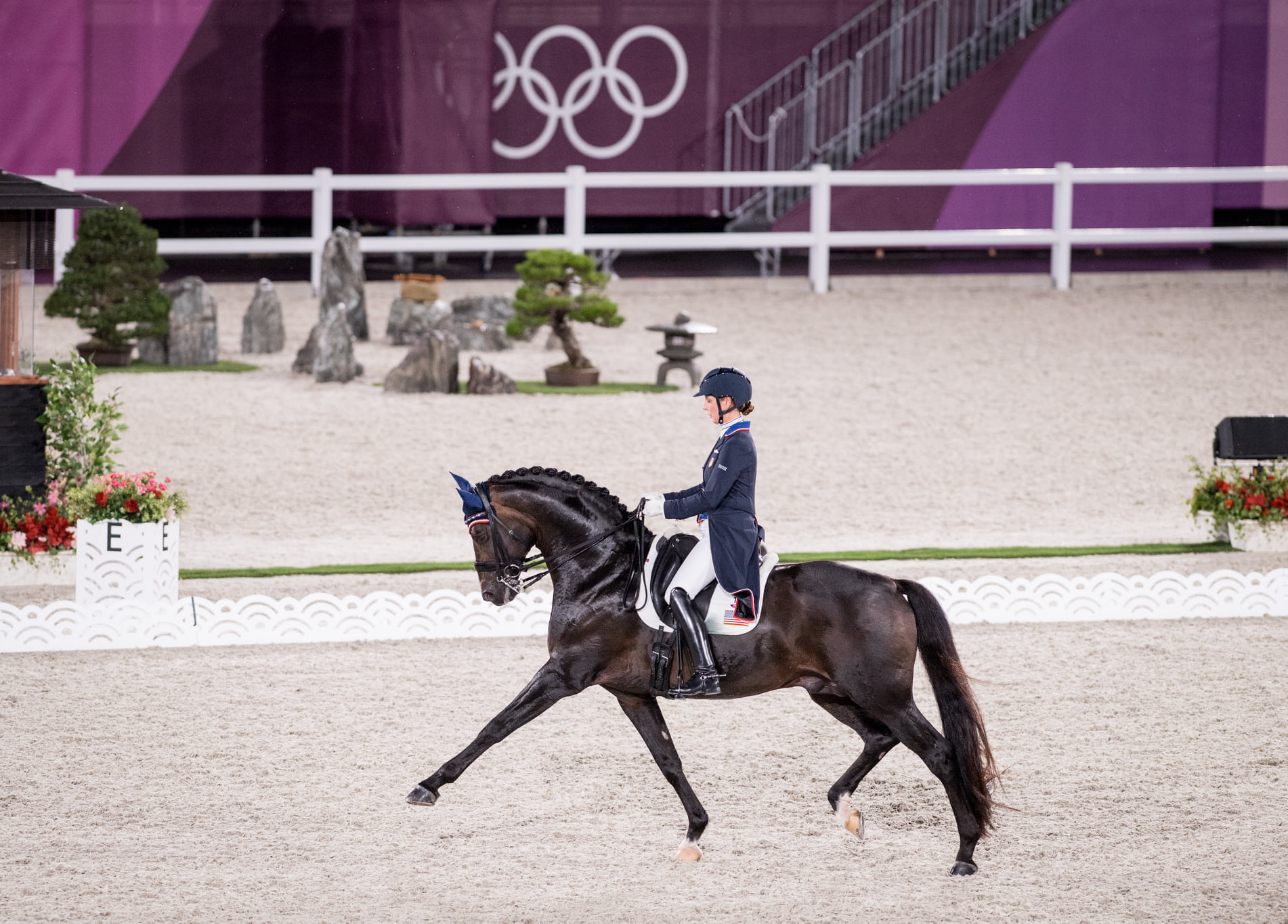 Schut-Kery noted their piaffe and passage was a highlight in this test. This is the 52-year-old rider's first Olympic Games, but she's been partnered with Sanceo since the horse was barely going under saddle, and they earned team gold at the 2015 Pan American Games in Toronto together.
"The most important thing to me was to make it here," she said. "That was a huge deal—riding back in June [at the mandatory outing] and making sure I get my spot. When you come as a team, you don't ride really for yourself anymore. For me, it was really important I ride for my teammates, and I ride for my country—and that means for all of you, for [USEF Young Horse Coach] Christine [Traurig], for [Chef d'Equipe] Debbie [McDonald], for the [U.S. Equestrian Federation], and also for friends and fans."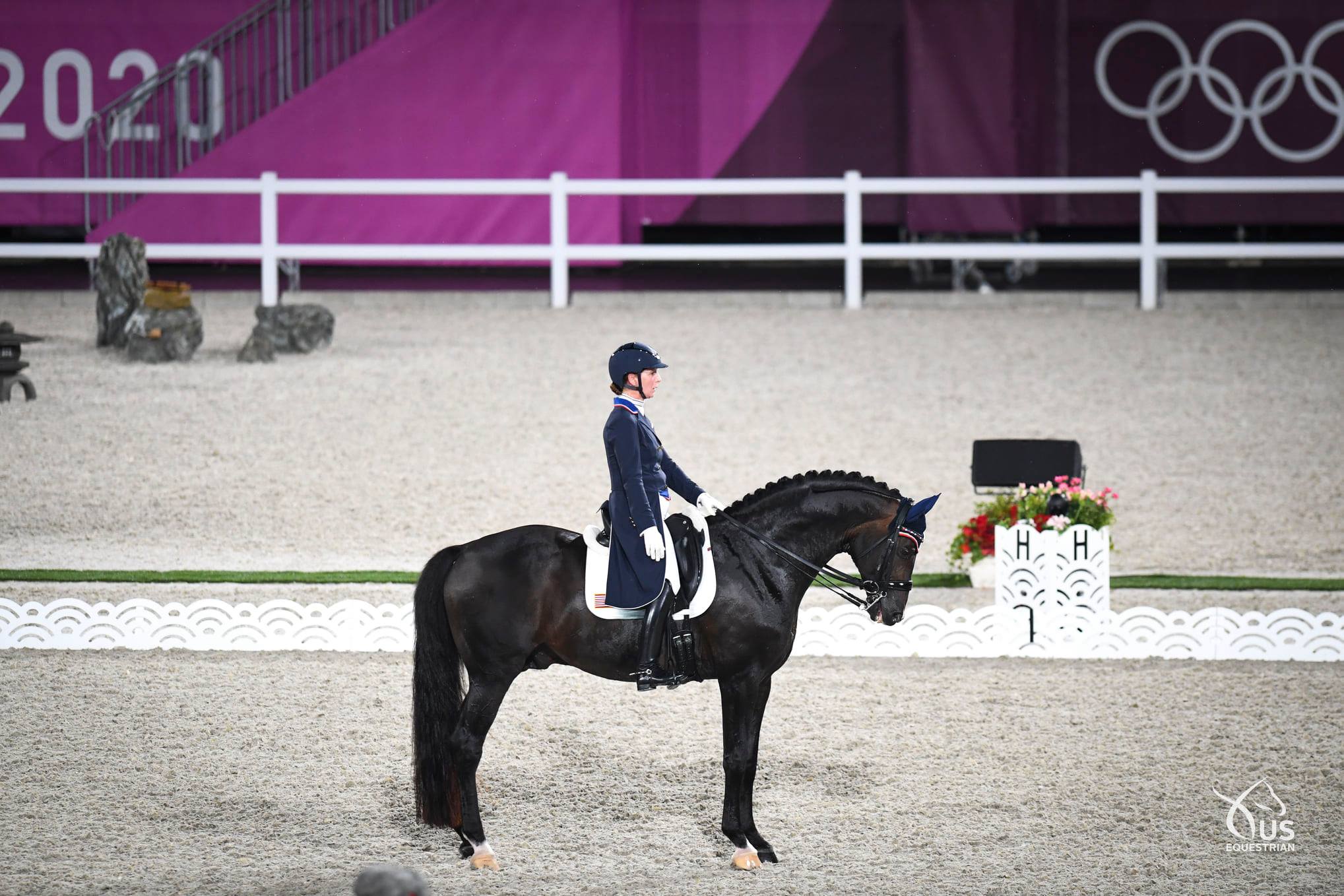 Since many top countries only had one rider out of three compete today—and considering how team medals are decided in Tokyo—the competition for a team medal is far from over.
At these Games, the Grand Prix test is being used as a qualifier for the Grand Prix Special, where team medals will be decided, and for the Grand Prix freestyle, where individual medals will be decided. The top eight teams—including teams tied for eighth—go forward to the Special on July 27, and teams will start the Special on a blank slate. Because each team is made of three riders, there is no drop score.
The top 18 riders—the best two from each of the six groups, plus the six with the next-highest scores—from the Grand Prix test qualify for the freestyle on July 28 to vie for individual medals, which are again based on scores from that single test.
The riders from today who are confirmed a starting place in the freestyle are: von Bredow-Werndl; Dufour; Gal; Schut-Kery; Great Britain's Charlotte Fry (Everdale); and Sweden's Therese Nilshagen (Dante Weltino OLD). (The group of six next-highest qualifiers cannot be decided until after tomorrow's tests are complete.)
Before the start of today's Grand Prix, Austria's Victoria Max-Theurer announced the withdrawal of Abegglen FH due to a tooth abscess. Because the country didn't send a traveling reserve, that means Austria can no longer field a full team. The remaining two riders are still competing as individuals.
The rest of the U.S. riders compete tomorrow: Adrienne Lyle rides Salvino at 6:21 p.m. local time (5:21 a.m. Eastern), and Steffen Peters, on Suppenkasper, is the penultimate rider at 9:42 p.m. local time (8:42 a.m. Eastern).
See full results from Day 1 of the Grand Prix and read all of the Chronicle's dressage coverage from Tokyo.